SQ22: The world's longest flight. For a few more days…
Hurray! One of my long held dreams has come true! To fly Singapore to New York – the longest commercial flight route in the world (almost), and probably the all-time longest in the history of commercial civil aviation. The flight takes from around 18 to more than 20 hours (depending on the wind). No stops, one fuel tank, 16,000 kilometers. Strewth!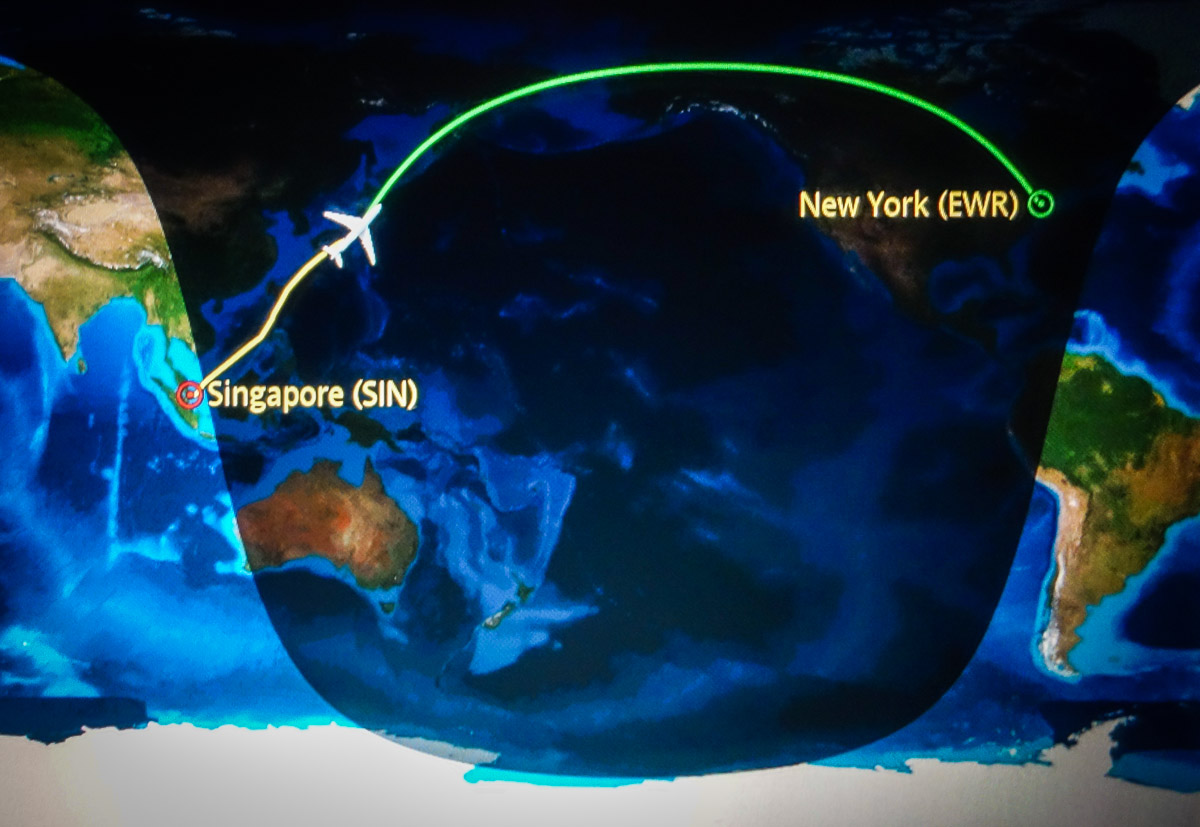 JFK EWR – thank goodness
// I wrote '(almost)' above… Actually, the longest flight route in the world is the one that goes in the opposite direction – from New York to Singapore. It's 15 minutes longer, as the wind tends to be kinder in that direction.
De jure, it only takes five and a half hours to get from Singapore to New York: the plane takes off at 12:30 and touches down at 18:00 same day. But that's of course 12:30 Singapore time and 18:00 New York time. Still, that sounds a lot more acceptable than 18 hours… then again, on board there are plenty of the world-renowned Singaporean stewardesses…
This mega-route is flown by specially kitted-out Airbus A340-500s. They only take 100 passengers, and there's no economy class – only business!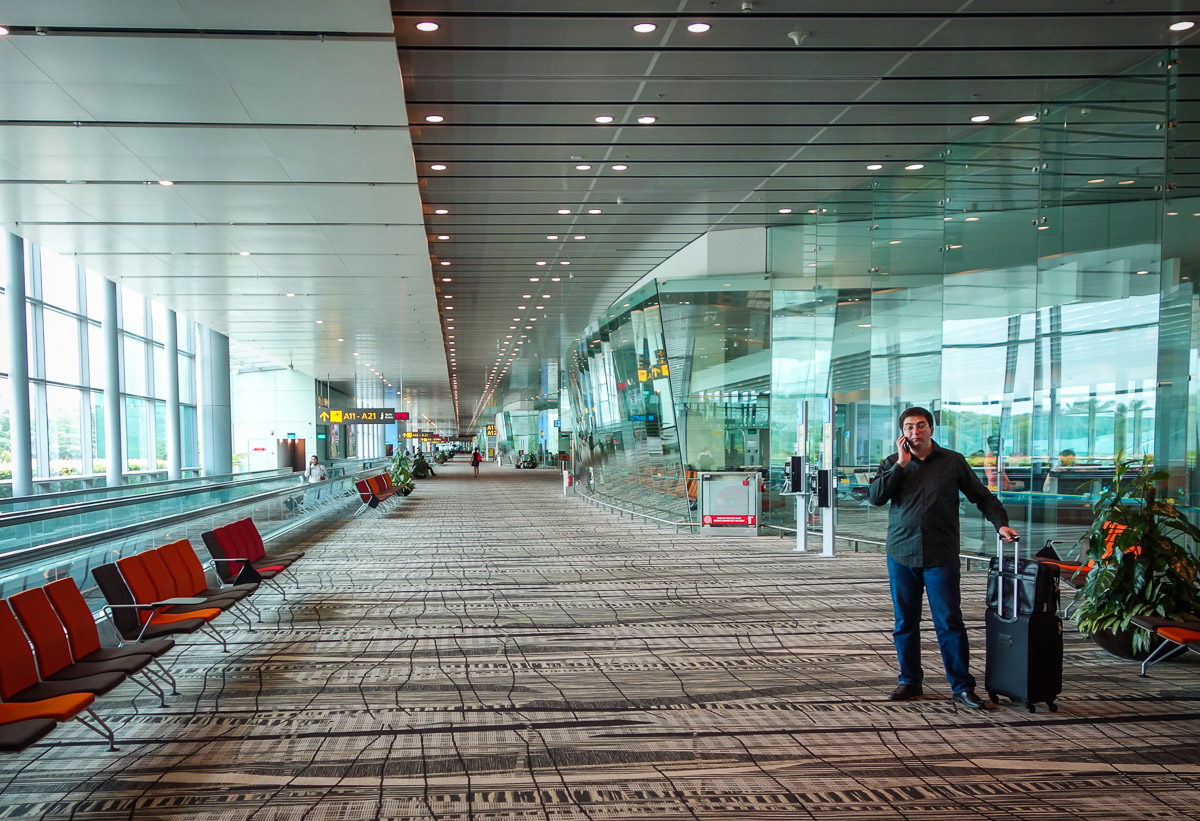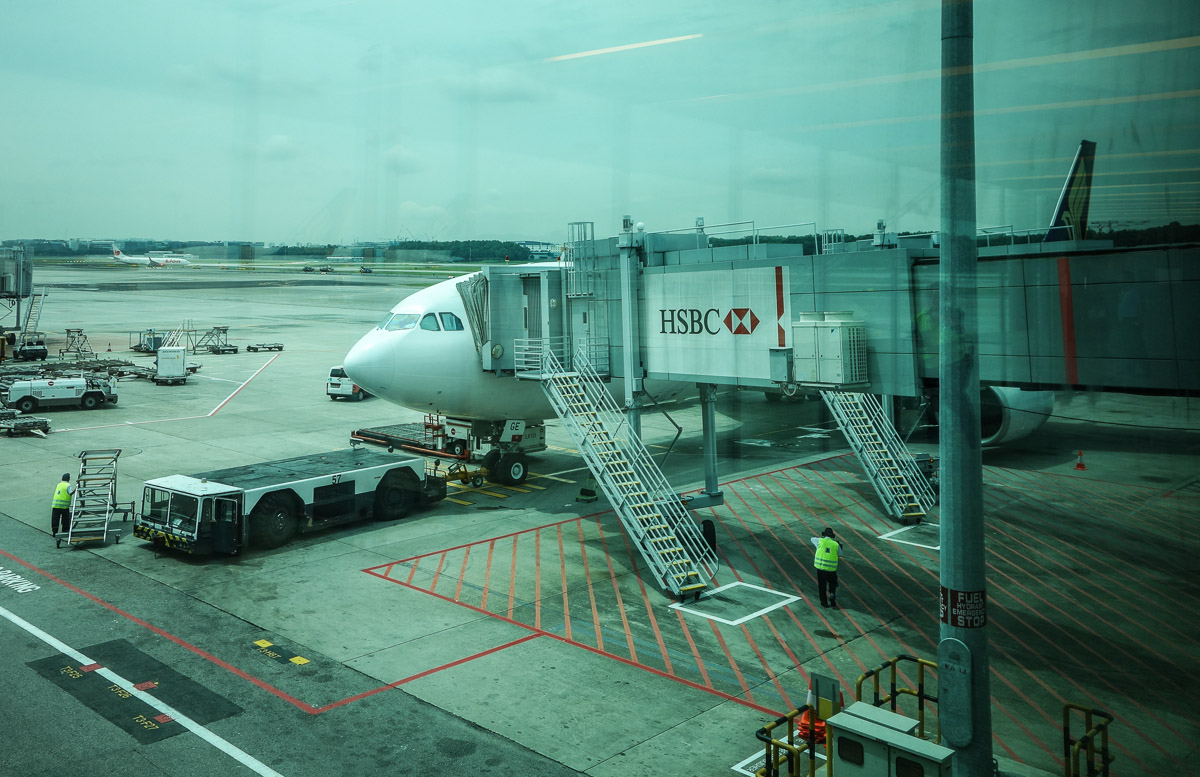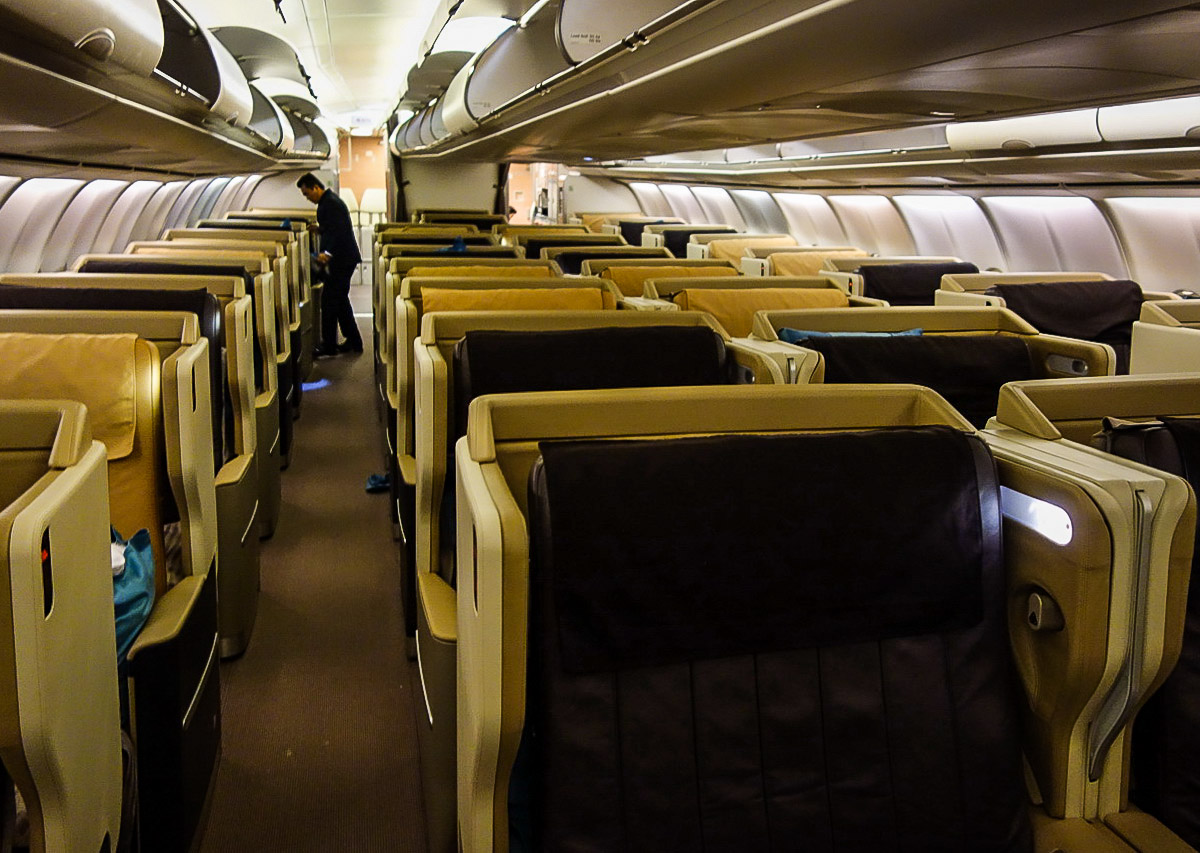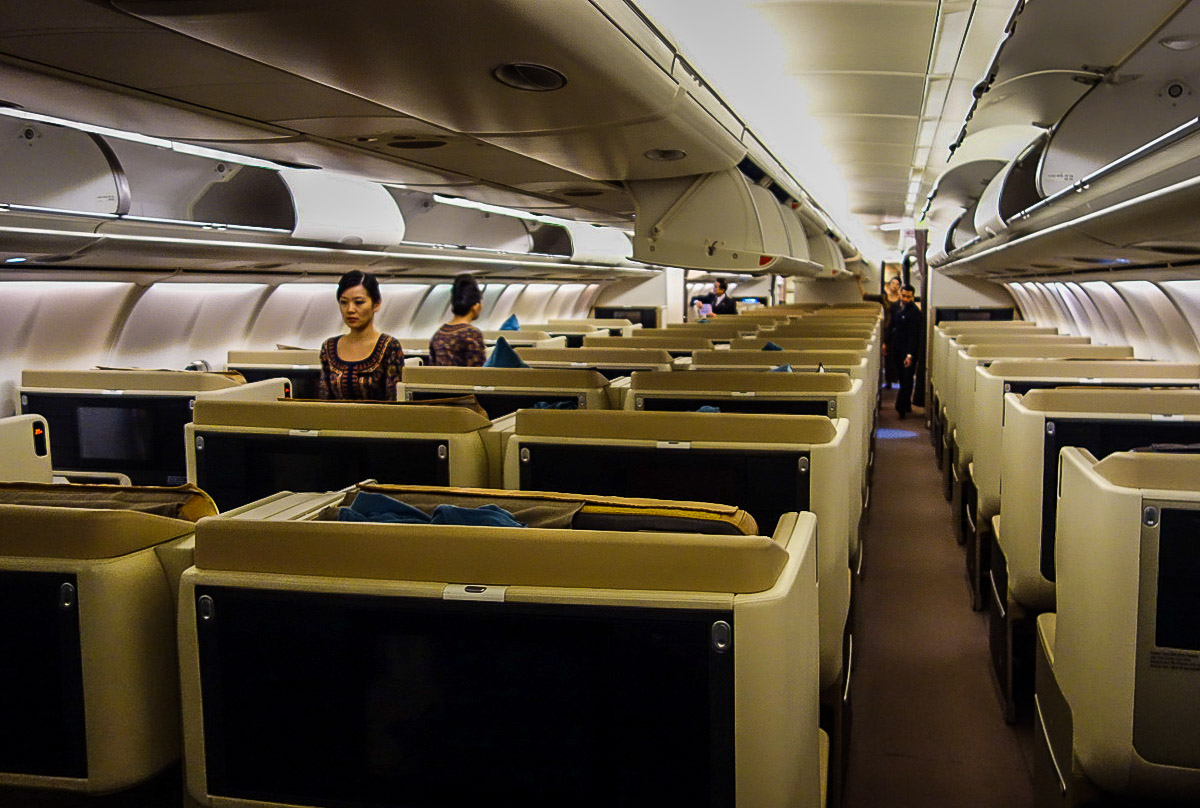 So, off we flew…
13:02 – Acceleration.
13:03 – In the air!
The plane accelerates and lifts off slowly, clunkily and shakily. 'A big kerosene can with a tail and wings', I thought. But that's actually what this bird is! If Wikipedia is to be believed, 220,000 liters of kerosene are poured into this colossal can for the journey. Probably half of the regular baggage hold is given over to a huge extra fuel tank!
220,000 liters for 100 passengers plus the crew? That works out at almost 2000 liters per person! Good gracious! I'm a bit ashamed of flying on this posh plane-extraordinaire, which uses up such a lot of natural resources for the benefit of so few. Still, what can we do, we had to fly… it's not like would could take a boat…
But could bourgeois excess be weighing heavily on the consciences of the folks at Singapore Airlines too? After all, the Singaporeans have decided to stop servicing this route – but probably more due to the non-optimal consumption of fuel and the rising price of oil. The last flight on the route will take place on November 23 – in a few days! You can read more about the closure of the route here. So it looks like we were real lucky to have a go on this unique avia-marathon plane when we did.
13:30 – Still gaining altitude half an hour after takeoff, and we'd only gone 7000 meters up into the sky! (The times of day I give above, here and below, btw, are Singapore times).
Singapore and northeastern USA are practically opposite one another in terms of longitude from the equator; therefore, it makes little difference how to fly – to the right of the North Pole via Japan/Kamchatka/Alaska, or to the left of it – via Siberia, Scandinavia and Greenland.
Incidentally, Singapore Airlines is I think the only airline whose routes stretch right round the globe. It flies to the west to Houston (Singapore-Moscow-Houston) and to the east (how we flew) to New York. The Malaysians are attempting to catch it up – I once saw a Malaysia Airlines plane in Buenos Aires!
14:05 – We'd been flying for an hour and were headed for Tokyo (my fave city in the world) and Kamchatka (my fave region of the world). Yippee! Just one snag… We've 17 more hours to fly.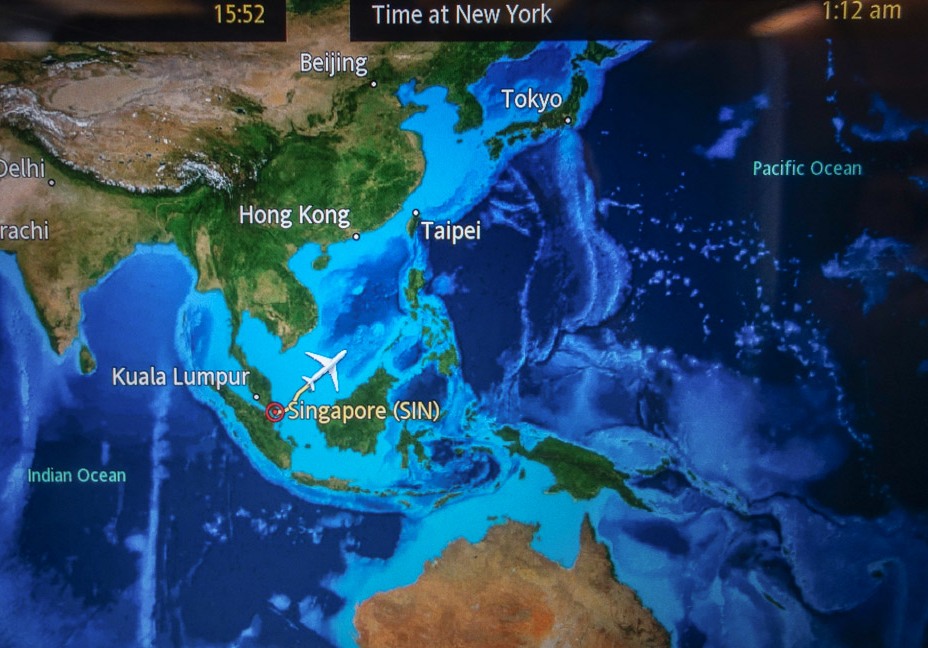 It's a SIN for so few to fly so far :)
So what on earth (or several kilometers above it) is one to do during all that time? Any normal person not used to long flights would shudder to think…
…My advice: First things first – open up the old laptop, connect to the onboard Wi-Fi and catch up on your e-mails – in my case getting rid of the backlog of inbox messages that had piled up (on the ground I never seem to have enough time for answering/writing e-mails, so airplanes for me provide the perfect catch-up time).
But here I ran flew into difficulties from the set-go – my battery was flat – and the sockets on my seat and the neighboring one weren't working! What the?… And there's Singapore Airlines always banging on (usually justifiably) about its high quality passenger care! In the end I had to go to the back of the plane where there luckily happened to be a spare seat with a working socket.
15:10 – We were fed some Southeastern Asian delicacies. Yum!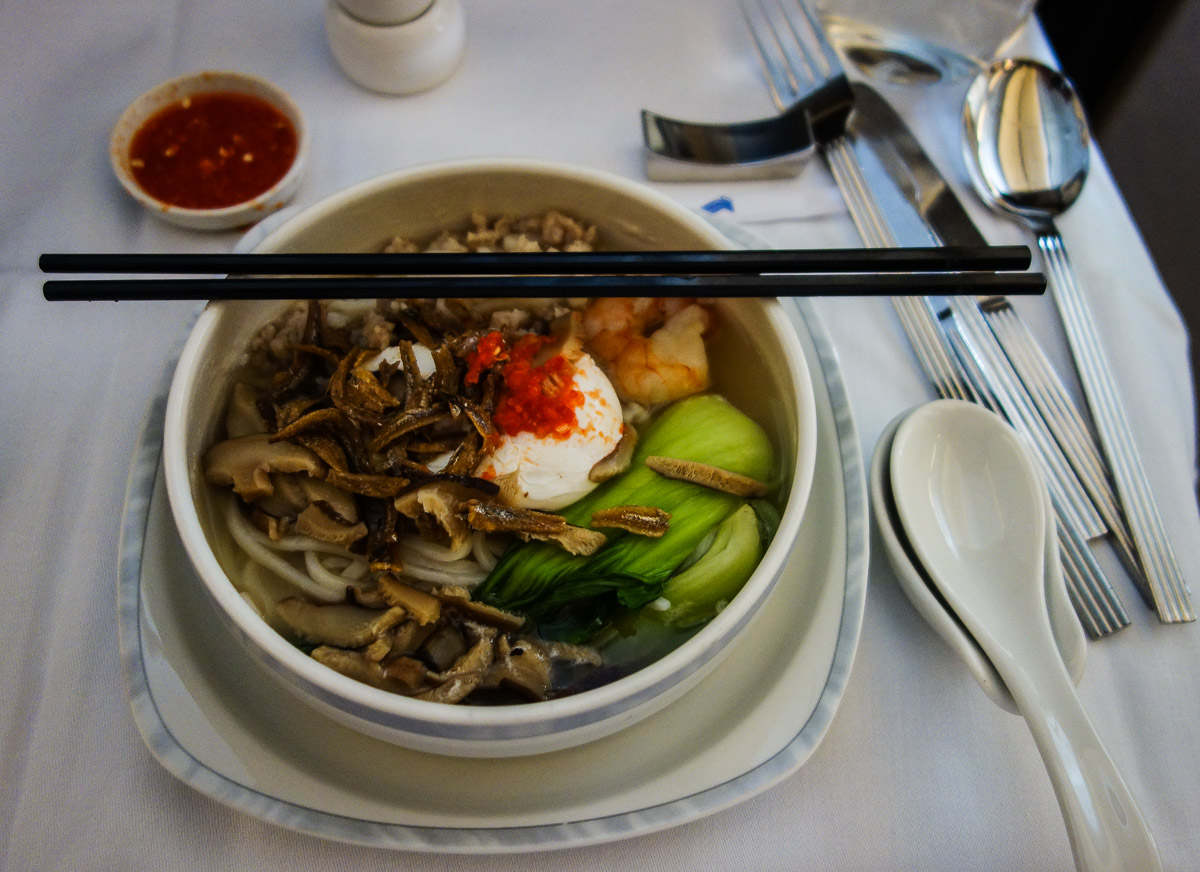 Not the usual 'chicken or beef'!
15:50 – We flew over Manila.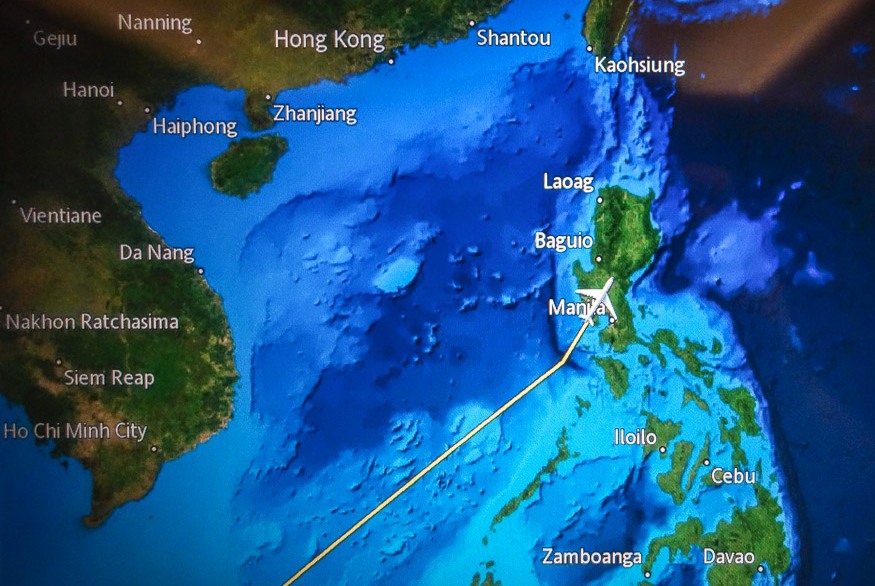 16:15 – My second laptop battery failed (the first one was half empty to start with; that's why this one conked so soon).
Next I watched a Hollywood film with a weird script and strange dialog. I got so fed up with it. Started wondering who on earth would watch this trash. Ah. Me. Eek. Note to self: Must get more organized with having films I want to watch downloaded and into my laptop… In the meantime, I watched another Hollywood B movie :).
18:55 – We flew past Tokyo.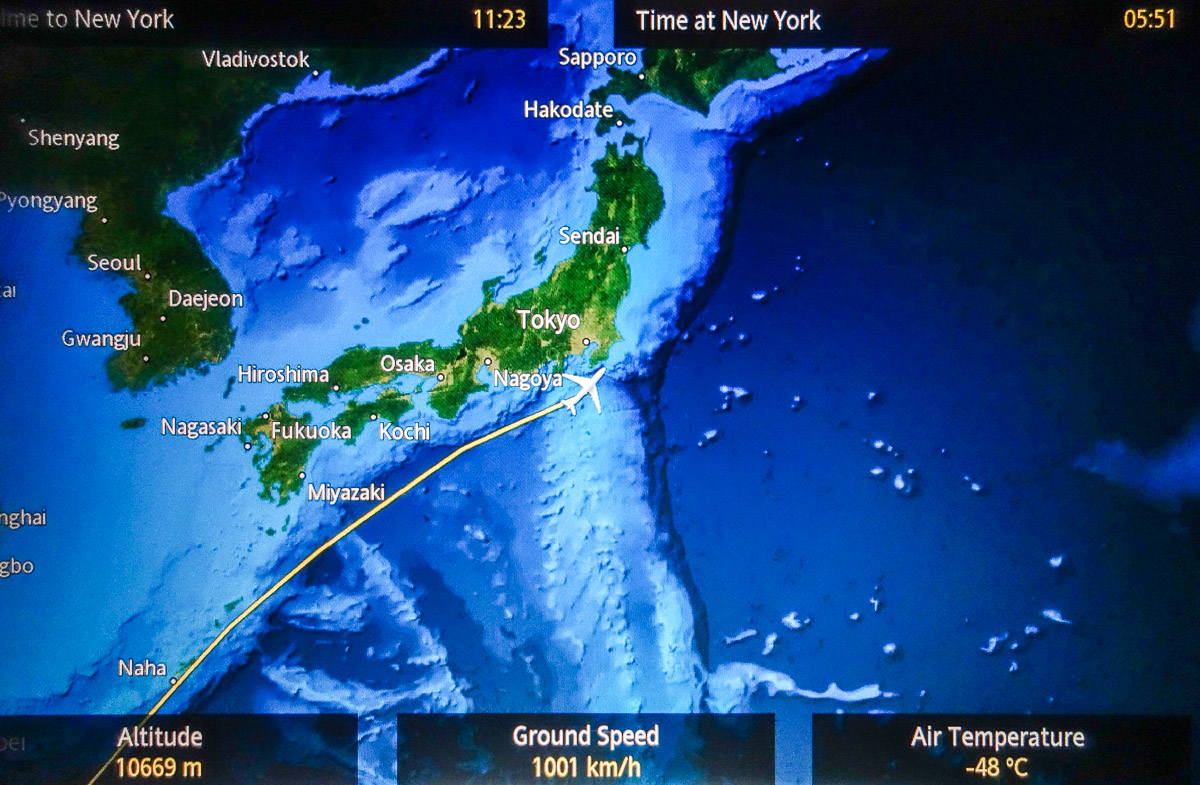 Hakodate. Wonder if its twin town in Harrogate?
21:30 – Kamchatka!  Alas, out the window it was pitch black, and we were quite far from the shore of the peninsula anyway…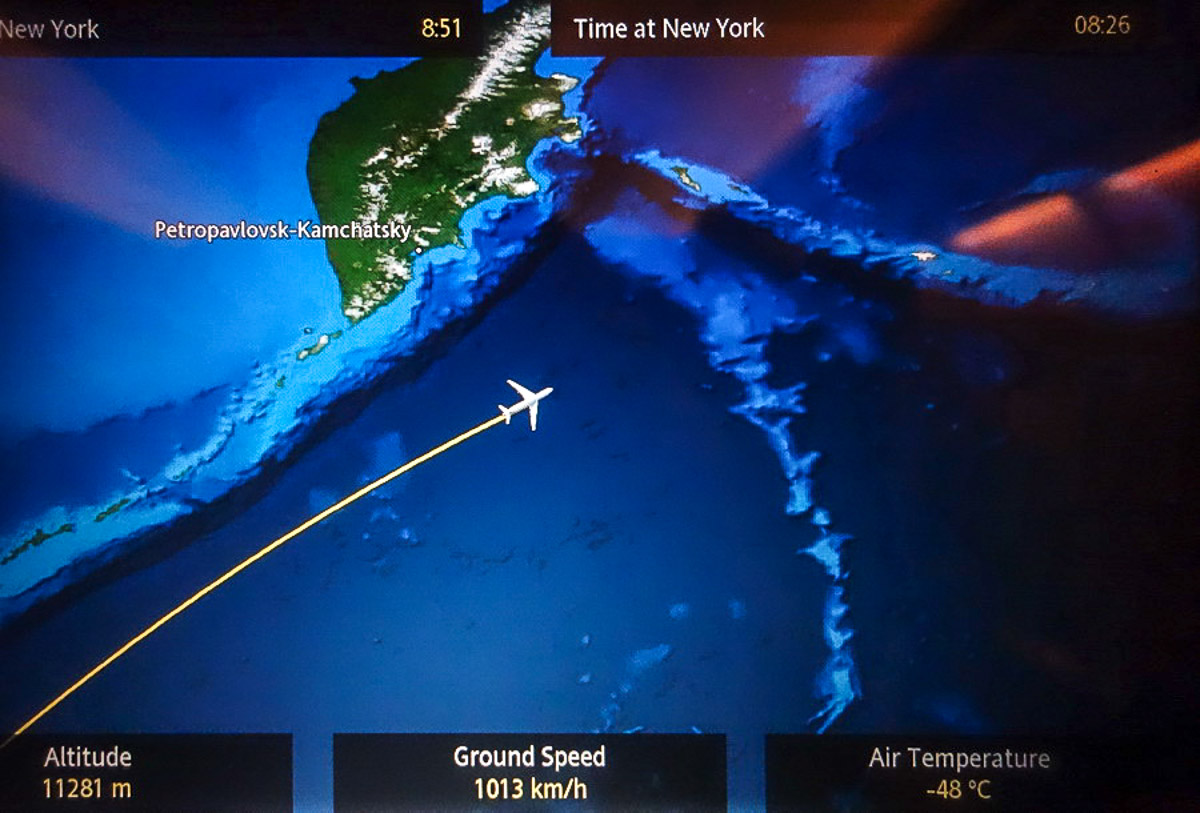 Curiously, it took eight and a half hours to fly from Singapore to Petropavlosk-Kamchatsky – about the same as from Moscow!
And on and on and on… to Alaska, Canada, the Great Lakes…
So, what else is there to fill your time on such a mega-long-haul flight? Elementary, dear Watson. After you've had a go at cleaning up your inbox, maybe read something, and watched a film or two, the best thing to do is to catch up on some sleep. It's not as if you can't get comfy on chairs this size!
And after your snooze, before you know it you're descending already! Arrrghhh! I didn't manage to finish clearing up my inbox, didn't finish my book, and didn't get to the end of my second film! After all my 'advice'!! Still, let's face it, passing the time in the land of the zzzzzs – there's no better way.
PS. We were up in the air not the full scheduled 18 hours, but less. When heading northeast we had a good tail wind, which shaved 40 minutes off the journey time – so it took us 17 hours and 20 minutes!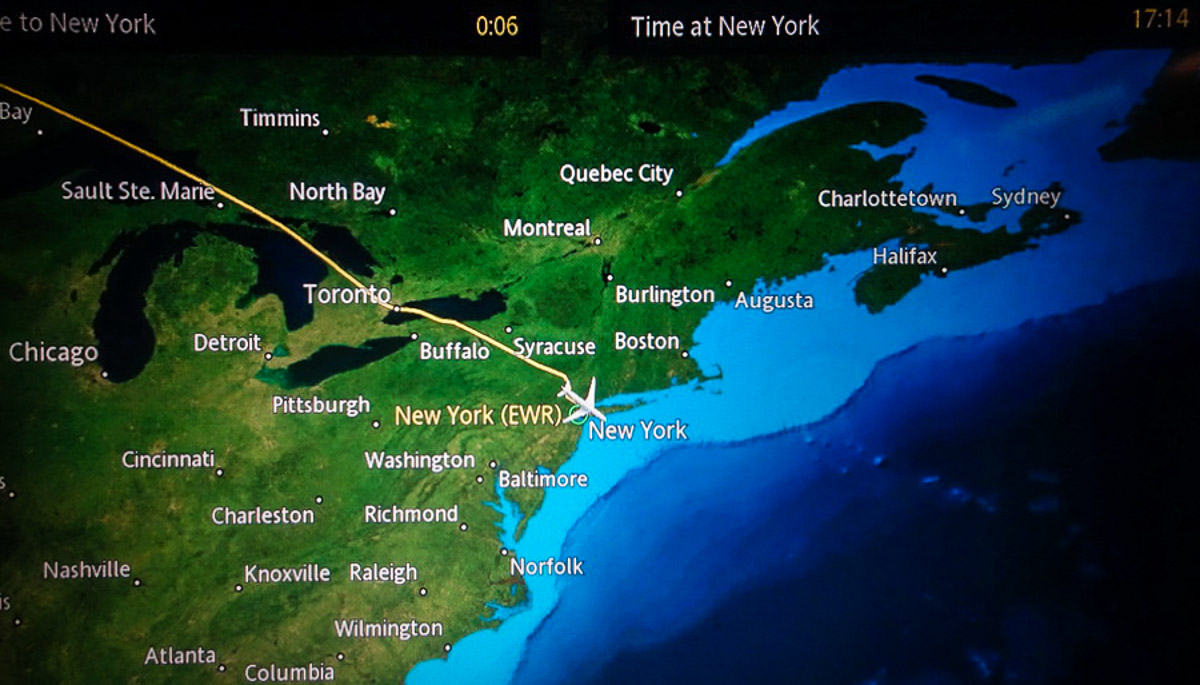 06:23 – We touch down on the tarmac! Or put another way… 30:23 – We touch down on the tarmac!
There! We did it! The world's longest long-haul (for the next three days) – done and dusted. T-shirt please!
The rest of the photos are here.
That's all for today folks! Back soon with more tales from the big/fast/long side…