I'd long wanted to return to California's oldest giant redwood park. I was first here in something like 1997, 15 years ago – and have cherished the experience ever since. And here I am again! Back in the Big Basin Redwoods State Park. The brain struggles to take in the size of these trees, the biggest in the world. They're bigger than… Atlas – supporting the sky on their branches… Forgive me for getting all mythologically romantic and lyrical, but there's no other way to convey my emotions.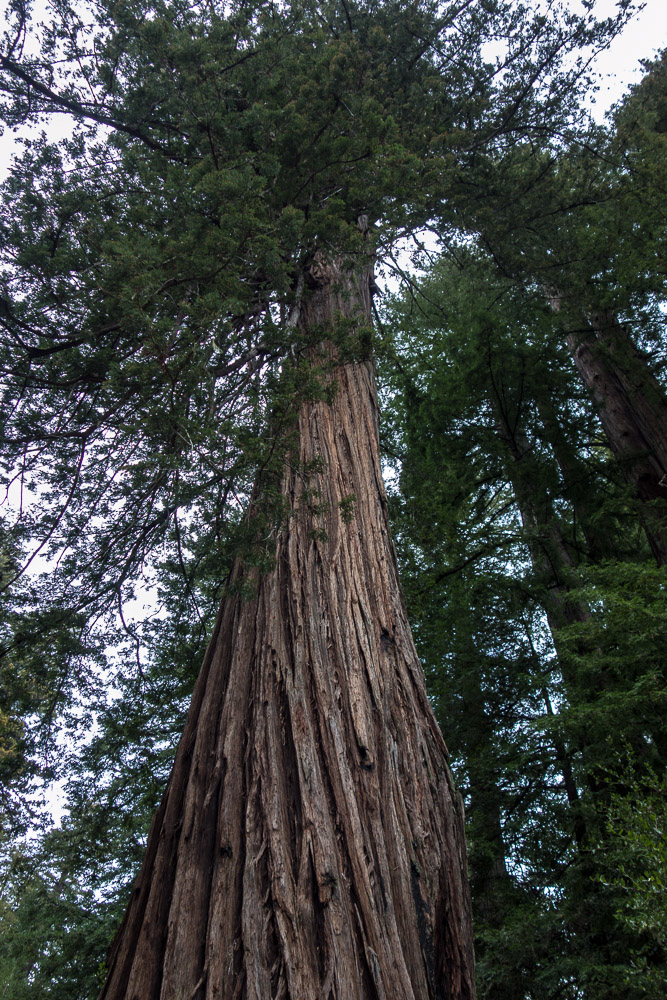 As touched upon in the recent Golden State & Golden Gate post, the giant redwood– otherwise known as Sequoia sempervirens, coast redwood or Califiornia redwood – can live (with a bit of luck) for more than two thousand years! The tops of these trees are waaaay up somewhere in the sky – more than 100 meters above the ground! One of the fallen giants has been cut into cross sections and different epoch's rings are indicated show when and where major historical events occurred.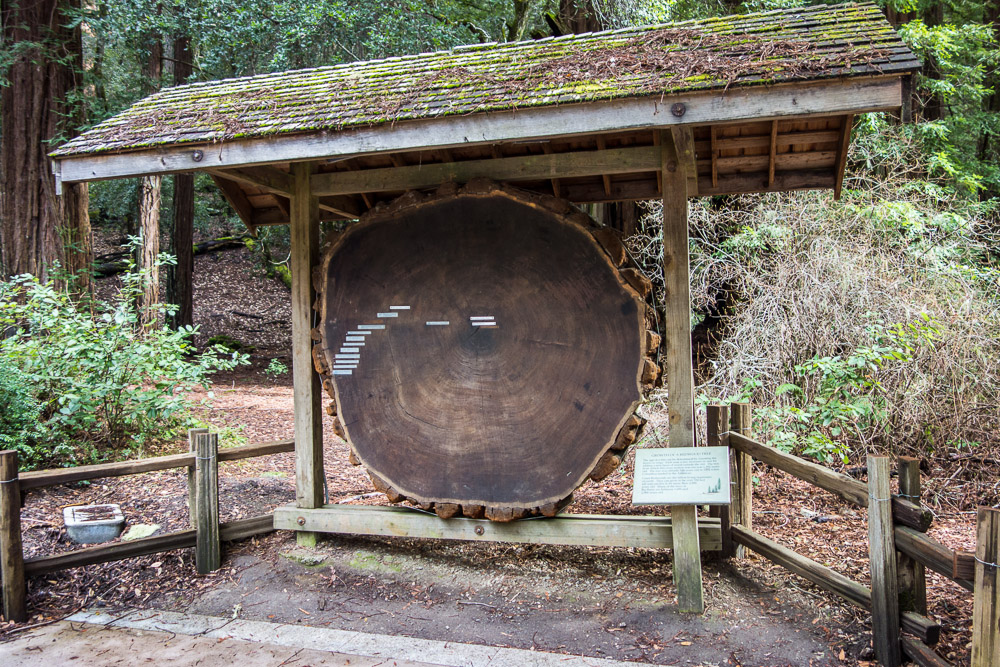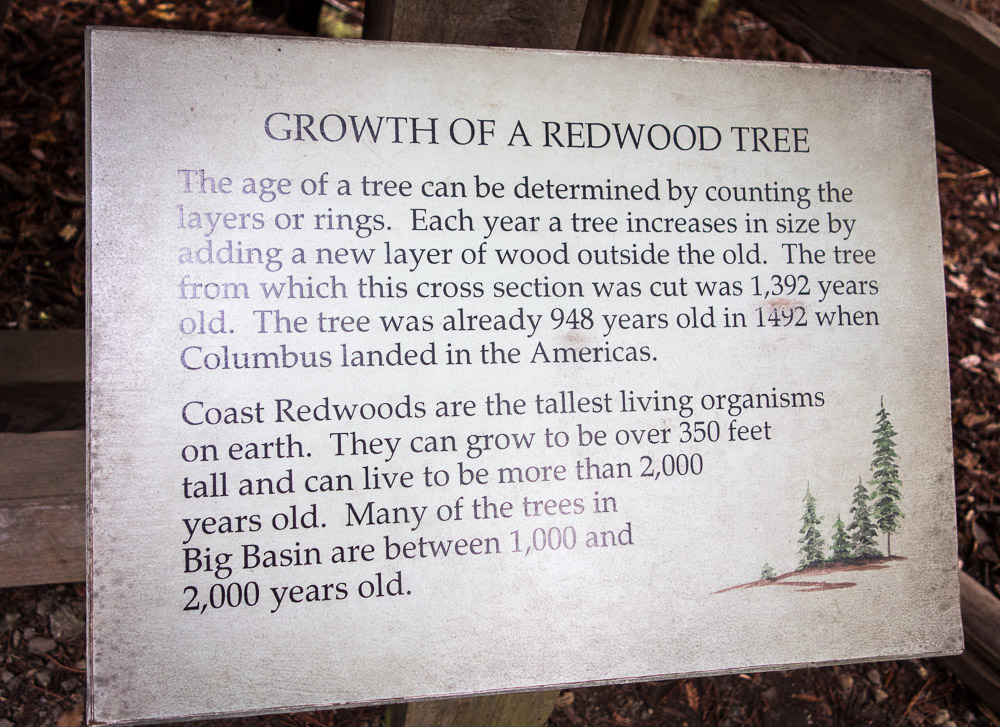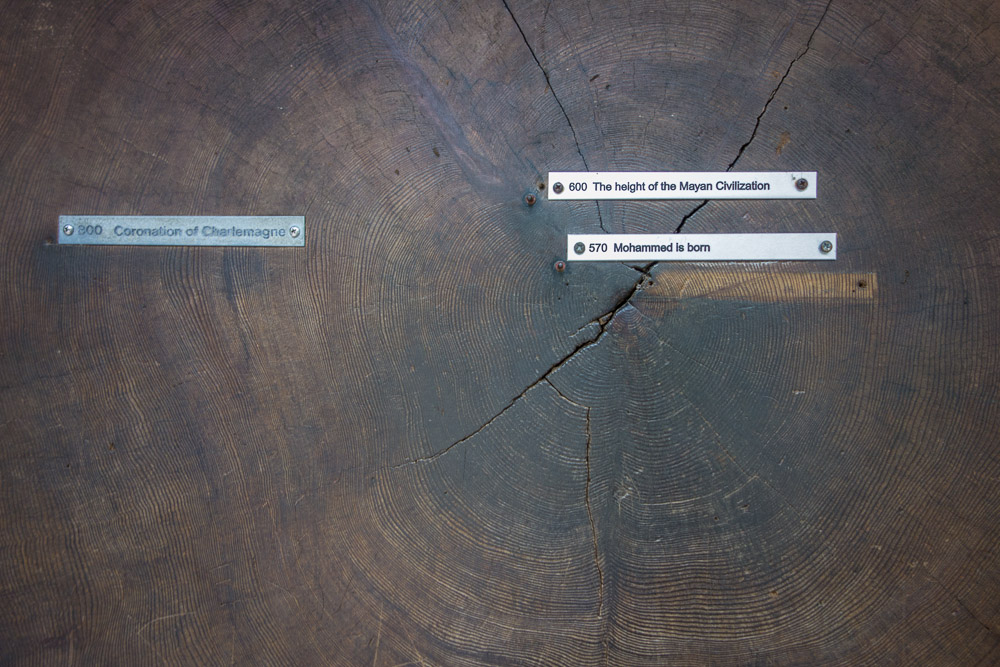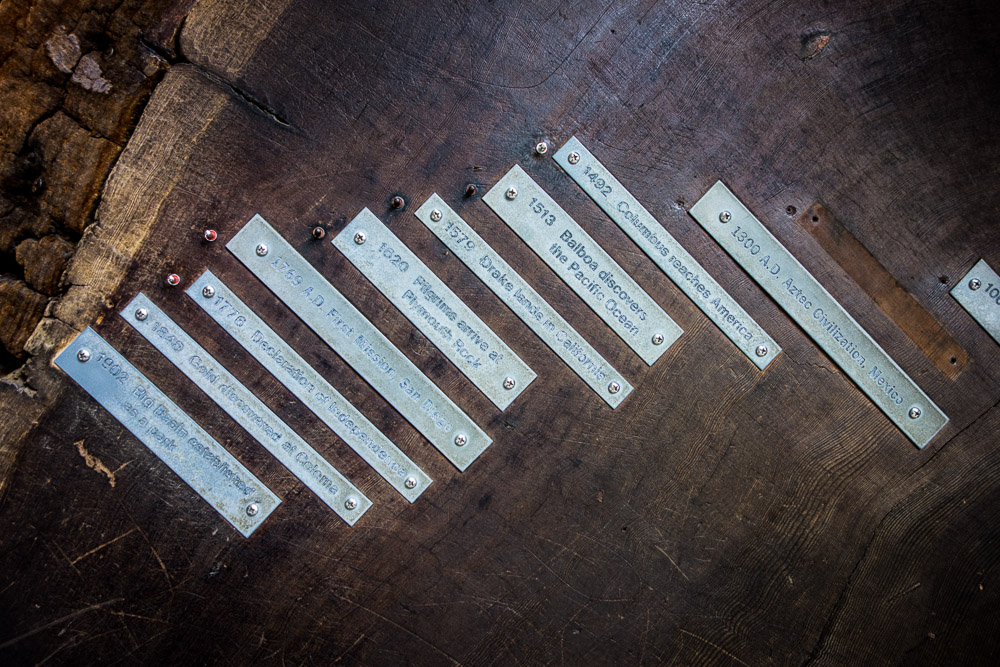 These trees were already up and growing when Vesuvius destroyed Pompeii, when Jesus walked through Judea, when the Romans used Londinium as a base to chase the Celts through Albion, when hordes of bears roamed the site of the Moscow Kremlin through impenetrable thickets on the banks of an as yet unnamed river… and on, and on, and on…! Wow, it really is sometimes hard to believe that, it was two thousand years ago when these trees (yes these trees here, which you can touch!) sprouted from cones and began their growth upwards and outwards. Truly mind-blowing.
They're monstrously massive. To get an idea of size you usually include a ruler or a matchbox in a pic. I didn't have either, so to convey size in this instance I asked my travel buddy T.T. to get cozy with a tree ("sure, I don't mind being a matchbox"). And he was right: there you do feel the size of a matchbox ).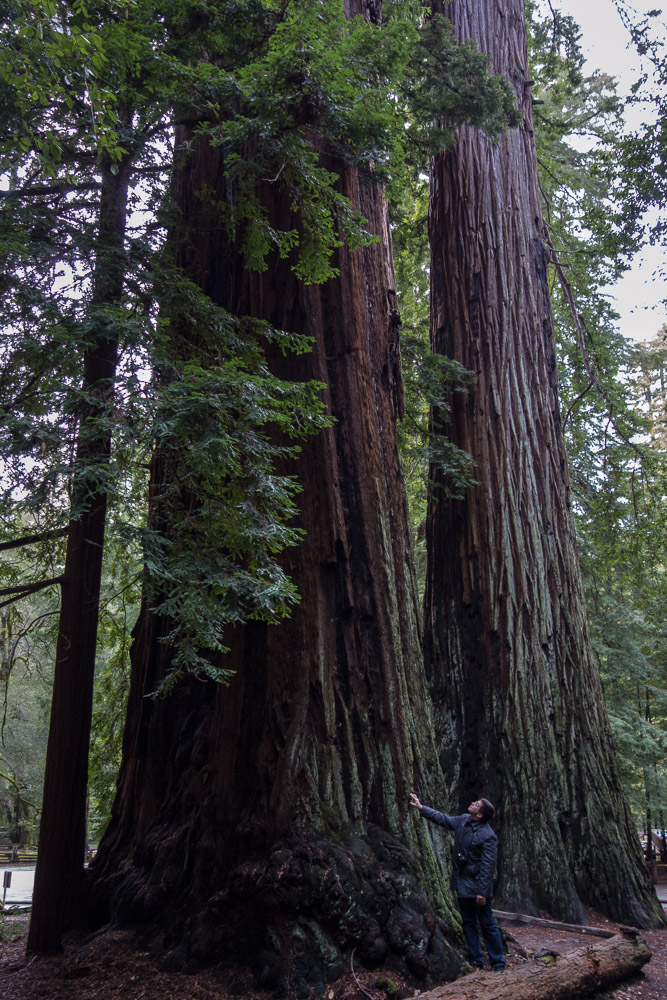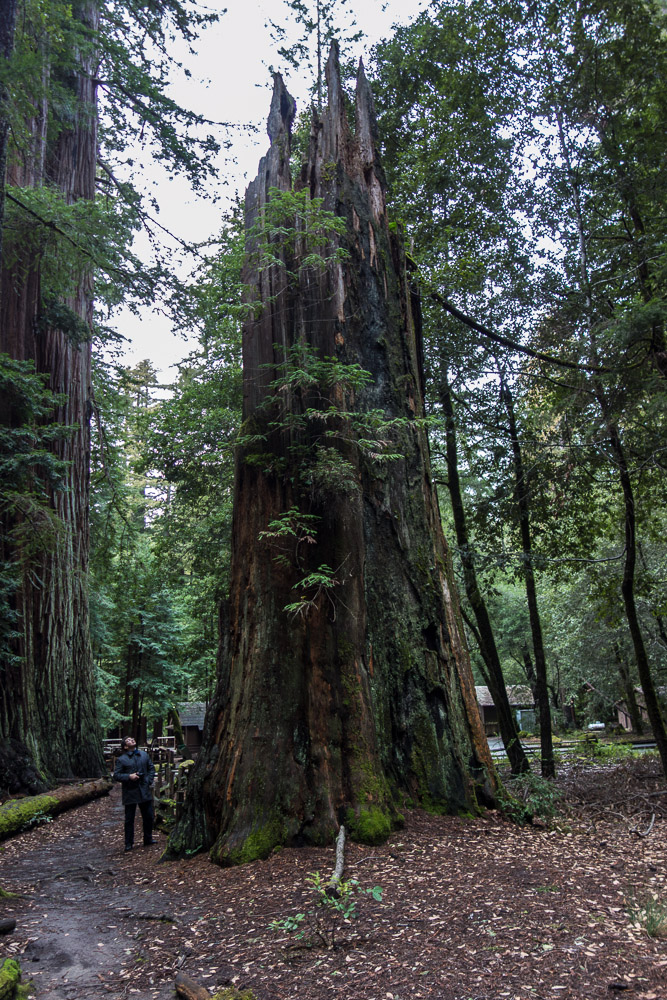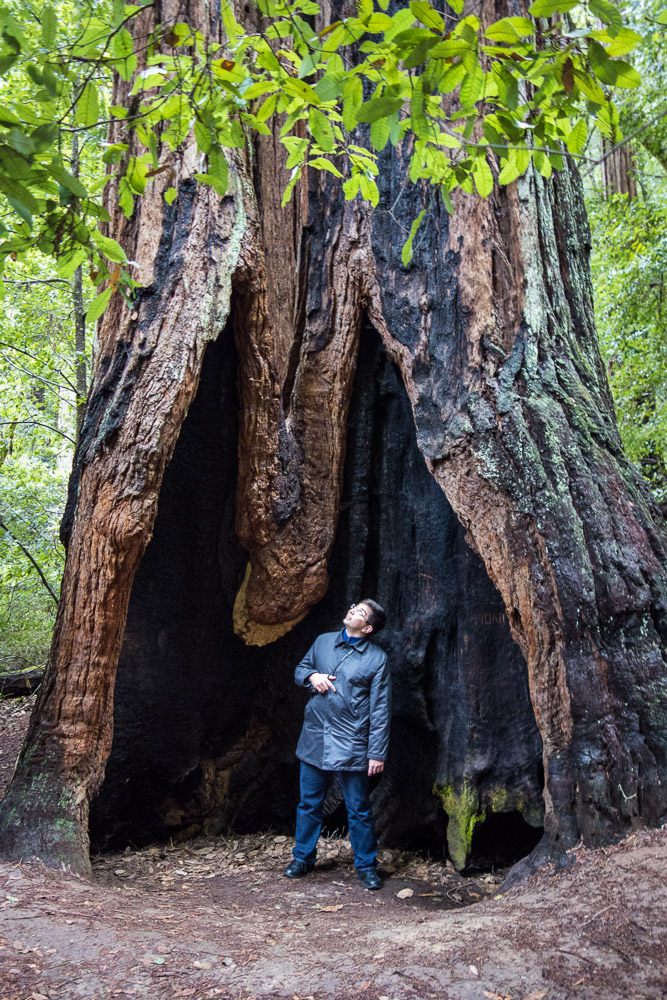 Redwood eco-theater: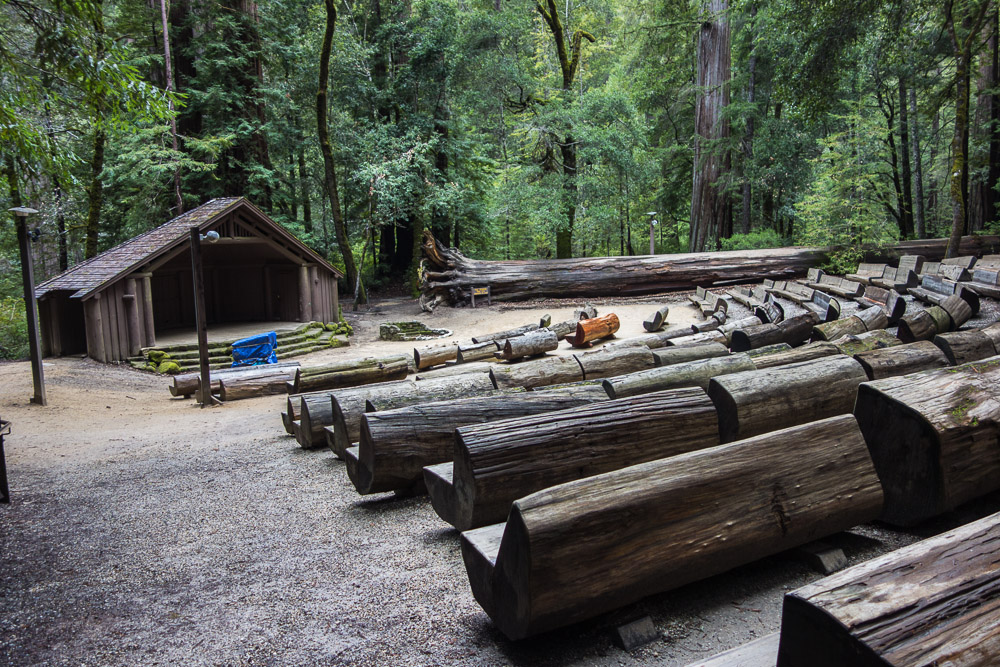 The trees are so enormous they simply won't fit into the picture: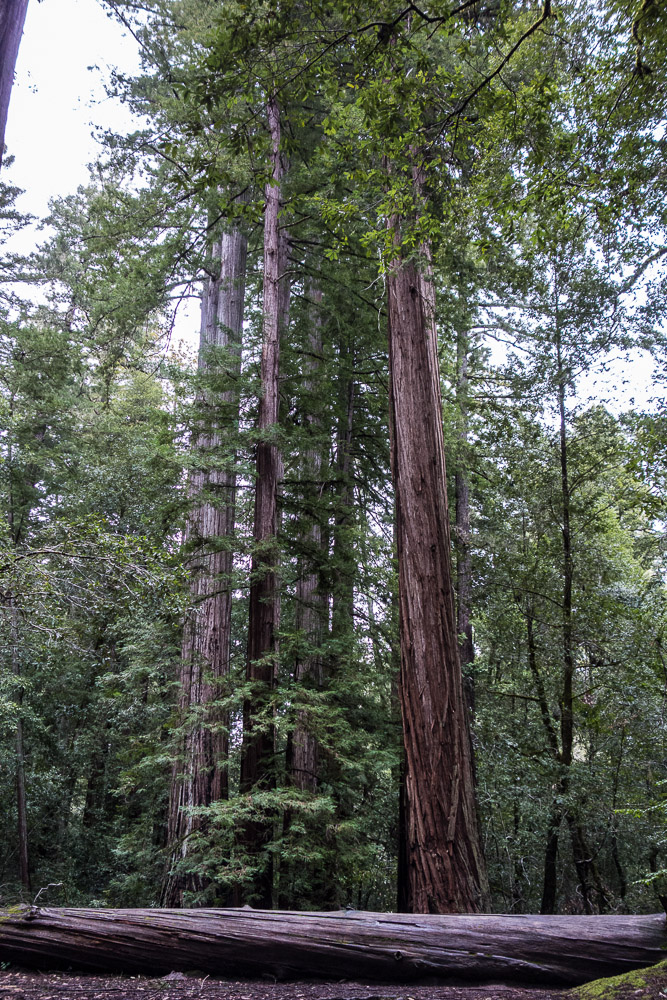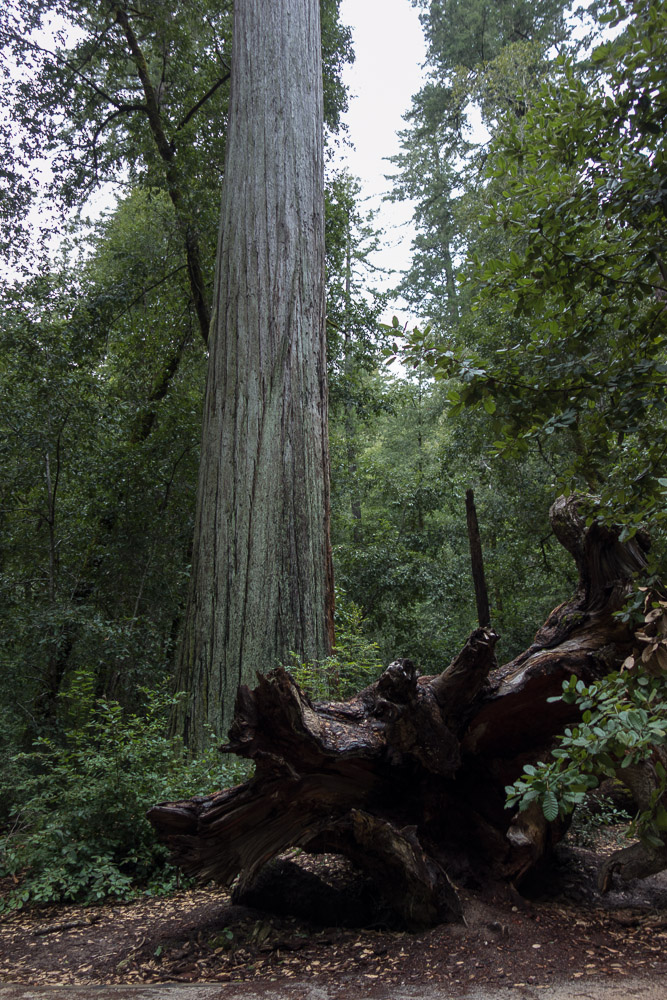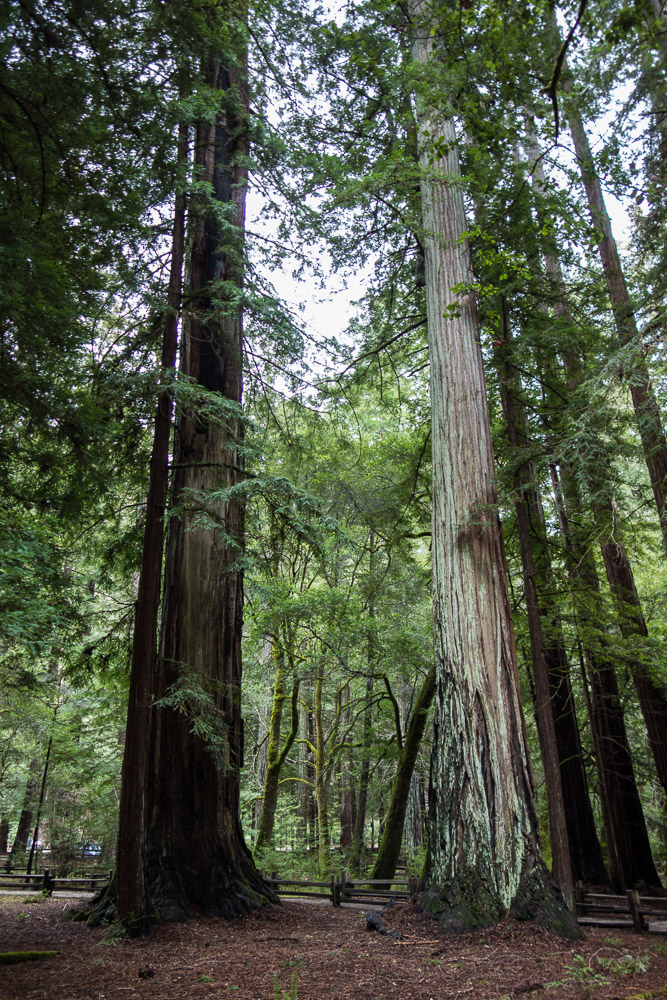 A young sapling just beginning its life seems inconceivably tiny compared to its parents. But it will grow, outlive all of us, and continue striving upwards towards the sun long after all but the memory of  mere mortals like us will have disappeared, and into an era when current countries and civilizations will also have disappeared or changed. Maybe it will live to see a time when mankind not only flies regularly to Mars, but go beyond the limits of the solar system…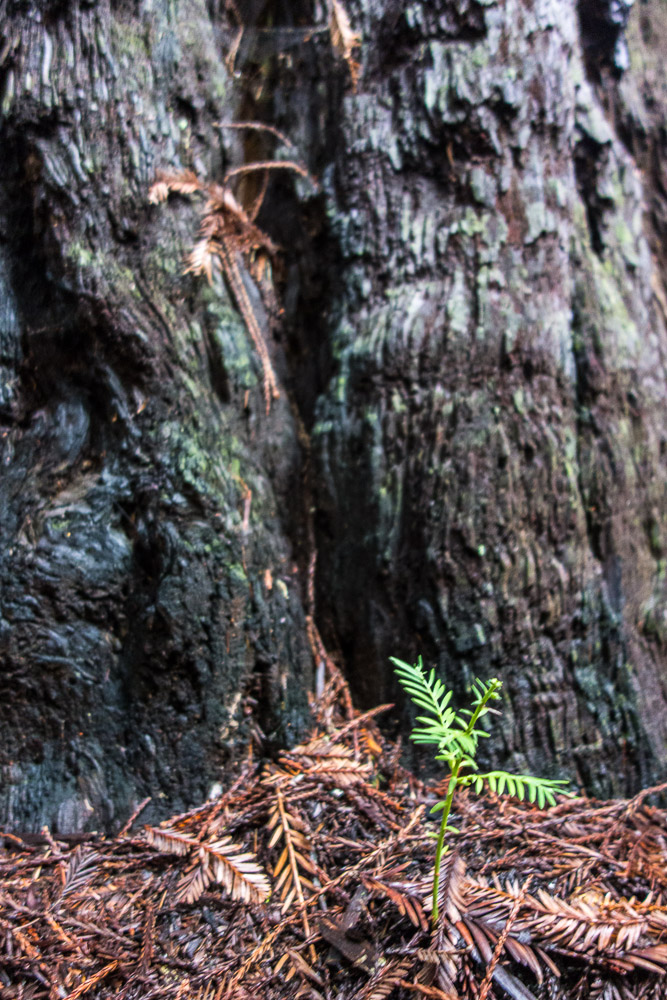 Uh oh, getting all melodramatic again. But there again, looking at these colossuses all sorts of weird thoughts come to mind. Grow little one; though I've looked down on you – in two thousand years' time others will be craning their heads back to look up at you. Maybe they will remember us… Maybe we'll have an indicator showing the early decades of the second millennium? I wonder what it would say?…
Almost all these saplings are charred and burnt – we are told that without forest fires they simply wouldn't survive. Fire burns away the dense undergrowth and gives the young sequoias more room and sunlight.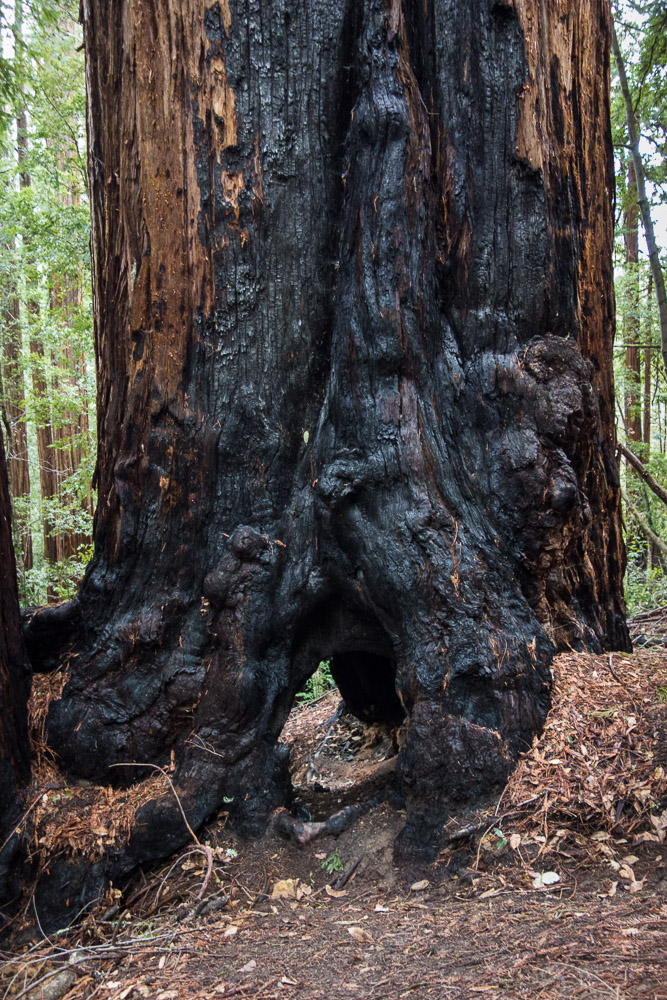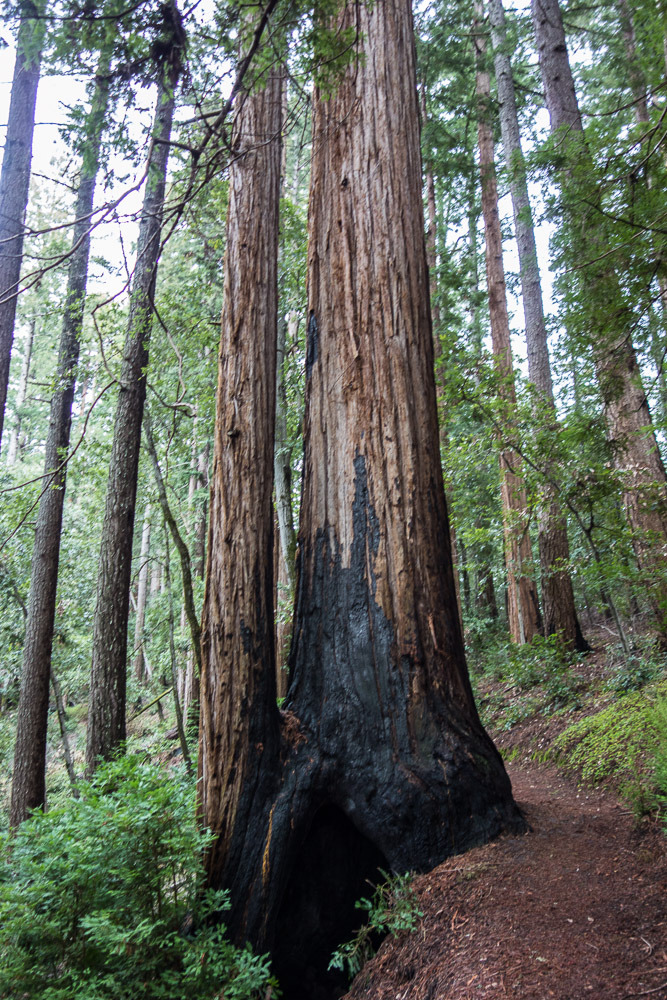 In places like this you need to walk, look around, and get touchy-feely with the nature around you. The whole park is covered with paths going in all directions; you can even walk all the way down to the ocean beaches – but that is 12 miles. A bit too much for one day… But maybe some day I'll be lucky enough to have time…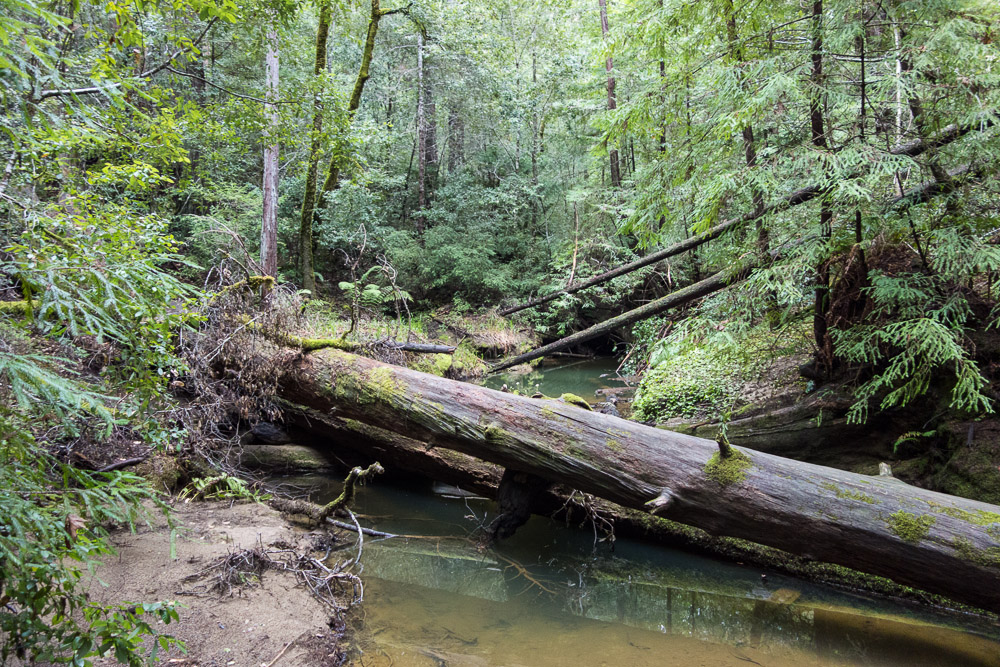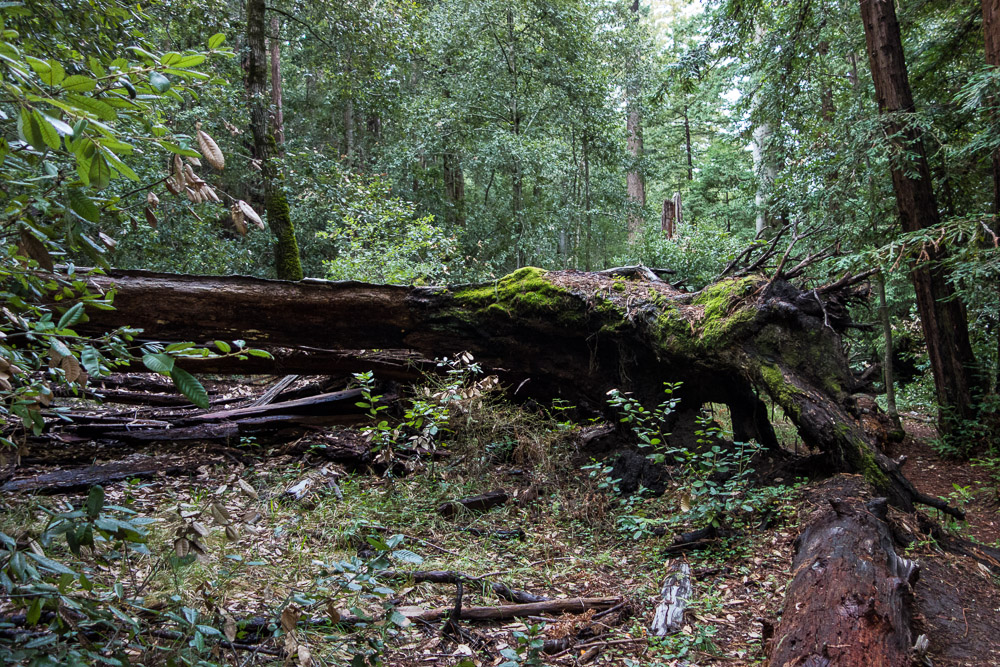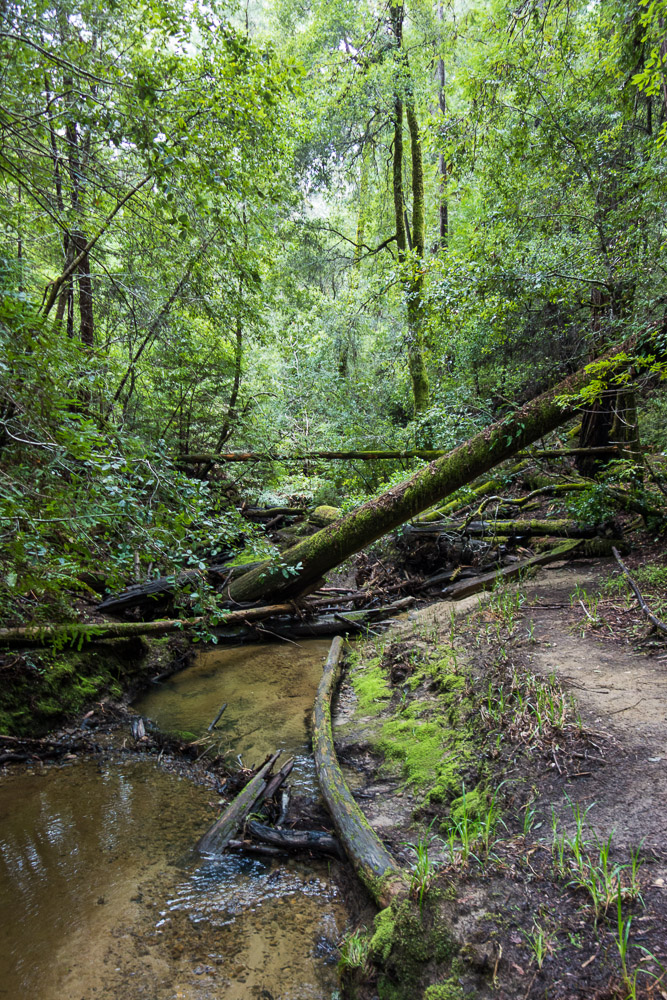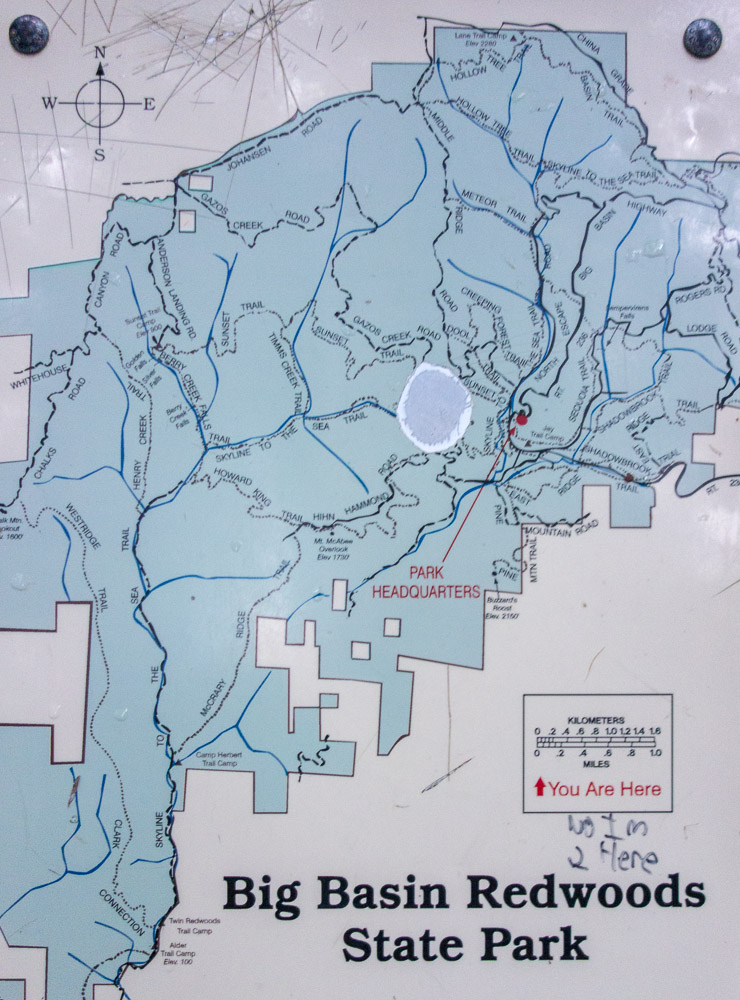 You can see more of these kings of the forest here.
That's all for now. Back soon!…