Tianjin – Moscow – Simferopol – Yalta.
Hi all!
Ready. Steady. Go!
The season's traversing the globe – rather, the northern hemisphere – has begun with gusto.
First up – Tianjin (天津, "Heavenly Passage, Ford"), China, which is approximately 100 kilometers southeast of Beijing en route to the sea. The city (actually, its central district – along the banks of the river) is really impressive to look at – but not in the more traditional Chinese sense of hustle and bustle and lots of folks and bicycles; instead – one of calm, quiet neat-and-tidiness, plus very few folks – and fewer bikes. Some of the parks are almost like those in… er, a much smaller nearby country, which I'd better not mention just now.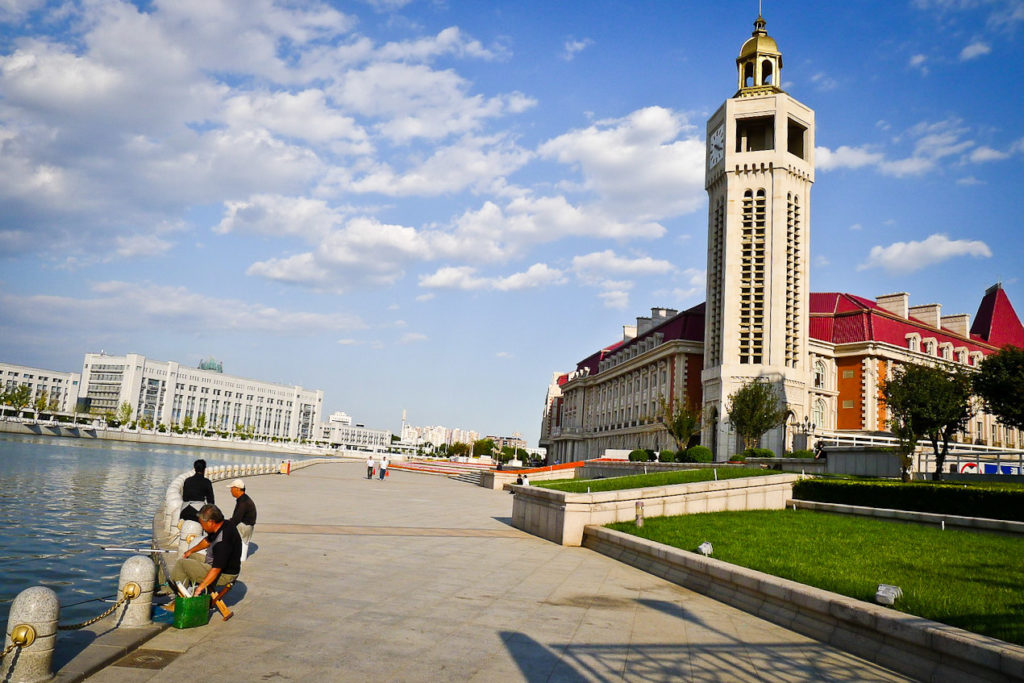 Along the riverbanks there's a kind of fusion of styles going on here. Looking at the new buildings and bridges you'd be forgiven for thinking you're in Paris, a bit later on – London; over there there's a totally-Tokyo (oops) skyscraper, round the corner there was an Italian quarter… (we didn't manage to see that, or plenty of other places worth checking as we only had an hour for our walkabout). The river is the Hai (海河) btw, which means "sea-river".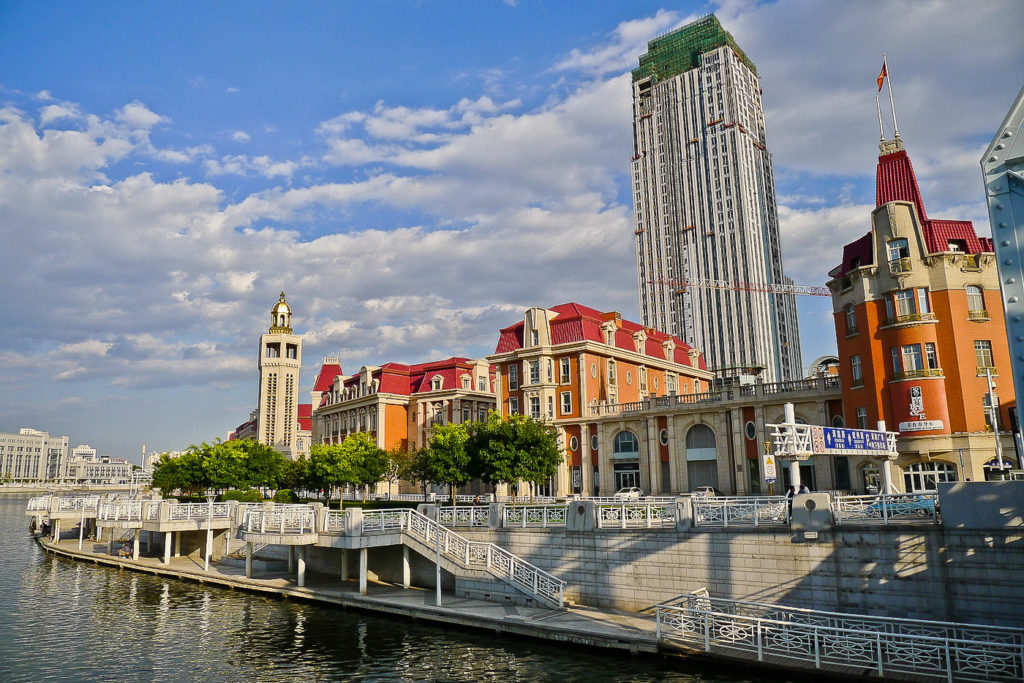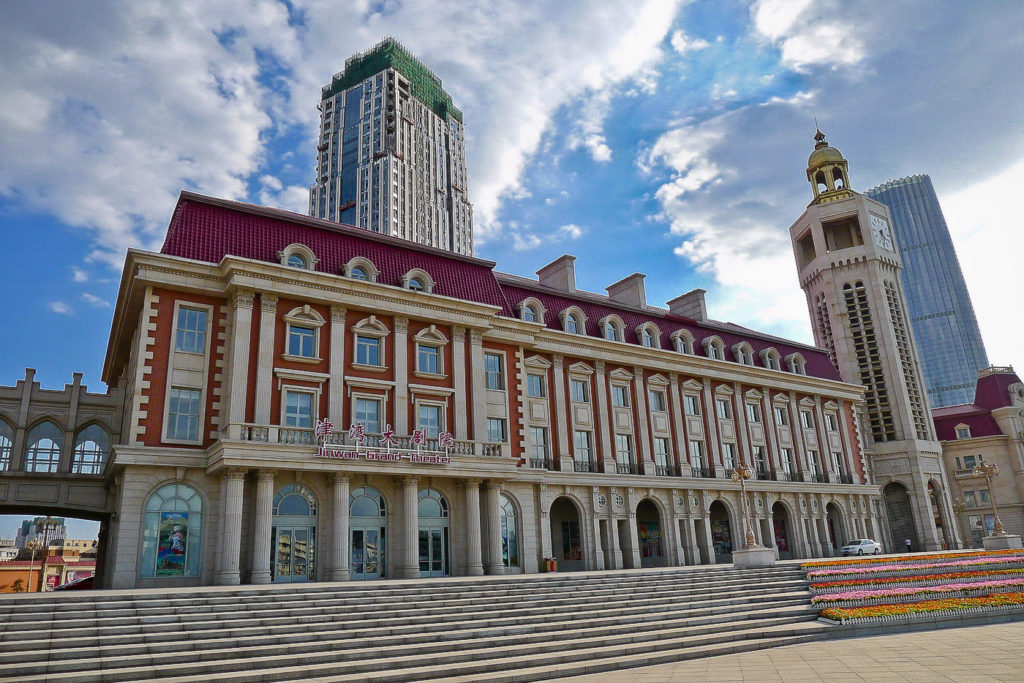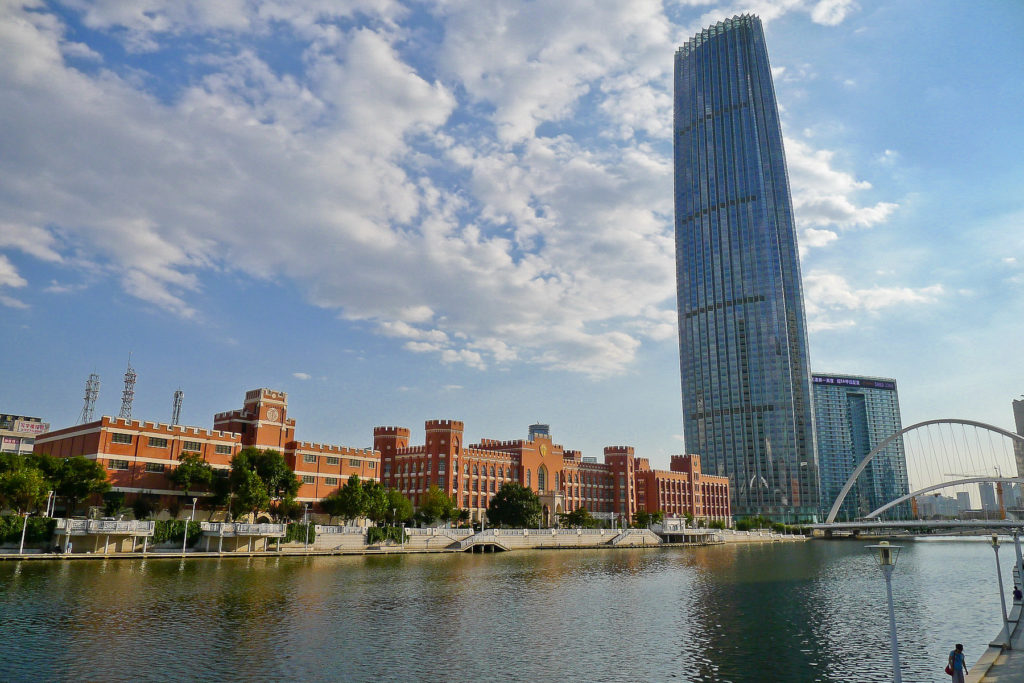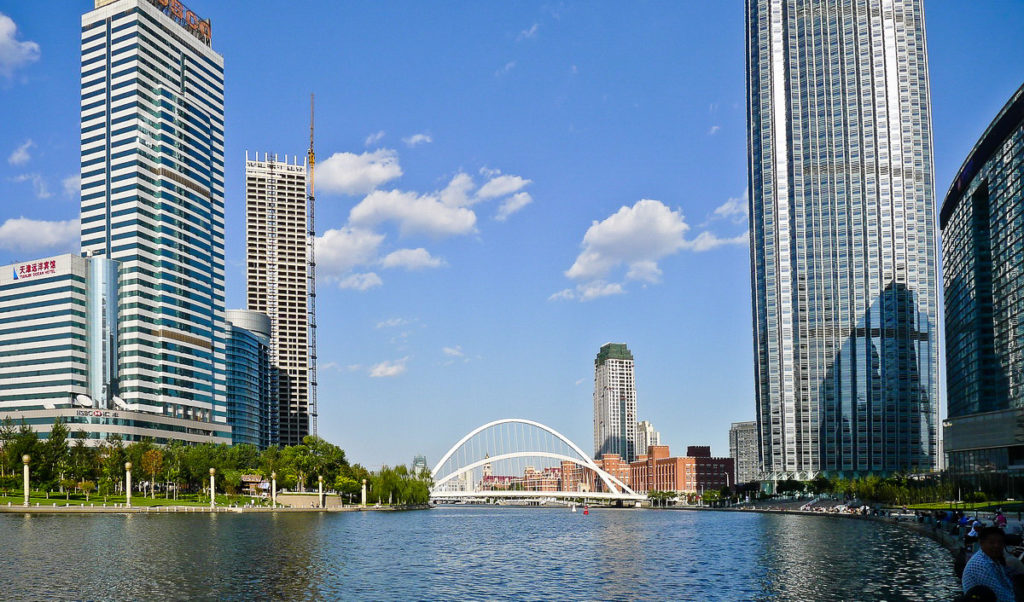 Along the banks of the river you come across a series of erotic sculptures. No idea what they're about :)
[Now that's a sun visor! Or is it Luke Skywalker's blast shield?]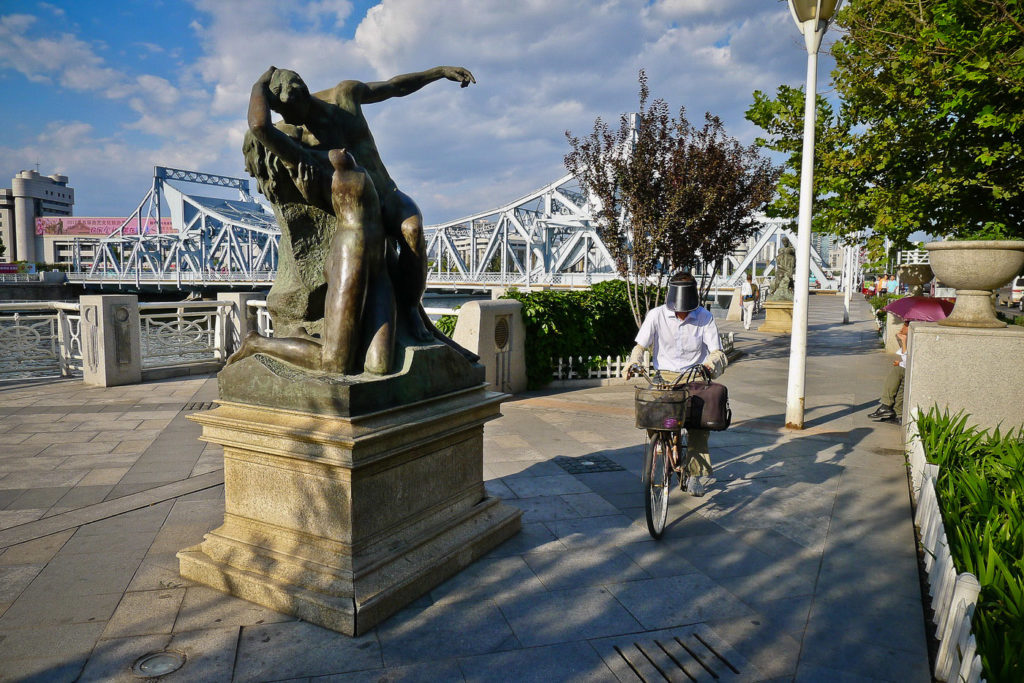 And another bizarre thing: diving into the river from the bridges and swimming about is both allowed and freely, openly practiced right in the center of the city! Don't see that often!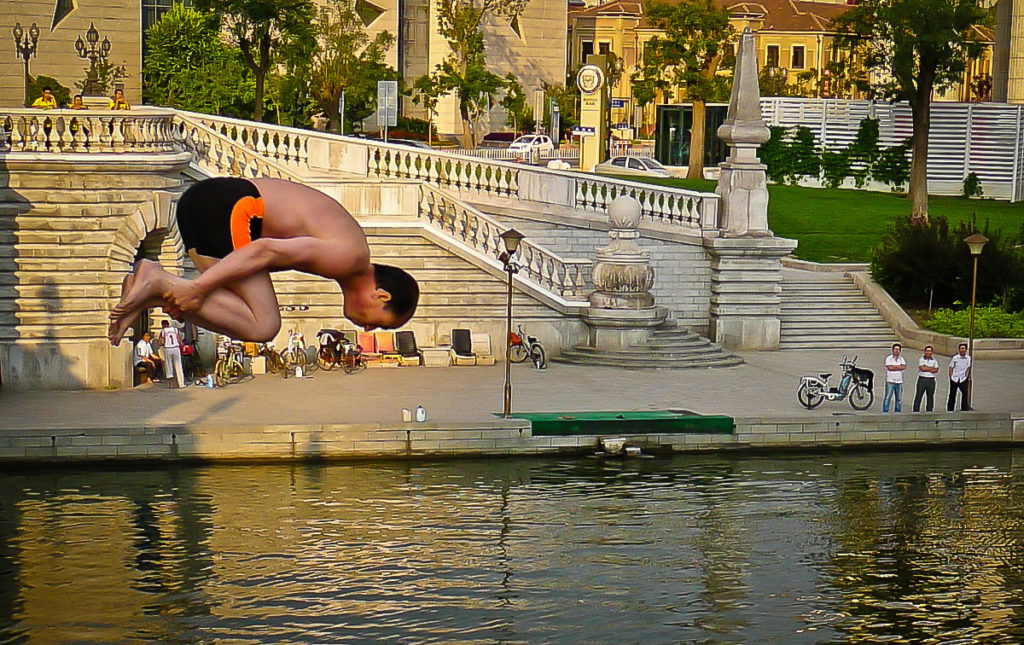 In all, an extraordinary, very pleasant and interesting place. There are lots of interesting buildings, everything seems size XXL, and it's all very pleasing to the eye and even cozy. Some might say it's a little unoriginal or tacky – copying trademark styles of other cities, but I don't. To be honest, looking at this achievement of modern town planning, I'd say not only is respect due, but I do believe that the place is worthy of a touch of envy! How come the Chinese got to pull it off so so darn right?!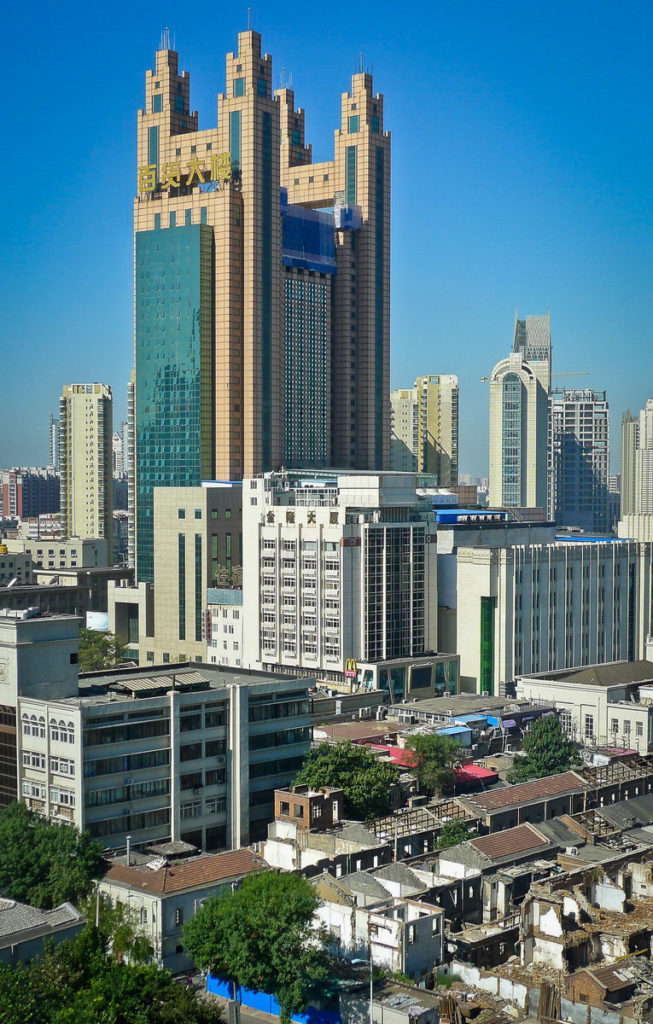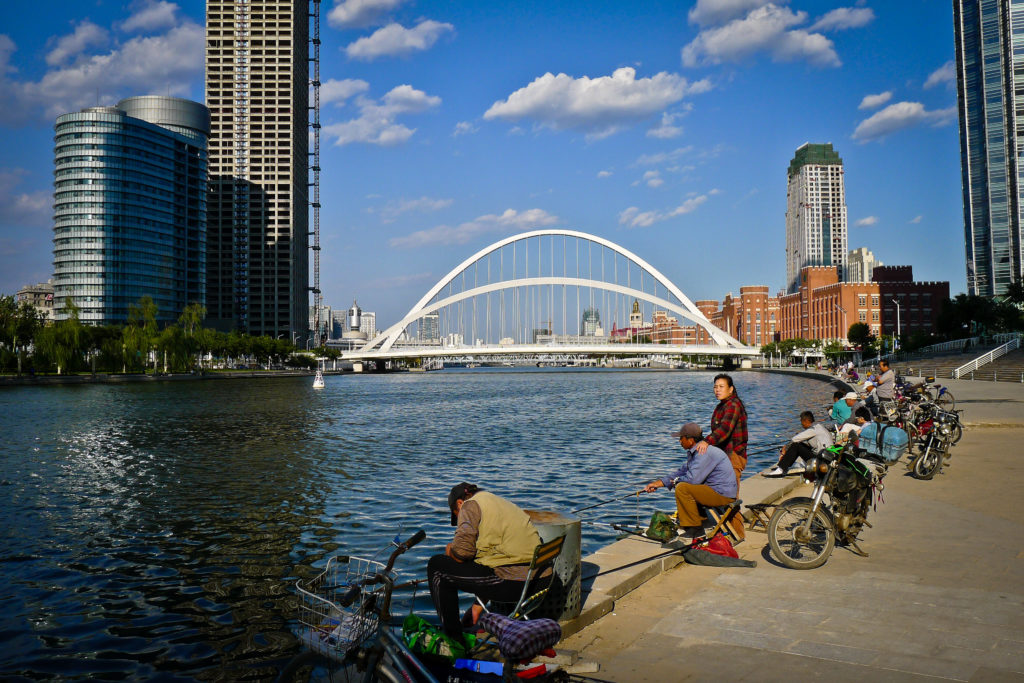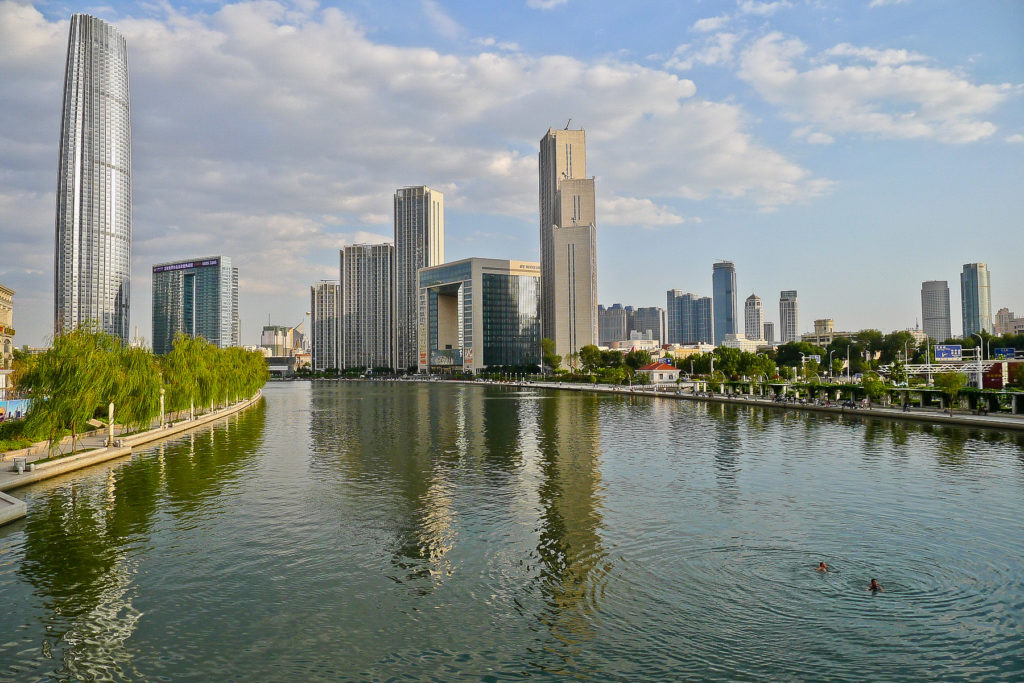 It's an impressive city. It's also a sister city of Milan, Kutaisi, Ulan Bator, Kharkov, Thessaloniki, Dallas, Jönköping, Nampho, and others.
Anyway, now a little about the most important bit – why we're here. Every year here in September the World Economic Forum holds a conference called the Annual Meeting of the New Champions, a.k.a. the Summer Davos – in a huge congress center on the banks of a nice lake. Of course, jokes about it being neither summer, nor located in Switzerland, abound. It is like the original Davos event though, and in some ways better: there are free rooms available in the local hotels, there's no snow, and no anti-globalists whatsoever!
After the conference in Tianjin – which focused on understanding today's cyber-threats – we were headed for Yalta, Crimea, Ukraine. Wind forward a day – and I was at another cyber-threat conference there – as seen here in this photo: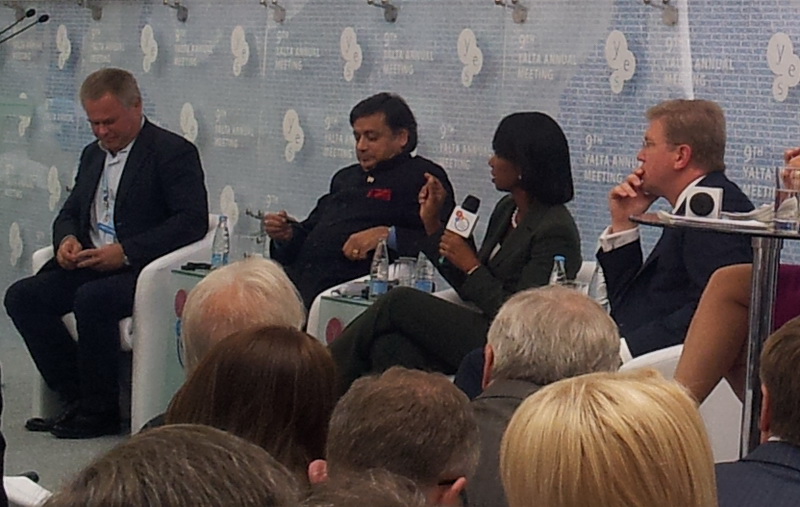 Our journey went so: car from Tianjin to Beijing airport, Transaero to Domodedovo, then a hired jet to Simferopol (we wouldn't have made it in time otherwise). Then by car to Yalta. Then it was time for YES – the Yalta European Strategy, a.k.a. the Yalta Annual Meeting, where there were some very interesting guests, with whom I gladly discussed cybersecurity and cyberwar issues. Glad to discuss, that is; not glad about the prospects thereof – for the more astute/cynical of you :)
Alas, we didn't get to do much of the touristy sightseeing thing, but we did manage to check out the following:
the "Villa Elena" – wow! Now this is hoteling in style. V. posh indeed!
the Livadia Palace, where the event that brought us all the way from China (in such a hurry!) took place. This is the venue where the Yalta Conference in 1945 convened. The famous pics of FDR, Churchill and Stalin sat together were taken in its gardens.
Shortly after YES, it was time to say NO to ultramarathon-international-conference-participation for a while, and to head back home. Before that though we managed to squeeze in helping our Kiev office in formally bringing the 2012 bathing season to a close :). Then it really was time to get back to Moscow. But not for long…