Kamchatka-2012: Volcanism.
Day 15 (for the second group – day 1). Heading north.
If you ever happen to one day find yourself in Kamchatka, specifically in Petropavlovsk-Kamchatsky, and you have a free day on which the weather is good and the wallet is sufficiently bulging, then it's perfectly feasible to have yourself a fantastic day to remember. What you do is organize a helicopter excursion and head north – to Klyuchevskaya Sopka and back. Such a day-excursion comes highly recommended – a total mind… flip – is guaranteed!
As mentioned – you need to sort yourself a helicopter, which really should be ordered in advance. After having done so, you pray for fine weather on the day of your trip. It's a good idea to take spare batteries with you for your cameras and similar kit, as you'll find you use them pretty much non-stop.
I've been lucky enough to have been on numerous helicopter excursions all over the planet – but in terms of the sheer overload of impressions, Kamchatka leads by a mile.
En route we flew over several volcanoes (including an erupting one, but which by next season may die down), the hissing caldera of the Uzon volcano (with a touchdown and excursion), the Valley of the Geysers (touchdown & excursion), the Kluchevskaya group of volcanoes, and the Northern Fissure (where we walked along the peaks of red hills). Unforgettable!
// For those in need of more details re all the below-listed, click here, or search the net.
1. Karymsky, 1536m – a permanently active volcano: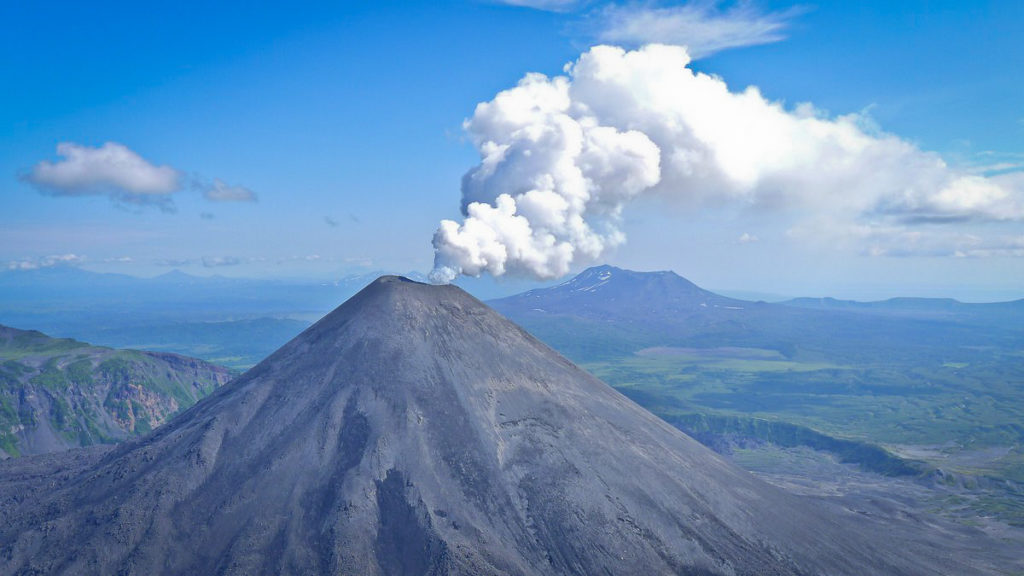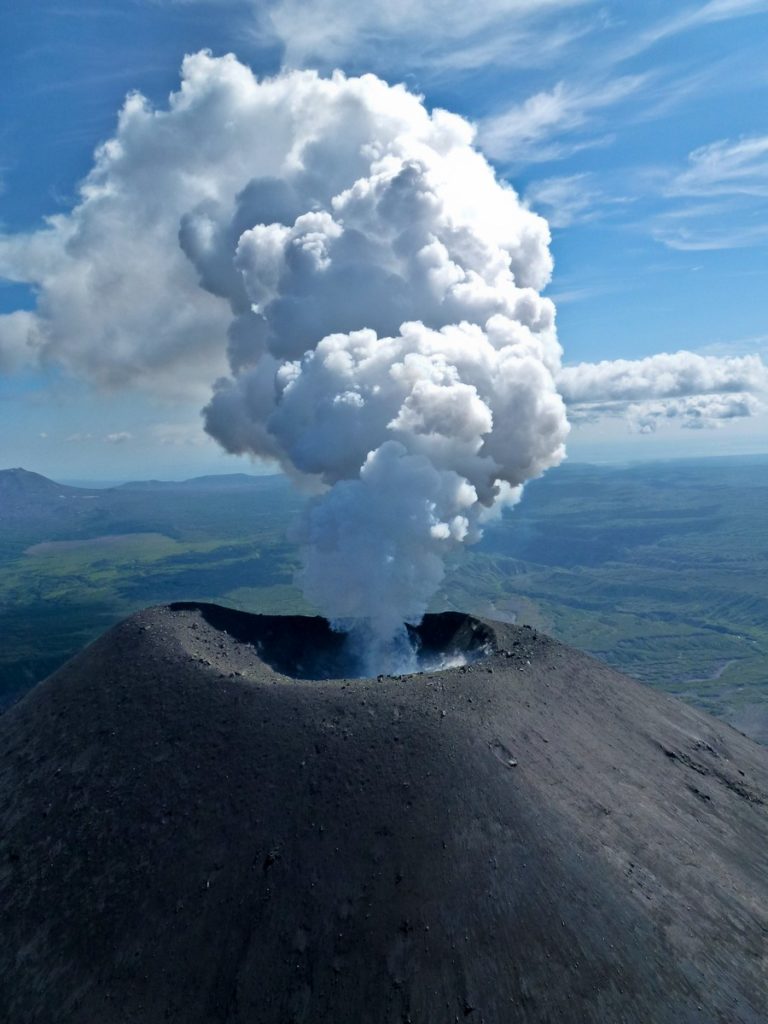 2. The Maly Semyachik volcano, 1560m. In the crater of the volcano there's a lake that periodically changes color. In 2006 it was bright turquoise. Now, as you can see, it's bright gray. Mental!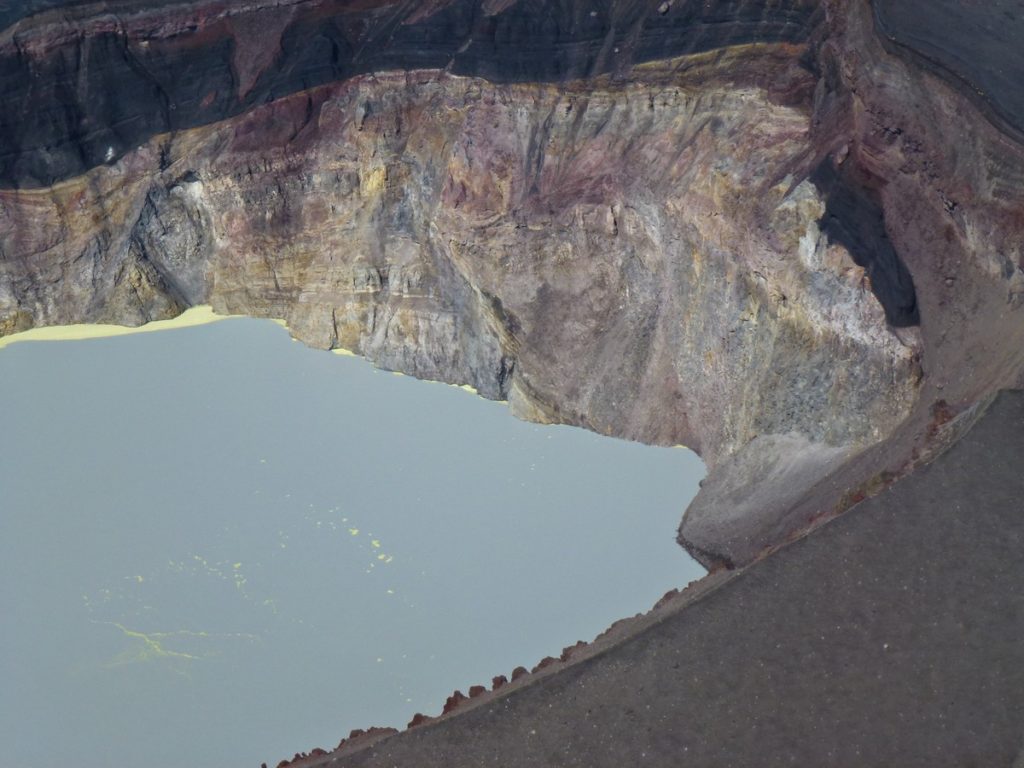 3. The Uzon caldera, 1617m. A real interesting place. Everything boils, hisses, belches, spits, and fairly stinks of sulfur. Along the banks of the lake there are signs of bears that come here for medicinal mud baths and then warm themselves on the beach. They say that one of the pools here is of natural sulfuric acid, which can eat through an iron bar in a night. I can believe it. Here you tend to believe all the weird and wonderful things you hear about!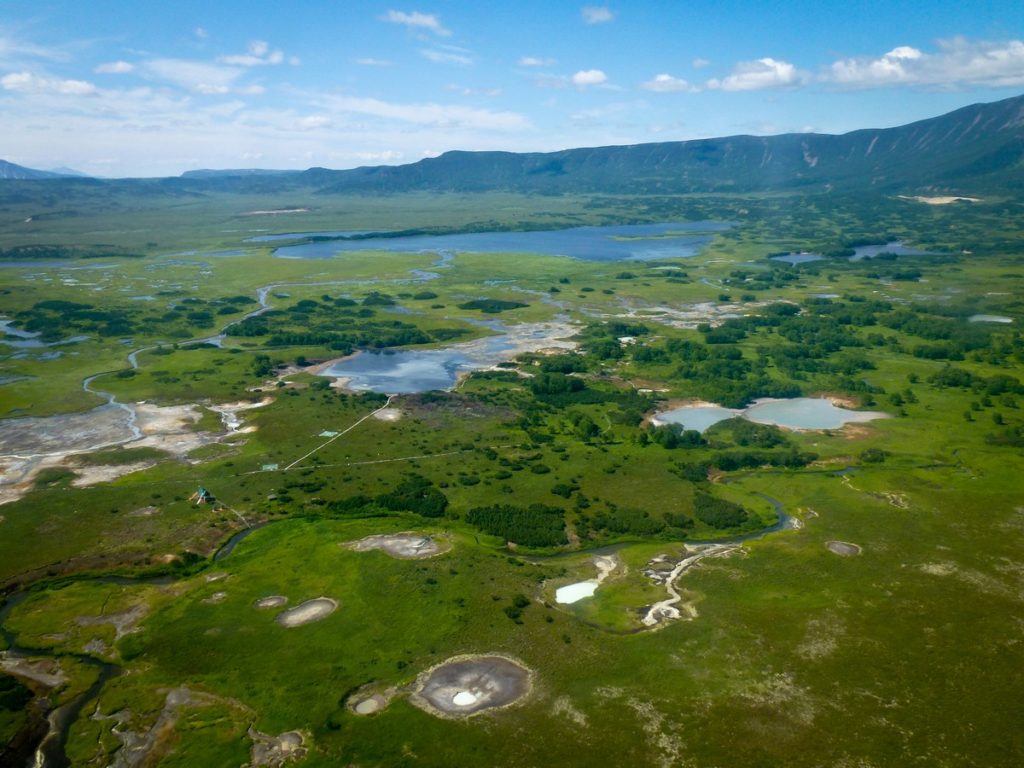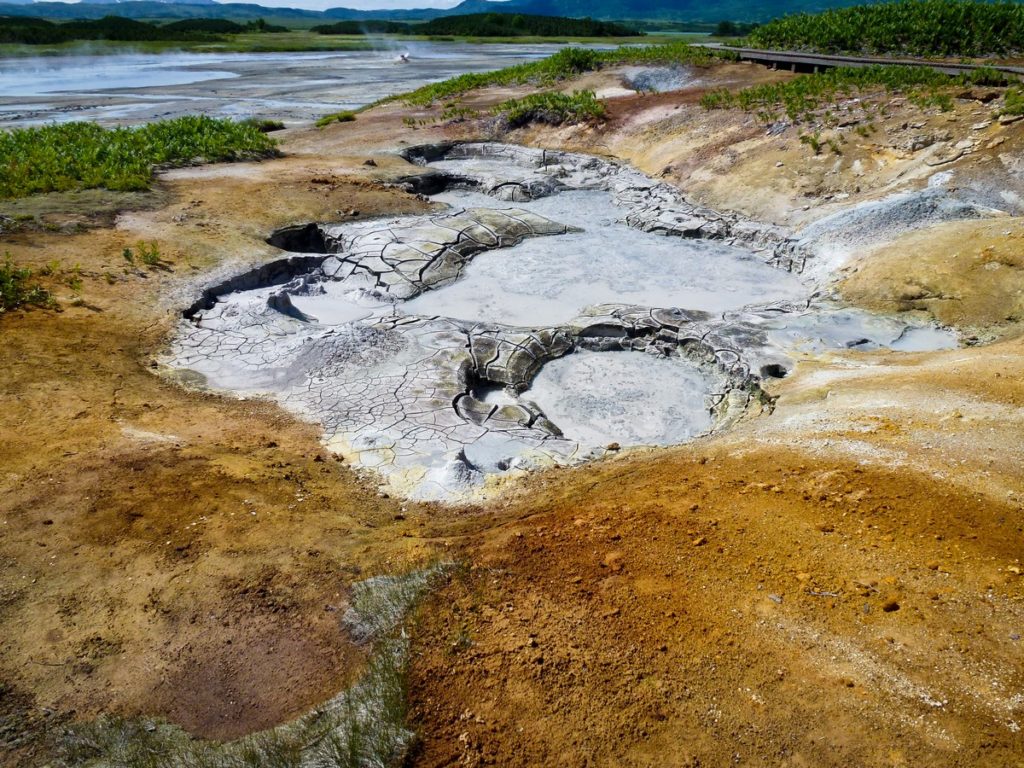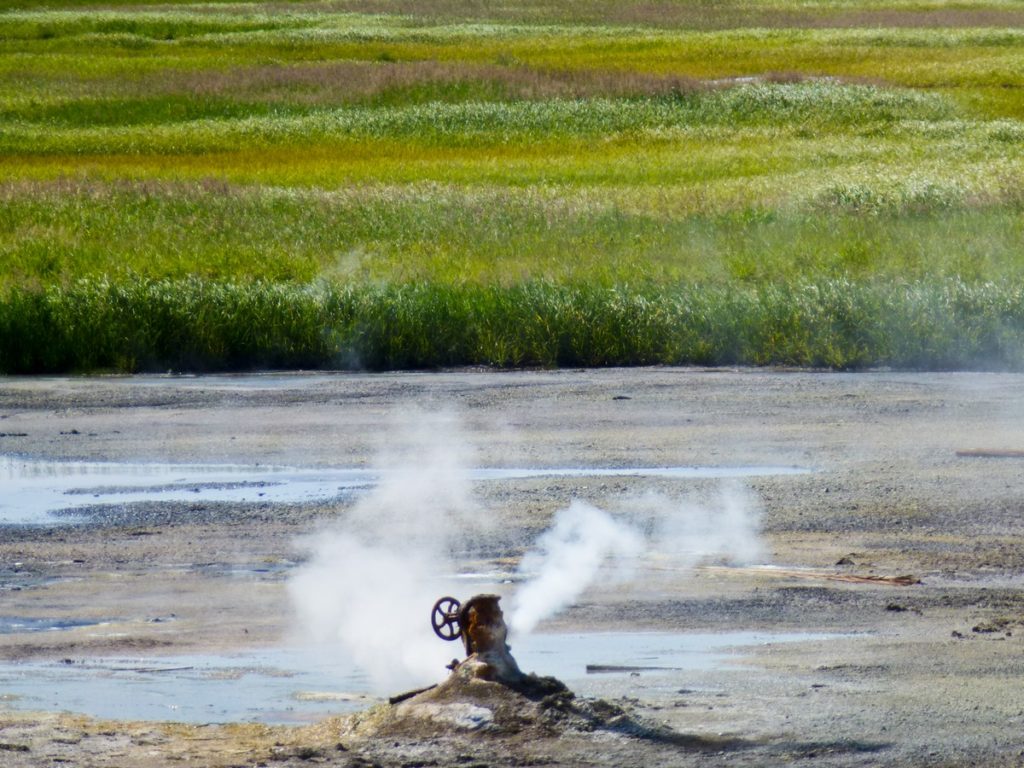 4. The Valley of the Geysers. No comment. I've been here four times already. And I'm coming back…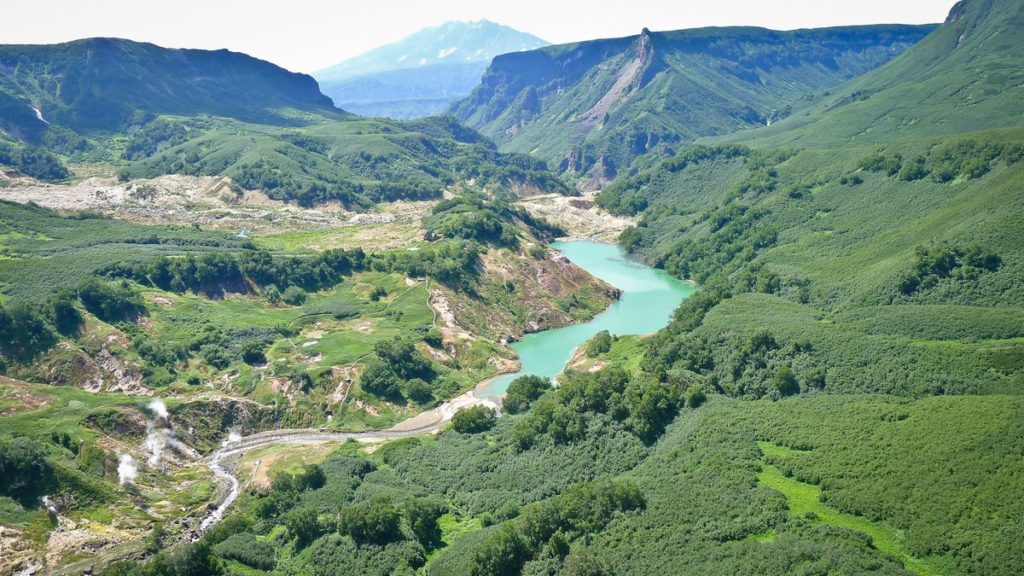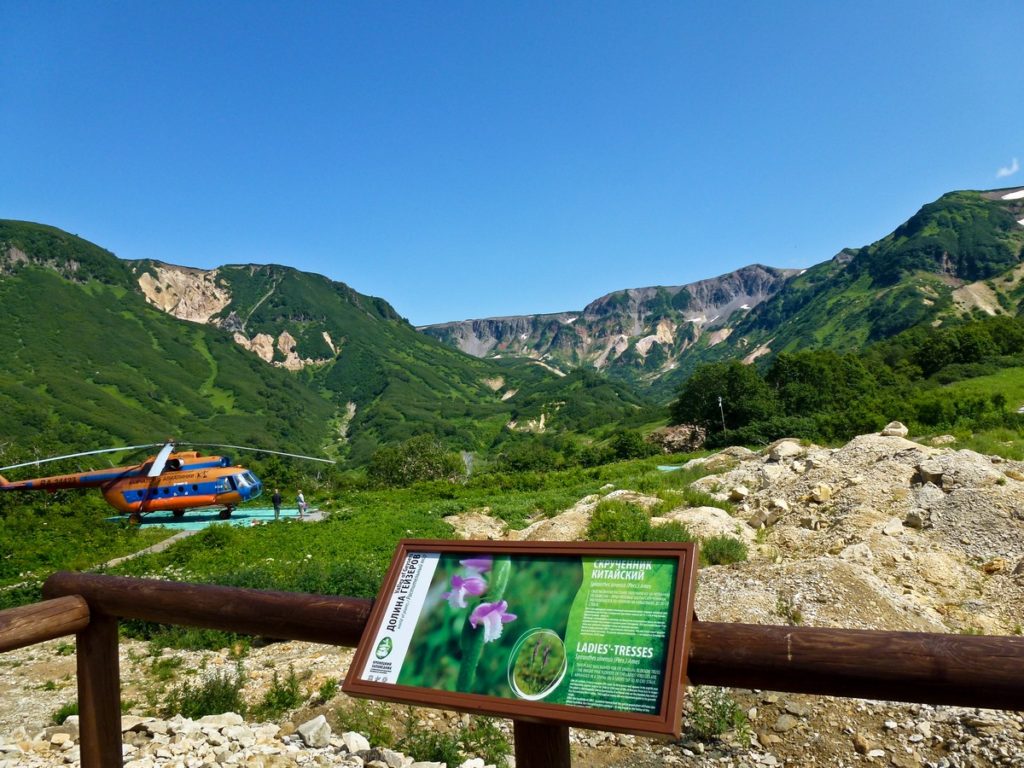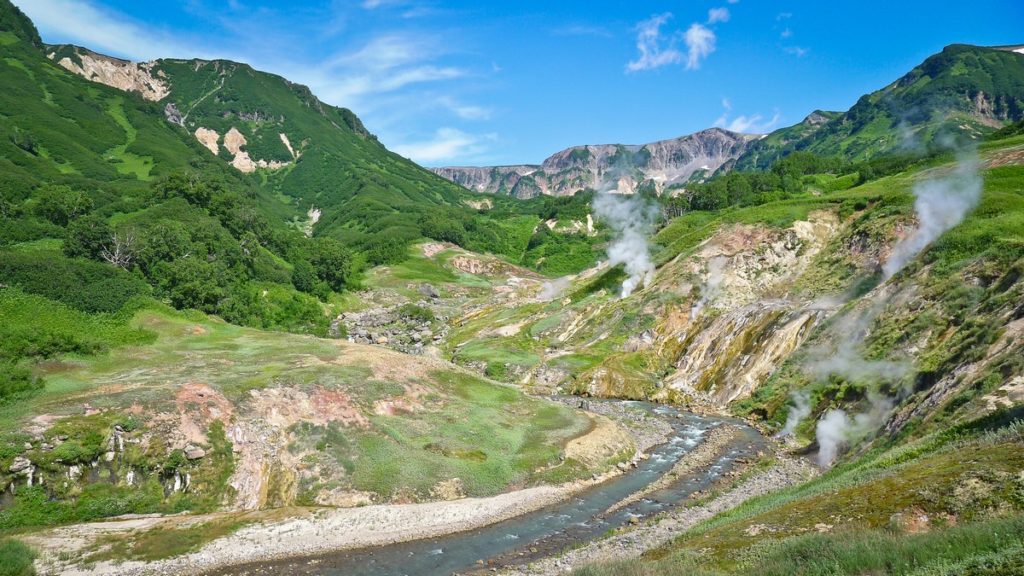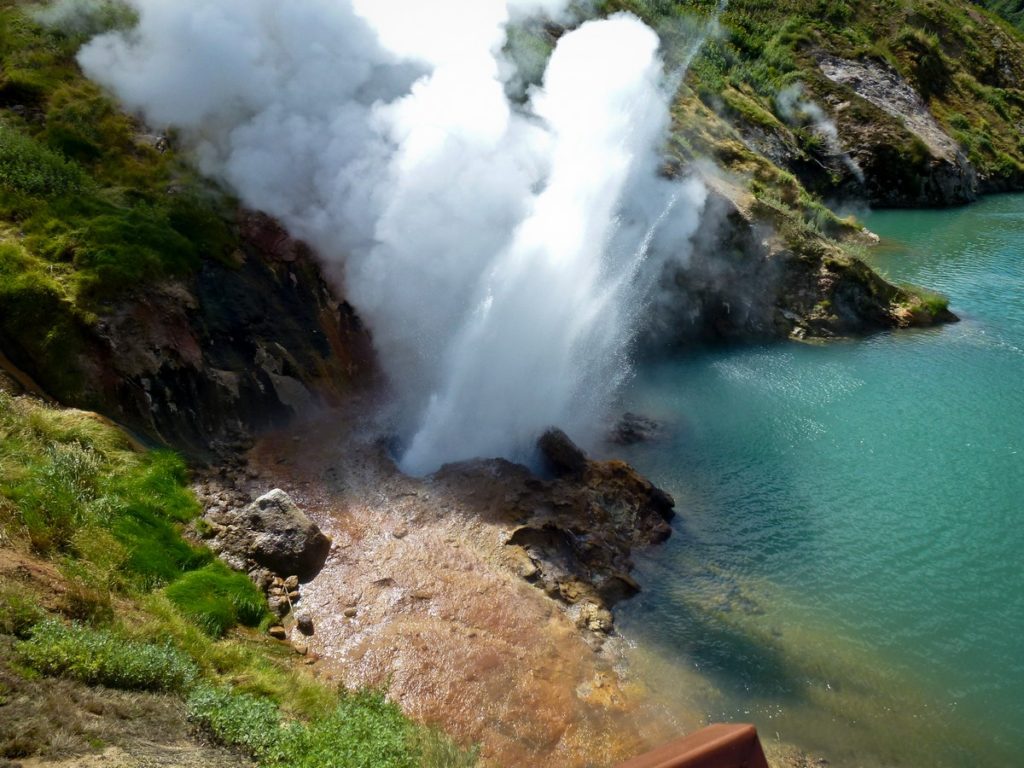 5. Kronotsky, 3528m, an almost perfect cone and a mirror-like reflection from the lake..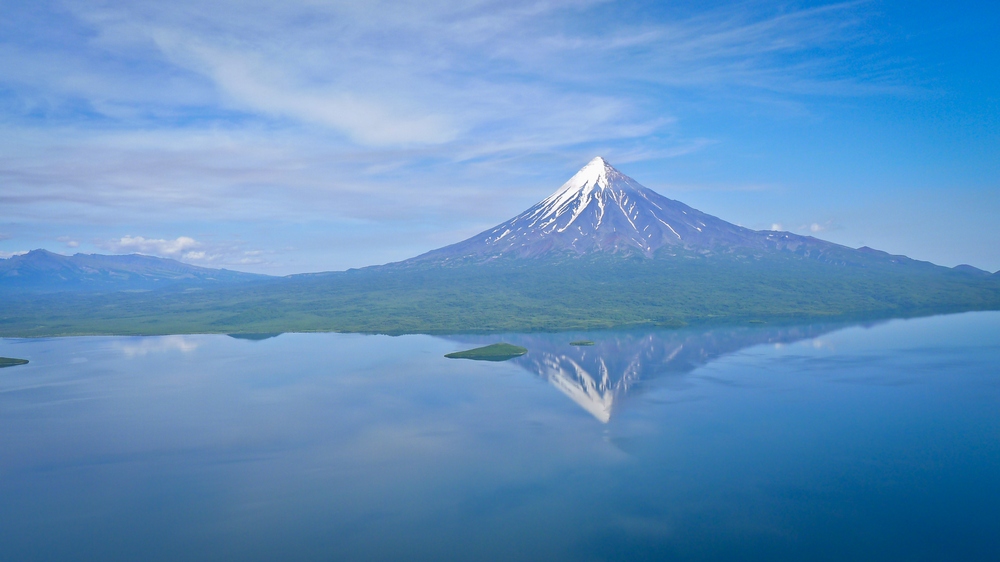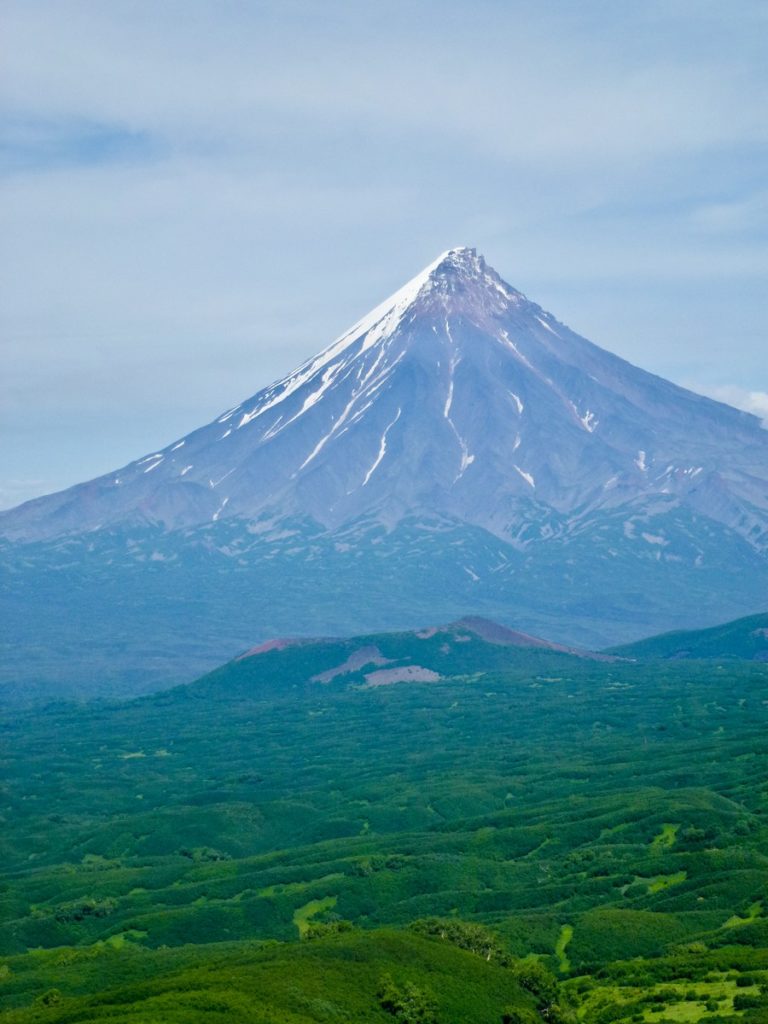 6. I've forgotten the name, but it hisses and smokes and impresses. Maybe it's Kizimen?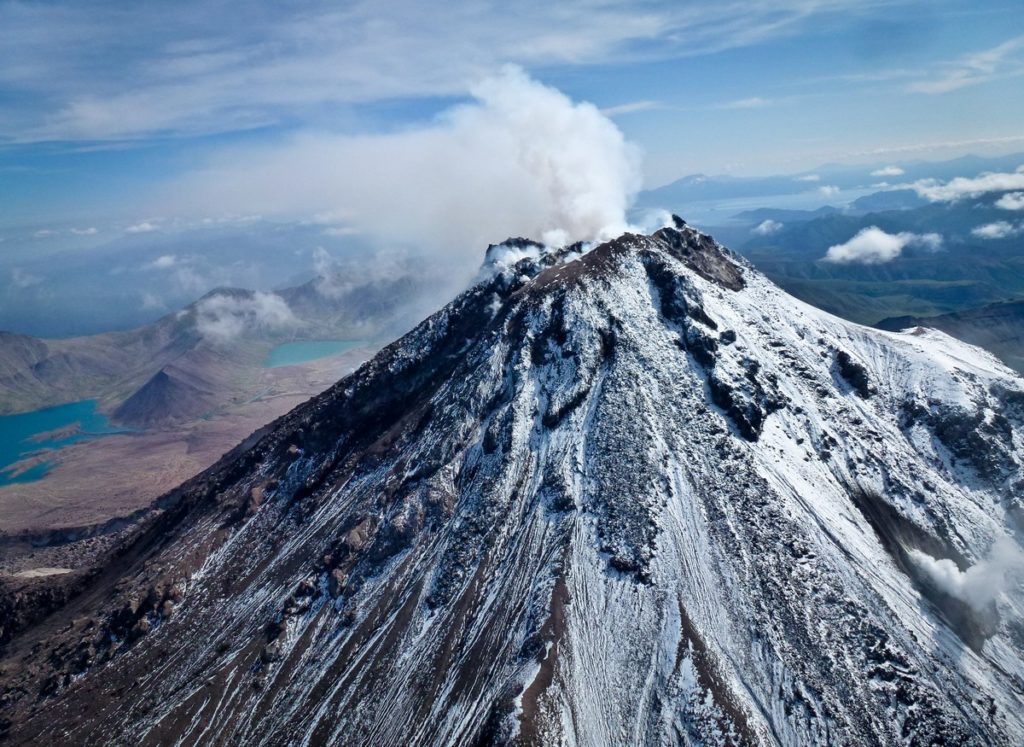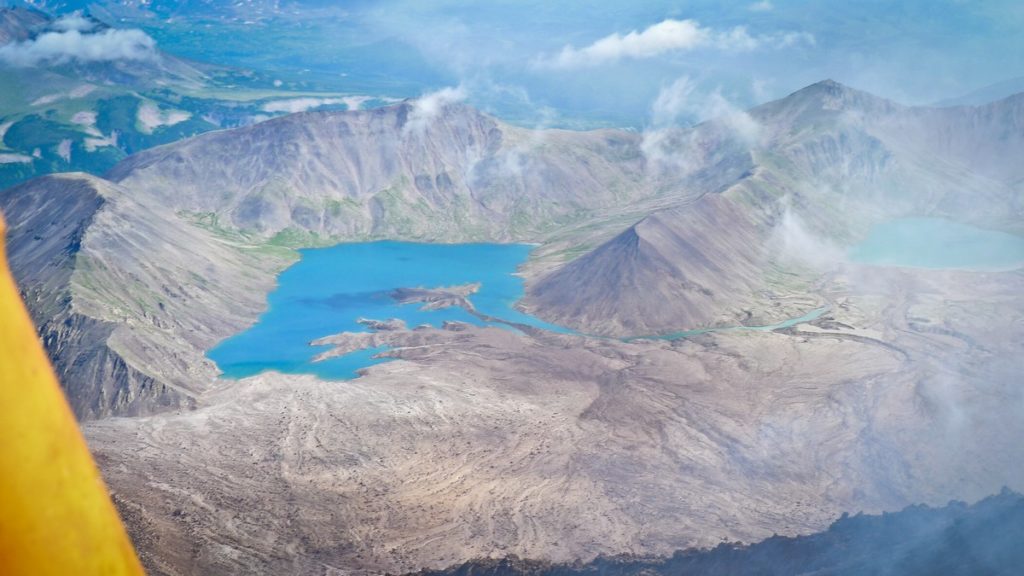 7. The Northern Fissure and Tolbachik (3682m) from our helicopter.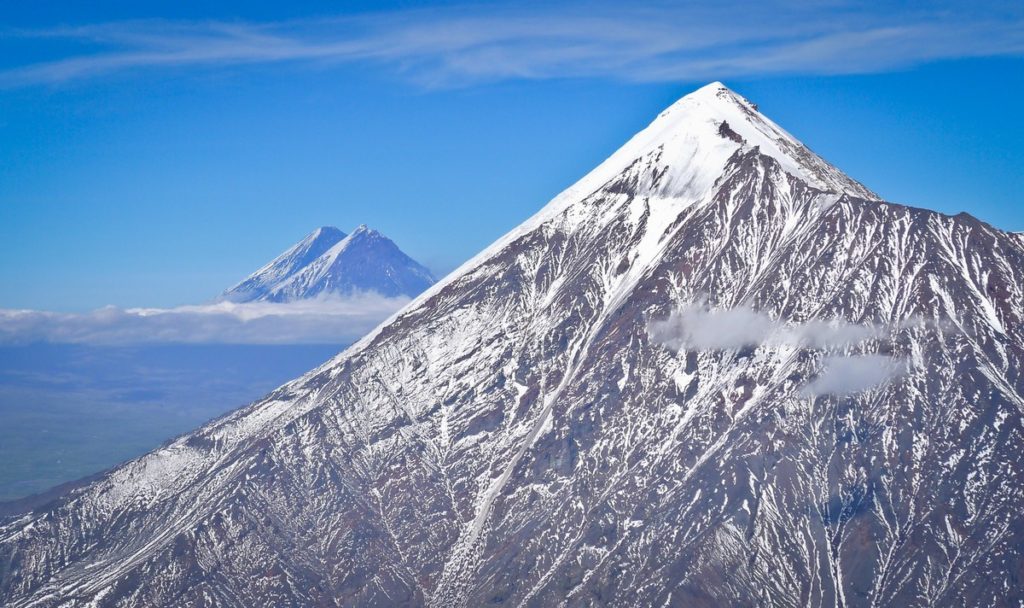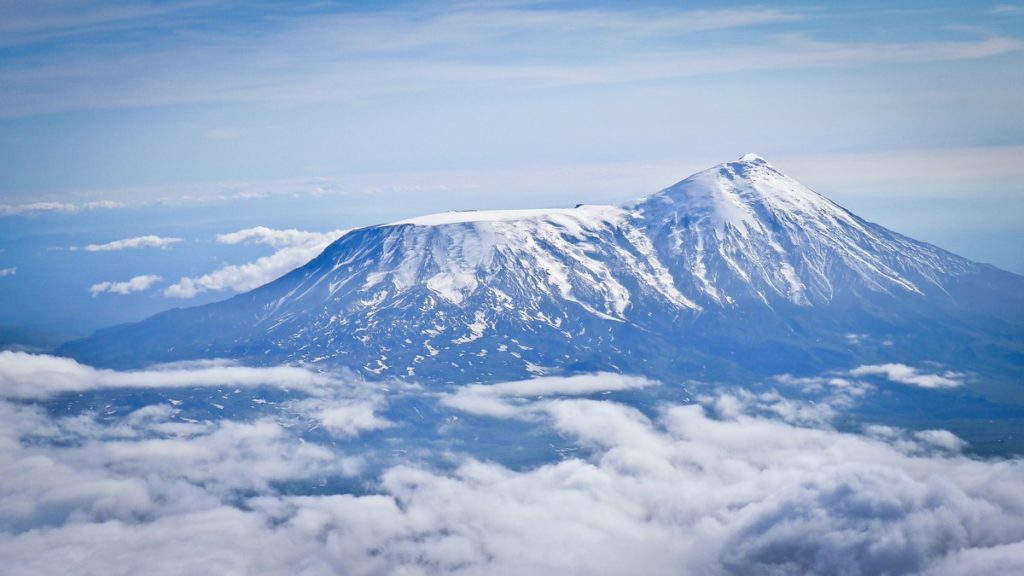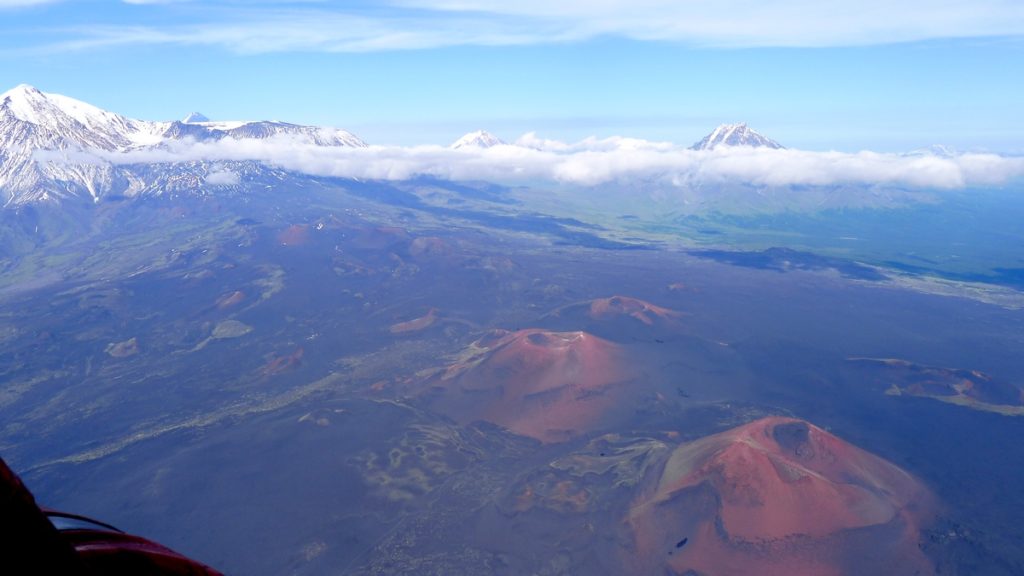 8. The Klyuchevsky group of volcanoes and Klyuchevskaya Sopka itself, 4750m.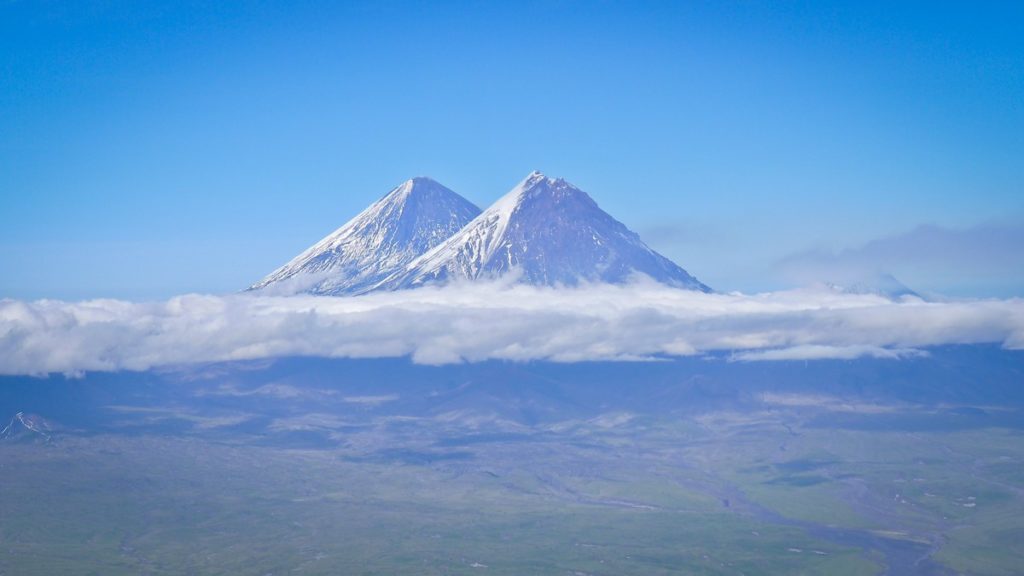 And more scenic views. By the way, this place is called the Leningrad Base. The countryside around is totally Martian. They used to test the Soviet lunar-buggies here. I can see why!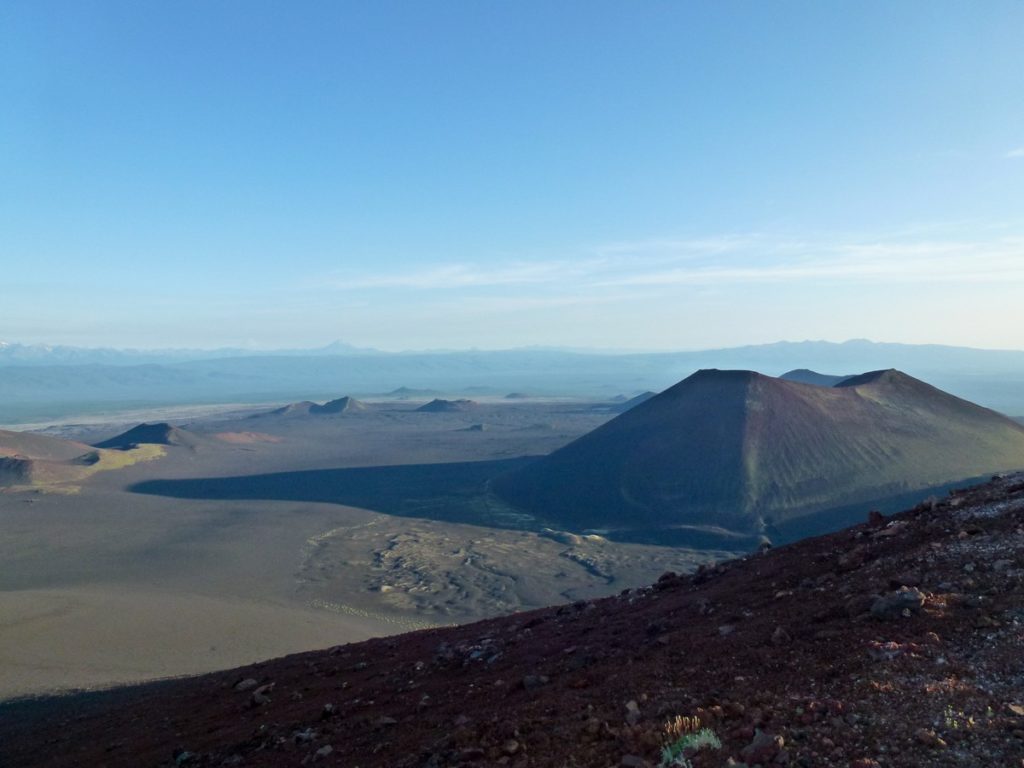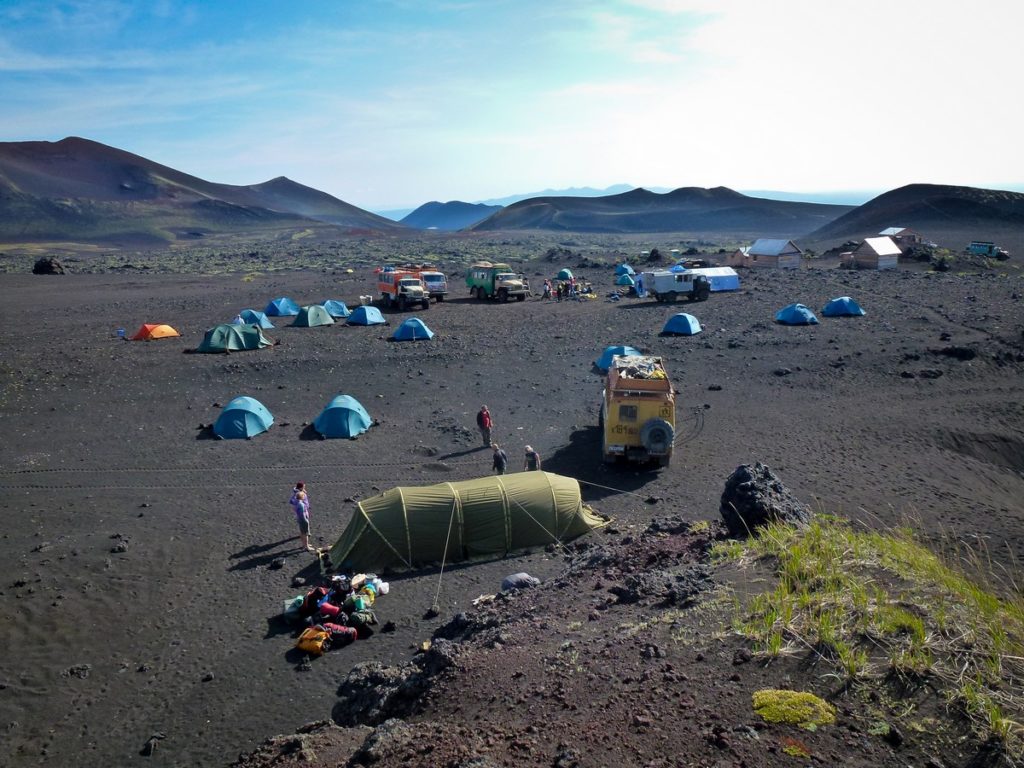 A quick evening stroll along the red hills. Yet more unforgettable impressions.