Twice Around the World in 50 Days.
Bonjour, mes amis!
Over the next two months (a dozen days under, to be more precise), I'll be on a non-stop ultramarathon-esque "avia-run" that'll take me twice around the planet. In all it'll take in around ten countries in four continents. Looking at our flight/event schedule, even I – the experienced on-the-roader that I am – got a bit overwhelmed/fearful for a few brief moments; but this quickly transformed into excitement (I'm like that) about this monster tour. I'll be in every continent besides Africa, South America and Antarctica (the latter – the biggest shame to miss out; oh how I want to get back there!).
My route is as follows: Russia – Switzerland – Bahamas – Australia – Italy – Israel – UK – USA – China – Germany – Belgium – Russia. The airlines are already rubbing their hands with glee :) And I'm edging closer to my millionth air mile with Sky Team. I need to get there soon though, as T.T. is threatening starting using a private jet for these extended jaunts – and those miles of course wouldn't go towards my million with the Sky Team :)
The KL guys and/or gals I go with on these lengthy forays understandably have a tough time keeping up with such intensity and tempo, so somewhere along the way I usually switch them round – kind of a support-rotation – so that it's not too overwhelming and exhausting for them (T.T., peering over my shoulder while I'm writing this, interjects here: "and we need them alert, or not at all!!").
The first time round the globe I'll be doing with K.A. (who's that? It'll come to light soon). This is her first go at a month of constantly changing time zones, climates, airlines, hotels, and food and drink, plus impression overload. She'll be fine. She's a real trooper.
Right now we're in Geneva – the our first stop on our trip. Here's the view from the office where we had a very important meeting with some very important folks: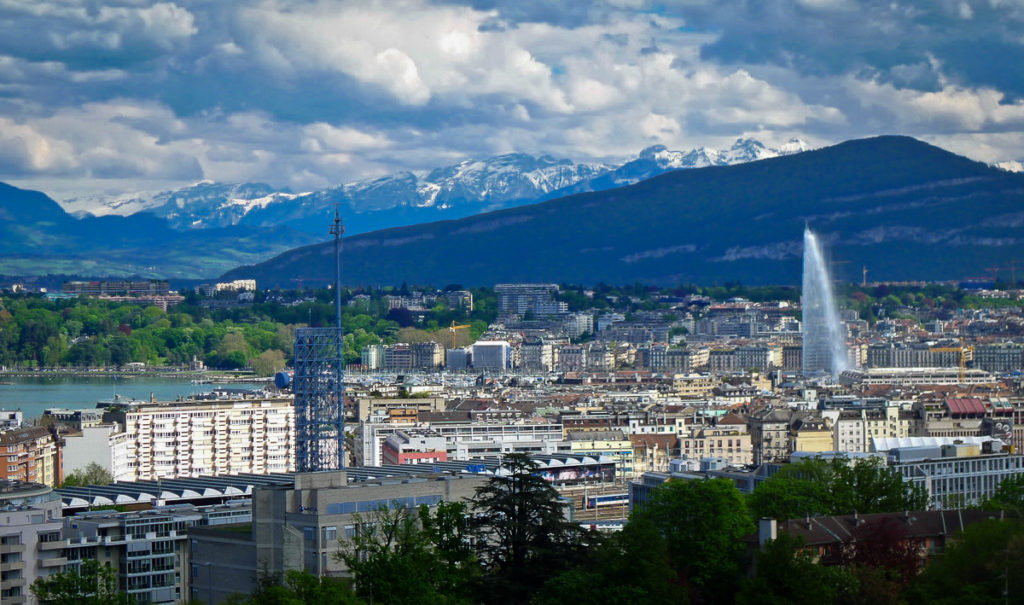 Along with K.A., with me here are A.A., T.T., and Y.Y. Who are these people? Well, there was a photo of a scalp-less T.T. in my last post. A.A., our "Corporate Cassandra" – it's better not to know him by face. Then there's Y.Y. Yesterday in the Irish pub at Sheremetevo, I recalled a photo I took of her quite a while back – so we decided to get a bit nostalgic and do a remake of that old photo. Here's "Y.Y. with Pint" ver. 2012!:
Along the way on this fearsome foray (besides Geneva) there'll be two regional partner conferences, three specialized security events (plus the inevitable endless accompanying presentations and interviews), the Ferrari Challenge, plus too many meetings, speeches, and assorted shindigs to mention. Dull it sure won't be.
But what I like most of all is that just after the beginning of this tour we'll have four days' vegetating on the beach in the Caribbean! At last – my long awaited, much needed break I've been wishing for! I hope it'll lead to my making another entry to the list of my "Top-100 Must-See Places". Surely will – those beaches… And it'll be from same beaches I'll be writing here again soon…
Au revoir!