The Big Euro Freeze & The Munich Security Conference.
A big hello from Munich!
More news, and this time I'd call it 'The big Euro freeze'.
Europe is slowly icing over as a result of Siberian freezing weather blasting across the continent. Eastern Europe (Romania and Bulgaria) has been buried under meters of snow, the cold in Germany is bitter; in France it's biting; England has also had its fair share and has cancelled a number of flights. I can only guess what is happening in Scandinavia and Poland. In Munich today it's -9C, and it's supposed to get down to -19C tonight, but the Bavarians are undaunted!
The photos are not mine, seeing as how I was at the Munich Security Conference all day. I'm a newbie here – I've never been involved at this level before (well, if you discount the London Conference on Cyberspace and Davos), but everything seemed to go well! I was on the roundtable, a few meetings and interviews. Here is my observations of the proceedings.
The Munich Conference on Security (the 48th) is a major international gathering where the big geopolitical players meet once a year to discuss IMPORTANT security issues. A fair bit of Munich is blocked off by military and police cordons behind which you can see the likes of Kissinger, Clinton (Hilary), Lavrov, Lieberman along with various heads of state and their ministers strolling around. You can view the full program and people involved here.
My panel was called "Cybersecurity: Is Offense the Best Defense?" The list of panel members lived up to the promise of its name:
Michael V. Hayden, Former Director, Central Intelligence Agency; former Director, National Security Agency
Eugene Kaspersky, Chairman and CEO, Kaspersky Lab
Giampaolo Di Paola, Minister of Defence, Italian Republic
Neelie Kroes, Vice-President of the European Commission; Commissioner for the Digital Agenda, European Union
Thomas Ilves (Moderator), President, Republic of Estonia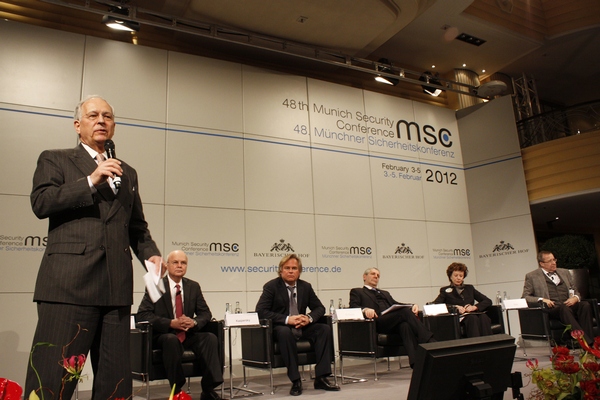 It was rather amusing to see that all the panelists were of the same opinion on most issues when it came to internet security: anonymity (the main risk factor), web-borne threats to countries' critical infrastructure (with potentially catastrophic consequences), the inability to effectively protect against cyber weapons (it is only possible to talk of a relative level of security), the fact that cyberspace is a whole new world and requires a unique approach, etc.
I got the impression that 50% of what General Hayden (a very intelligent giant of a man and an excellent speaker) said quoted what I was saying 2-3 years ago (that was probably not the case, but our stance is virtually identical on most points). A very welcome addition to proceedings was the presence of numerous representatives of the world's major publications, lending a truly global resonance.
I think this year's conference was a major breakthrough and will impact on the development of IT security throughout the world. Heads of states and senior ministers from all over the world made it perfectly clear just how important the issue of national and transnational IT security is, just how bad things are in this sphere and just how urgently the situation needs to be addressed. We await further developments.
Official photos of the panel.
Video clips of the panel discussion and interviews will appear here.
And on that note I bid you farewell. Another journey beckons!