Features You'd Normally Never Hear About – Part Two.
Hi everyone!
In this post we continue to bring to light different tasty technological morsels from the lesser known nooks and crannies of our products (the first is here). Today we'll get into the nitty-gritty of a thing we call Safe Run.
But first let me say a bit more about this whole idea of thematic posts about features before we get too far into them. Some well-intentioned folks here at KL came up with so many ideas for posts that it soon became clear that they should be organized in the form of a series or, rather, a season – in the TV sense: they will run on for a long time. Indeed, a bit like a season of The Office or 30 Rock, there'll be many short, sharp, to-the-point installments, and no clutter.
And for those for whom this post may be their first, let me repeat that, as you'll have guessed already by the title, they're about the kinds of things you may never know existed, but which are in fact very useful and make life easier and better! And of course safer.
Actually choosing which features to write about first out of the multitude was pretty darn tricky – since there are that many of them. In the end I've gone for the "best of the best" useful features first. So, after System Watcher last time, here we are with another premium feature – Safe Run.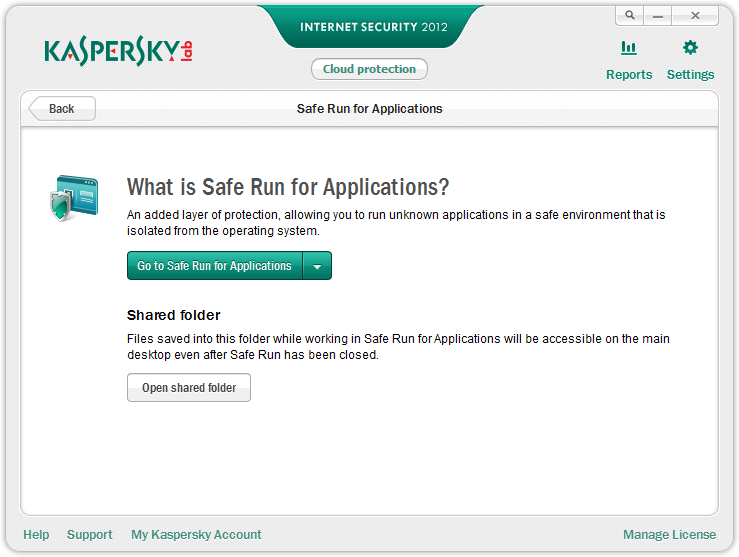 So, what's the nature of this beast? And does it come with rice or French fries?  Maybe couscous?
Well, it's not an off-piste joggers' route away from dangerous roads and vehicles. And – much like a student house's (all-night) store run when the munchies set in – it's not the periodic safe run to the store that sells safes. Safe Run is a secure environment created by KIS or PURE in which you can (should you feel the urge):
run suspicious applications
visit suspicious websites
isolate all types of important applications (for example, share-trading terminals) and web services (for example, online banking)
Clearly, the first and the second in the list above are for excluding the threat of running up against some kind of unknown malware or sophisticated web-attack and your whole system becoming infected. To put it another way – it's what to do when the cat wants to eat fish but doesn't want to get its feet wet!
The third in the list excludes any possibility of: unsanctioned access to programs and services that involve money; also to avoid data loss, espionage and other such unpleasantness (in case your computer may be infected).
So how does Safe Run work?
In technical terms, Kaspersky Internet Security or Kaspersky Pure creates a virtual milieu on your computer – isolated from the rest of the operating system and any nastiness that comes with it. (This nastiness can be caused in different ways: you've forgotten to update your anti-virus, you turned off the anti-virus accidentally, or there's a full-blown Internet epidemic going down that has or may have infected your comp).
Safe Run is not a full-fledged virtual environment, but one of those isn't needed anyway. Safe Run is however fully integrated with the main protective technologies in our products so as to improve diagnostic and 'surgical' efficiency.
Specialists also call this technology used in Safe Run a sandbox.
We create for a program or website (browser) a special area where it can play as much as it wants, but always within the confines of the sandbox, and always under the watchful eye of its guardian. If we find any nonsense going on inside the sandbox, those responsible are sent to the sandbox's sin bin/naughty corner, and the damage done is remedied by a good telling-off and a kiss-and-make-up effort, i.e., the program is put into quarantine, and all actions made by it are rolled back. All this bypasses any possibility of Windows (the world outside the sandbox!) becoming infected (with nonsense, sin, naughtiness, and damage!).
Or let's take another scenario.
For example, you need to carry out a few operations with your bank account via the Internet. Let's say the anti-virus says that everything's okie-dokie, but we know that there's no such thing as 100% okie-dokie. And regarding that teenie-weenie 0.0000001% – well, we'd just better protect ourselves even better. So we launch the Internet banking application in Safe Run – calm in the knowledge that all we do with the bank app will be safe and secure. And I'd recommend doing this always. By the way, in our next version the Safe Run feature will kick in automatically.
A tasty little knick-knack of a feature, no? It's strange that half or our competitors haven't anything similar to it yet, while Safe Run appeared in our products in 2009.
More details about Safe Run are available here.