Facebook Doomsday on November 5?
The recent announcement by the Anonymous hacker group to take down Facebook on November 5 – Bonfire Night – has resulted in a series of online publications and sparked much hot debate.
The story surrounding this announcement seems to create more questions than provide answers.
First of all, the announcement is not all that recent. It went online a month ago, but surprisingly surfaced prominently in the media just earlier this week. However, the reason for this delay is not that important.
More interesting is whether this is a genuine announcement coming from Anonymous. Is it from some hackers pretending to be part of Anonymous? Or from some Anonymous members who are planning an operation of their own? Or is it just a hoax coming from an unknown party using the highly-publicized image of the hacker group for their own goals?
Too many questions – yeah, I know.
Certainly the announcement was made in the Anonymous style, with the same digital voiceover; and it fits perfectly the sentiments of its previous announcements too.
On the flipside, there are some things that make me think this is not an official operation:
1) The announcement came from social media accounts that have never been used by Anonymous before.
2) Yesterday @anonops on Twitter posted the following: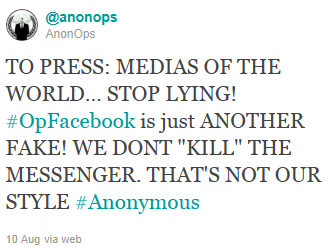 Just a few hours later it added that the op is being organized by "some Anons" and that not all of Anonymous agrees with the op.
And last but not least, the text version of the message allegedly from Anonymous about the Nov 5 op leads to websites containing advertisements.
Clearly there is no precise answer to the question in the title of this post. We may experience some attacks on Facebook – but not on the scale the original announcement says. But then there is the chance that the announcement is fake and simply trying to create a footprint for some revenue.
What do you reckon?