Driving 600km *on* Lake Baikal – by moi, et al.!
Despite these hard times, we continue our work saving the world from all manner of cyber-maliciousness. We adapt; we carry on. Meanwhile, I hope my travel notes and photos will bring a little cheeriness to all who view them – because there's hardly a better way to do that than with the beauty of nature (and a spot of -50° adventure).
[Health warning! There follow a zillion active-tourism pics from a frozen Lake Baikal; the effect may be too much for your senses; you may faint. You have been warned!]
Onward – westward – on our MYB expedition, and suddenly… we'd reached Lake Baikal! Not that we really noticed at first, for we arrived in Severobaykalsk (here) at the northern end of the lake in the dead of night. It was only the following morning when I opened the curtains in my room at the Aurora Hotel when I got my first glimpse of the mind-blowing view of this mind-boggling lake…
Coming up, the final, and perhaps most fun segment of our expedition: driving upon the frozen lake from its very top end almost all the way down to the other end in the south for a full ~600km! Six hundred kilometers on the ice of the world's deepest lake (including four shore-to-shore crossings along the way). Oh my giddy!…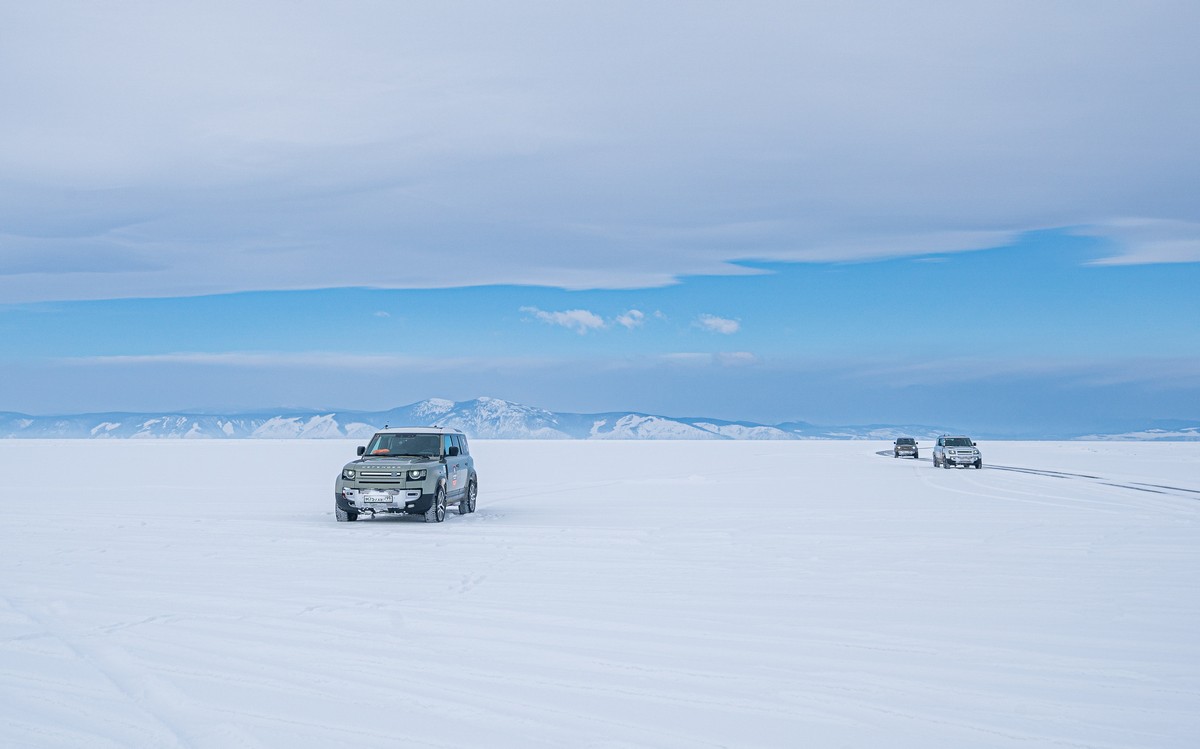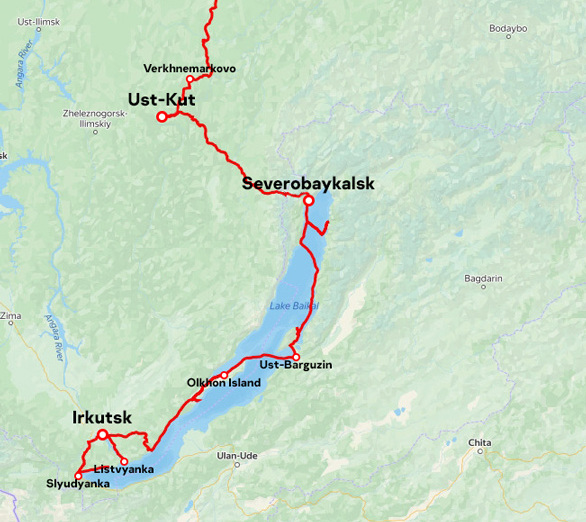 Don't have much time (rather – need convincing to read this post to the end?:)? Then here's the first day-on-the-lake condensed into… 53 seconds:
And here's the day condensed into… six words! -> non-stop raptures and masses of impressions!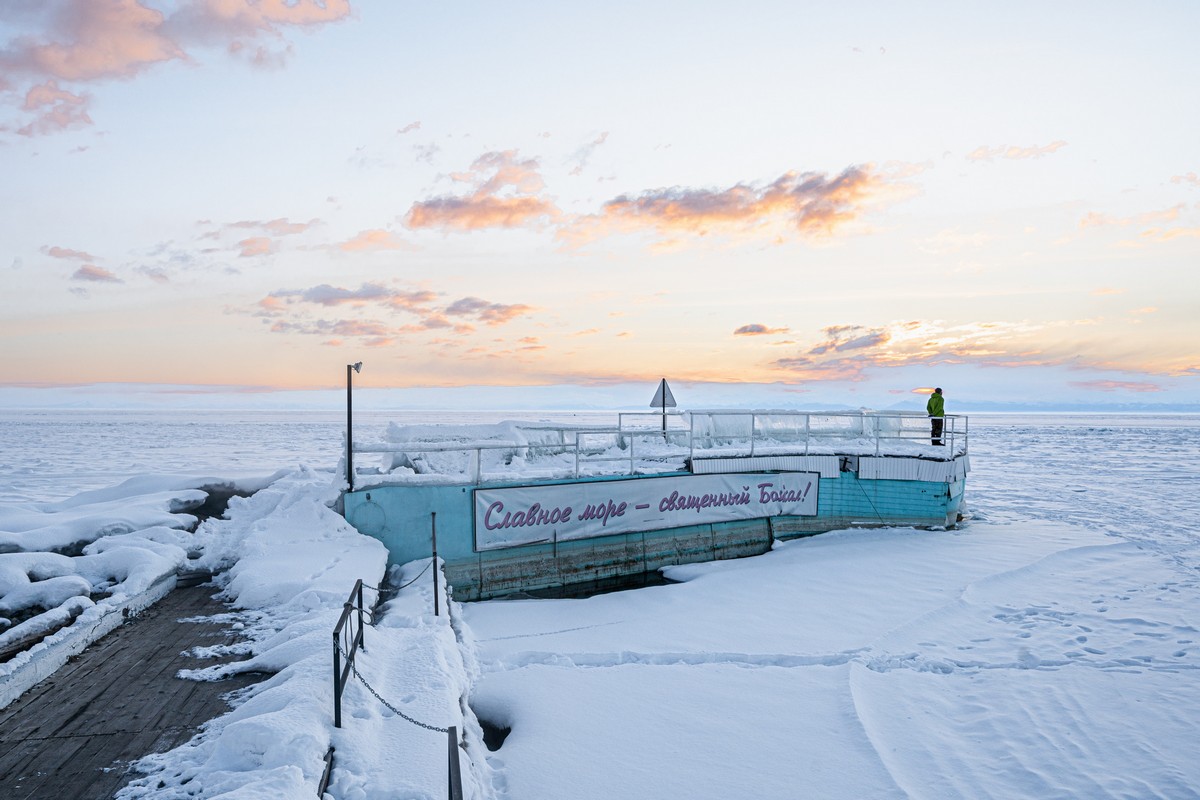 We were real lucky: this year the lake's water froze at just the right time to make it super-flat-and-smooth; hardly at all did we come upon big blocks of ice that are tricky to navigate through. Besides, there was little snow cover getting in the way – plain sailing driving for the full 600km…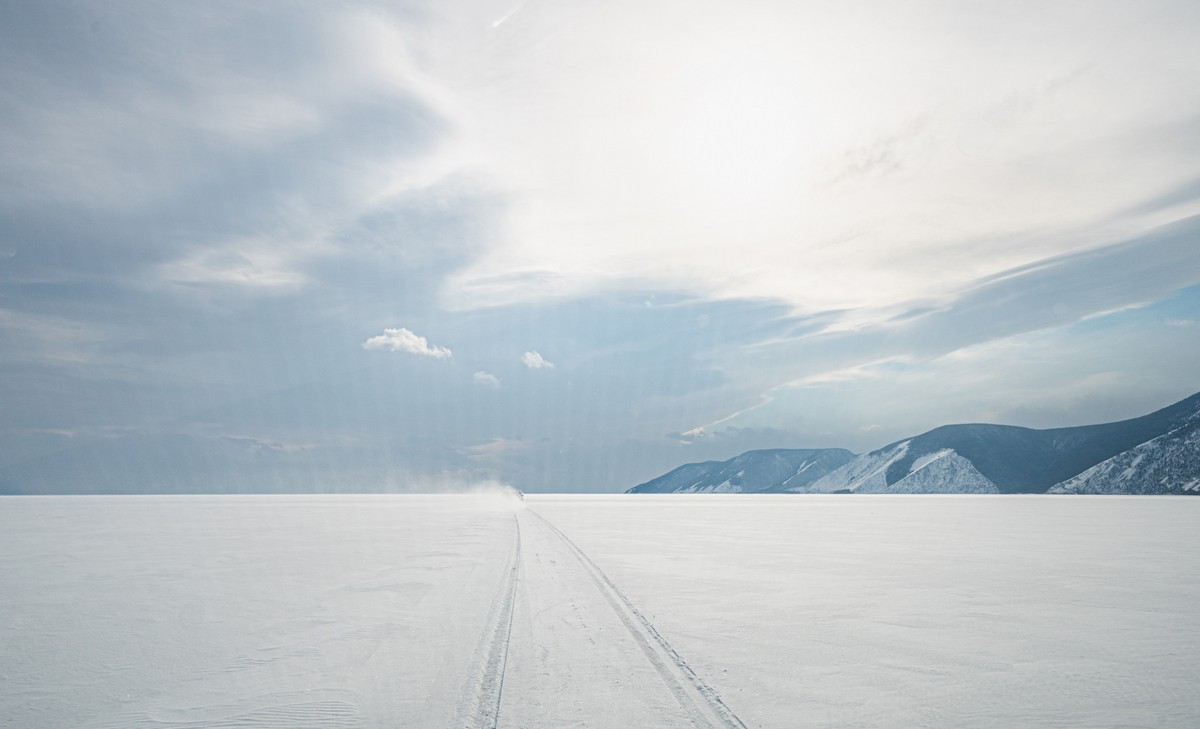 Every now and again – ridges or cracks, but these too were no hindrance whatsoever ->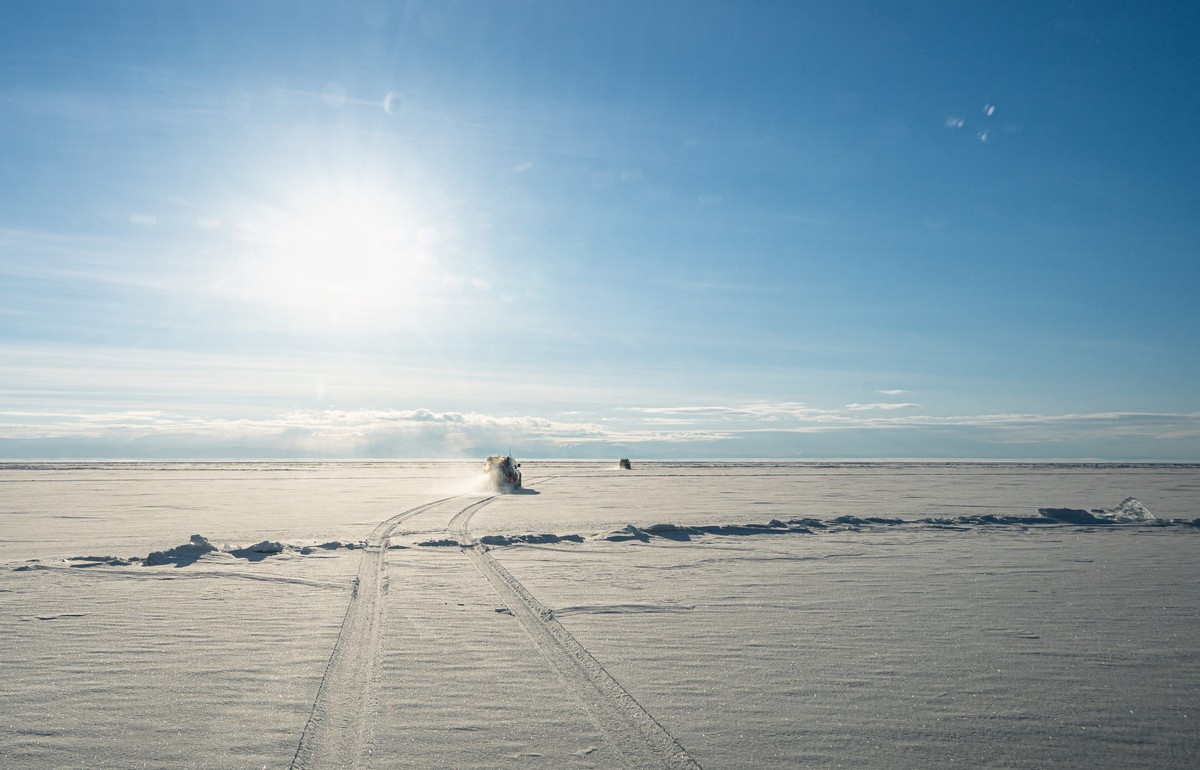 Oh my gorgeous. Nice weather too ->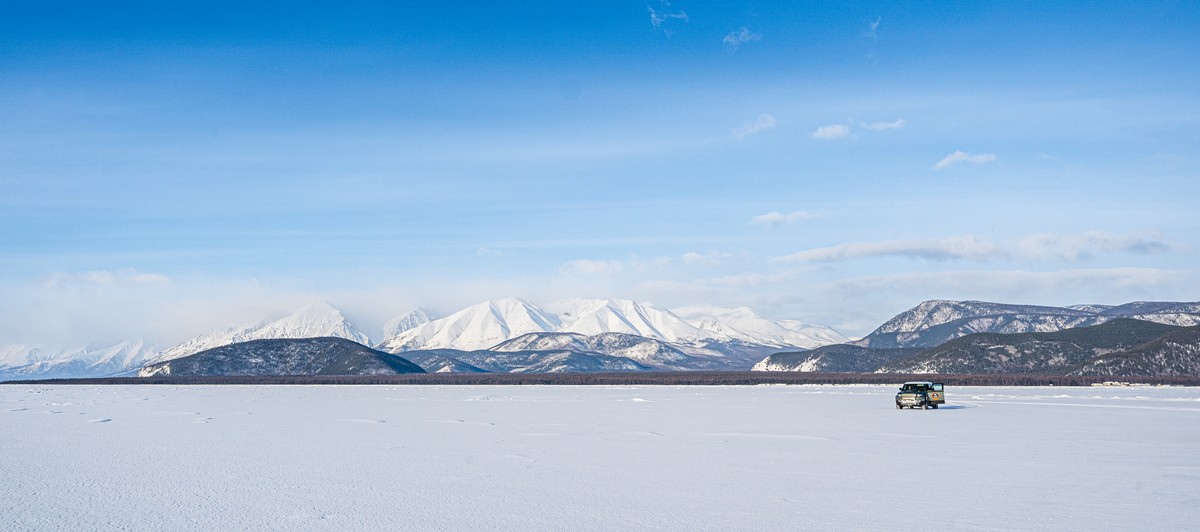 I mentioned no ridges. Well, there were some, but none in our way. They only hindered us by forcing us to stop and snap them repeatedly! ->
Planet Krypton!
Onto the ice we drive…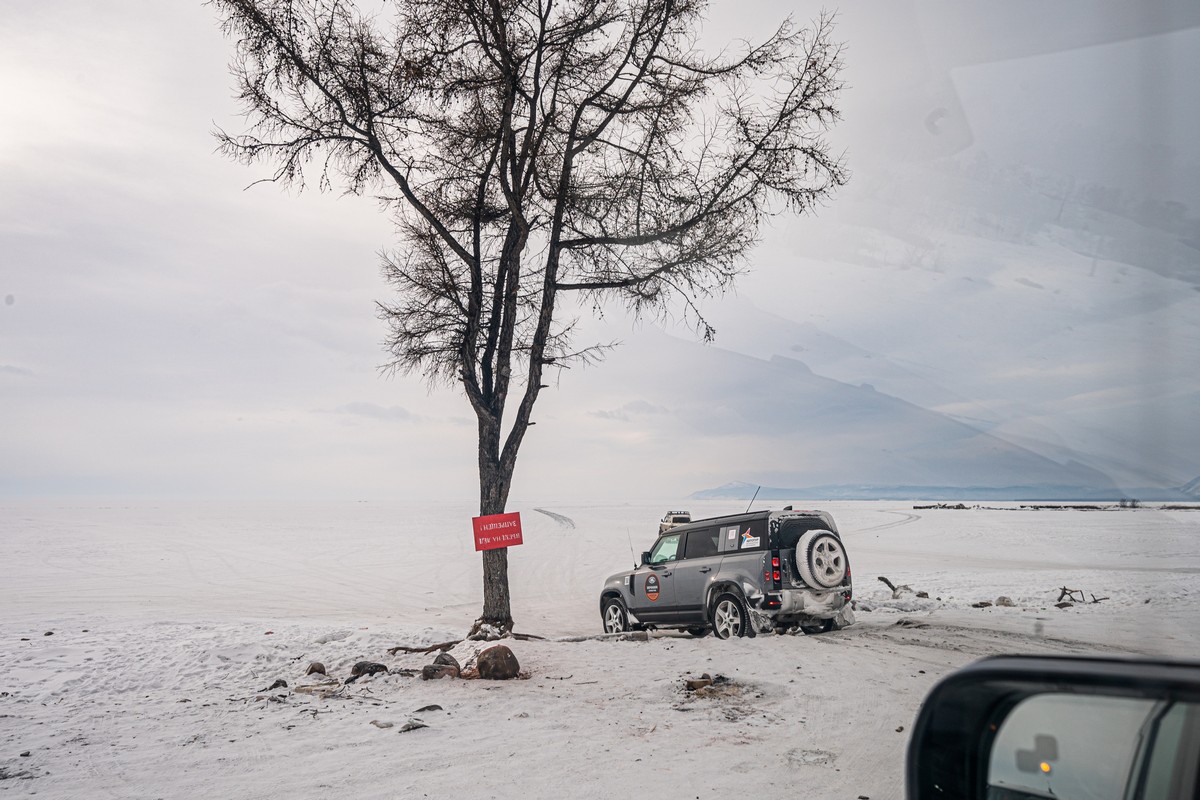 There's an important rule to be obeyed on the ice: when stopping, park up far apart from each other. I think you can guess why!…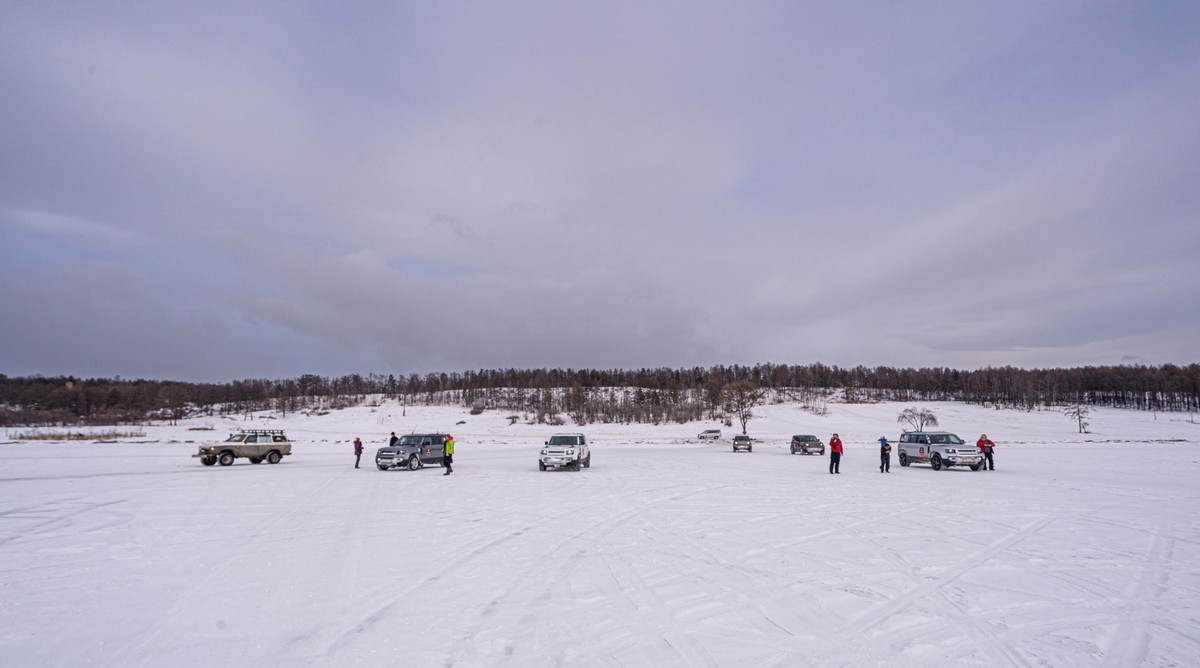 600km of… no road, no signposts, no speed limit (!), but fortunately no other traffic either ) ->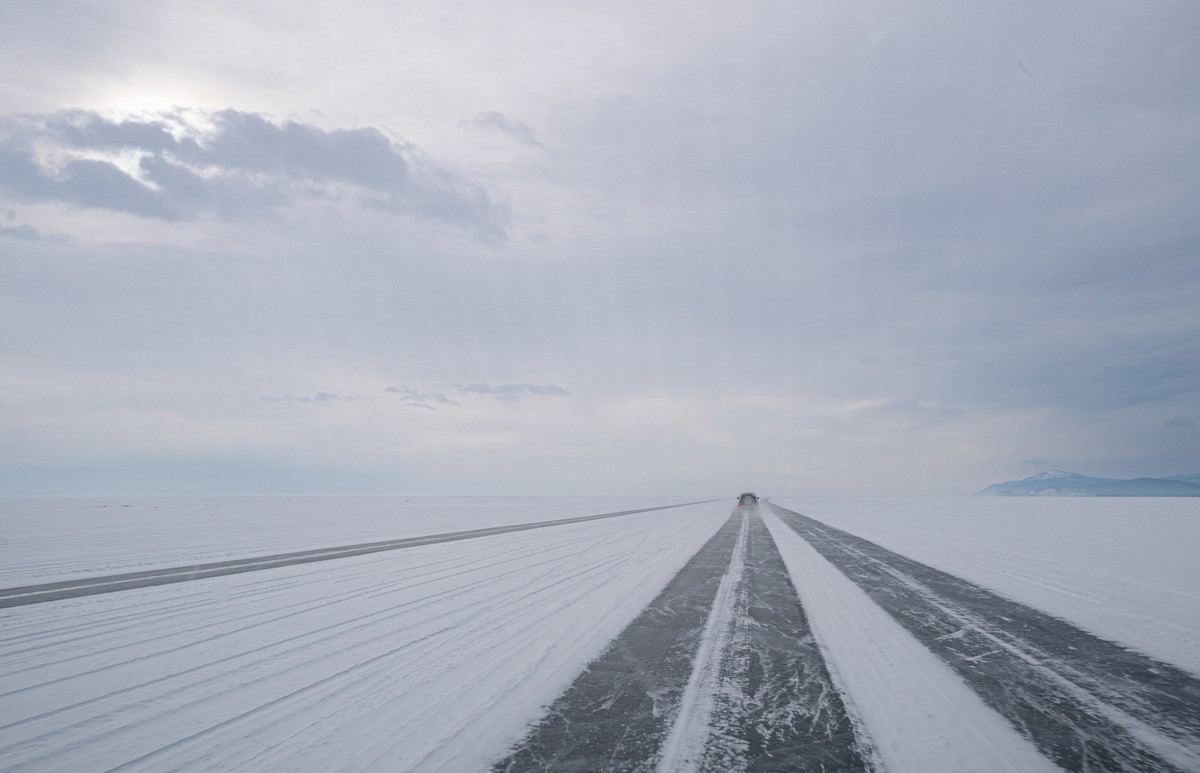 We were fairly hugging the right riverbank, but needed to get to the hot springs, which are on the opposite bank. So we turn slightly for the crossing. Here there was a lot more snow cover:
More Kryptonic scenes:
Now, you know how (it's widely thought that) the Eskimos have lots of names for different types of snow? Well, in similar vein, Baikal has quite a few names for different types of… ice! And one of the most interestingly intriguing is sokui. It hugs the rocky shorelines of (and small islands on) the lake (best spots – Maloe More and Svyatoy Nos) in unique, layered formations resembling… – well, best just check out the pics:
Crawling inside the grottos made out of them is must-do, naturally:
Just these here could have been explored and investigated for hours; alas, we only had time for a rather brief inspection. Still – I've plenty of photos to show you ->
The next morning we were up early as per usual for another day on the ice. First up we were to traverse its full breadth – at its widest section – for a fourth time in half as many days. It was just 80km to the other side (while under the surface it's a full 1.6km to the bottom of the lake!). We drove through the outskirts of the small town of Ust-Barguzin, then it was back onto the ice. The weather wasn't the best this morning: there'd been some snowfall overnight (in which some folks got stuck), and it was foggy, overcast and windy – so the views weren't so great as a result (.
Suddenly, only 10km after we'd set off – we pass… a runner. Good gracious – he's only 70km left to go to the other side! And then we found out… there's a marathon on today – on the lake!
The marathon was sponsored by… a certain manufacturer of energy drinks. But since such water+sugar+caffeine can hardly be described healthy, I won't mention which particular brand. I wonder, do the marathon runners – fit athletes – drink that *%#& themselves?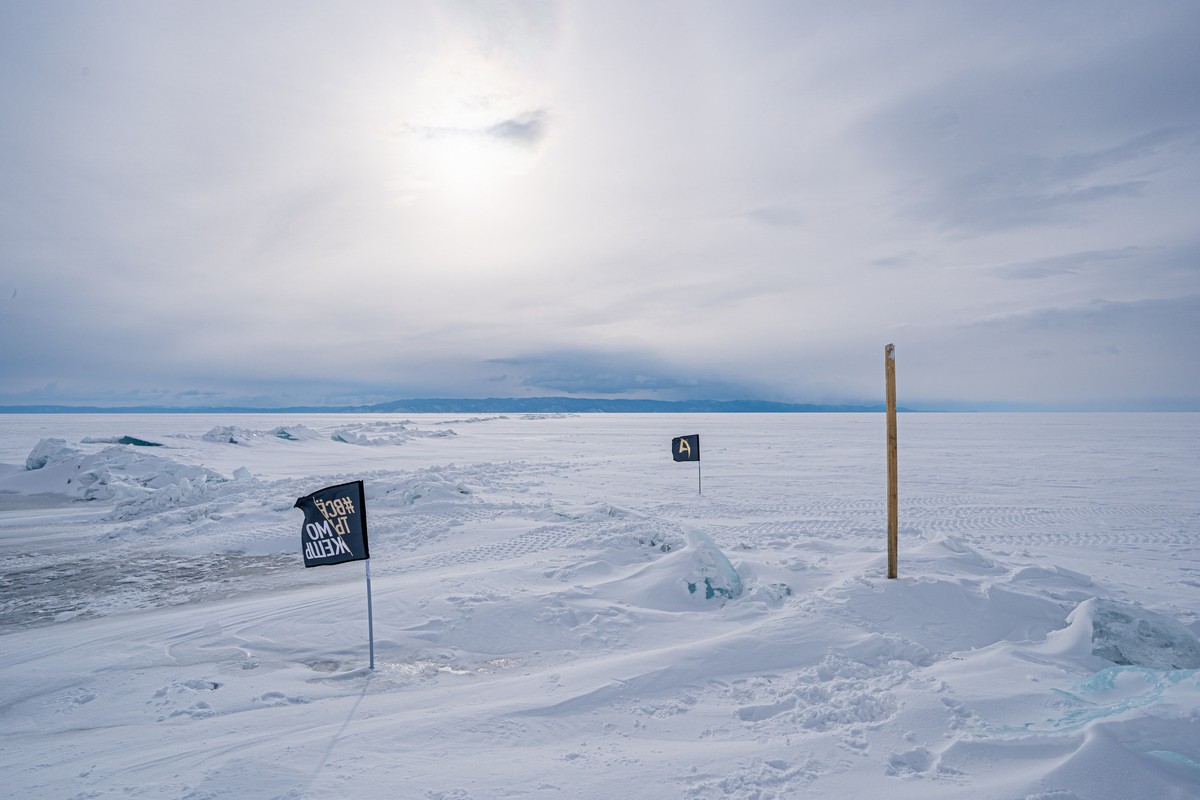 A little further, we stop, drill a hole in the ice (which here is around 80cm thick), and drink the purest of pure water: straight, no ice ).
More planet Kryptonisms:
Here we are in the center of the lake – or thereabouts. Up ahead there – Olkhon Island. And the weather's improving…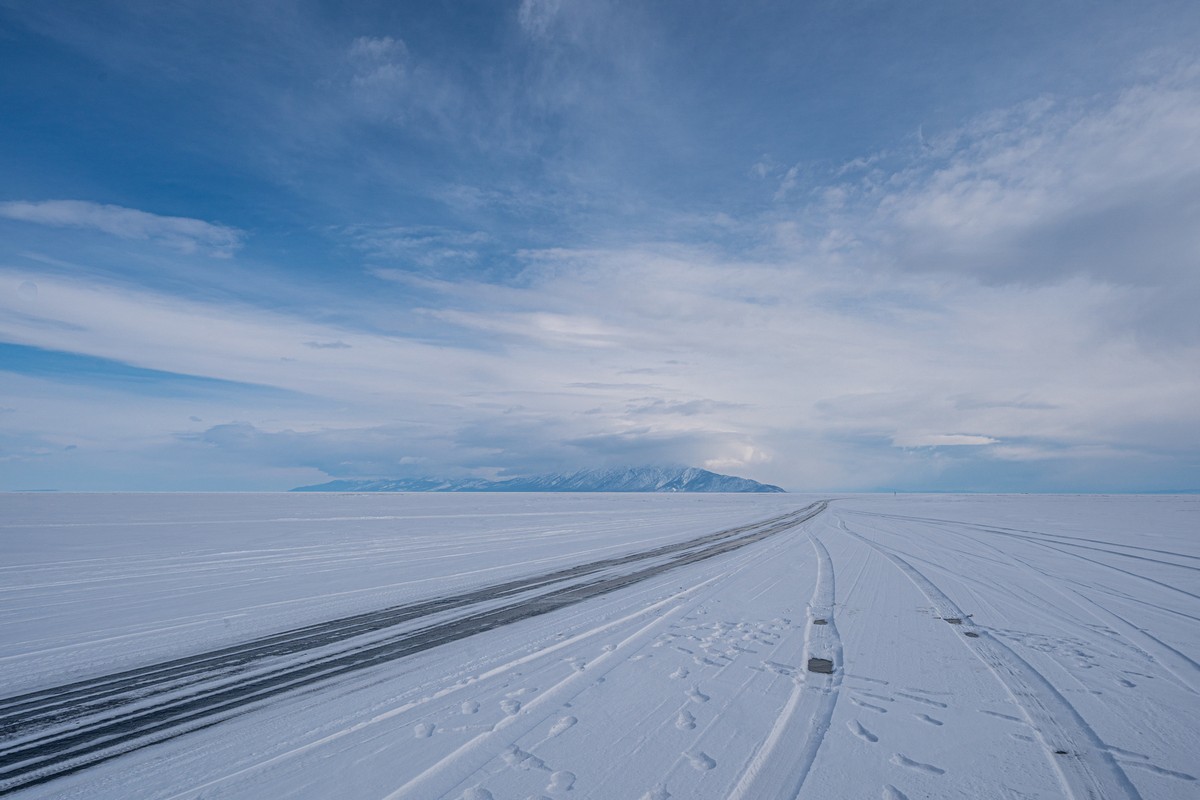 We arrive at Olkhon… Here's the island's northernmost point – Cape Khoboy. Lots of touristy places round here – and just 300km from Irkutsk, making it a popular day-out destination:
To get a handle on the scale of the sokui – make sure to fit some folks into the photo ) ->
There we were, strolling, snapping, admiring, marveling, when suddenly… under our feet – a fresh crack appeared in the ice. Oh my grim! And suddenly… our strolling, snapping, admiring, marveling came to a quick end! Back into the Land Rovers and let's get out of here!…
Another suddenly… I wonder why that people-carrier was abandoned? Maybe they're waiting for the water to freeze again and they'd cut it out, Zhatay dockyard style?
After seeing that, we decide to cross this crack somewhere else…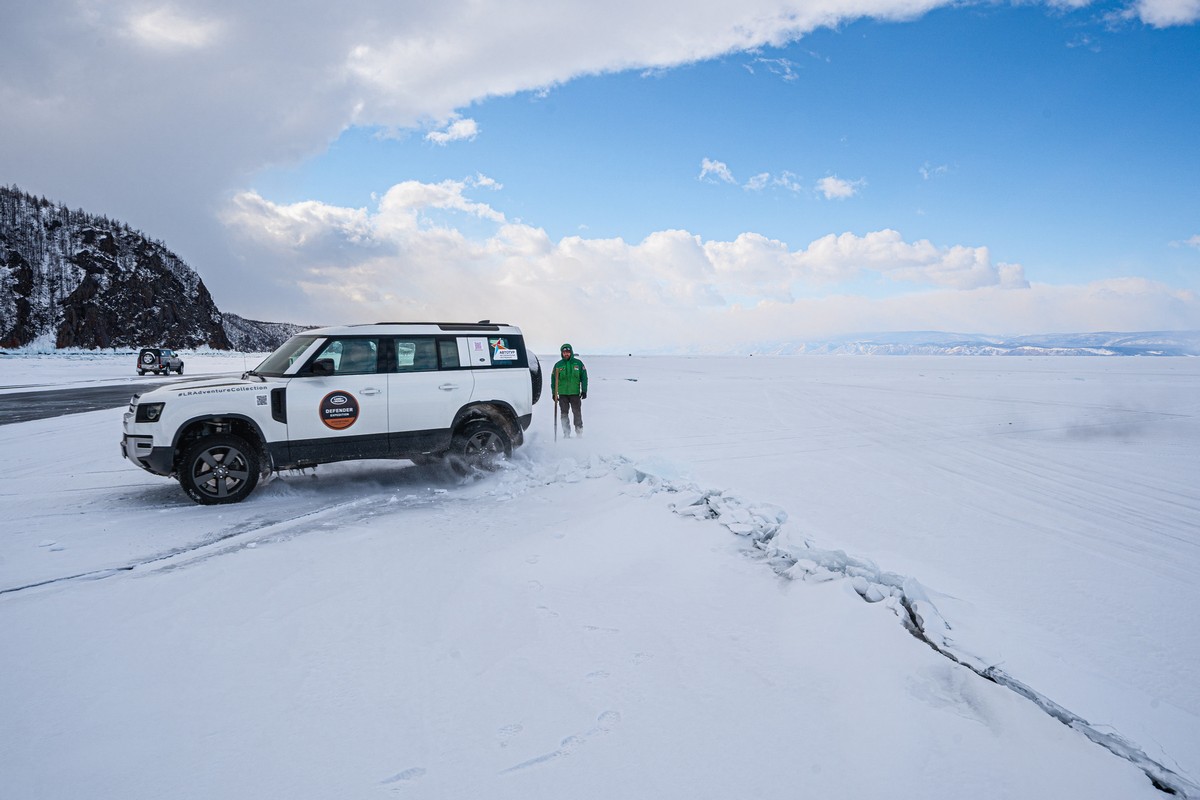 Along Olkhon on Maloe More: the views are just fantastic. Sokui hugs the shore of the island for several kilometers:
Can't tell how tall the iced palm trees are? Let's add a 6'8″ homo sapiens:
More tourists around here – including on bicycles, skis, skates, or simply on foot – and spending the night in tents on the ice by the looks of it! ->
Around the Stupa of Enlightenment on Ogoy Island – non-Buddhists walking round it as per Buddhist tradition ->
Ahh – the views! ->
The ice on the cake – ice sculpture park @ Khuzhir, the main tourist center of Lake Baikal:
And that was that – for another on Lake Baikal. Here's the day condensed into a minute:
There'd been little in the way of snowfall around here and it was windy the next morning. As a result the frozen-Baikal was practically free of snow covering it – making cruising across its surface all the more awesome: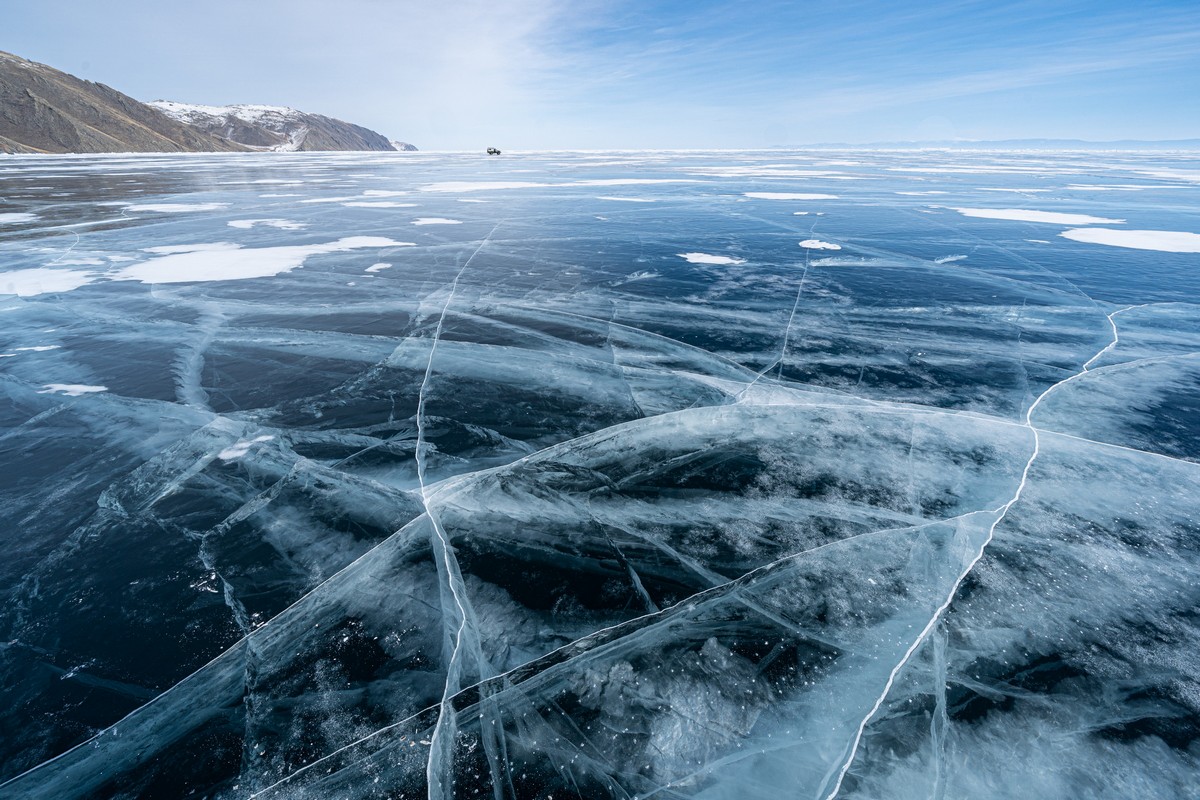 As you can see – the ice is as clear as crystal and as smooth as silk. It's also as slippery as a greased eel; accordingly, you really should go easy on jumping around upon the ice – you could strain something in your nether regions. Green bears simply won't listen though…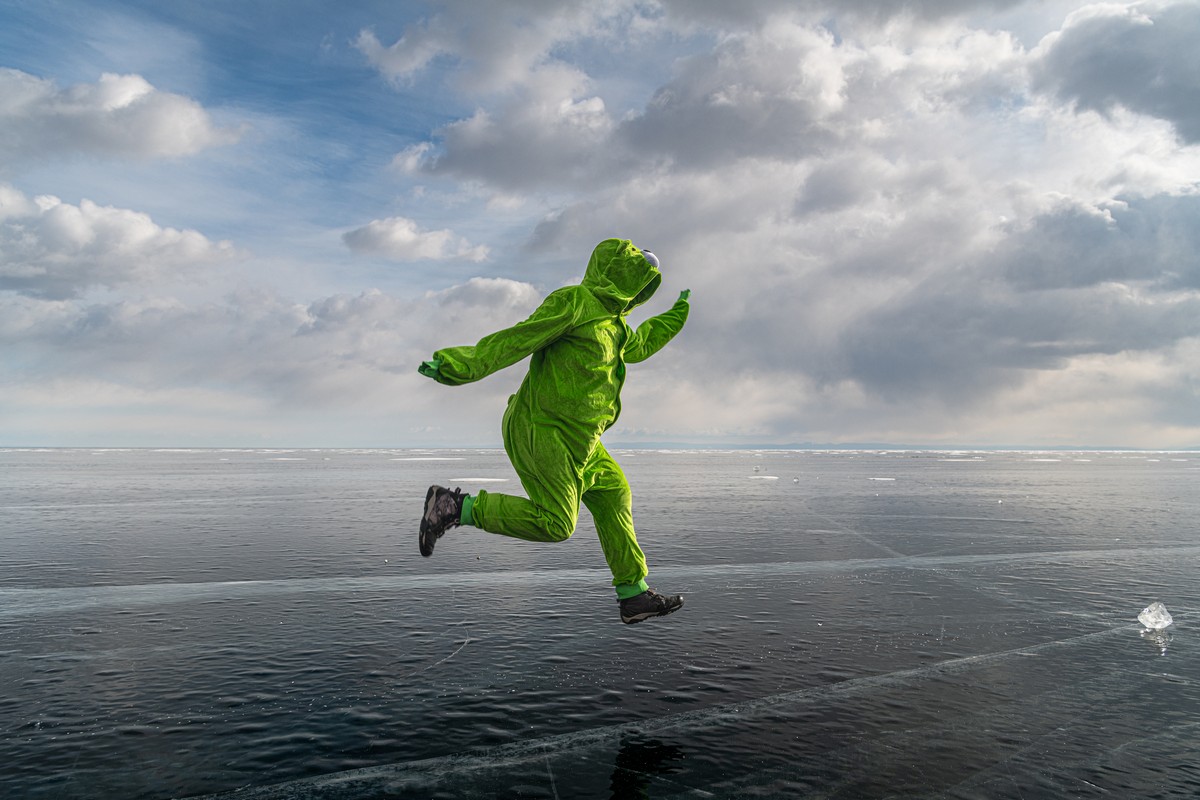 We pass some stretches that are anything but smooth, but thankfully they were off to the side and caused no impediments to our cruising: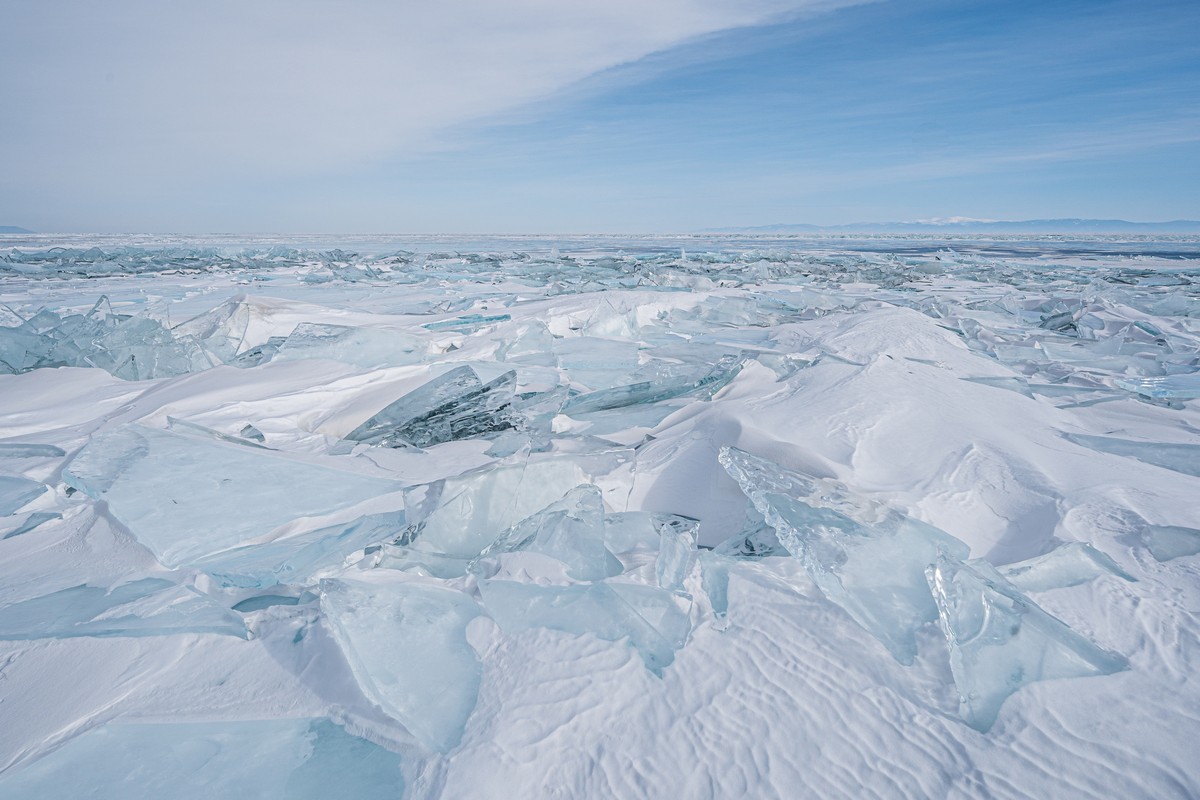 On a few stretches – the surface ripples of the water (caused by the wind) appear to have been frozen so quickly that said ripples remain in the water's frozen state :o)! ->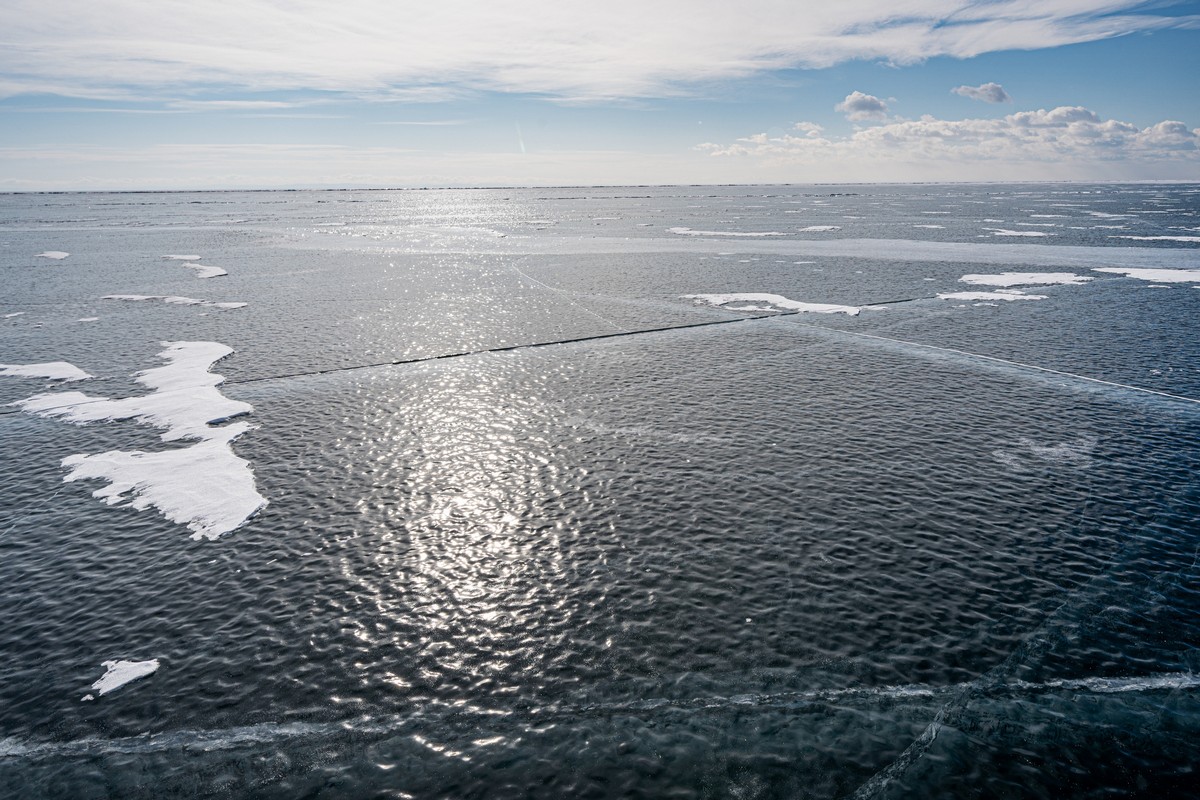 We don't like the ripples. We head back to smoothness; here are some reasons why:
Rewind…
On Olkhon Island we stayed at the Baikal View hotel. Perfectly adequate, and with views to die for. Some members of the posse took exception to the outward appearance of the hotel's cabins, which reminded them of 20ft cargo containers! Well, yes, I guess there is a resemblance, but their interior more than made up for the aesthetical faux pas on the outside. Cozy, clean and modern.
A half-hour's walk from the hotel there's a hilltop from which the views are even better:
The following morning we were up, breakfasted, and back onto the ice…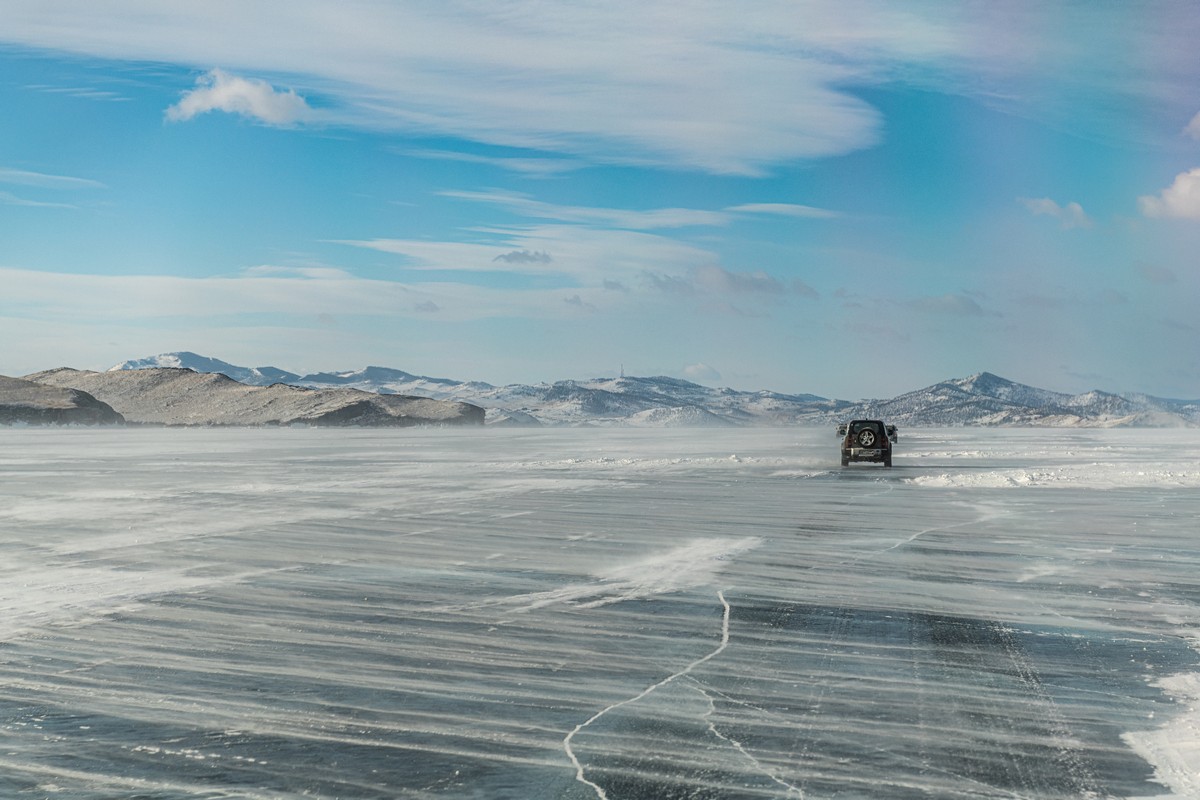 It wasn't long before we were back on the mainland. The snowfall around here – real light:
Back on the road, we head south. But then we turn back toward the lake, off-road ->
We get to the shore of the lake just by Aiya Bay. The views that open up – Oh my grandiose! ->
The views from a drone – even better:
We head on toward Buguldeika, and it was back onto the ice for a 70km stretch…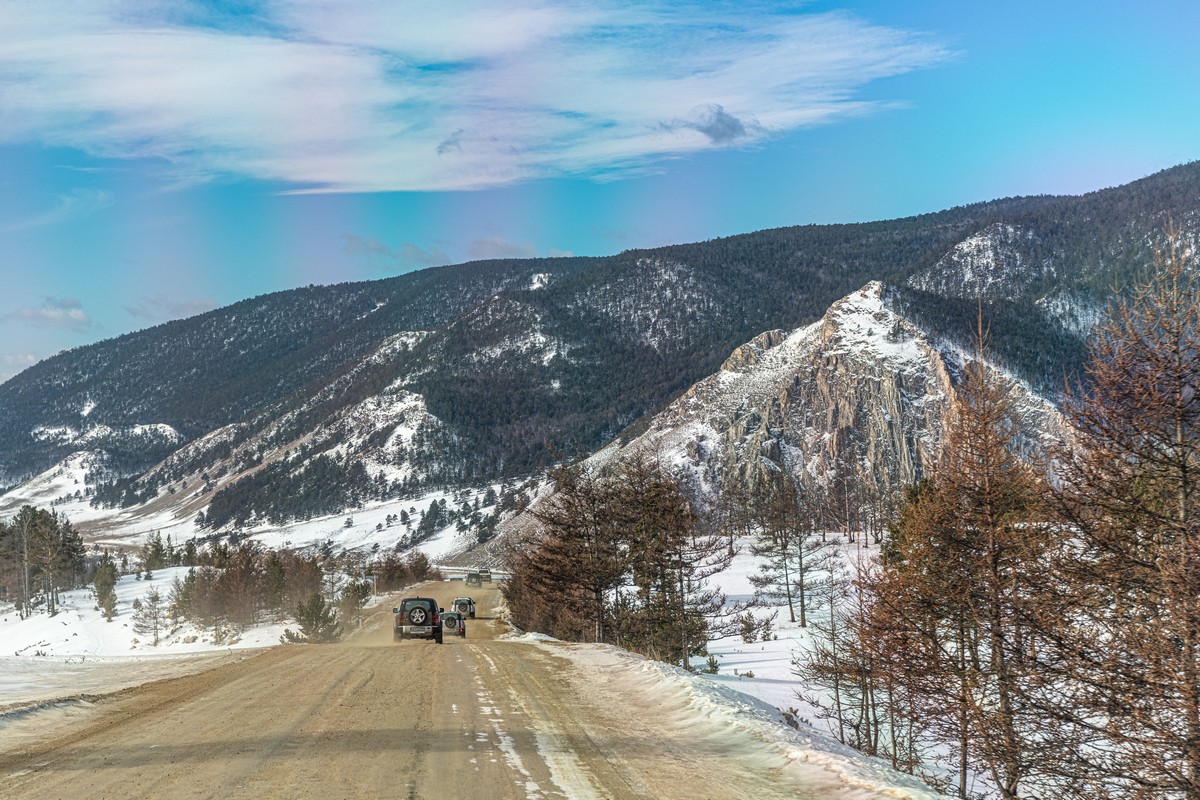 Too "rough". We decide not to risk venturing onto the ice just yet… We head out onto the ice when it's smooth again ->
Looking at ice. Who'd have thought it could be so interesting. At least here at Lake Baikal )…
Petrovich insisted on taking a souvenir )…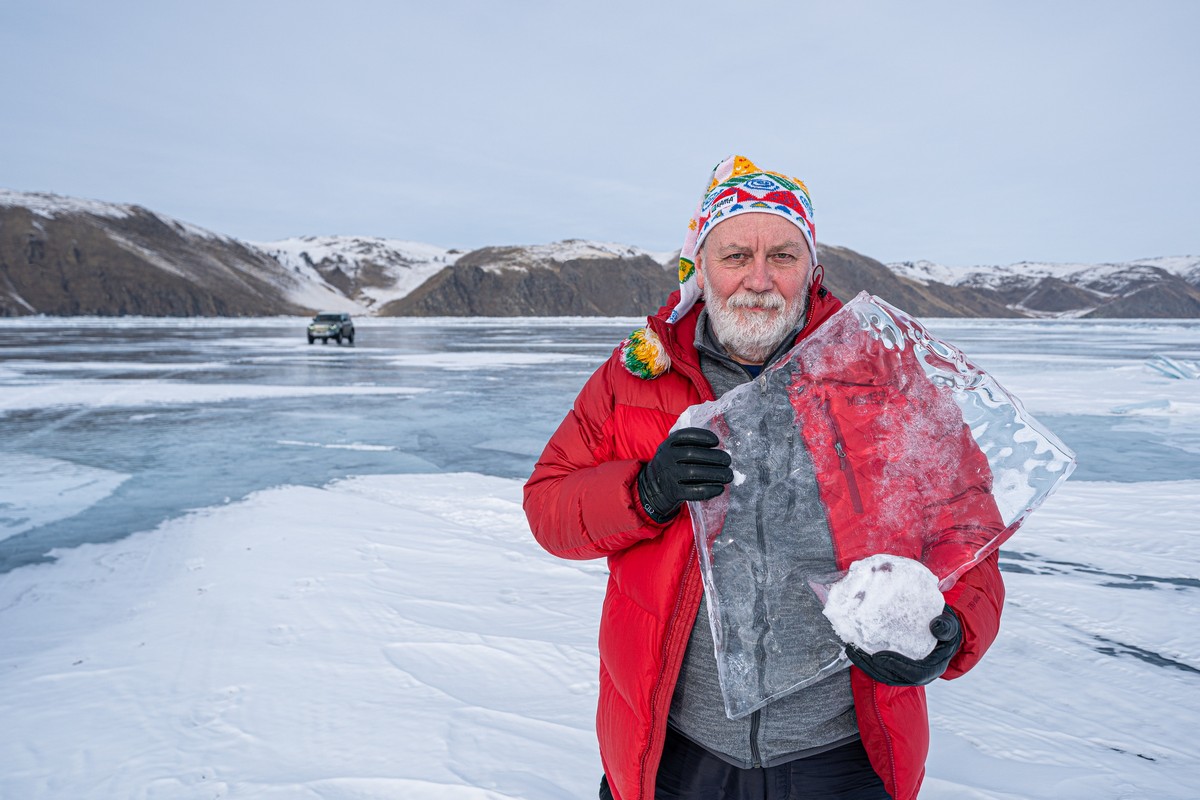 …Not really. He actually wanted to… smash that block of ice into smithereens, which scatter over the ice for several meters! ->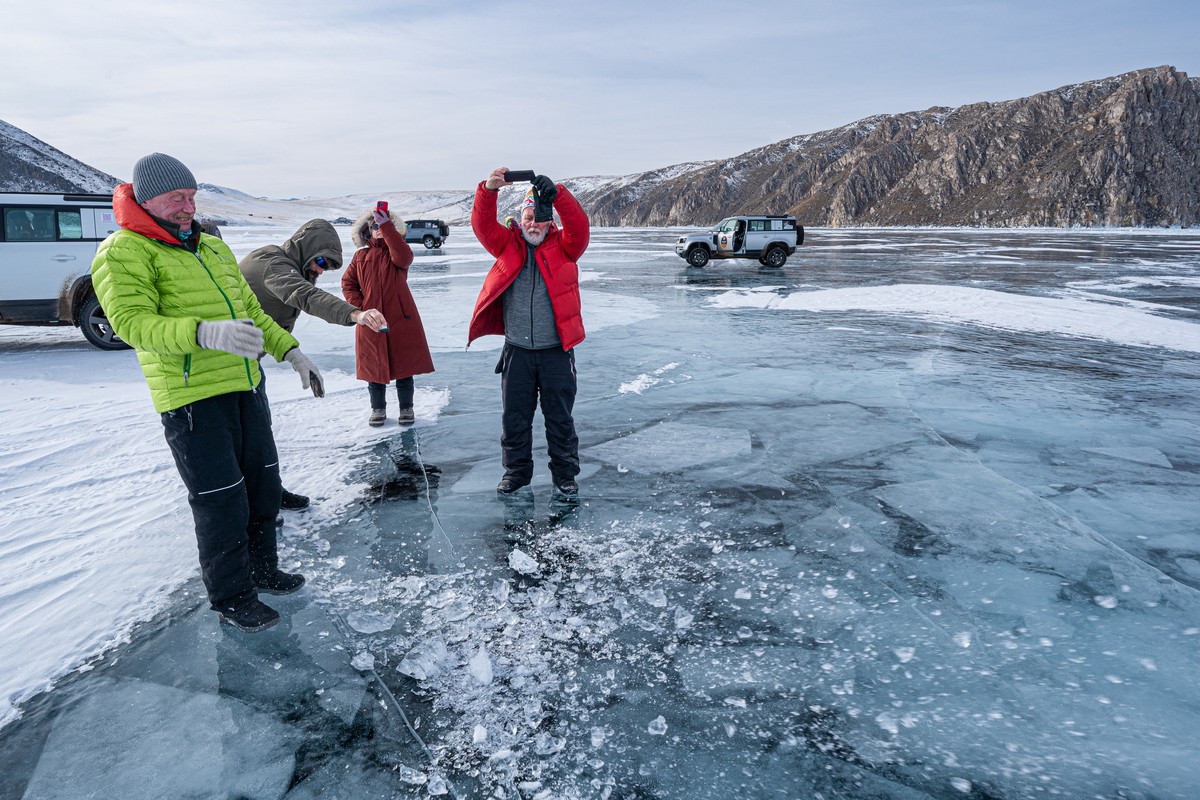 Another ice trick: you place an empty bottle – the only empty bottle we had formerly had Jameson in it! – upon the ice, and with just a little wind (since the ice is so smooth and slippery), off it sails – sometimes for hundreds of meters! ->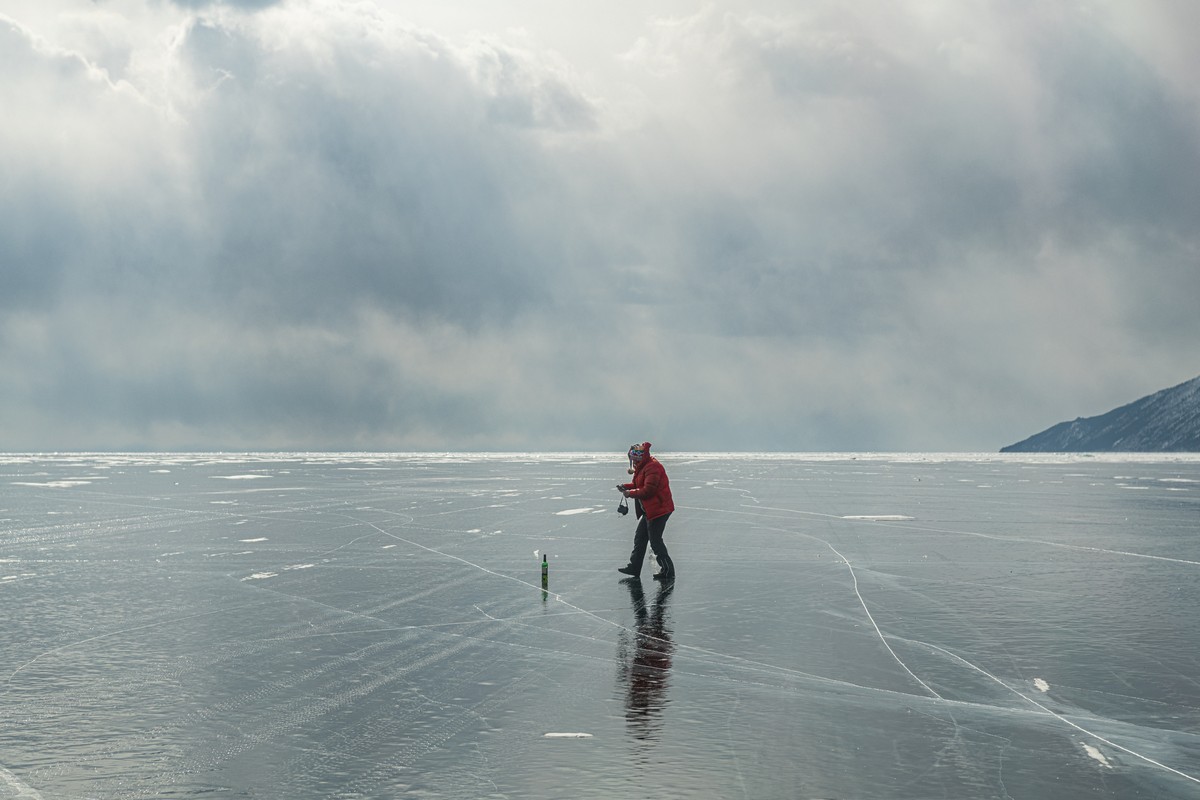 Drifting on Lake Baikal – must-do for the more adrenaline-rush-inclined. The circles you make can be up to a hundred meters in diameter, and though your tires are studded (see the marks they make) you still slip around as if you're driving on grease!
Near Bukhta Peschanaya (Sandy Bay), there's a strange wood which curious tourists are taken to:
Skaters taking pics of us, while we take pics of them: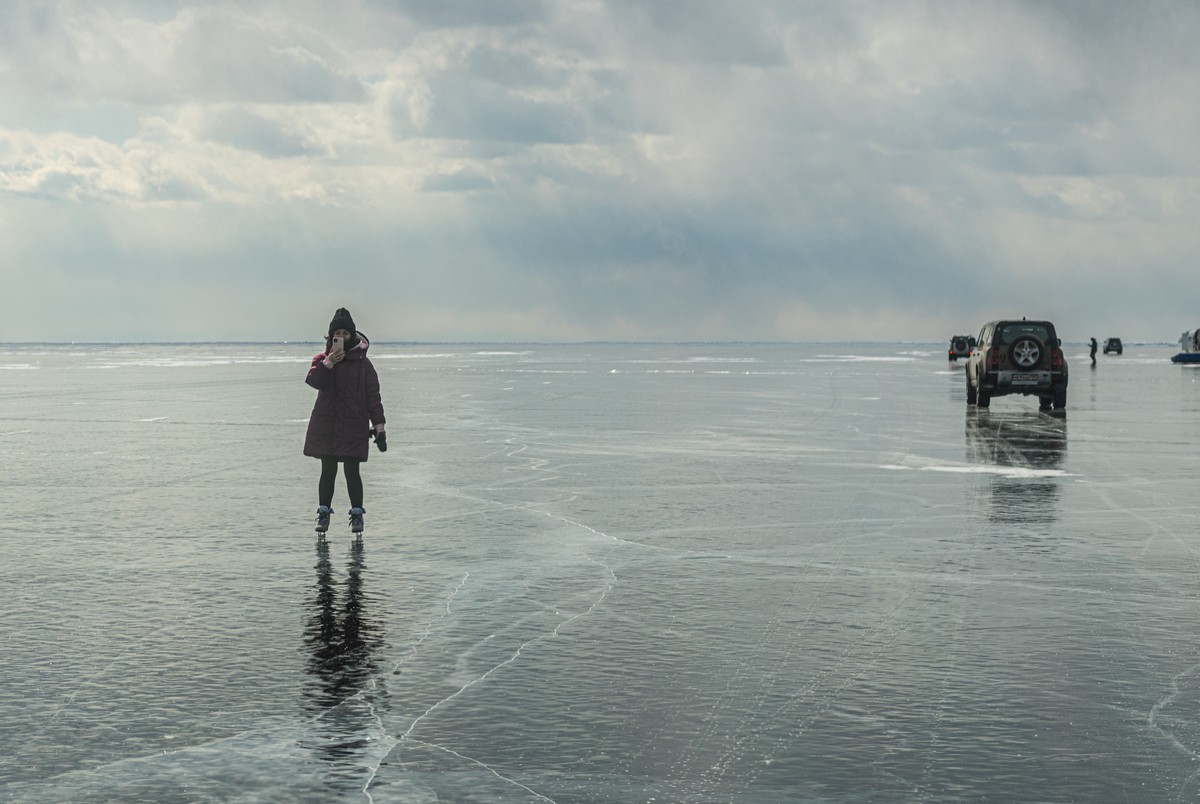 And that was that – four days upon the frozen Lake Baikal: done! You might think four days is plenty (or even too much) for one lake… but you'd be wrong: I already want to go back!…
Btw – since we're kinda at the end of my Baikal tales – and indeed of my Kolyma Highwaying tales (note: a few post scriptums coming up) – here's a quick review of our route from Magadan: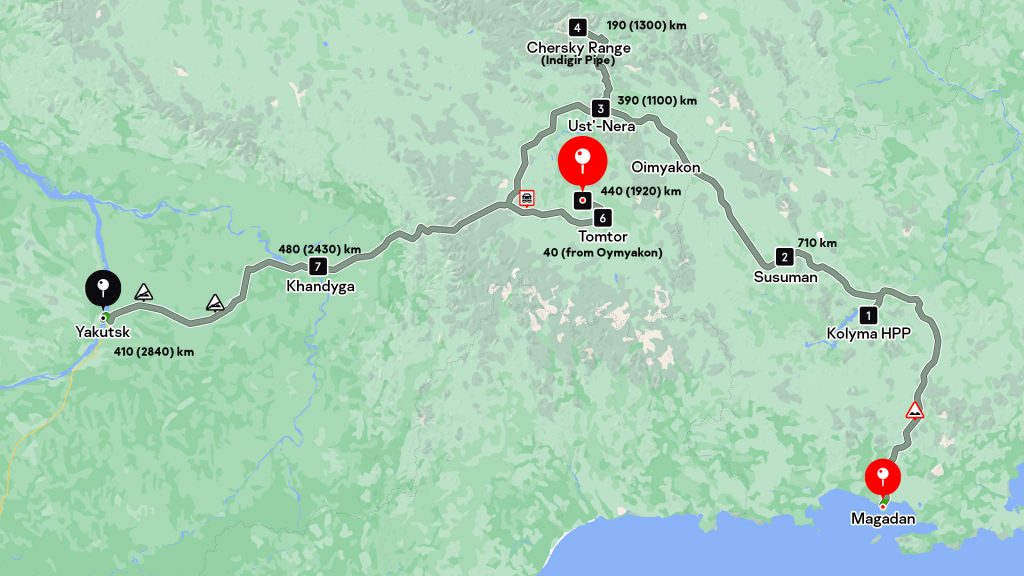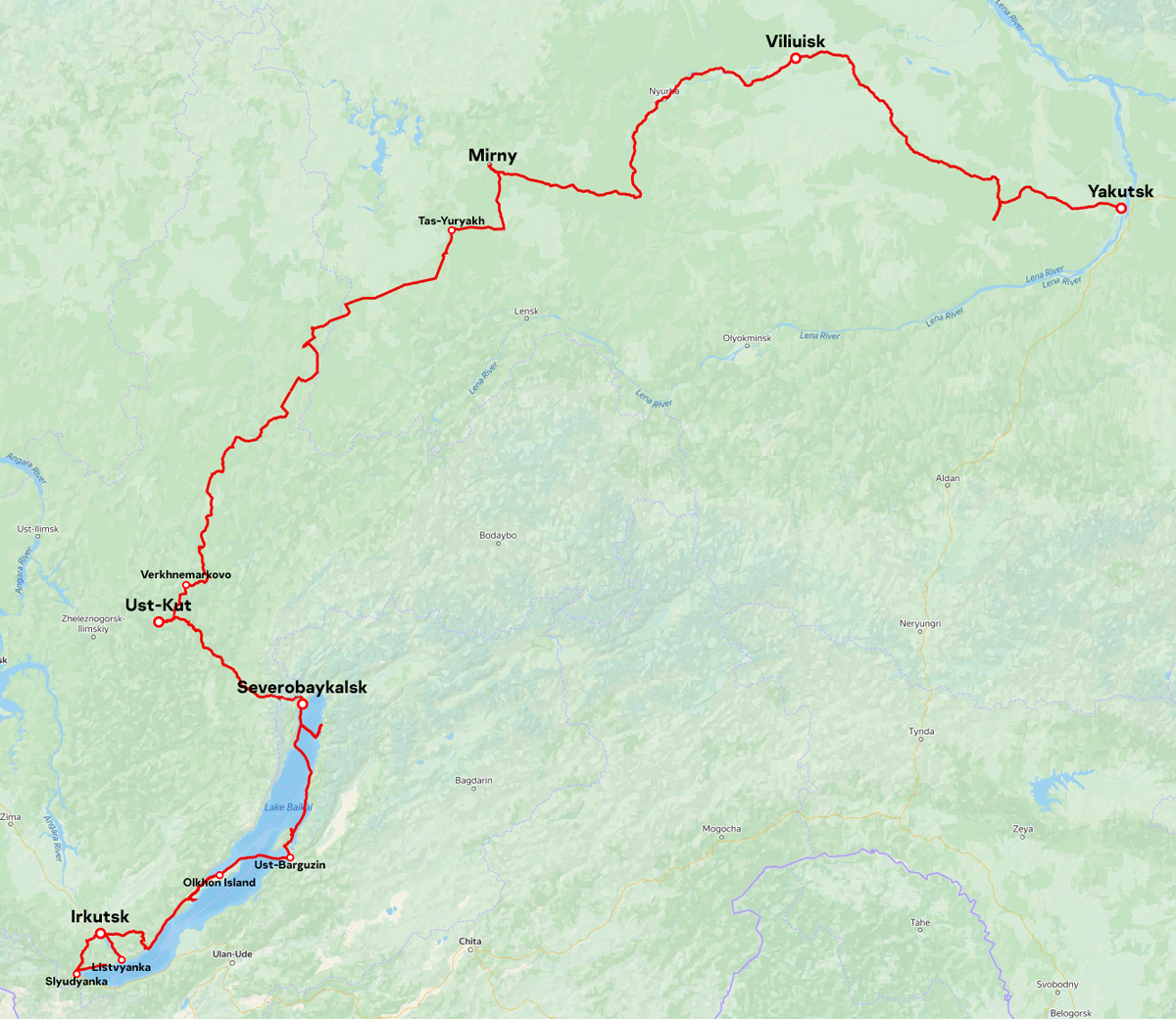 And that's all for today folks. But stay tuned for the above-mentioned post-scriptum – decompression – posts…
The rest of the photos from our MYB expedition are here.