Two days on a Siberian road that only exists in winter.
Despite these hard times, we continue our work saving the world from all manner of cyber-maliciousness. We adapt; we carry on. Meanwhile, I hope my travel notes and photos will bring a little cheeriness to all who view them – because there's hardly a better way to do that than with the beauty of nature (and a spot of -50° adventure).
After Yakutsk, our next port of call for a proper overnight stay was the town of Mirny, still in Yakutia, some 1200km away. Again, not much to report on, so I'll fast-forward to the following morning – starting out in Mirny – heading south and onto the winter road from Tas-Yuryakh to Verkhnemarkovo (that map shows how much further we'd have to drive were it not for the winter road). Here we are – at the Mirny town limits:
Not got much time to read this post? Then here it is, in video form, condensed into one minute (I'm being dishonest here: after watching it, I'm sure you'll want to read the whole post:) (also available on YouTube):
The road takes us southward as far as the right turn – west – toward Tas-Yuryakh. The road's a goodie; the going was zippy…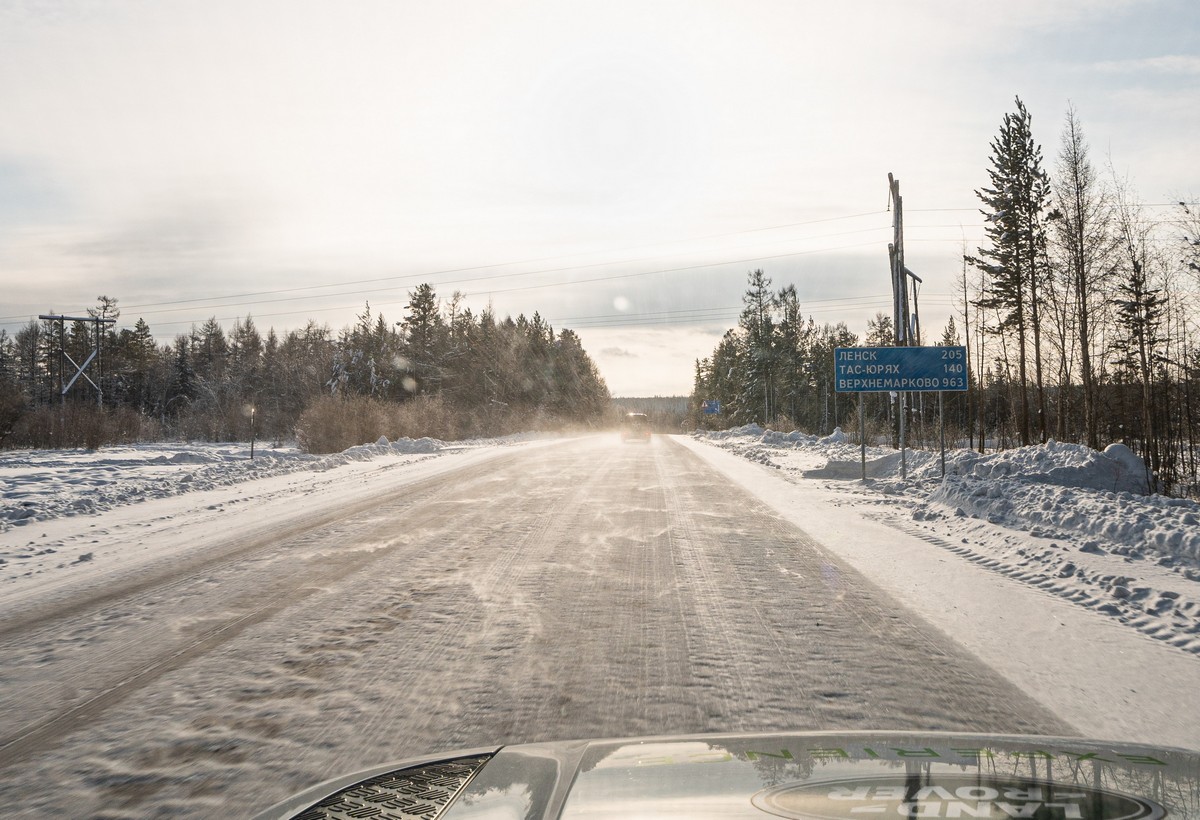 After the turning the road's somewhat worse, but still adequate: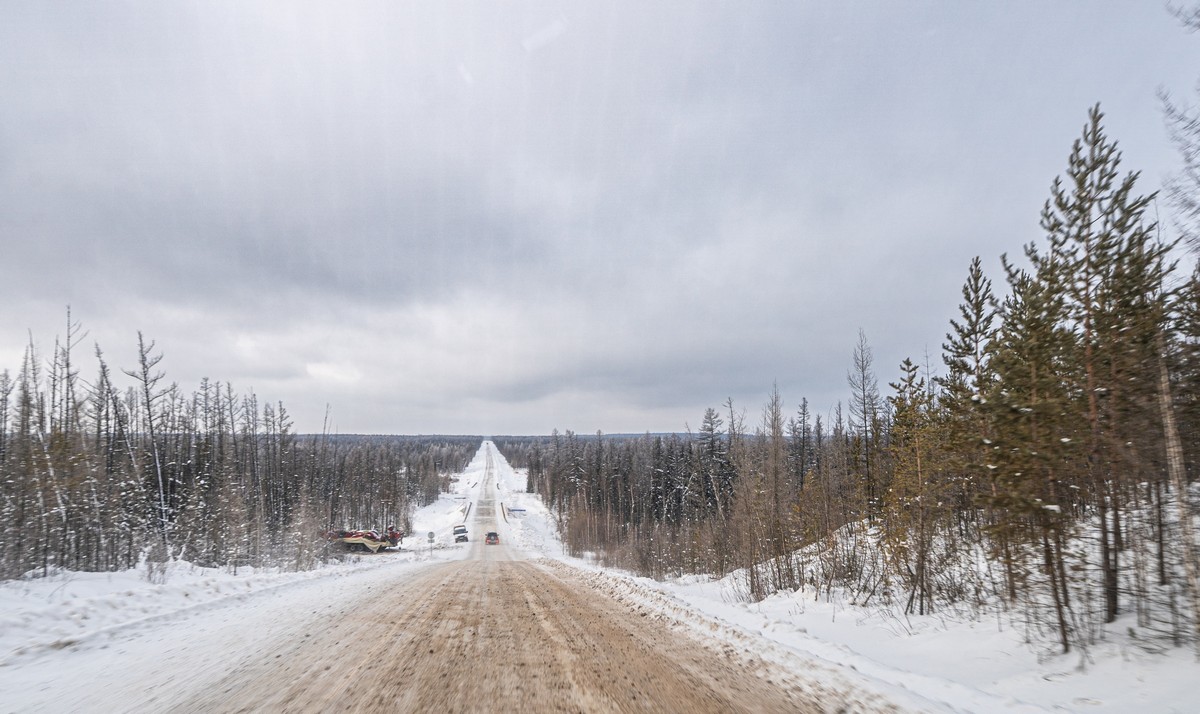 And here we are – at the turn onto the winter road. To recap, ust in case: a winter road is a "road" that isn't a road, but is sort of a road in winter – no asphalt underneath, but with all the (specially compressed) ice and snow atop a thin narrow strip of land cleared: it does a good job at acting like a road when it's -30° and below). Ahead – 800km+ of driving on ice and snow! ->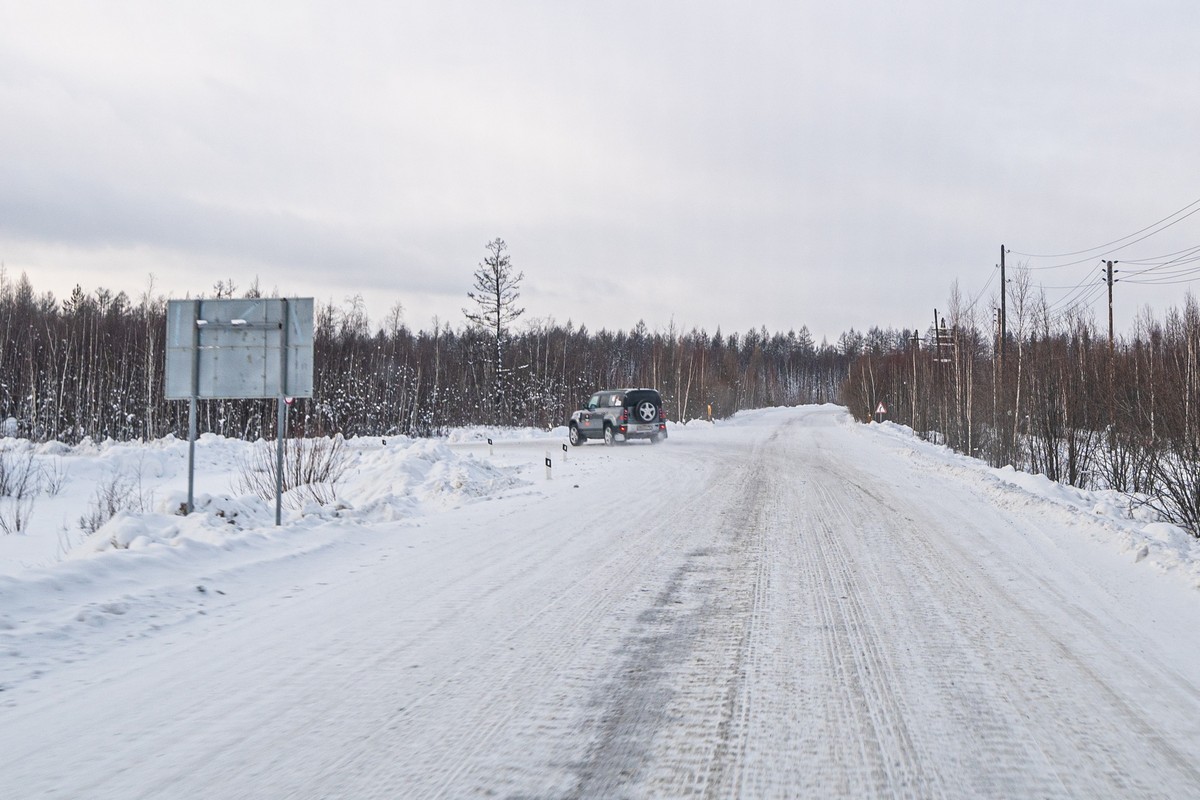 At the turning – a map showing details of the winter road, including cafes (around a dozen!), tricky sections, and assorted other useful info. Seems all clear. Off we pop!…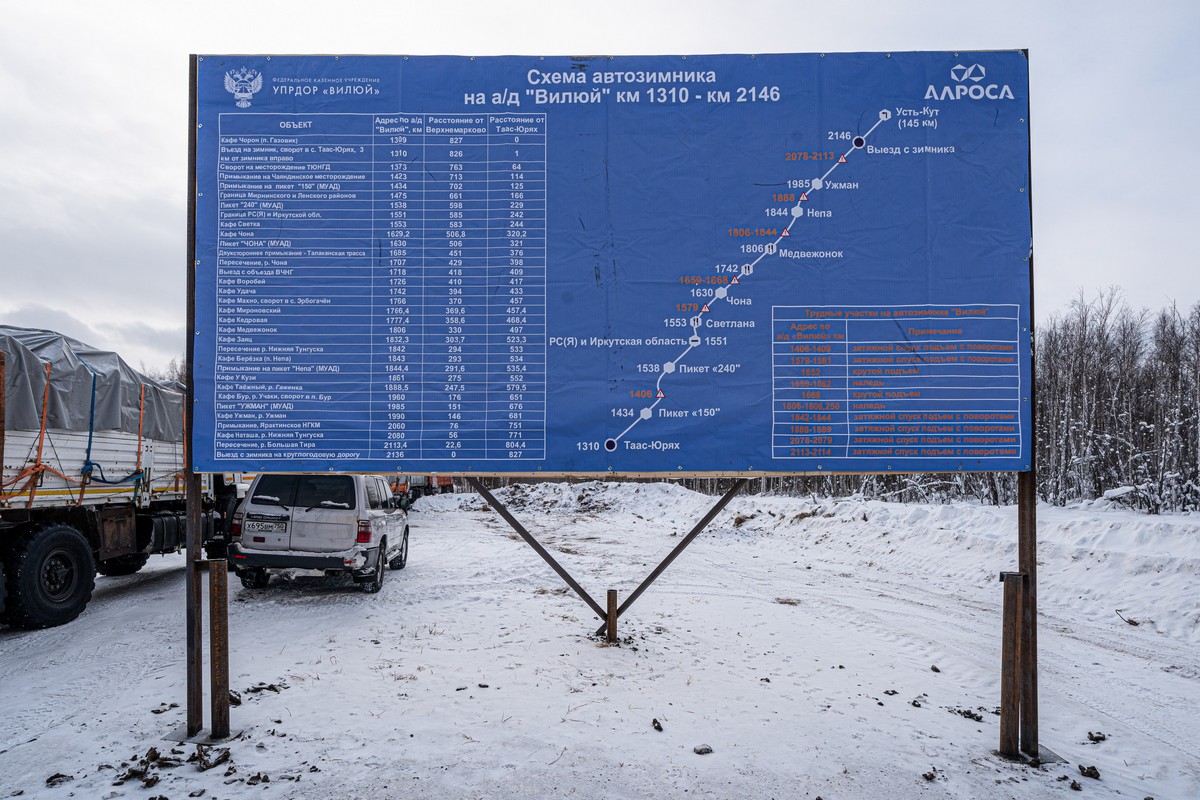 This was the first time in my life I'd be driving on such a long – industrial strength! – winter road. A little alarming – and very curious ).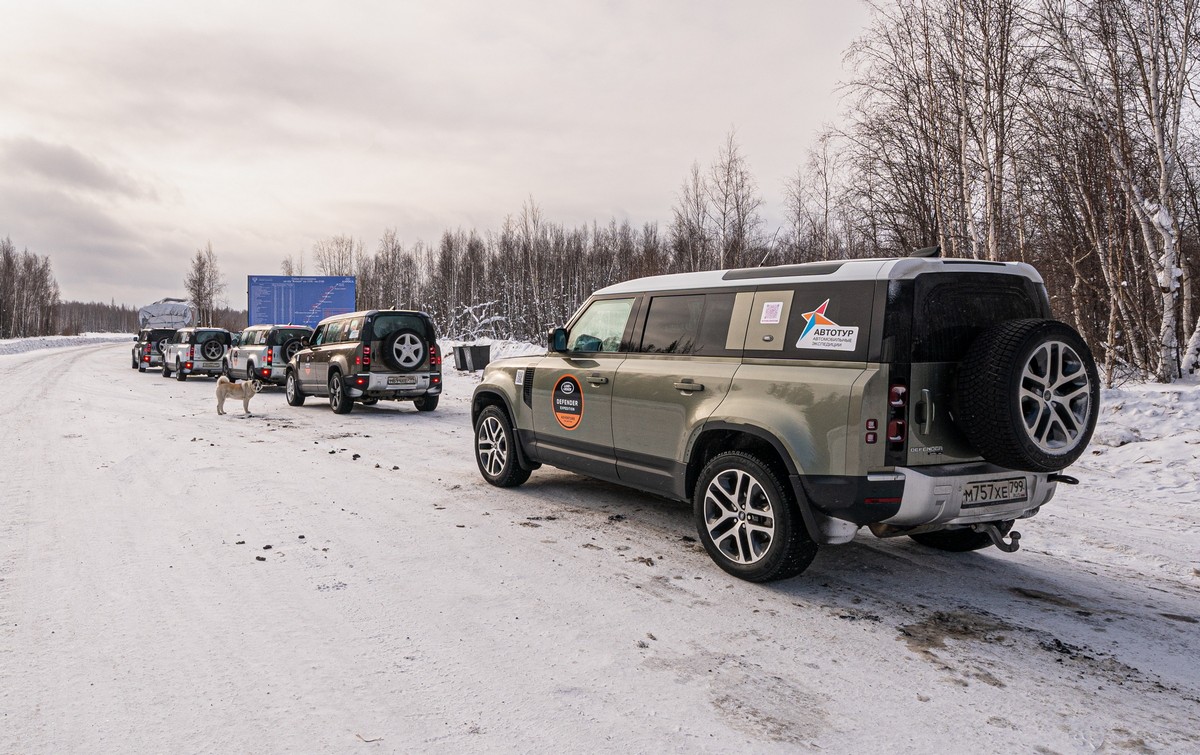 And we're off!…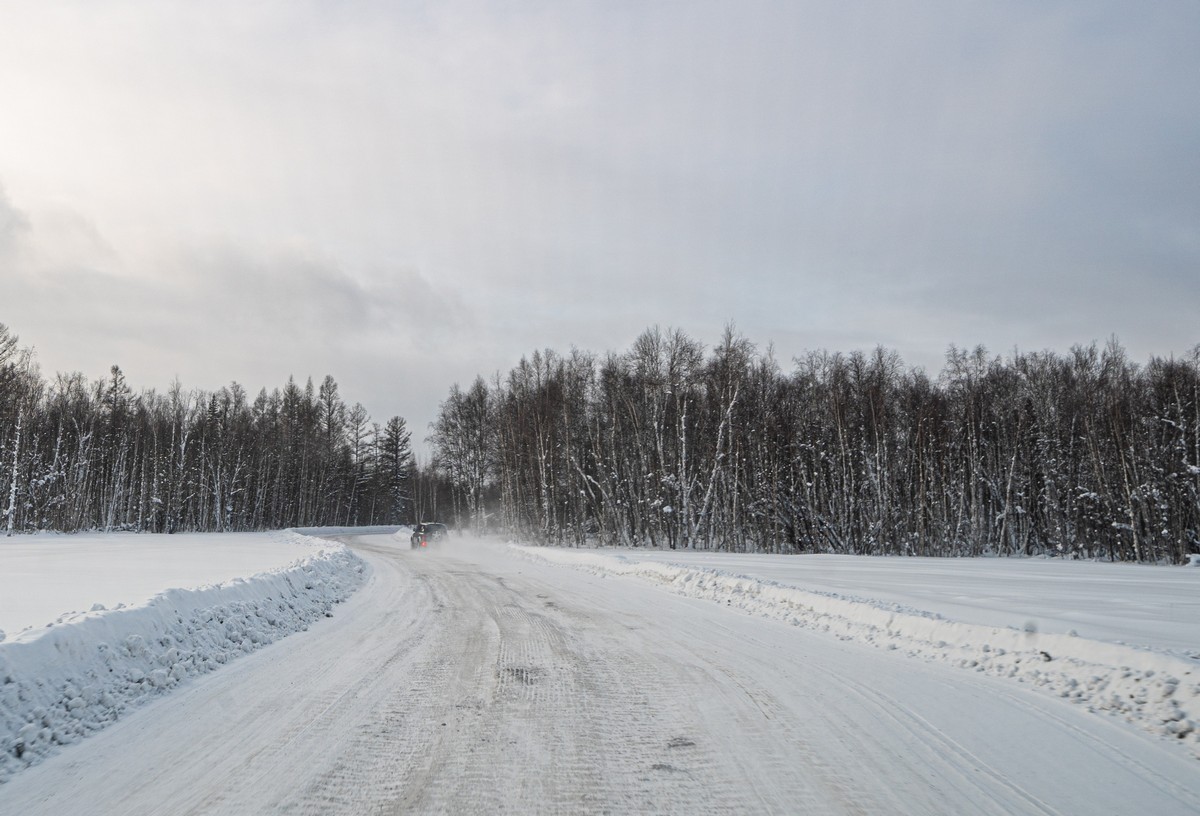 In places smooth, but there are plenty of holes, ruts, and "waves" too, so the going was slow ->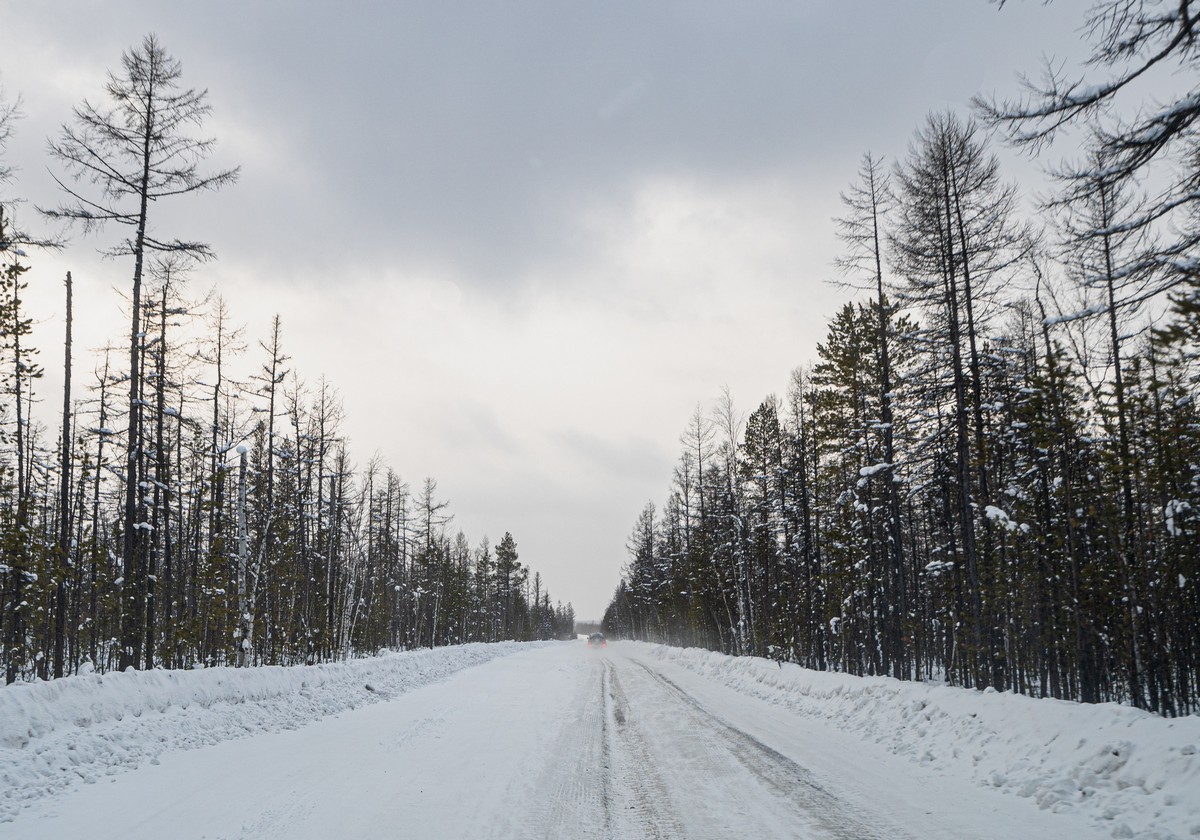 I'd read somewhere on the internet that this winter road can in places be so smooth you can drive 100km/h on it. Don't believe it! We found a full zero smooth stretches like that. We drove at around 40-50km/h most of the way, only occasionally getting up to 60km/h. The going was slowest when driving upon bare ice (with corners!). Even with studded tires, we were slipping around plenty…
We often passed through forest that had been burned down. And it had burned down long ago: we could see new trees sprouting up ->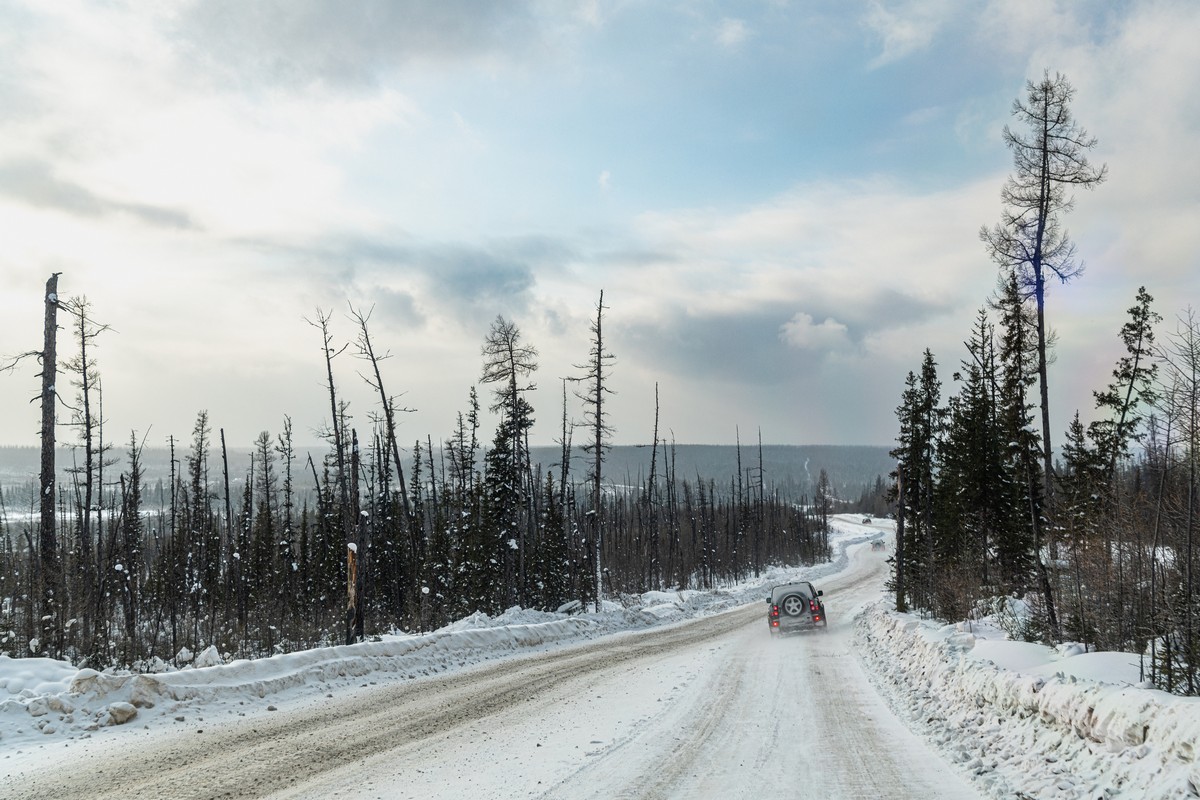 Our interaction with oncoming traffic was… functional and polite. It's their road, basically – not tourists'. Often we had to hug the roadsides to let a big, heavily-laden truck pass. We'd been warned that when loaded up, trucks simply aren't able to stop, so it's up to us to do the stopping or getting out of the way…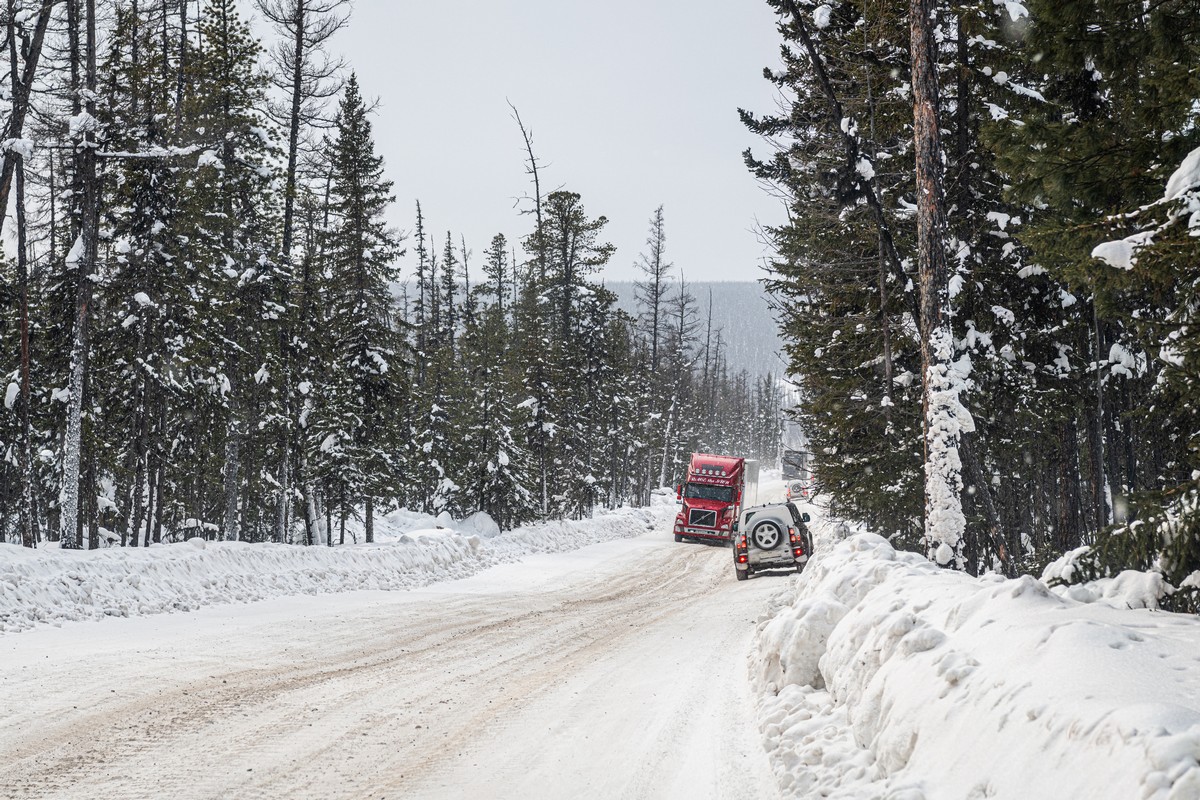 When it came to us needing to pass a truck going the same way as us, we radioed the driver on walkie-talkies to ask for his courtesy. All very polite – as per the winter-road codex ) ->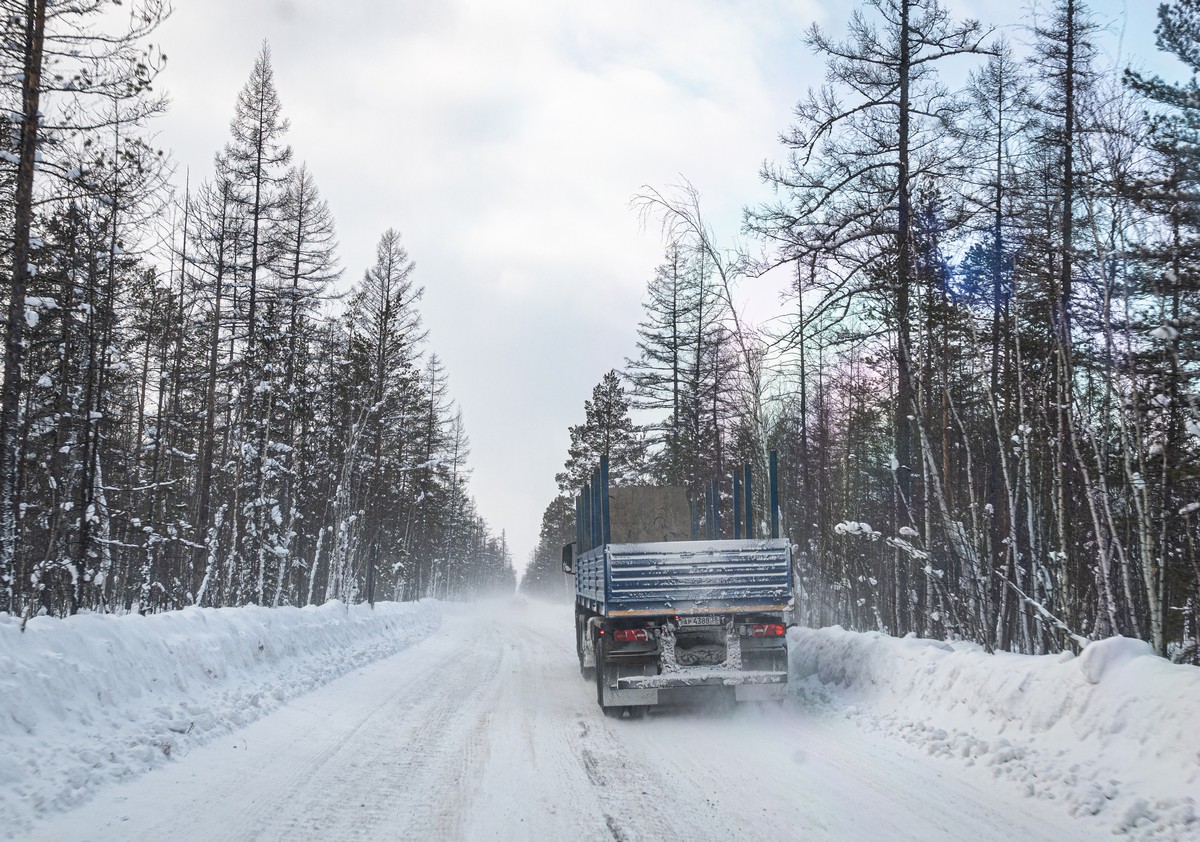 But sometimes is was simply impossible to pass a truck, so we'd get stuck behind a slow-moving one for many a kilometer…
Up ahead here – gas-extraction facilities: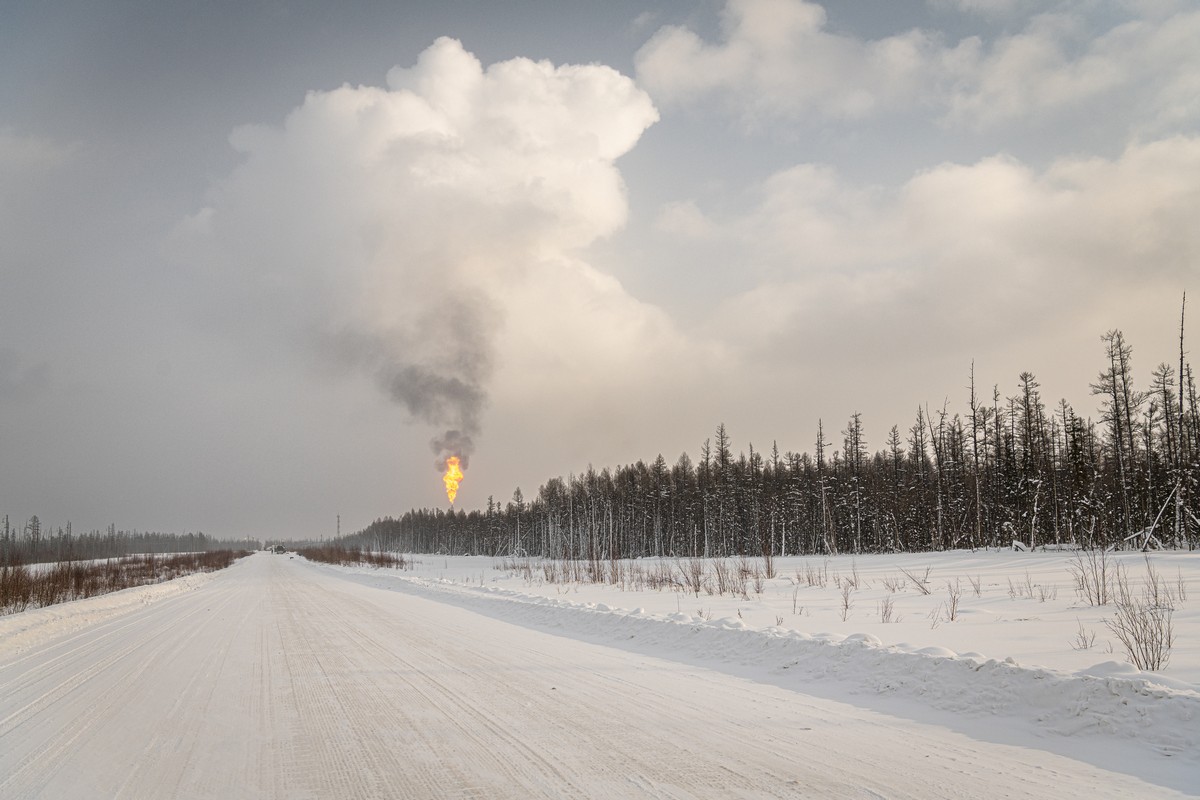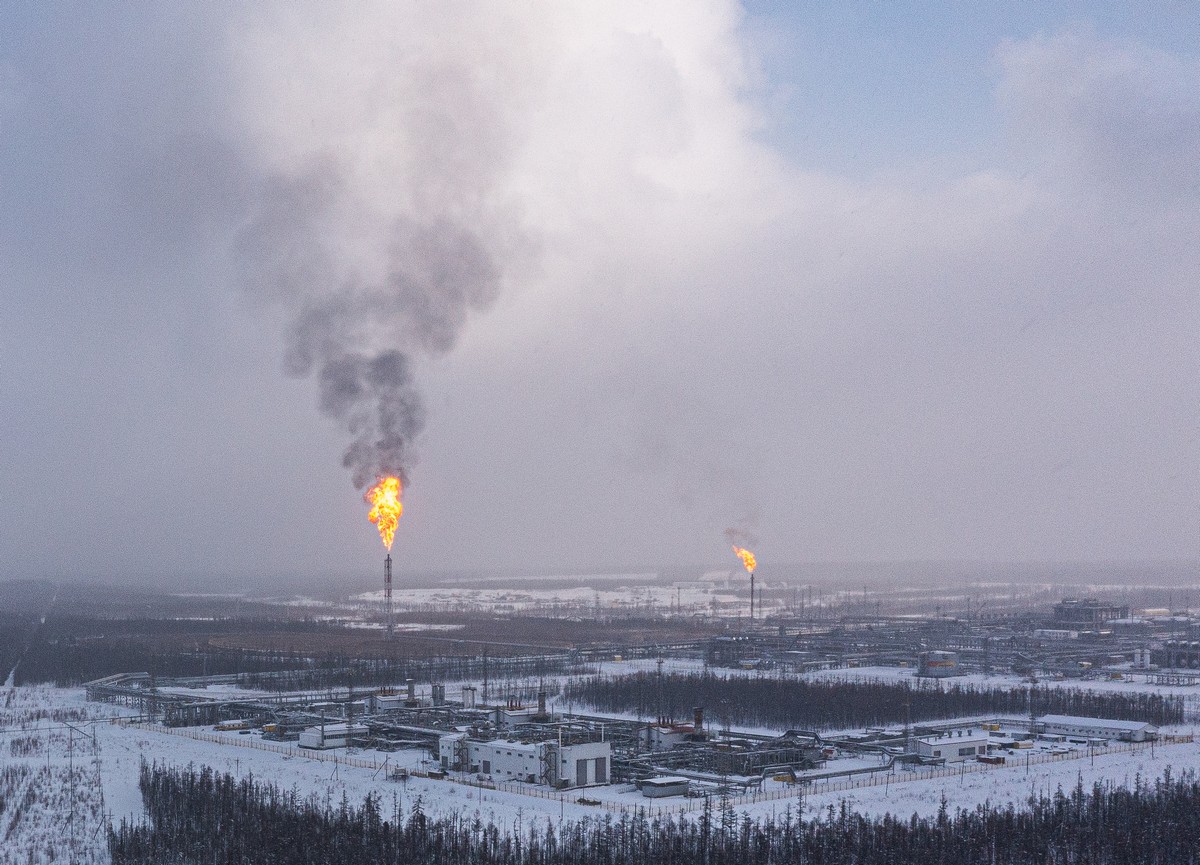 If you turn down the contrast/light on the camera – things get somewhat less pretty: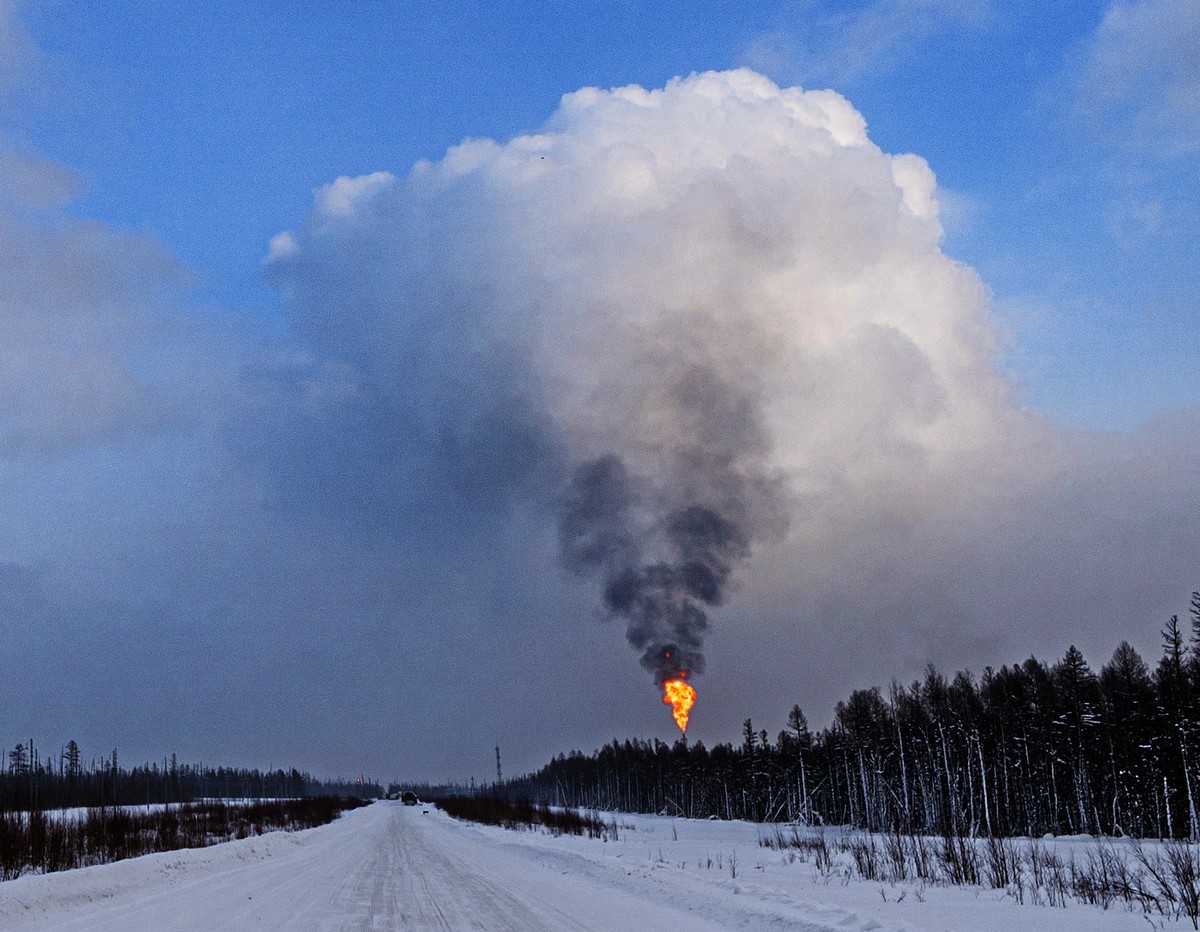 Onward…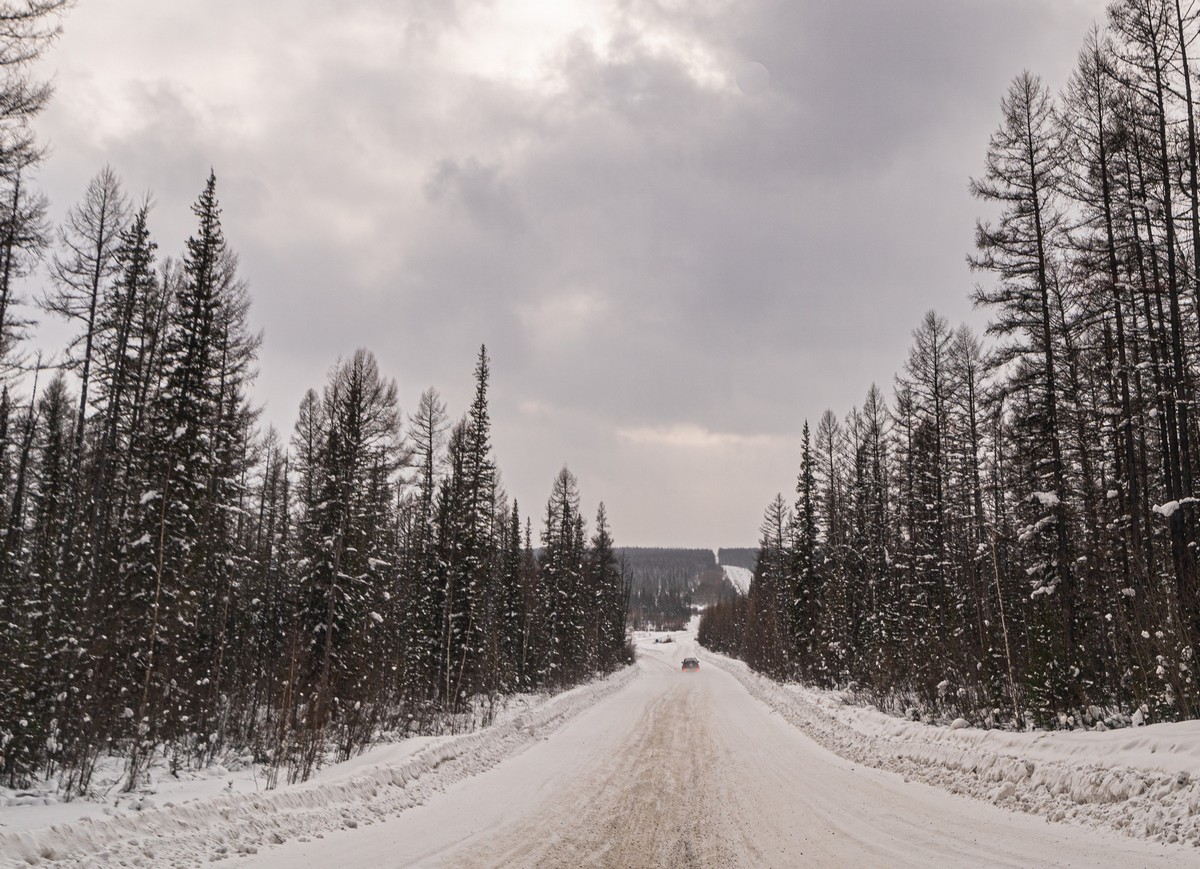 Sometimes the winter road cuts through swampy land covered in vertically-challenged, sickly vegetation. I imagine here in summer it's a mosquito-and-midge's paradise…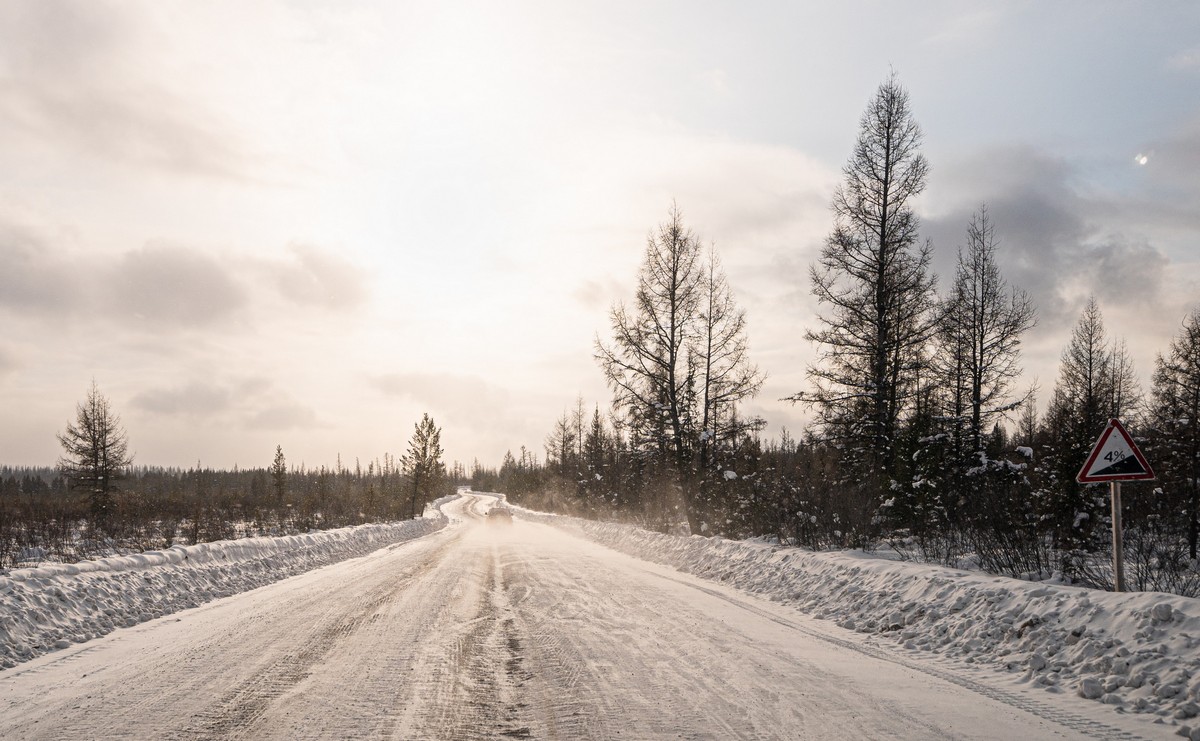 1420km already (these distance markers feature every 10km) ->
A tight fit! ->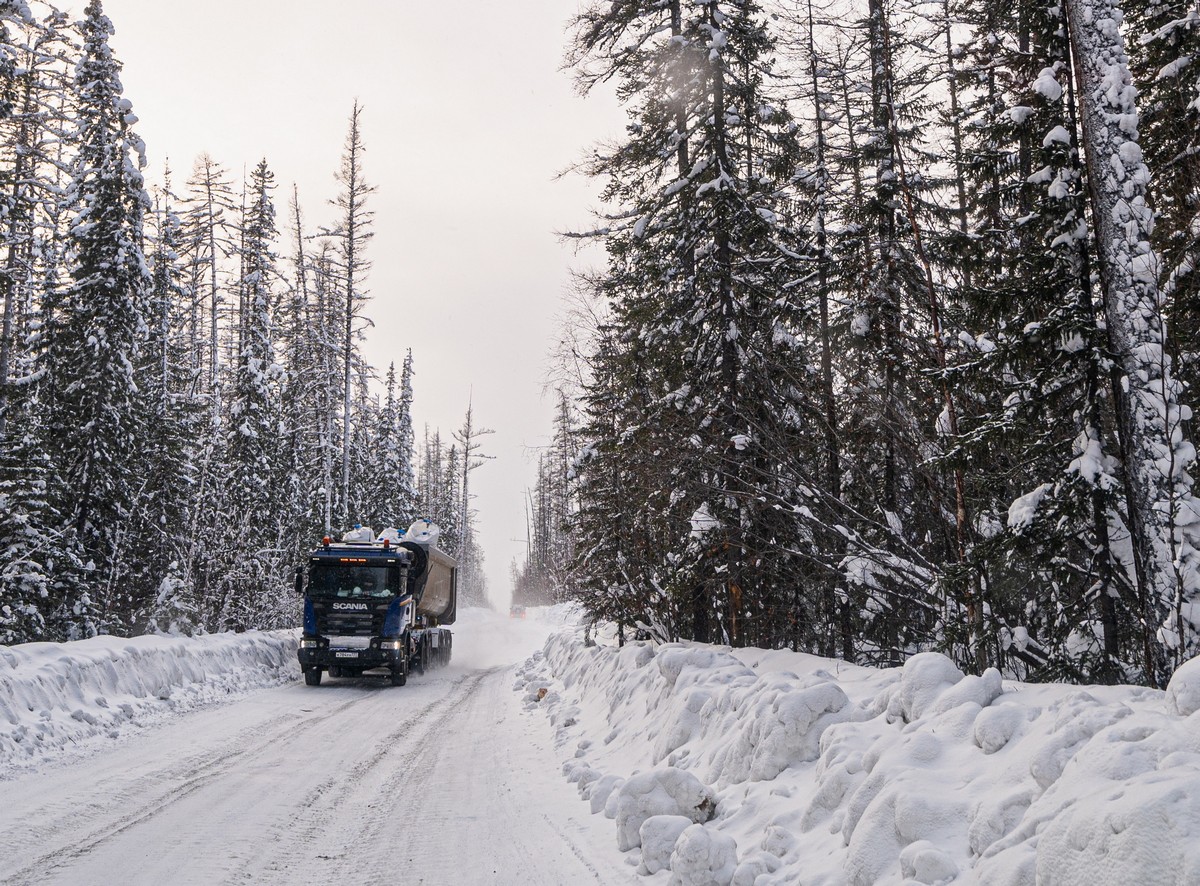 Sunset already! ->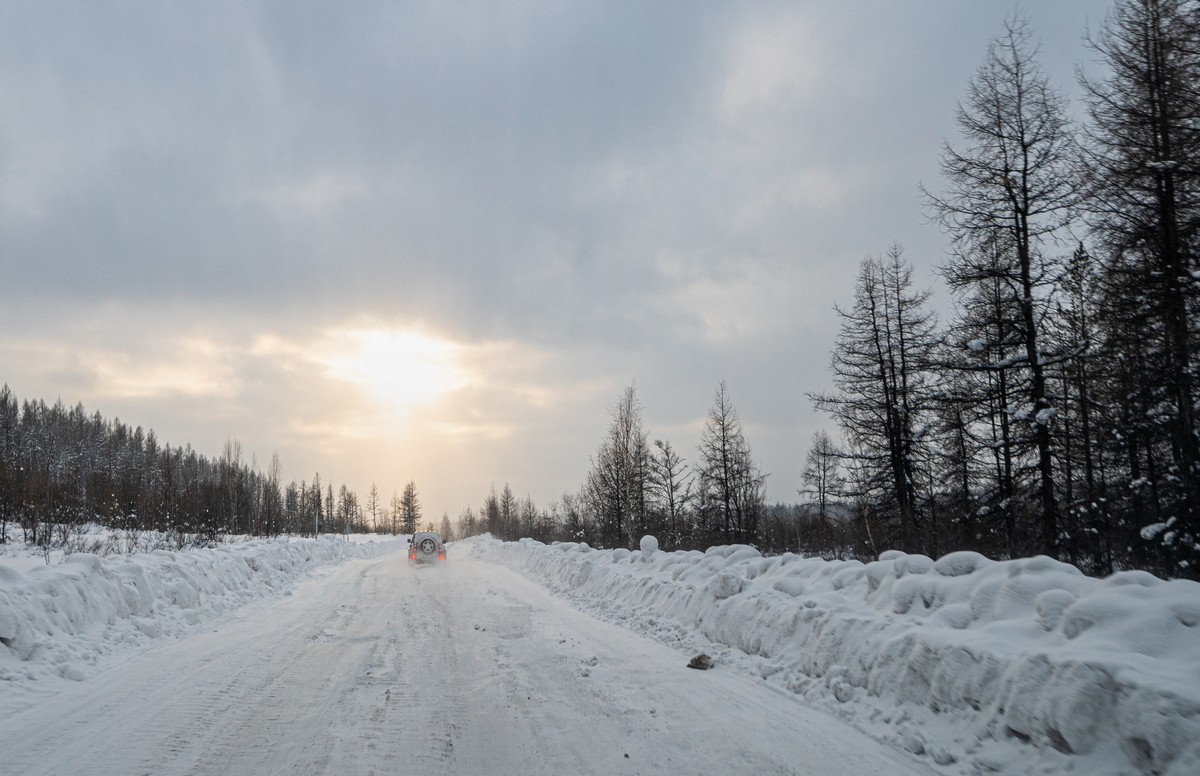 The sign for the Irkutsk Region. And we put our watches back an hour yet again this day – since the winter road crosses the Yakutia – Irkutsk-region border several times!
Dinner – at the "Chonna" picket (services station café) ->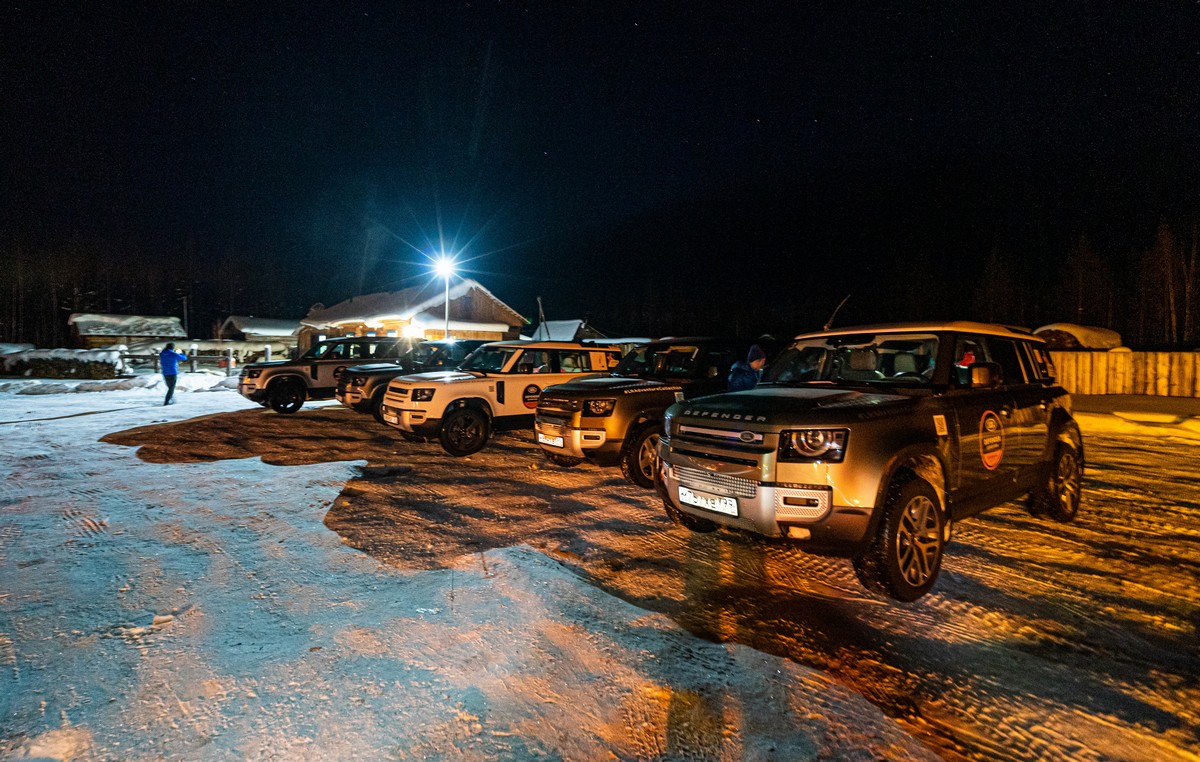 Talking of dinner, that reminds me: let me tell you about the winter road's "services"; rather – the lack thereof…
Yes, there are plenty of cafes (more than a dozen); as to anything else – gas stations, hotels (or mere hostels), garages, car-washes, towing services… – zip. Indeed, infrastructure is sadly lacking. Still, at least GPS/GLONASS and Iridium satellite phones work ).
The cafés only work while the winter road is in operation. Workers arrive after it is cleared (November–December), and leave when it's closed (April). Here's one such café complex. Besides the café itself there are the living quarters for the staff, a store-cabin, a cleared parking lot, outside toilet – and that's it!
Inside the café – clean, cozy… warm ).
Here's the "Lucky" café where we stayed the night – yep, in our cars. 600km to get to, 440 of which were on the winter road. Good going… We parked up between some trucks, slipped into our sleeping bags, and slipped into a deep sleep for a full seven hours…
Early-morning drone pics. Here comes the sun – rising up above the forested landscapes crisscrossed with firebreaks:
Rise and shine: breakfast time. But first the horses need feeding. Remember – no filling stations; accordingly – we fed them with the rations we'd brought with us ->
Day-two on the winter road. And not once did I feel bored while driving on it! For the winter road is… a winter road – exciting in and of itself, plus the views all around – extra-mega. Also, we were heading south now – so it was getting warmer, with pine trees appearing more and more. Looking at these pics – I'm getting all nostalgic, and I was only there two months ago!
Always give 'em plenty of room ->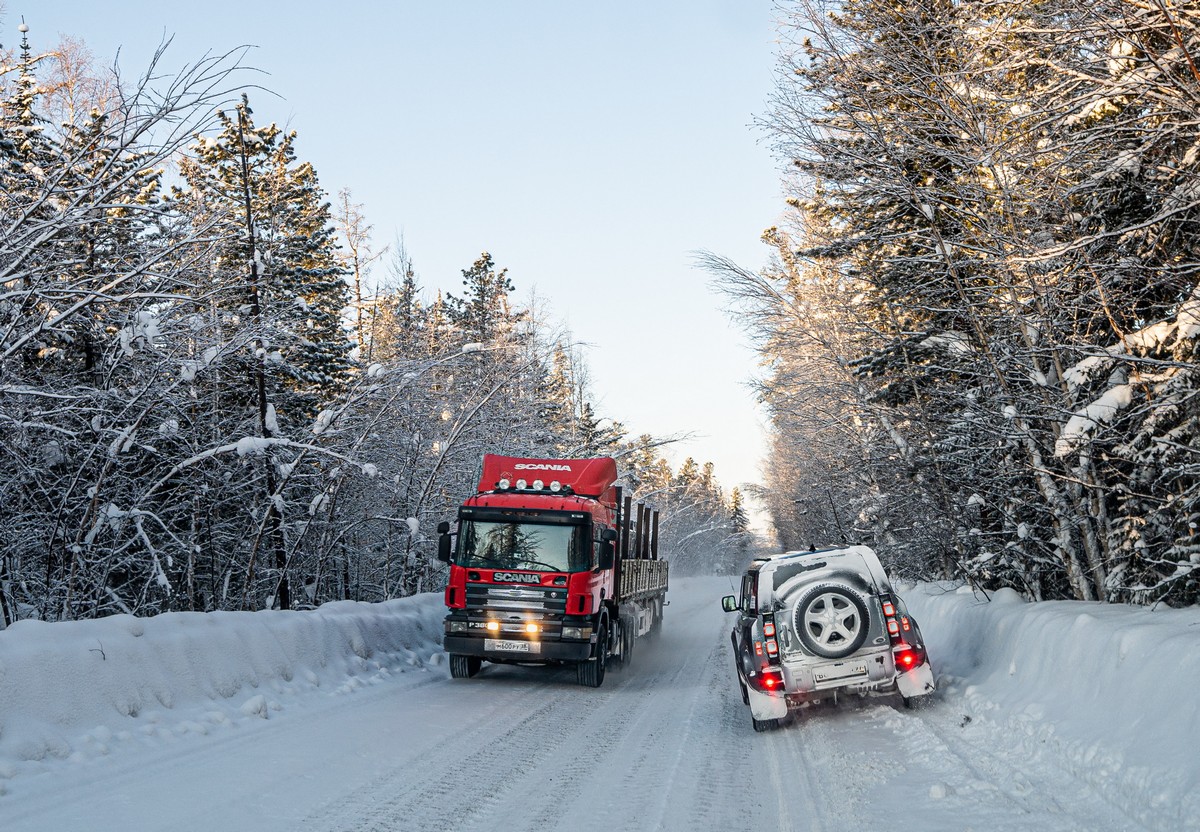 Birch-tree tunnel! ->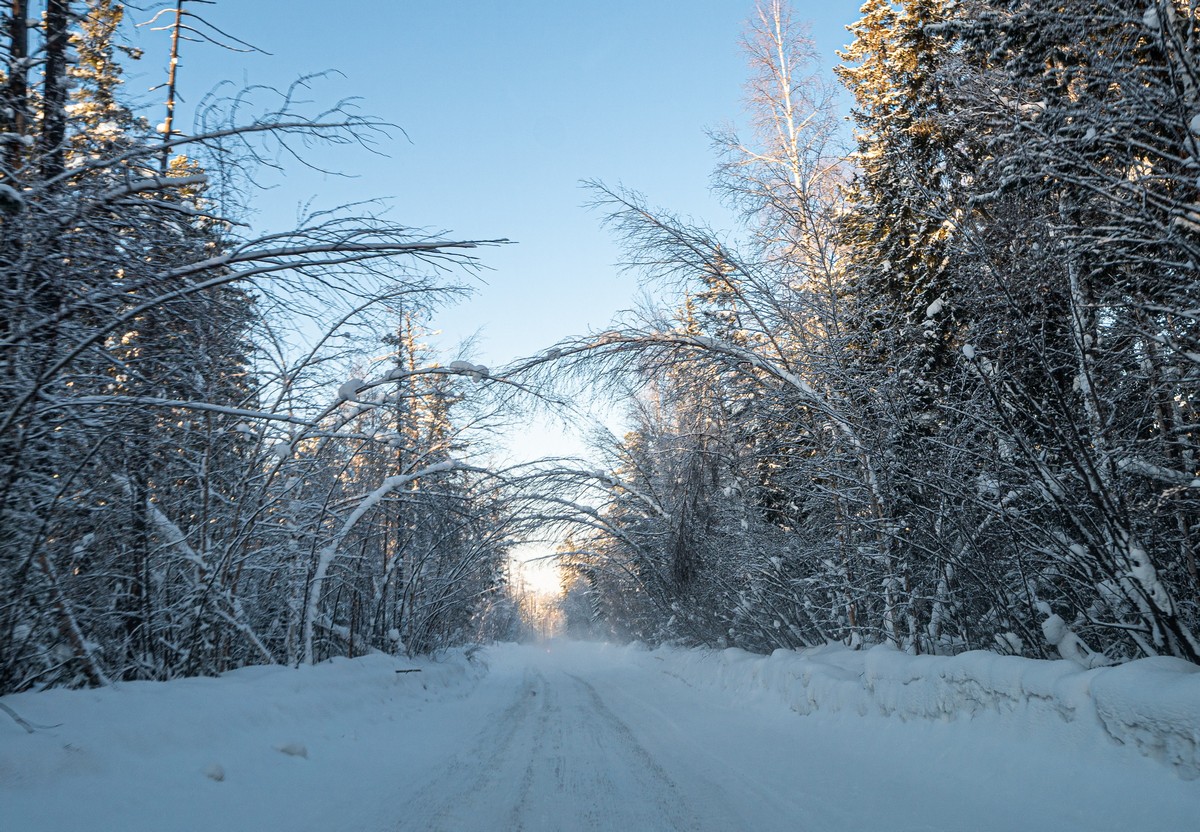 We radioed this truck to ask to overtake ->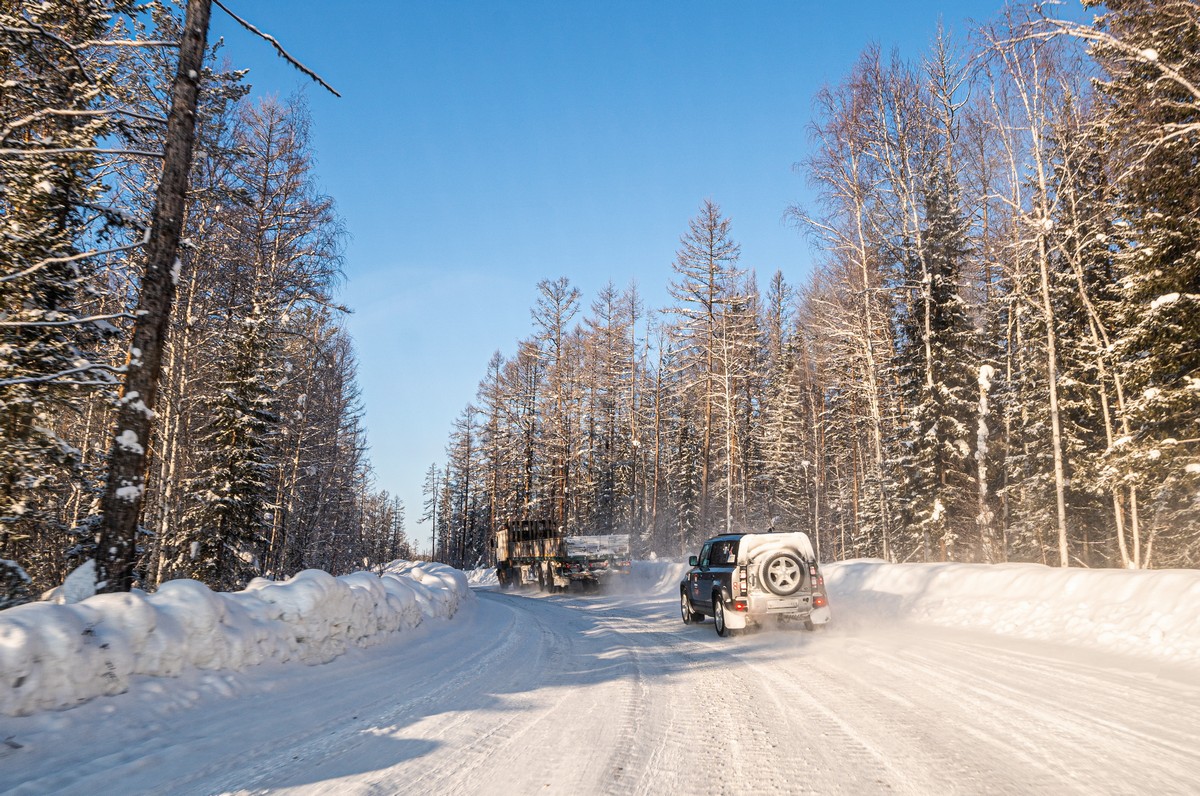 Here's the temporarily-closed "Bear Cub" eatery. One of my fellow travelers (who accompanies me on many an expedition), Olga, liked the look of this place so much she fancies buying it and moving here every cold season to run the café! Well, well. I wonder – should I invest in the venture too? Maybe – so long as I don't need to be there for said cold season. Sure, the air must be clean here, but… it's a little too remote for me. Also – check out the bathroom facilities!… ->
Onward!…
We get to the Nizhnaya Tunguska river (not to be confused with Podkamennaya Tunguska river, of Tunguska event fame). Road-bridge over the river? Nope. Road on the river ) ->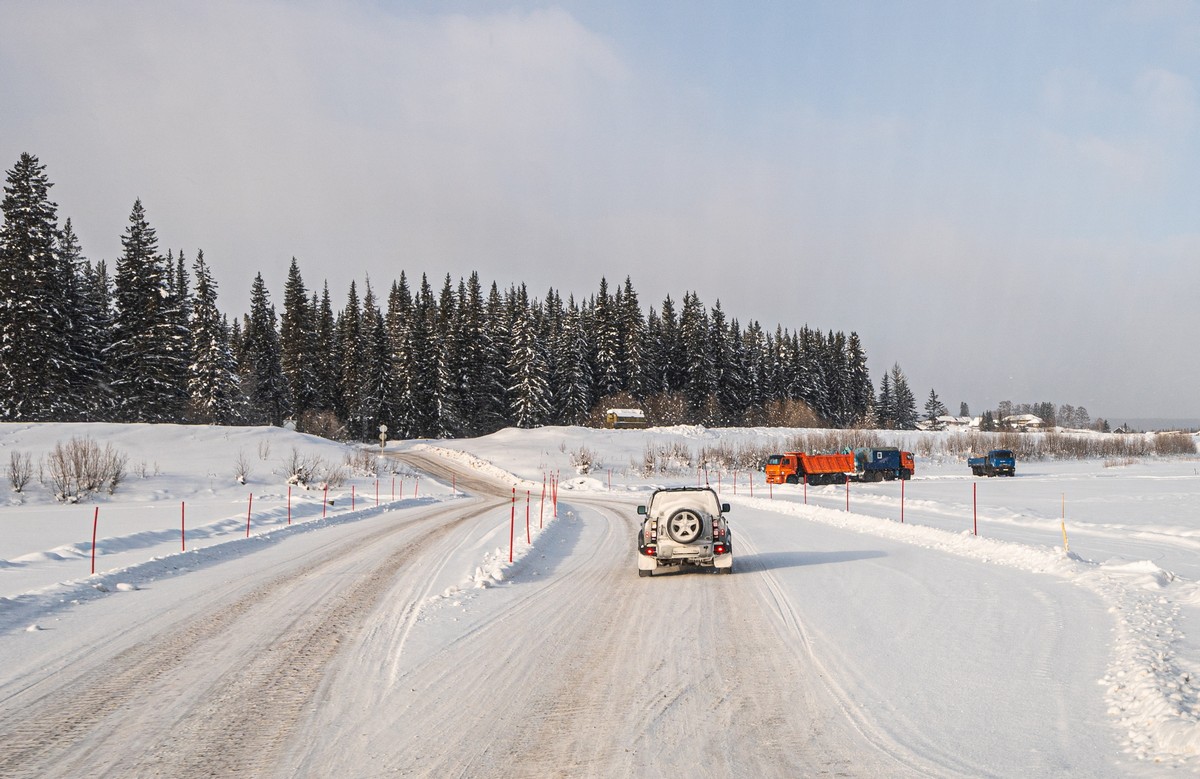 Another café – the "Nepa" picket: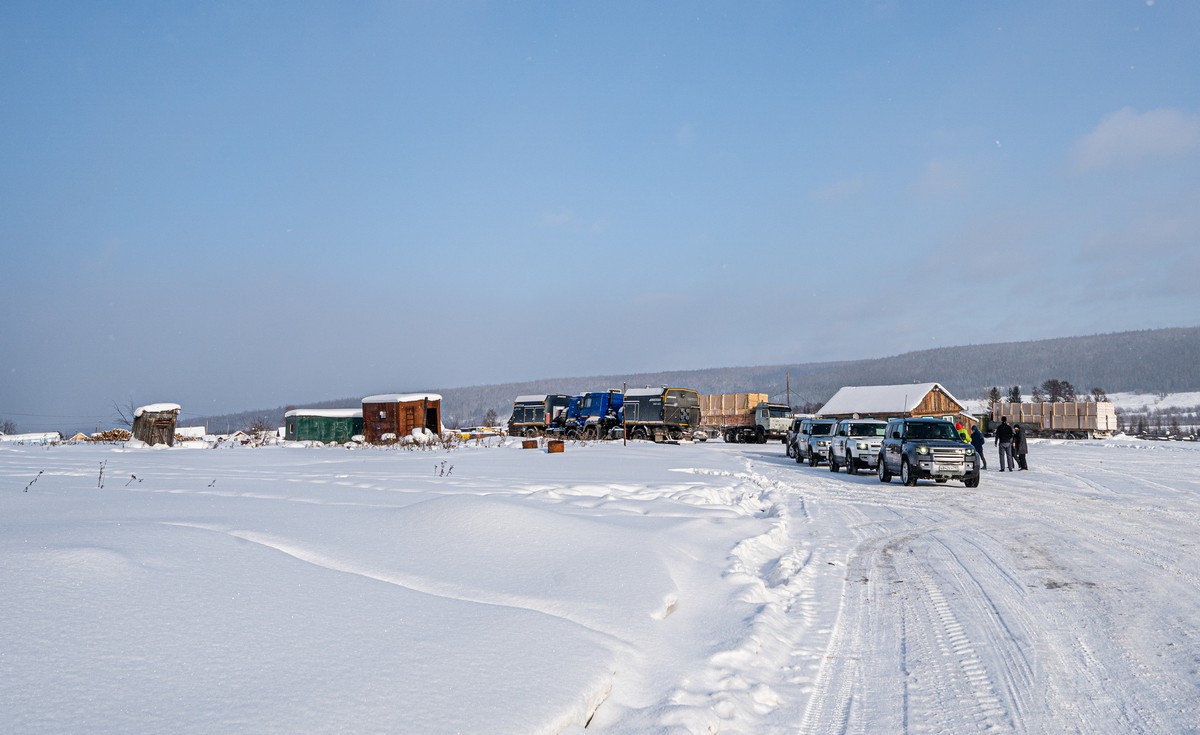 After refreshments, back on the (winter) road…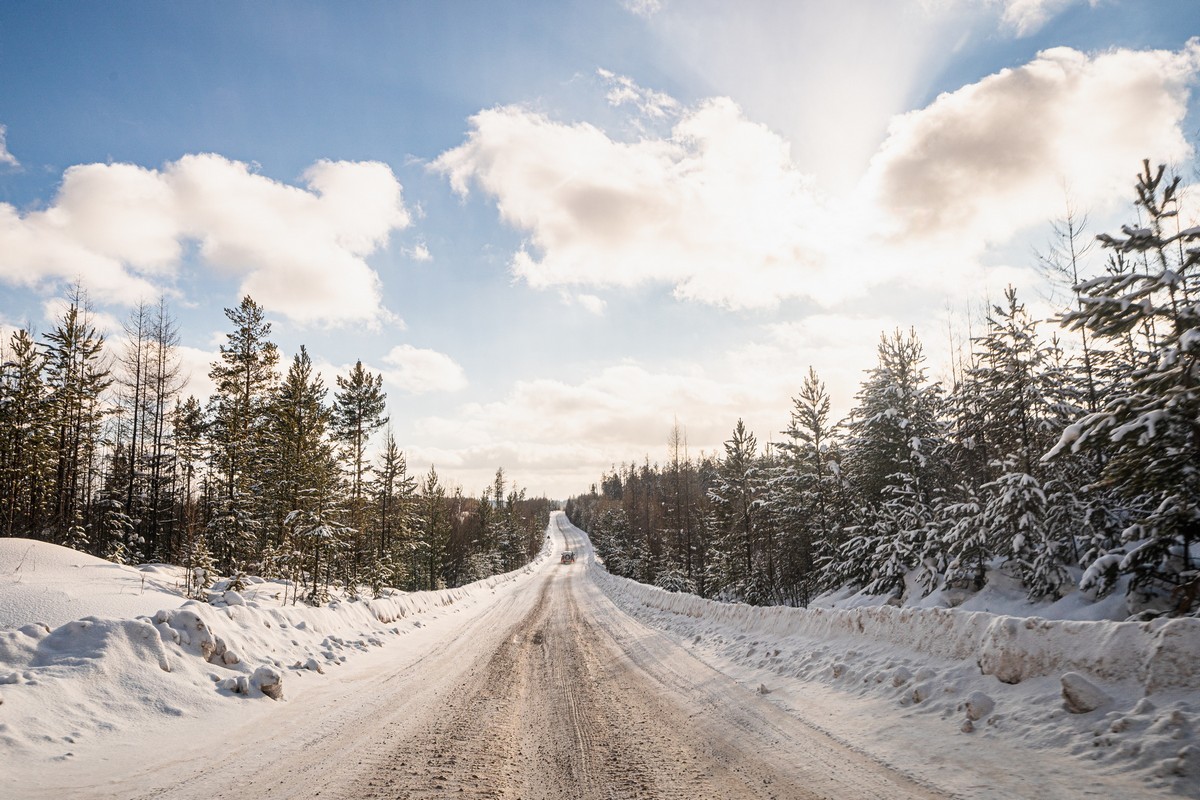 2000!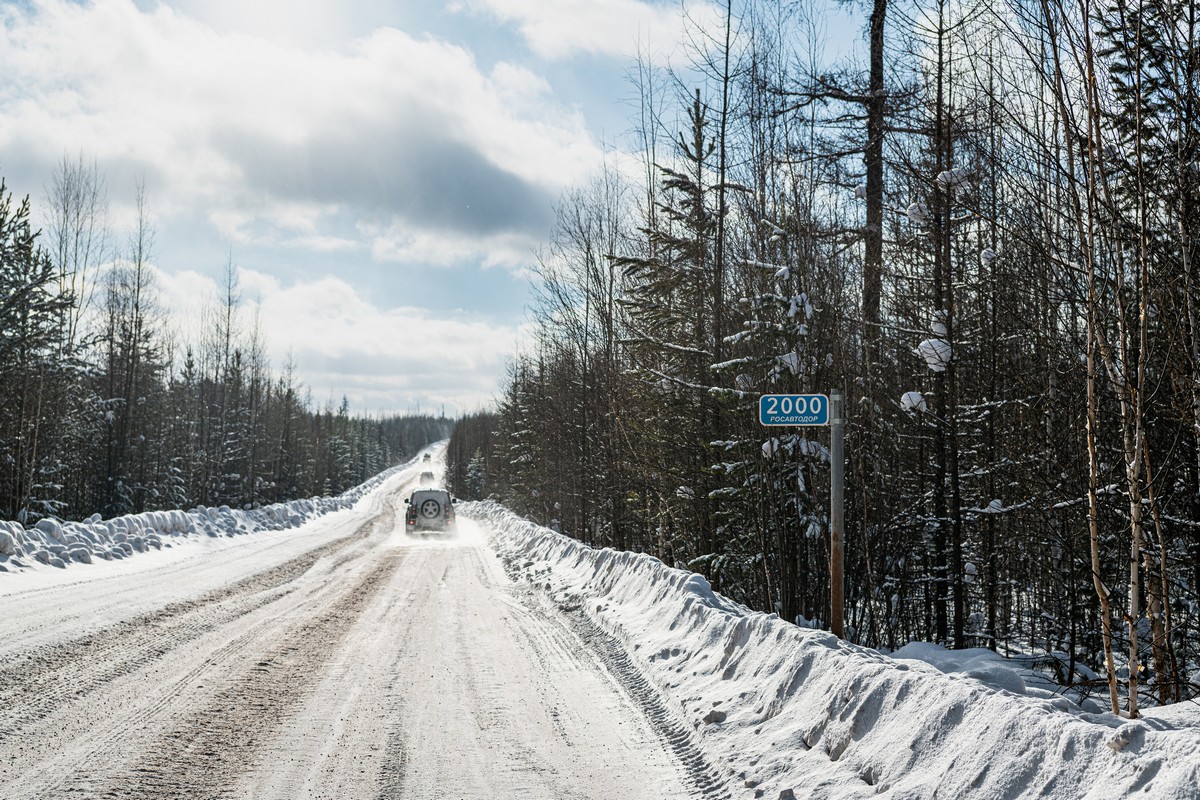 Toward the end of the winter road the trees become tall again and the road gets smoother – permitting speeds up to 80km/h…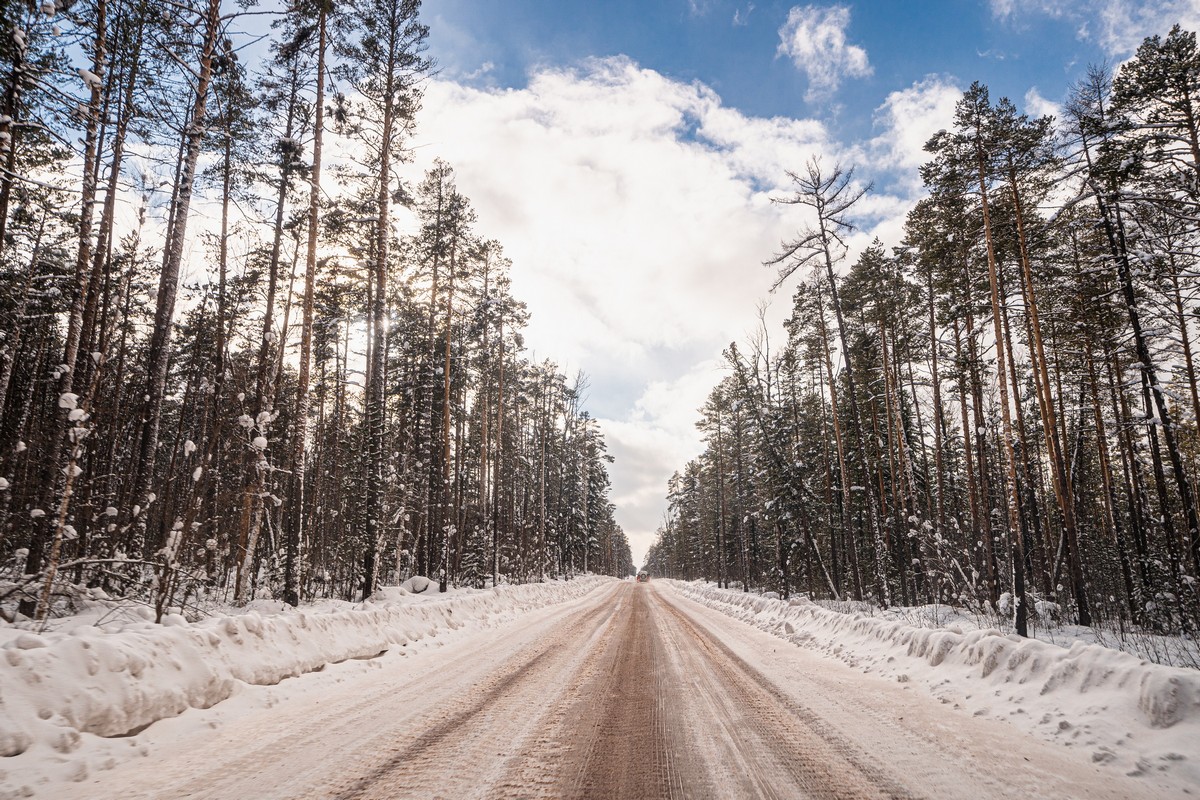 Another gas-condensate field facility: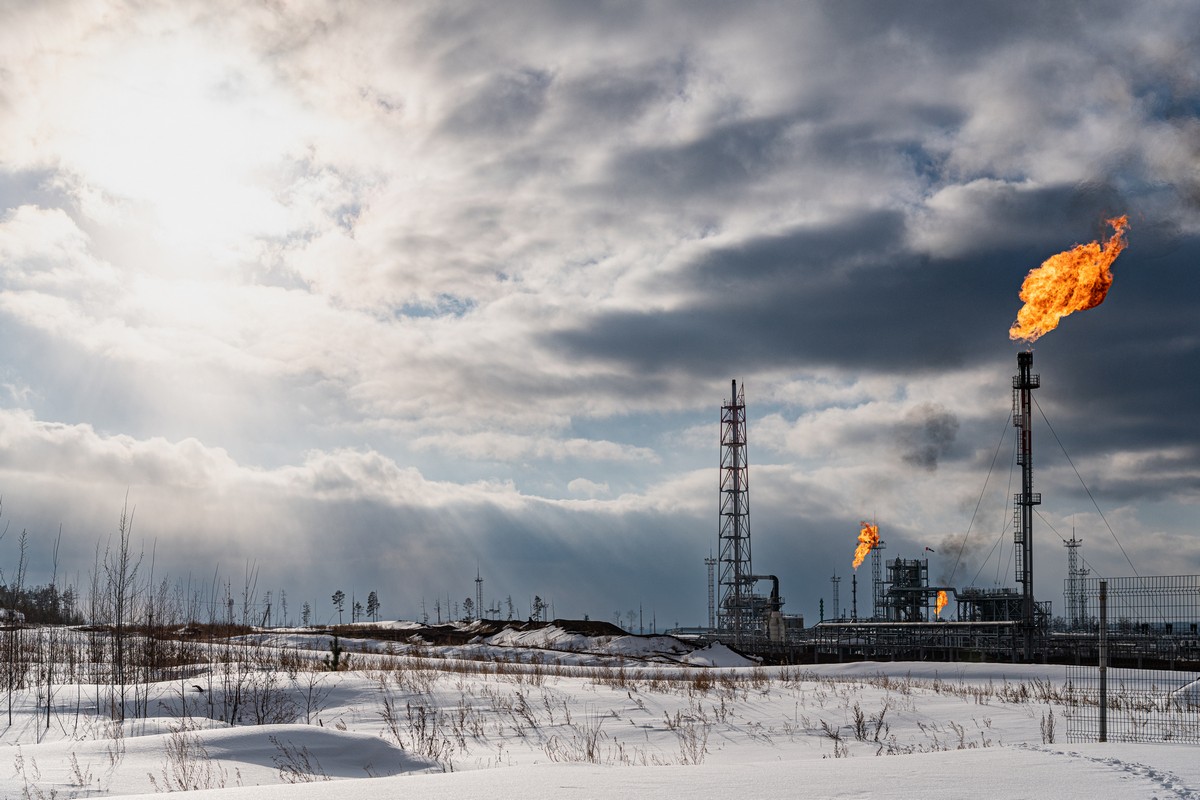 The end of the winter road: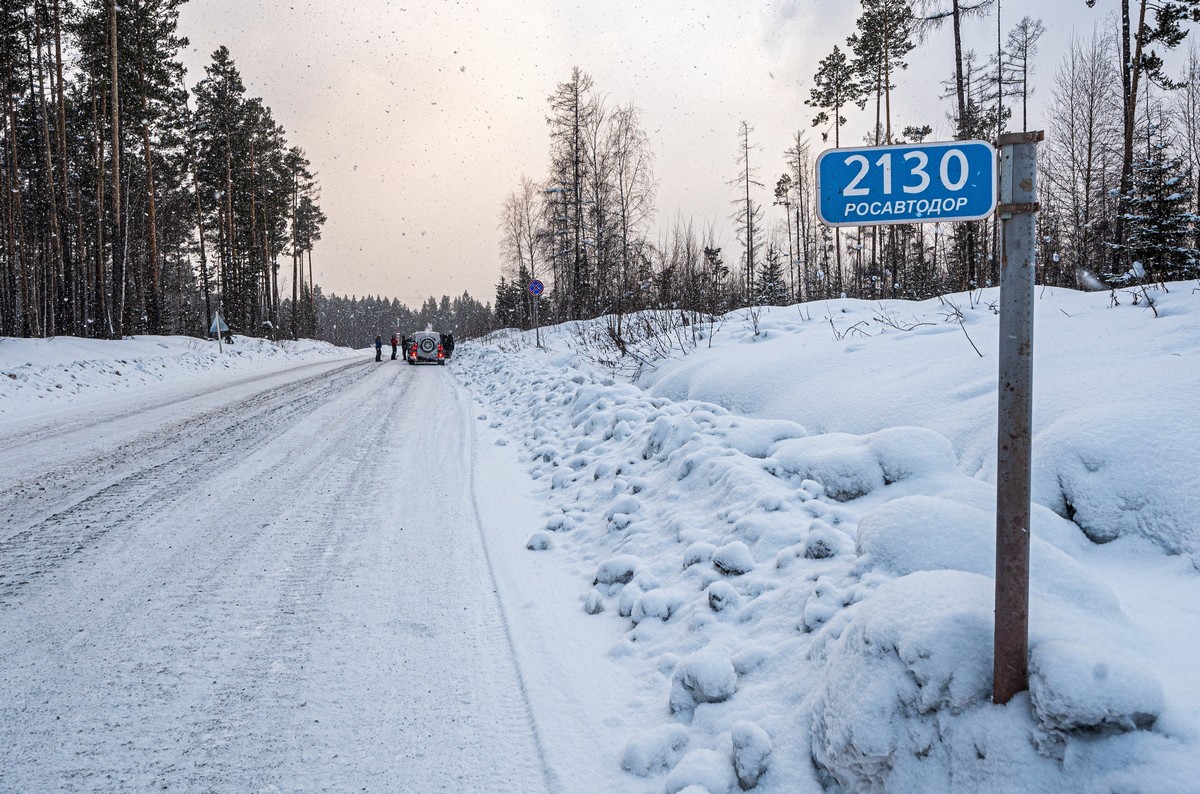 From here on – a road proper:
With not far left to go, we hope we'll make it to Ust-Kut before nightfall – especially since the traffic's picking up:
The roadsides sometimes get treacherous: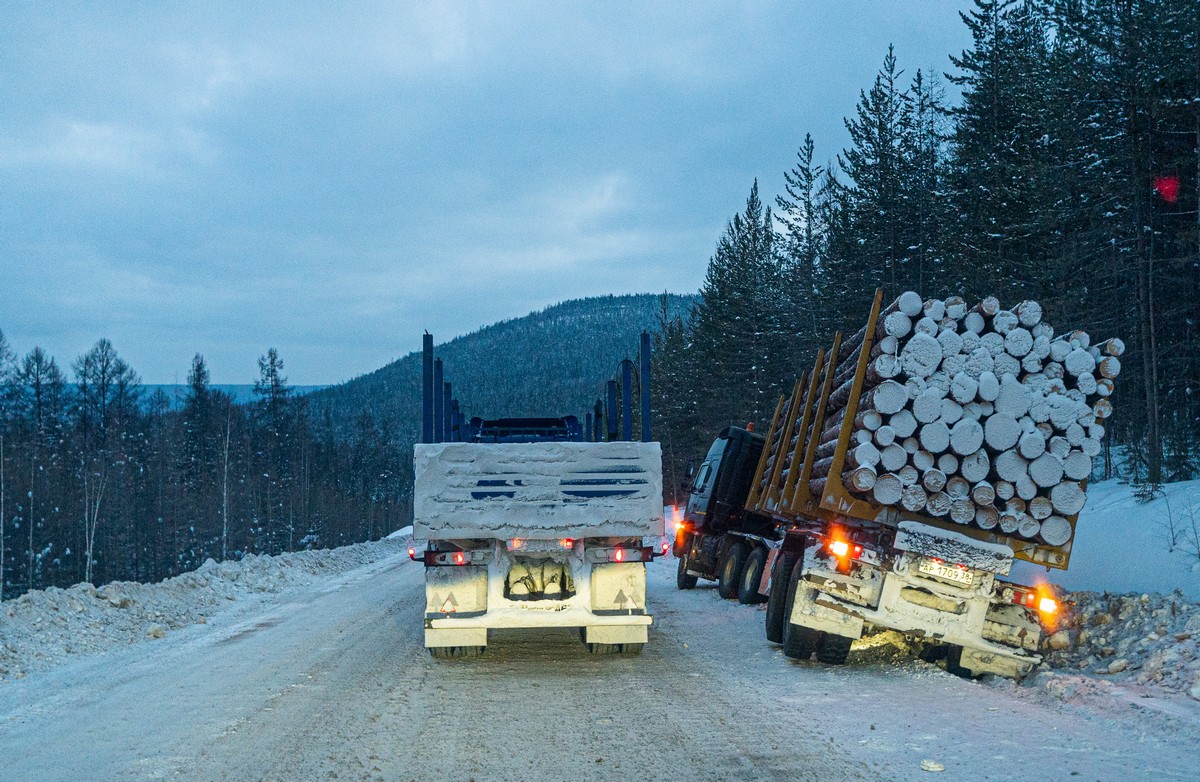 Traffic jam! Eh?! What's up? We launch the drone to go find out!… Turned out a juggernaut had tipped over onto its side on said treacherous roadside, and a huge crane rescuing it was blocking the road:
Eventually the crane-truck rescued the stricken truck and got out of the way, but because of the hold-up we arrived in Ust-Kut only in the dead of night…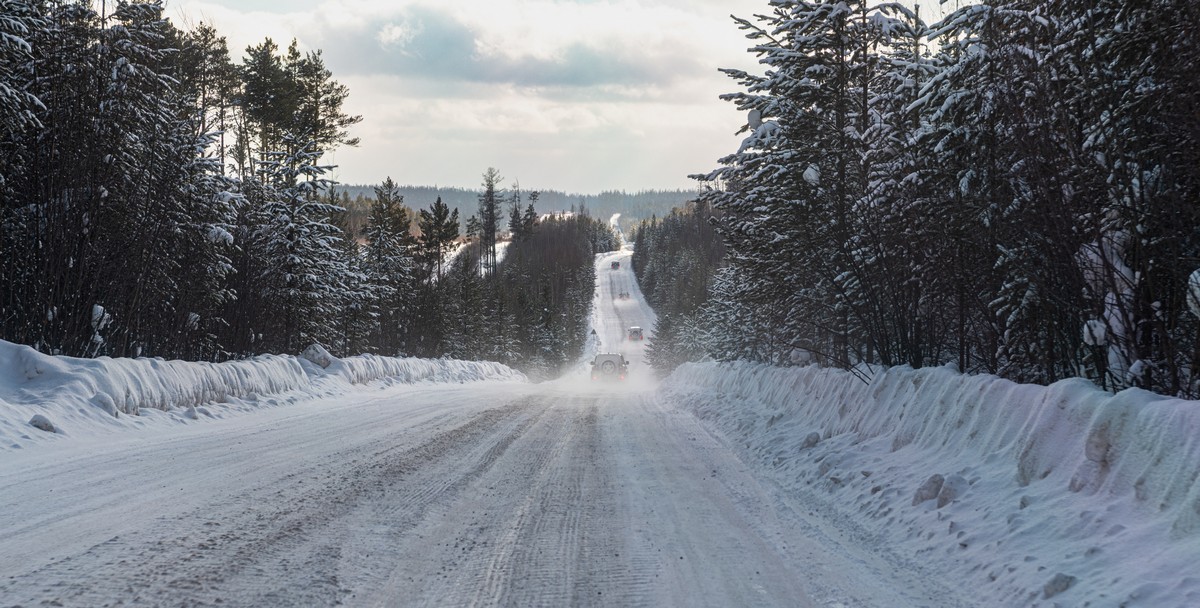 The rest of the photos from the MYB expedition are here.
Back soon folks!…