All you wanted to know about Liechtenstein. Well, almost.
Last week, I was in the unusual out-of-the-ordinary European country called Liechtenstein. It's a tiny nation state – and also a super-successful one. It has a population of just ~40,000, while the working population is… also around 40,000! How that works out is by ~51% of the working population commuting daily from Austria, Switzerland and Germany. Goodness!
Here's the view from my room. Behind the hotel – the Alps (along the border with Austria); while these mountains in the photo are the Swiss Alps:
Like I say: tiny country – ~160km². And 75% of that territory is covered in mountains. That doesn't leave much, does it?! All the same, its economy is a very advanced one. Its main physical exports are machinery, precision instruments, power tools, vacuum technology, electronics and pharmaceuticals. An example of a tools manufacturer is the Liechtenstein multinational Hilti, whose power drills and other kit are to be found on any building site and in many a home.
But Liechtenstein is perhaps better known for its strong financial services sector, based on its status as an offshore financial center. But did you know that Liechtenstein is… the world's richest country based on GDP per capita?! Oh yes!
These wealthy countries got me all curious…
Hmm, now, what have the top-10 richest countries got in common?…
Liechtenstein – monarchy, offshore, tiny.
Luxembourg – monarchy, offshore, tiny.
Monaco – monarchy, offshore, tiny.
Interesting, no? Onward…
Singapore – not a monarchy, but was led by Lee Kuan Yew (for more than 50 years), and later by his son, Dee Hsien Loong – almost like how a monarchy works. Offshore, tiny.
Ireland – democracy, offshore, not quite tiny, but not large either (this one's the exception in this list).
Qatar – monarchy, gas, tiny.
Macao – a Portuguese colony up until 1999, now a special administrative region of China; offshore, tiny.
The Isle of Man – a self-governing British Crown Dependency, offshore, tiny.
Bermuda – a British Overseas Territory, but self-governing – principally a democracy, offshore, tiny archipelago.
Cayman Islands – also a democratic self-governing British Overseas Territory, offshore, tiny archipelago.
So there you have it: almost all the top-10 are small monarchies – or constitutional monarchies – and offshore zones.
It gets curiouser!…
Liechtenstein became an ~absolute monarchy as a result of voting in a constitutional referendum in the country in 2003! It became so curious, my travel companion, OA, delved deep into the internet to find out more. He's what he found, in his own words:
'Liechtenstein is one of the few remaining hereditary monarchies in the world, but, unlike most of the others, the monarch – the Prince of Liechtenstein – carries out not only ceremonial functions, but also possesses plenty of executive power. Moreover, given the support of most of his citizens who voted in the 2003 referendum, the Prince was granted authority on a par with that of an absolute monarchy.
The citizens of Liechtenstein have much to thank their state rulers for. During the post-war period the economy of Liechtenstein fell on such tough times that the ruling dynasty had to sell off its priceless artworks to keep the country afloat. For example, it sold the portrait painting Ginevra de' Benci by Leonardo da Vinci to the National Gallery of Art (Washington, D.C.) for the most any painting had been sold for at the time – five million U.S. dollars.
Later, in the 1970s, economic reforms initiated by the Prince – especially the sharp cut in corporate taxes – brought the country roaring economic growth. The growth has continued since, and today Liechtenstein has more registered companies than citizens.

However, the notion that Liechtenstein is a small tax haven wholly dependent on the financial services sector is a false one: a third of the economy is made up of industrial manufacturing. On the other hand, banking makes up 20% of the economy, while the world's largest family-owned private banking and asset management group, LGT, is run by the ruling prince's son, Prince Maximilian. And how has the pandemic affected the finance sector in the country? Mostly – it hasn't ).
A Few fun facts:
Liechtenstein has no airport!
Liechtenstein is one of just two double-landlocked countries in the world (landlocked by countries that are landlocked themselves (the other is Uzbekistan).
Liechtenstein has no army!
Liechtenstein tops the world GDP per capita table, at US$139,100 a year per person.'
Meanwhile, it was time for us to head down the valley for a walk around the capital of Liechtenstein, Vaduz, whose population is a mere 5668 folks!…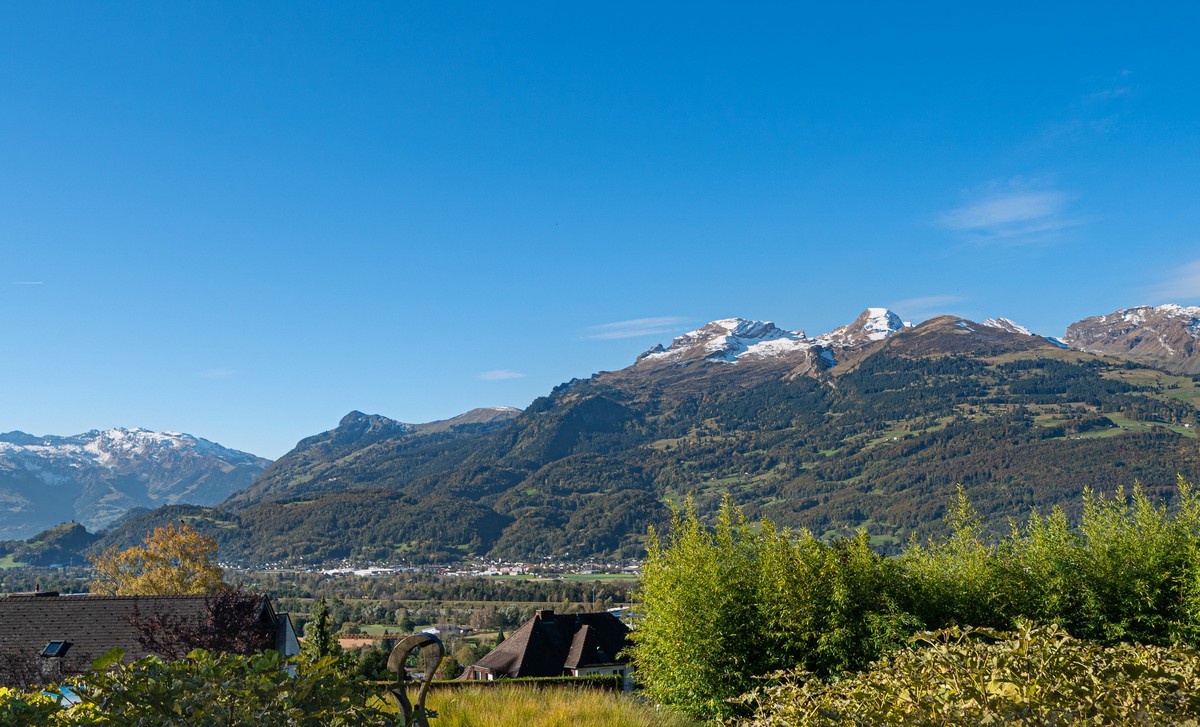 To be frank, there's not much to do in the capital. We strolled the whole of downtown in a full… 20 minutes! So we had a coffee and a strudel in a café. Oddly, I thought, one café was only accepting cash; we moved on to the next one (cash? What's that?:).
After refreshments, we headed over to Vaduz's museum of modern art…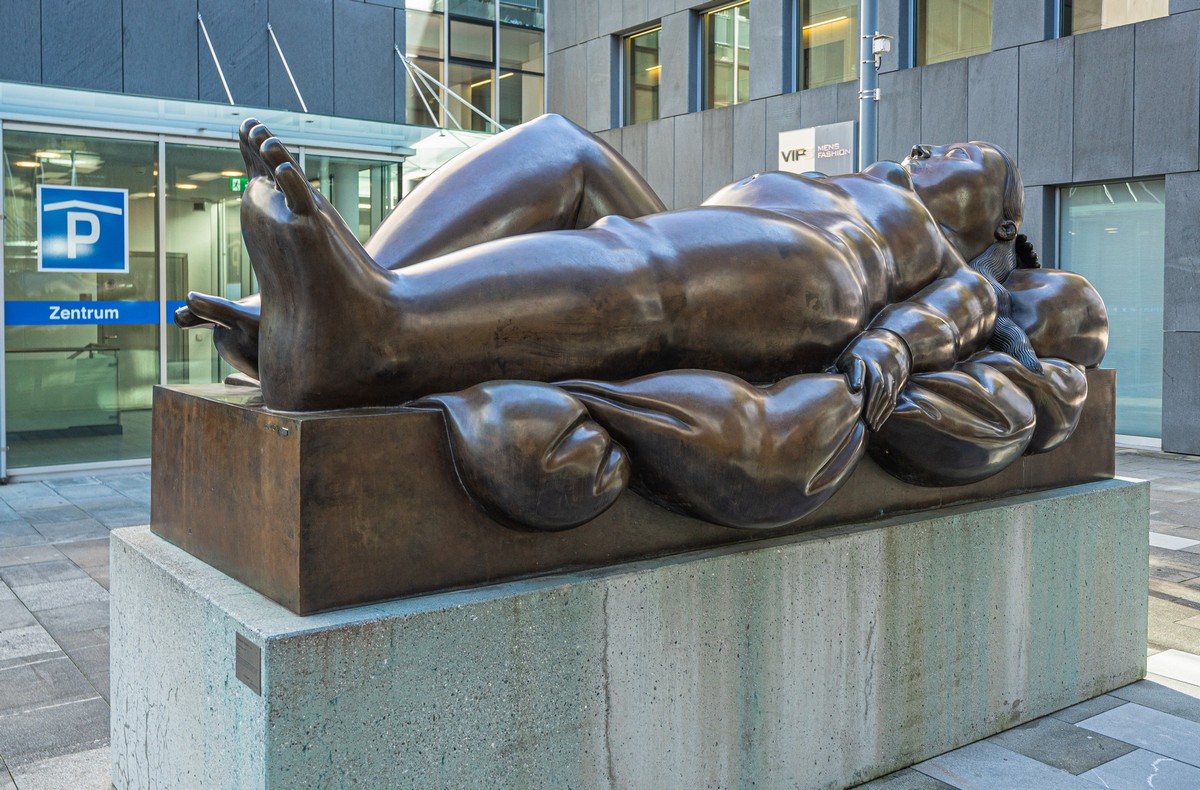 …which was closed!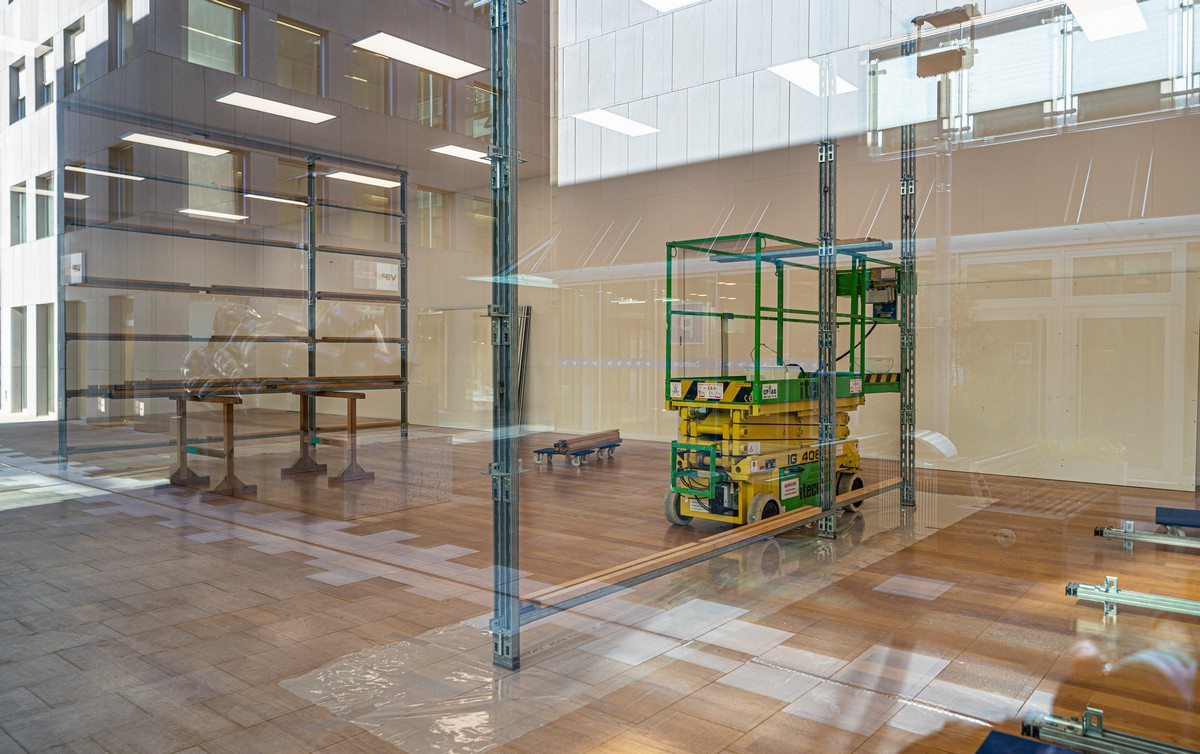 So, onward with our walk ->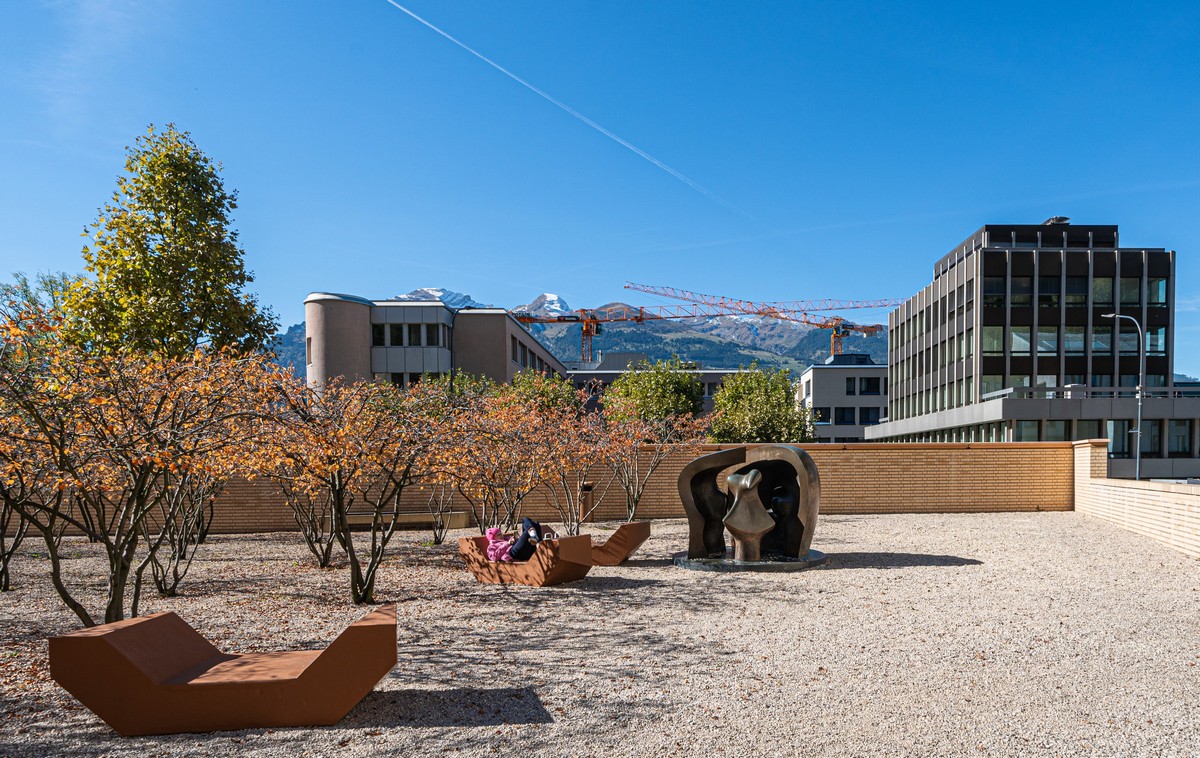 The residence of the prime minister and the seat of government are here too. And I reckon that there balcony is just perfect for addressing the nation now and again – since the whole population would probably fit in the square :-) ->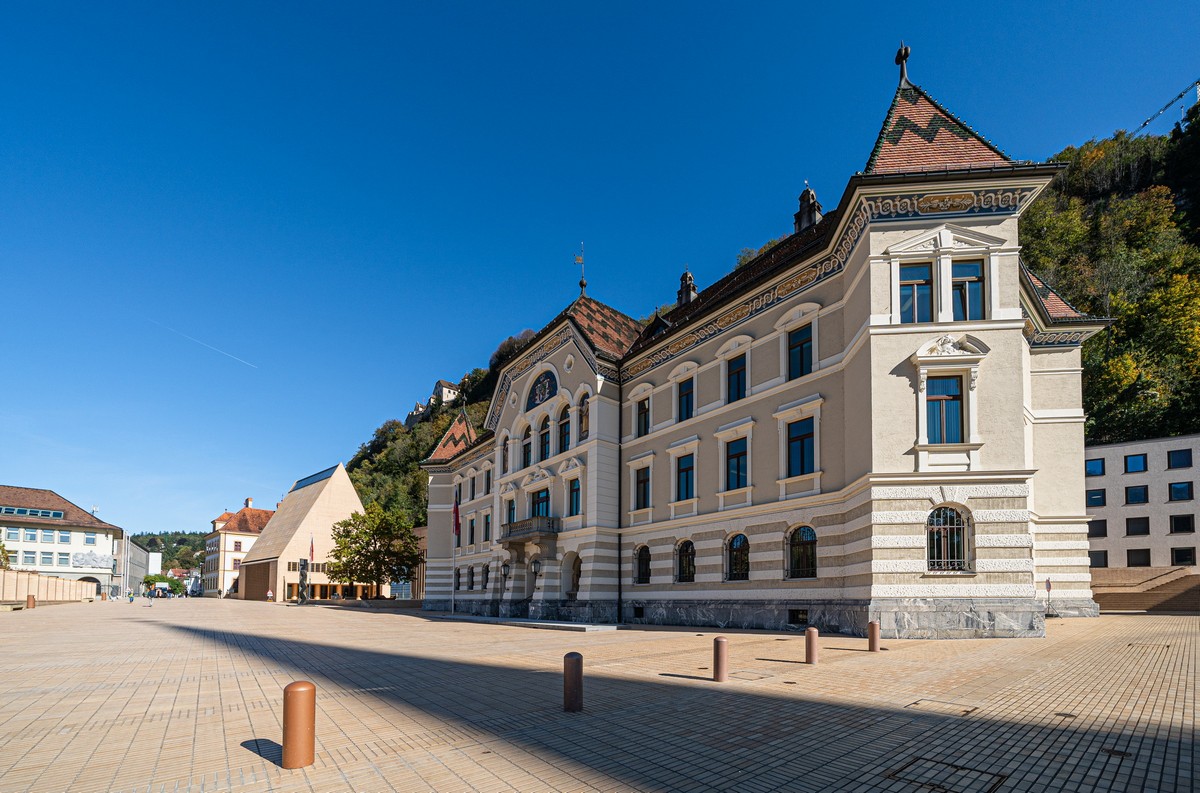 And here's the view from that very balcony! ->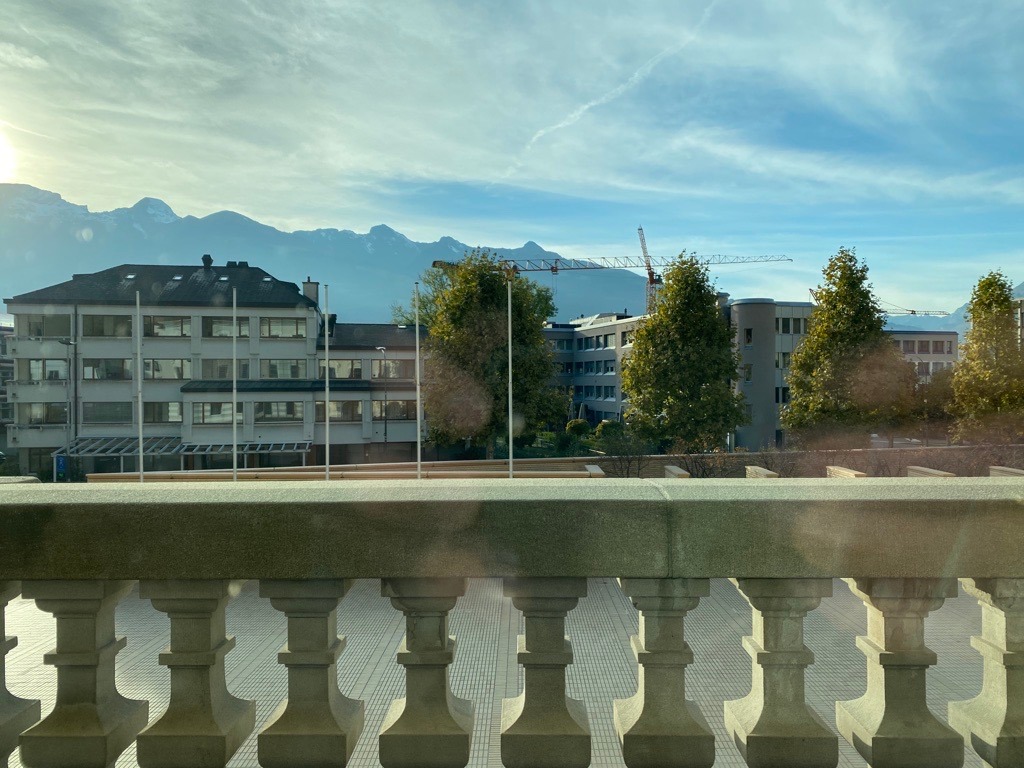 In a nearby tourist shop – some cool fridge magnets, including this one poking fun at foreigners' trouble writing 'Liechtenstein' right ). ->
And a few more pics:
The capital's main street: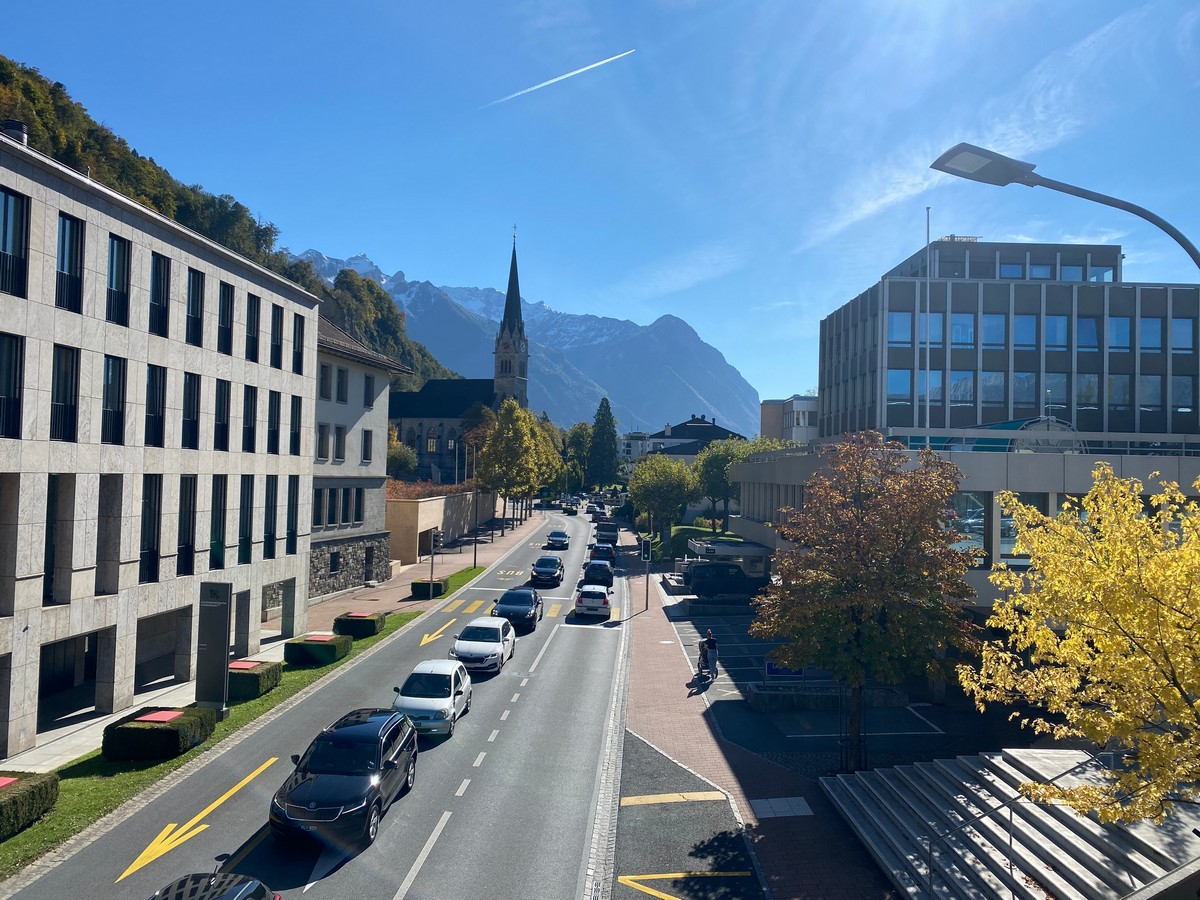 And these brightly colored binocularists: all over downtown! ->
The valley in gray weather: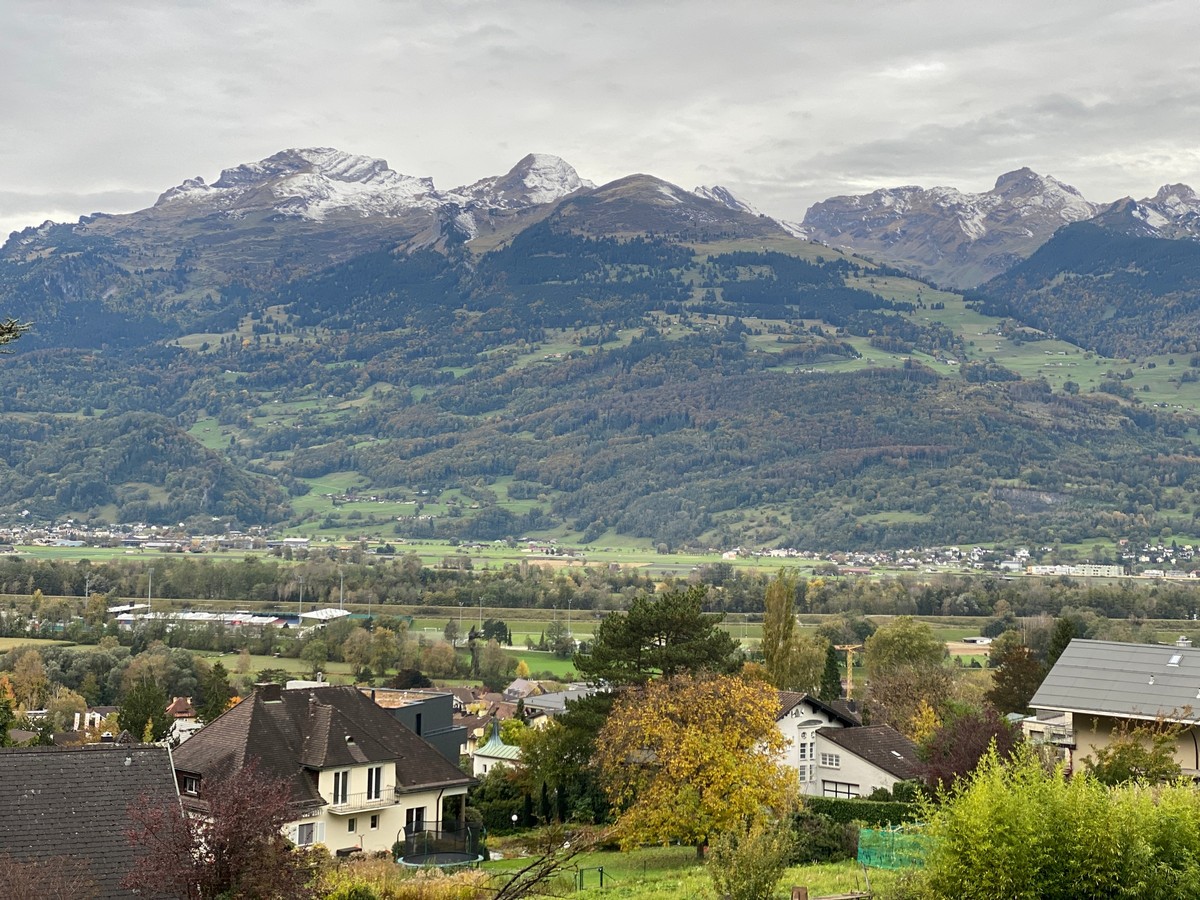 Maintain social distancing: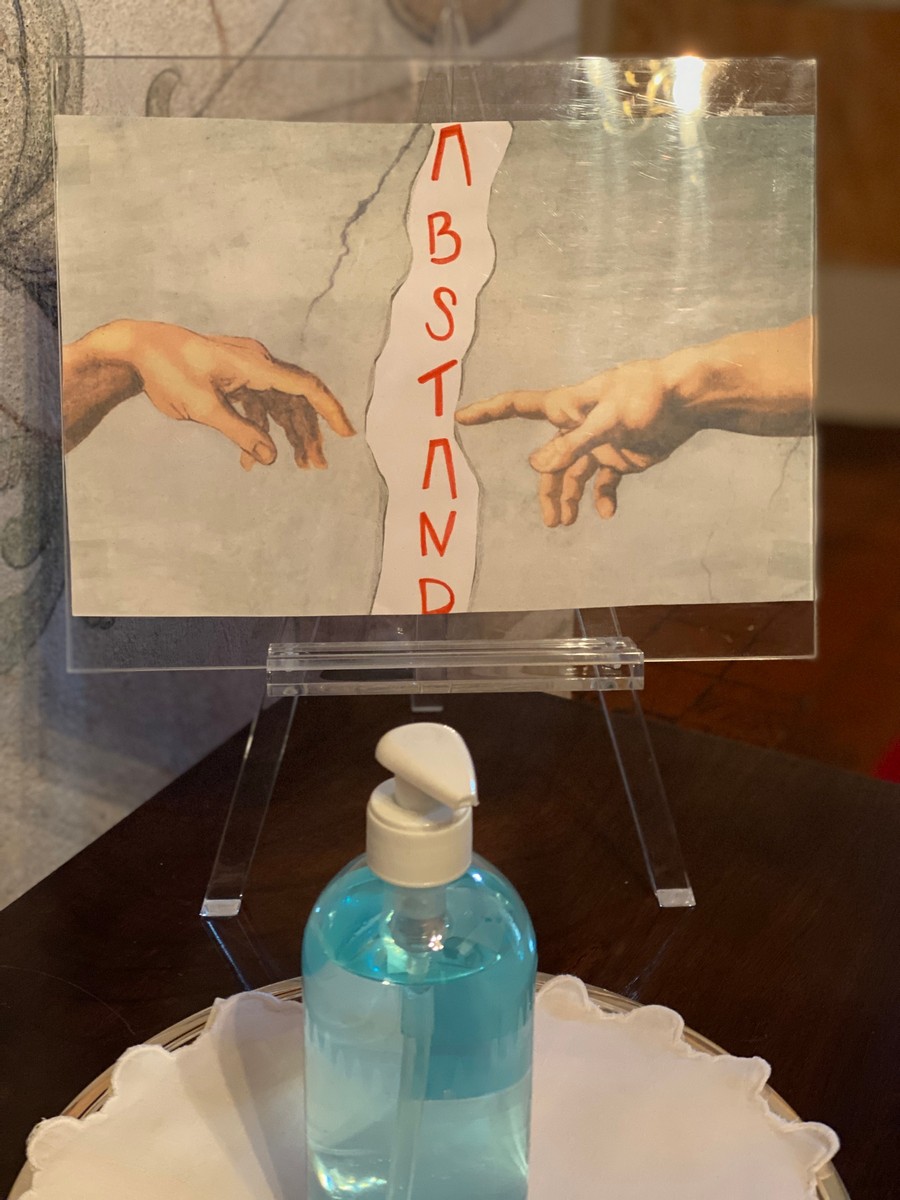 My speech at the Digital Liechtenstein conference (the reason we were in town) ->
PS: After Liechtenstein we drove to Munich. Alas, the German autobahn was chocka with traffic, so we couldn't let rip on the famously speed-limit-free highway as we'd wished (.
And that's about all from Liechtenstein folks!
PS: The schedule in Munich was a full one – a smart one too (suit). Not even a minute for tourism though (.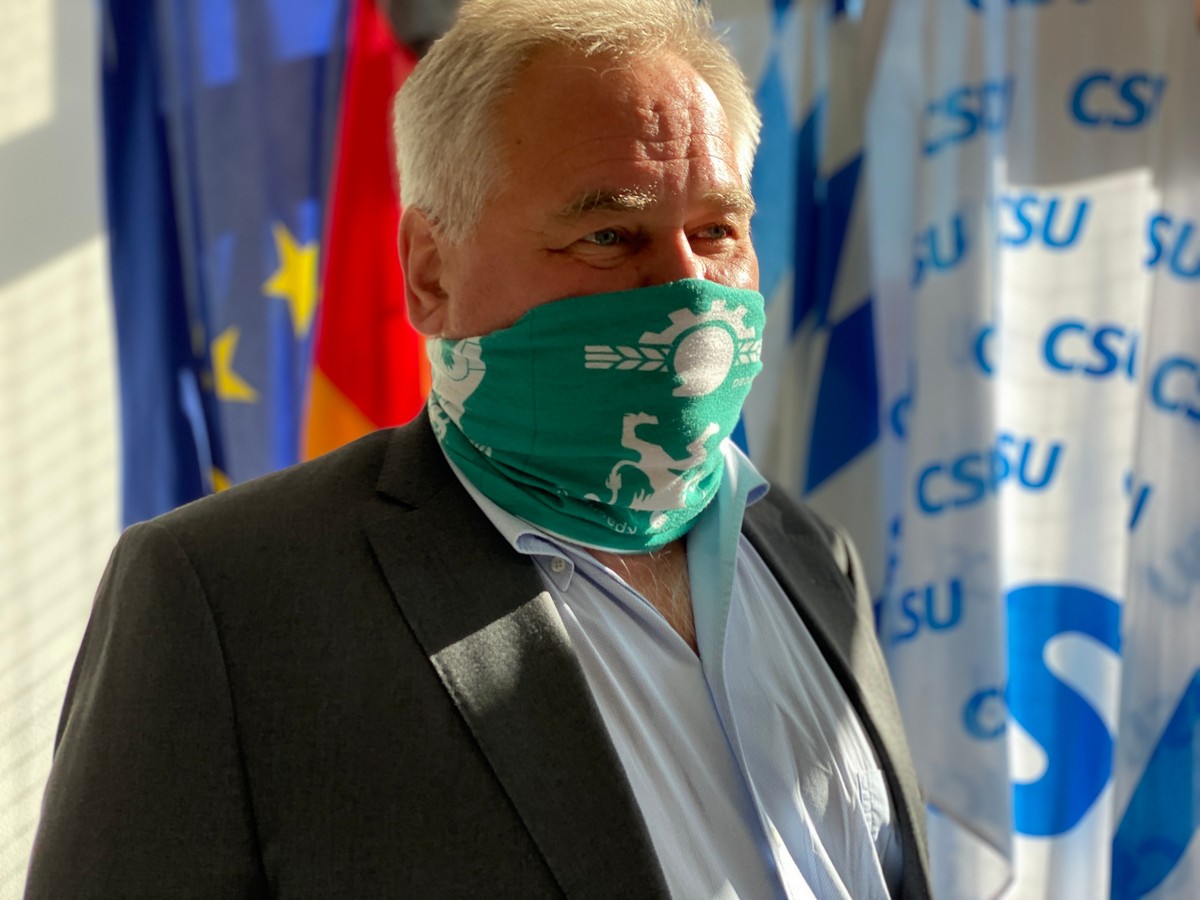 Then it was back home, but I'll be back on the road again next week…