London – from ghost city to ghosts running round it!
London. Picture it…
Big Ben? The Houses of Parliament? That cool bridge, which isn't London Bridge? Buckingham Palace? Oxford Street?… All that.
But what normally comes with all those iconic landmarks? Yes, of course – crowds; or – if not quite crowds, at least plenty of folks milling about here and there: some – locals; plenty – tourists. At least, that's how it used to be…
But last Sunday, early morning, the capital seemed to have been deserted. No folks, no noise, no cars. Oxford Street – totally empty; the crossroads along it – not a soul to be seen! Look! ->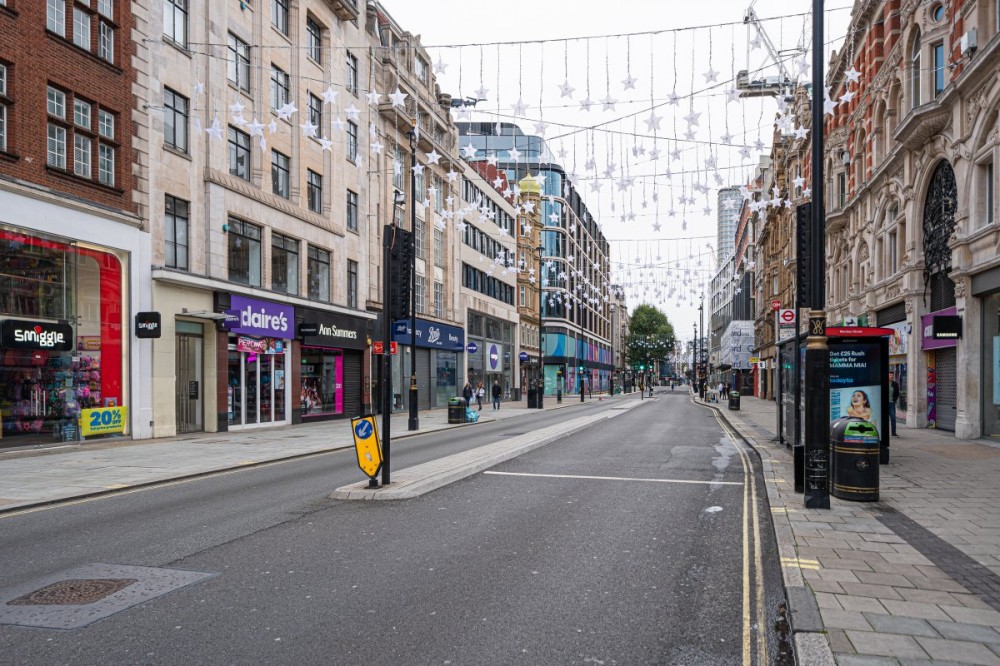 Finally – signs of life: a double-decker bus…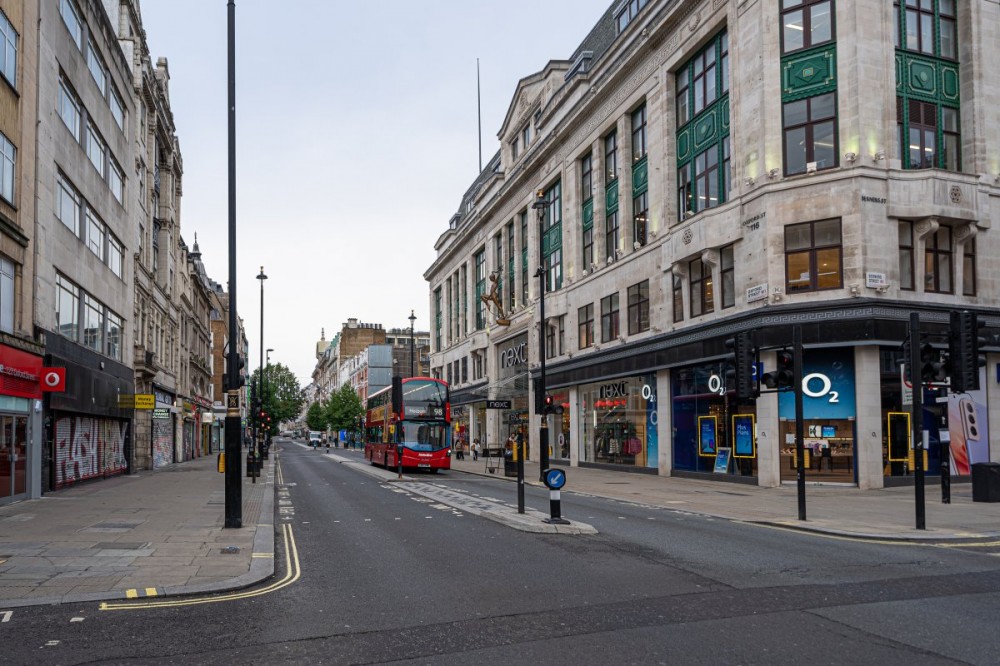 But it looked like, besides the driver, there was no one else on it!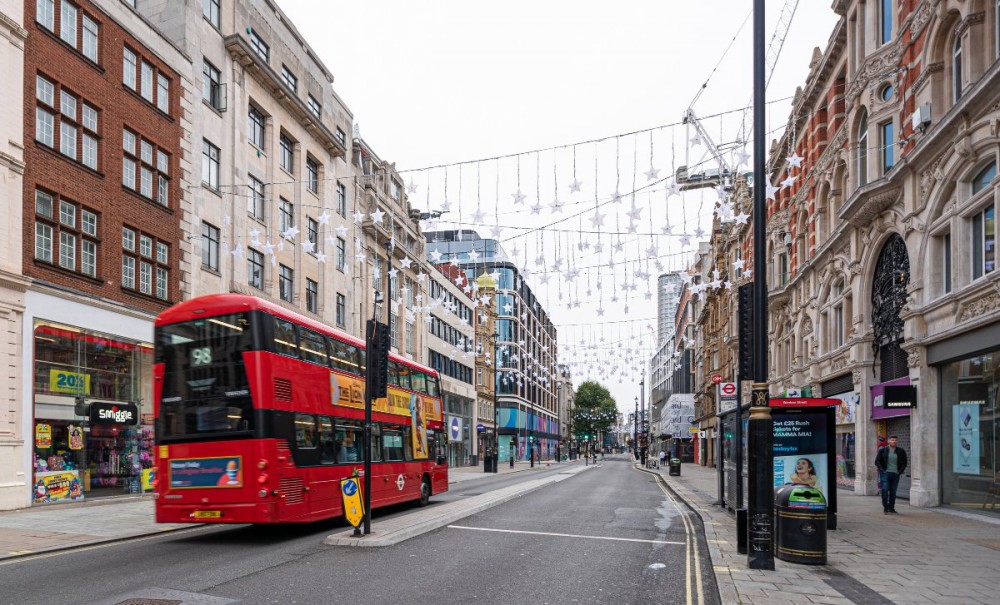 Chinatown. Barren. That's not very Chinese: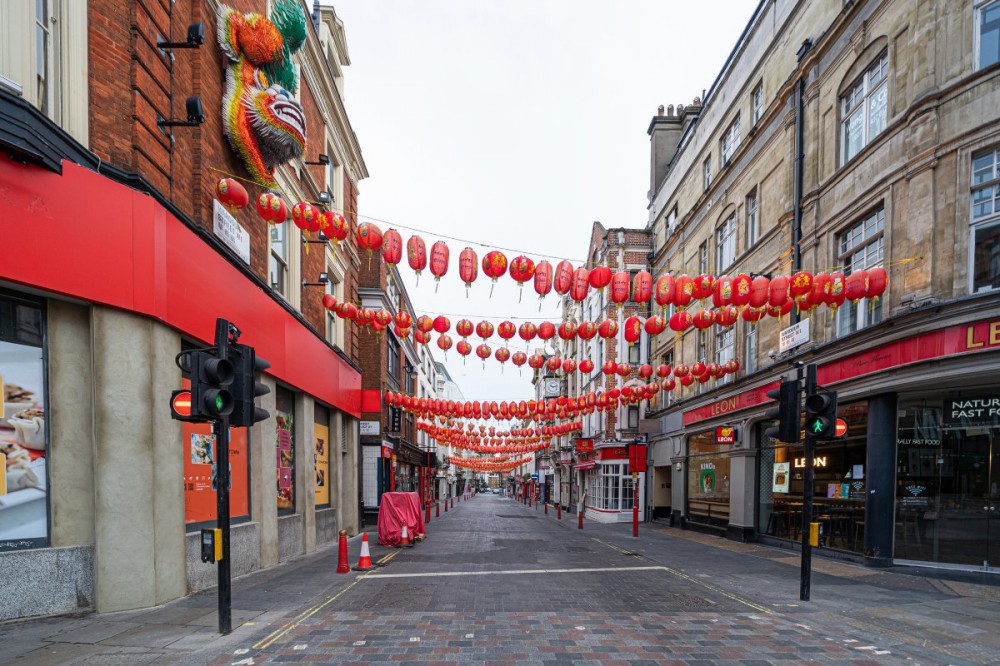 EH? Chinatown minus the throng of activity?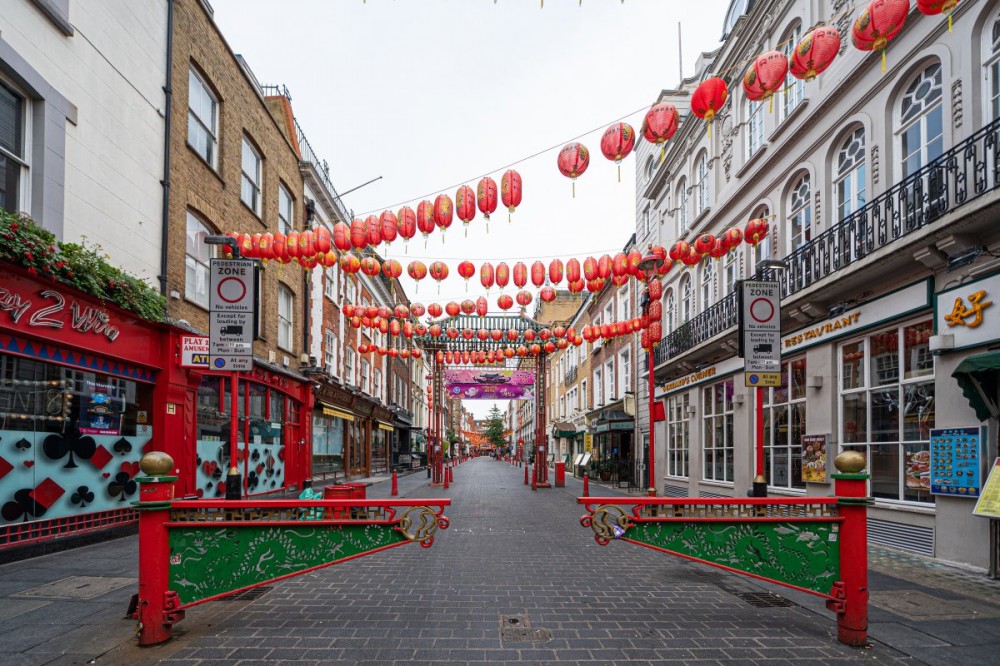 Trafalgar Square – modern-kunst version: a drone and a fly fighting over some ice cream with a cherry on top. The cherry and the ice cream discuss the contenders' chances. The airliner high above gauges its chances. Lord Nelson looks away in disgust…
Yet still – no one around!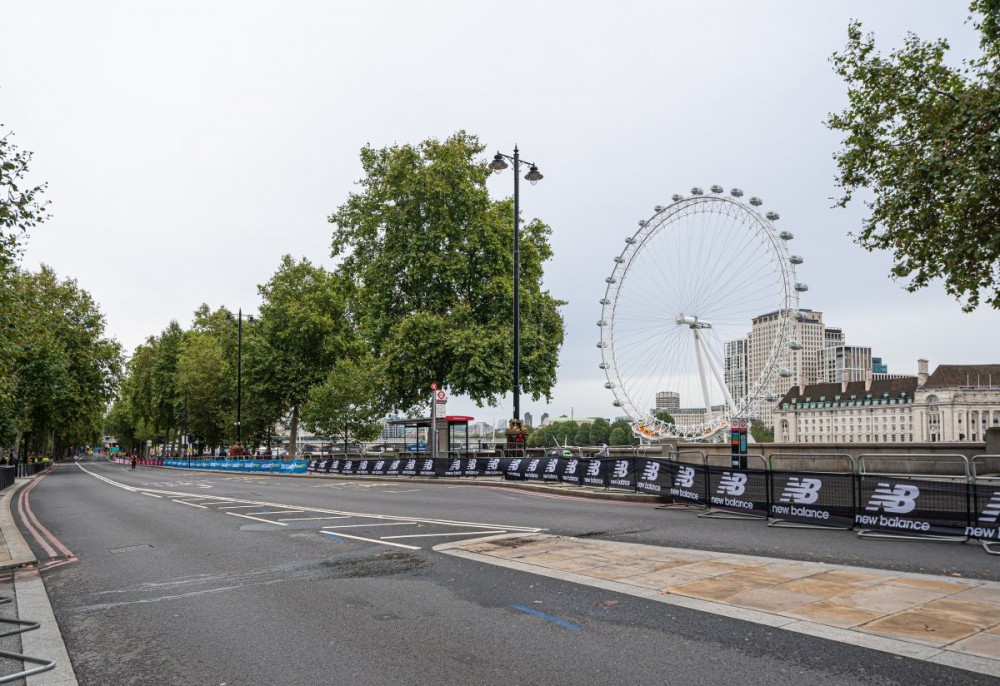 Where is everyone? And what are those sport-event barriers doing up along the side of the road?…
Ooh – two human beings. Ye Gods! ->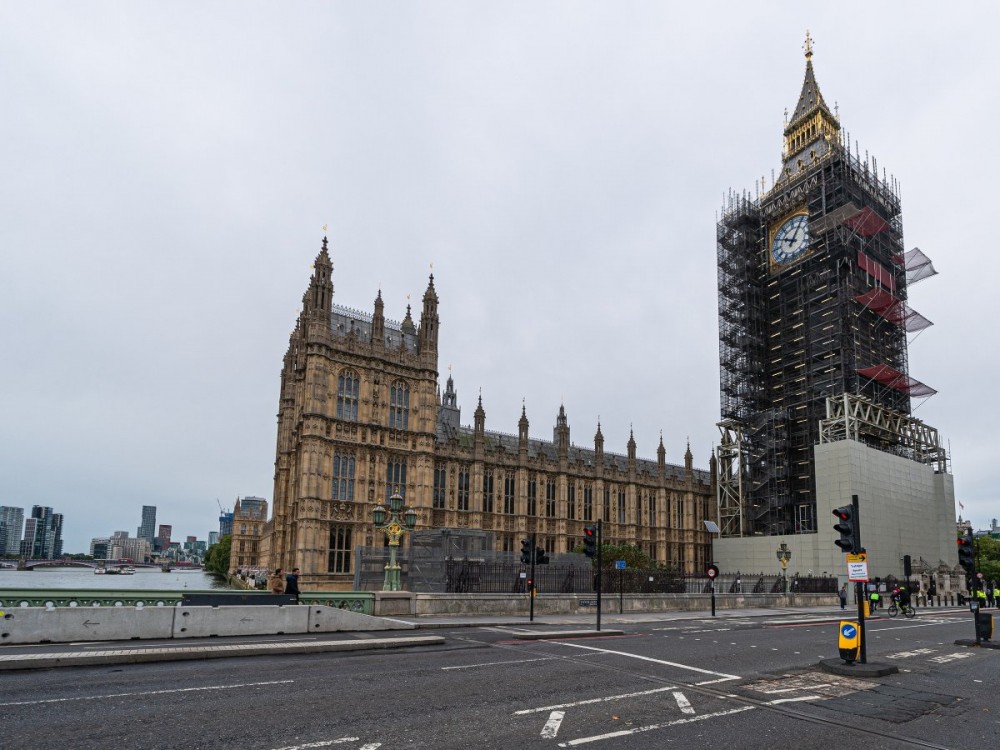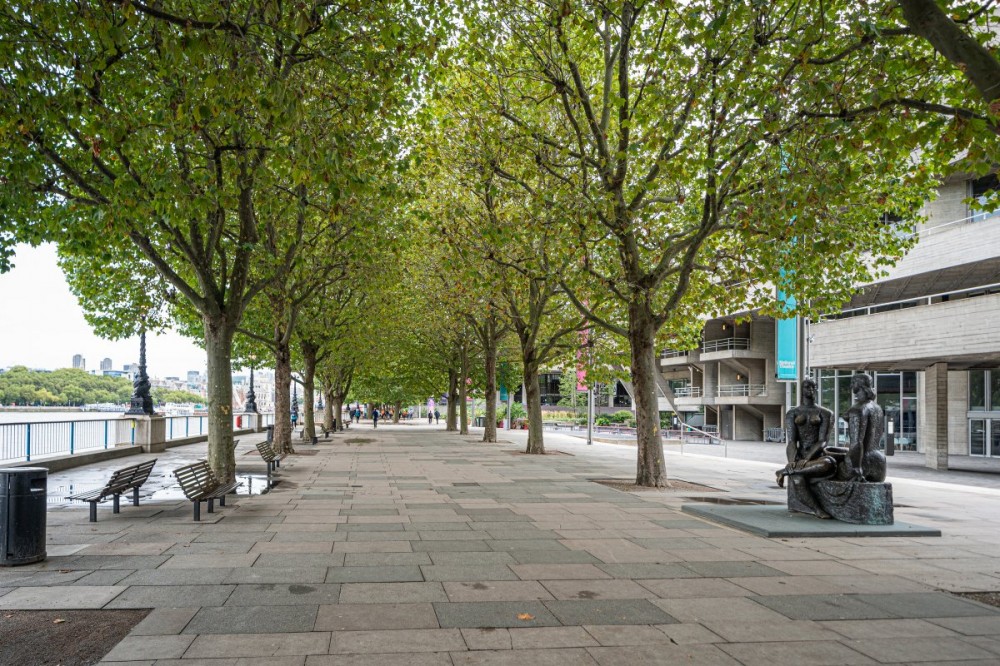 Along the Thames – a few more folks, but still nothing like I remember…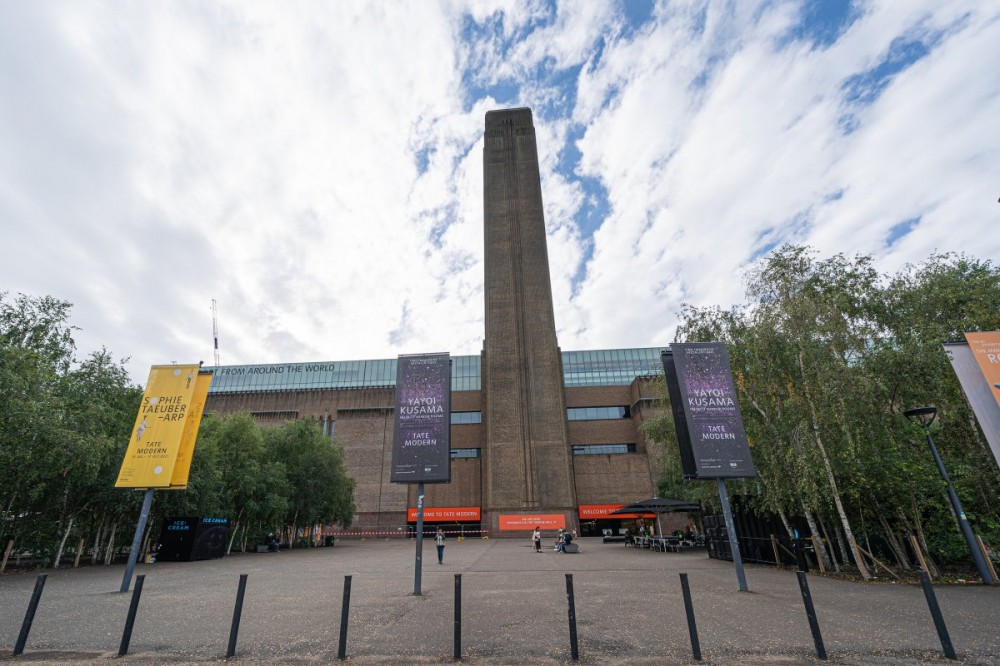 'The world is empty, no end to the dessert.
And heaven is closed, and there's not a soul in hell.'
My travel companion, O.S., also can't quite believe her eyes…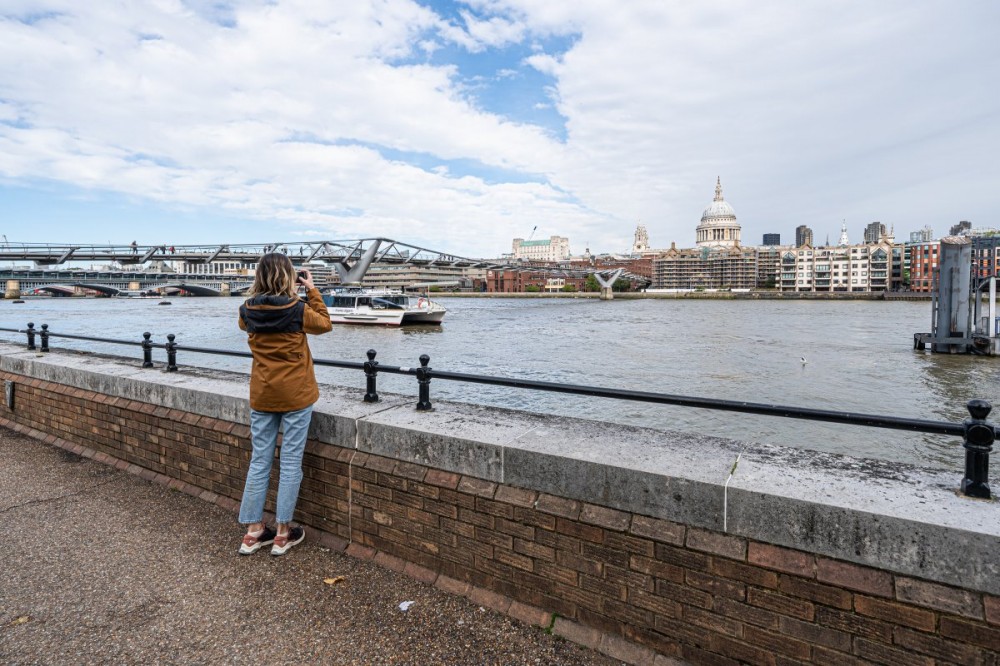 So where was everyone?…
Actually, there was a perfectly simple explanation (and nothing to do with covid-lockdowns, which was one of our theories:). They were all either taking part in or watching the London Marathon!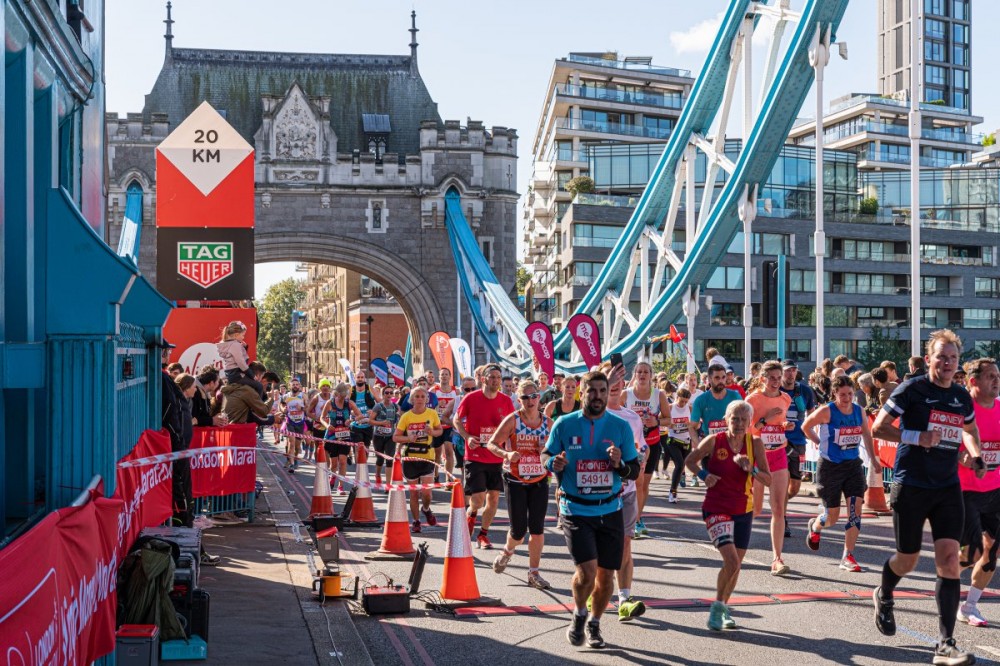 What a difference to early that morning!…
It seemed along the full route – at least as far as we could see – there were crowds lining the roads cheering on the runners, be they related somehow or not…
It felt like the long line of runners would never end. You could watch the procession forever, much like you can look at… fire or running water forever ).
It's all about the running, of course; but it's also the occasion – attested to by the frequent runner-selfies and shouts for joy! ->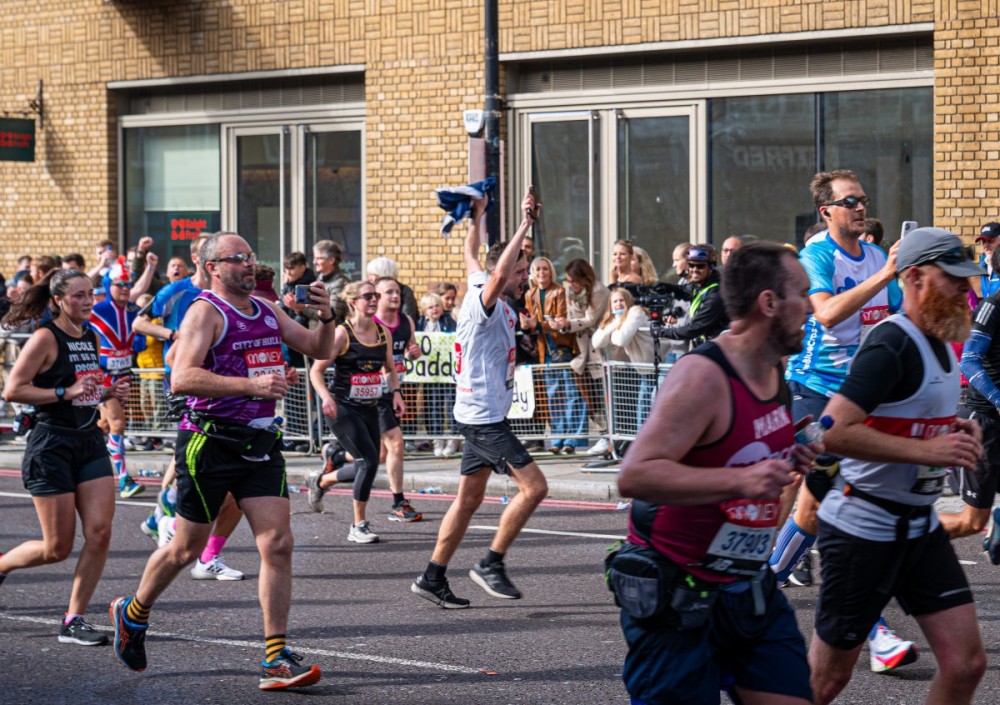 Young, middle-aged, seniors – no matter!…
Even the disabled. Good for you! ->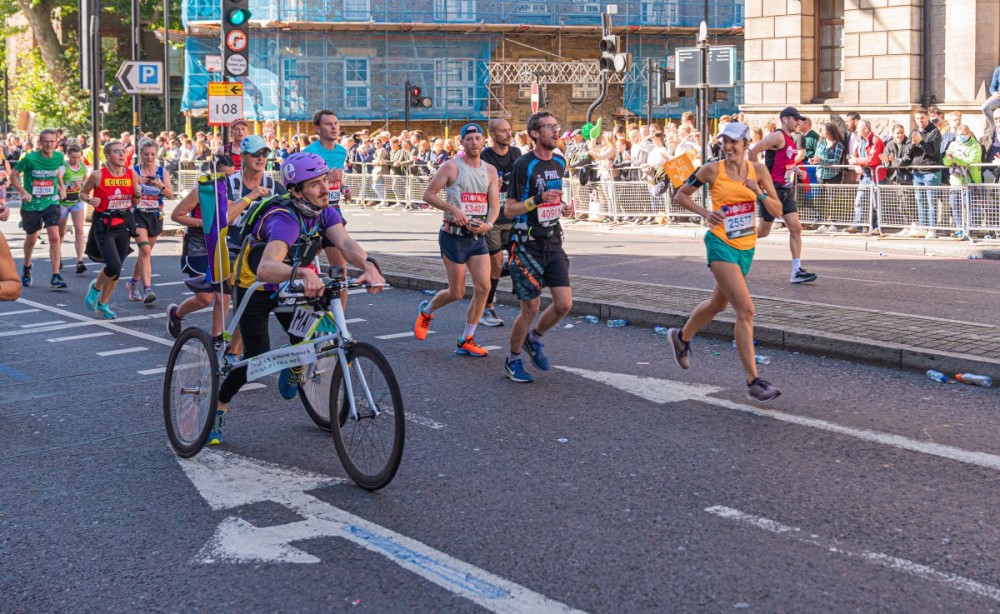 And they just keep on coming…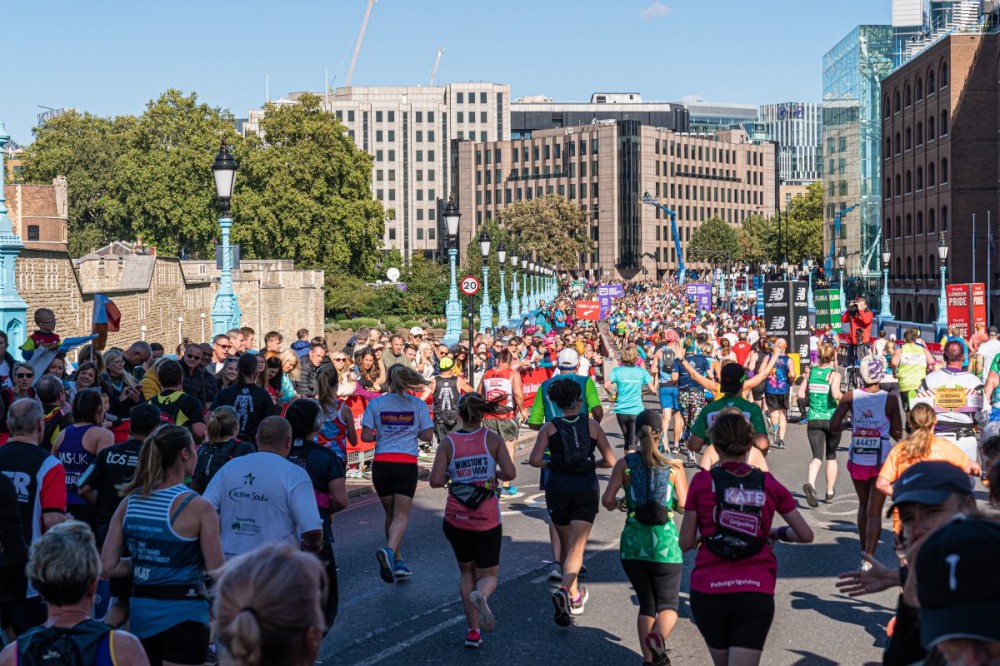 Some do the full 42 kilometers in fancy dress:
Why this classic British phone box isn't red I'm not sure…
Where do they get their costume ideas? ->
Oh my. They deserve extra medals for the outfits and the extra work!
Wait. What are those on her feet? She needs at least a dozen medals…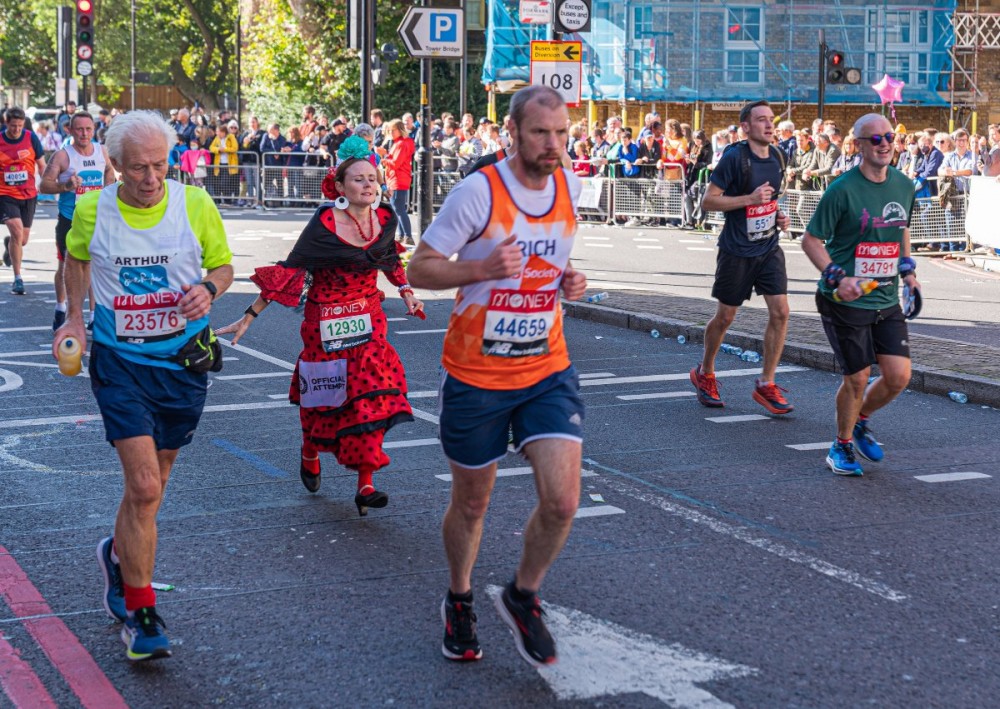 Is it a Stormtrooper or Predator, or their offspring? )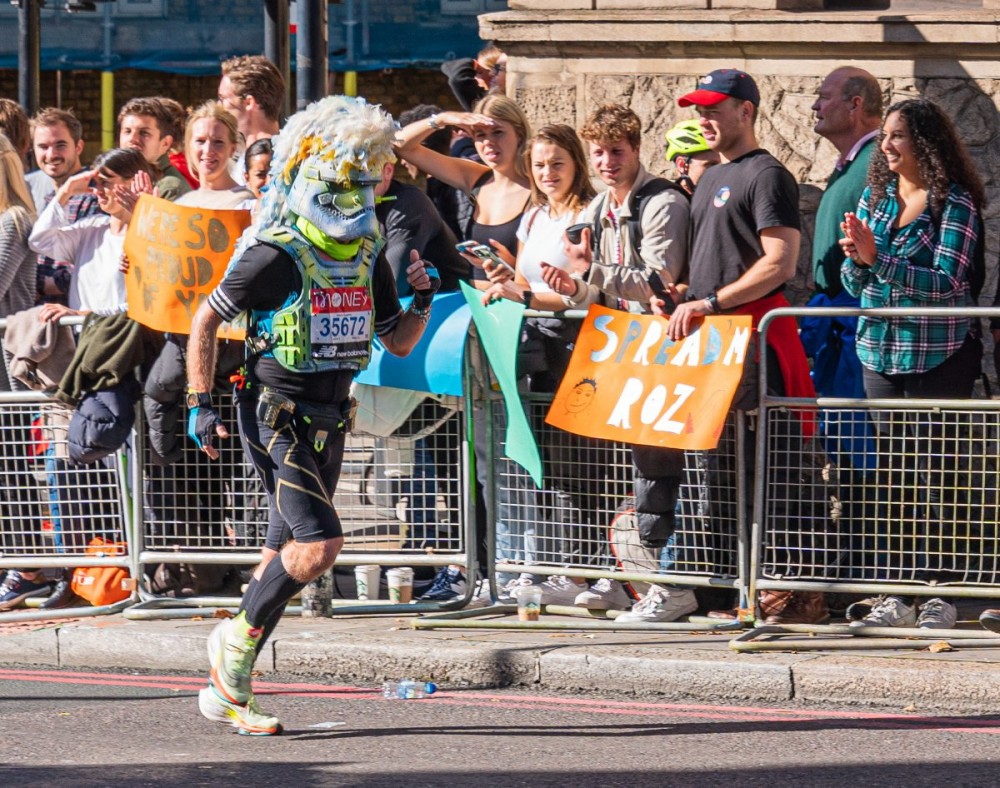 Now that can't be easy:
Pharaoh and mummy. Why not?!
Maybe you've noticed, maybe not, but none of the runners – and none of the spectators – are wearing masks. Corona – what's that? Social distancing – excuse me?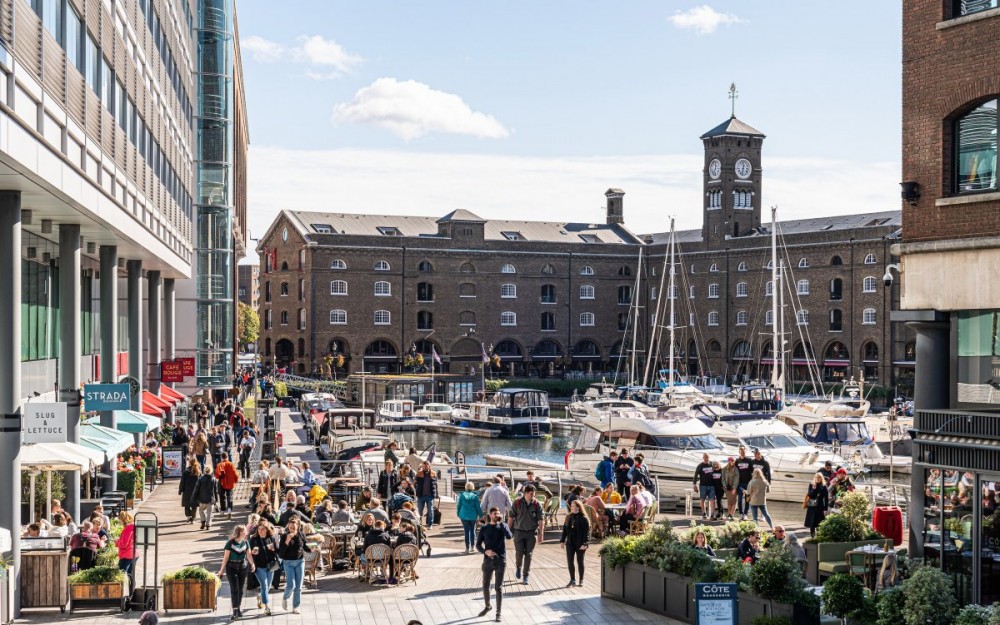 Meanwhile, besides the marathon, everyday/regular London had got its mojo back…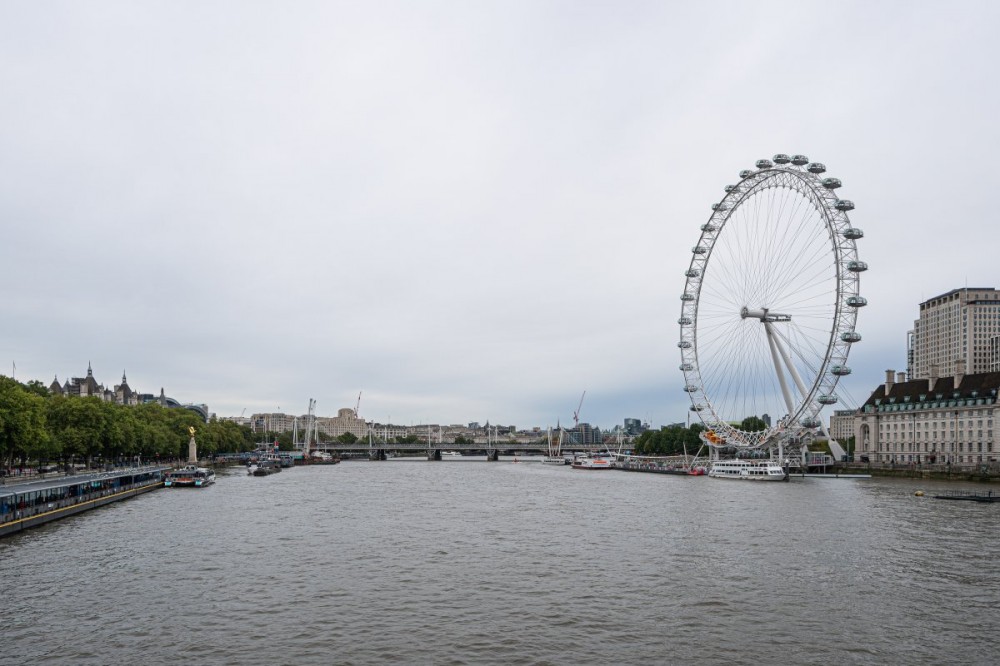 This sculpture is still a mystery to me: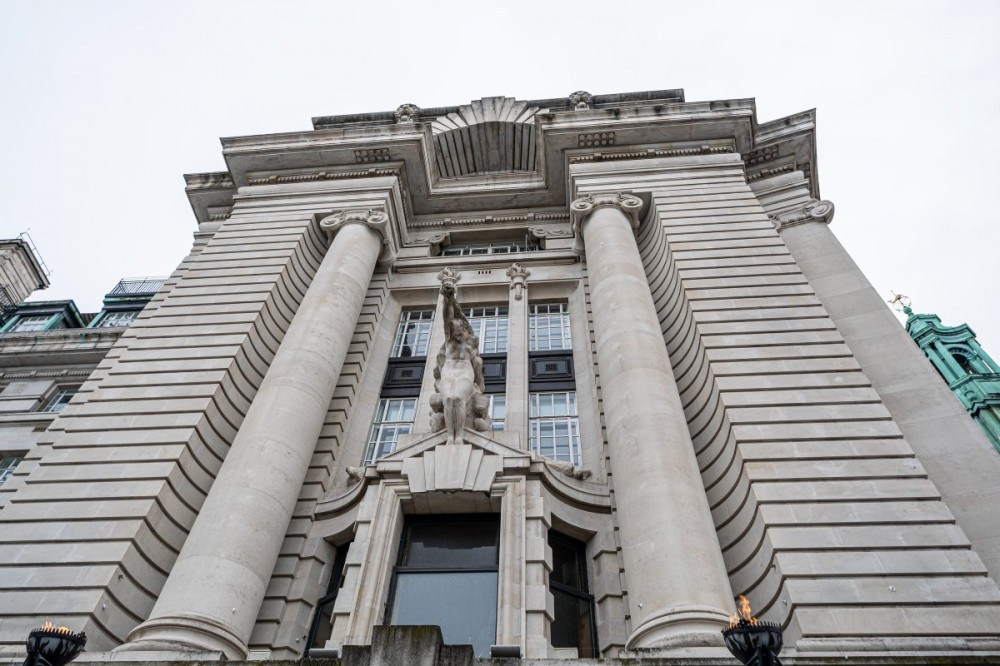 What does it mean? I once stayed in hotel room behind it. And what a view I got! )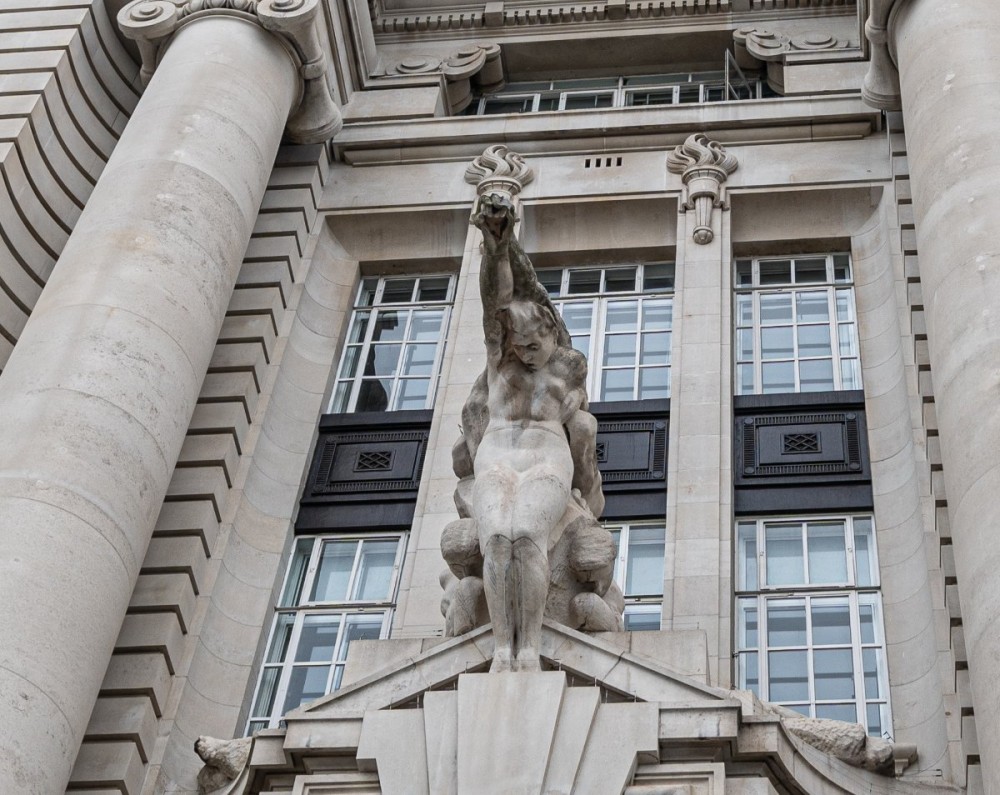 Onward along the Thames ->
Former docks, mills, warehouses. Now reinvented as loft apartments. Very trendy. Very expensive too, I'm sure…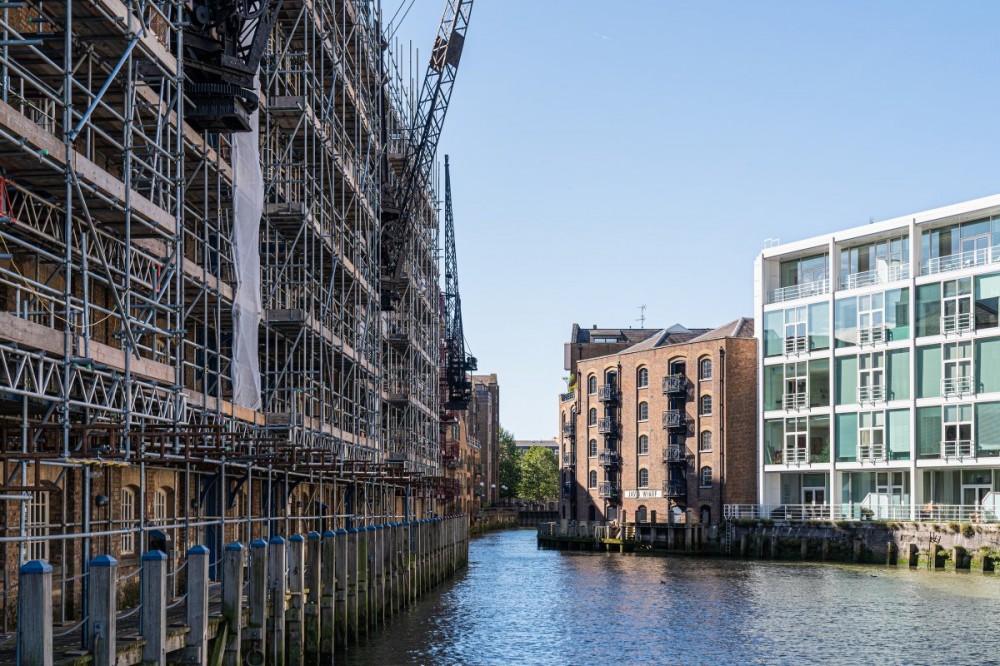 Assorted views and contrasts:
That's all for today folks!…
The rest of the photos from the London Marathon are here.