A visit to the icy household – of the Yakut Custodian of Cold.
On the way back to the Kolyma Highway after our overnight stay in Oymyakon, the next port of call on our Magadan-to-Moscow road trip was the village of Tomtor. Being just 40km from Oymyakon it was no warmer; however, at least the place we stayed at was more comfortable, plus there was… a banya (Russian sauna)!
Though tiny (1250 inhabitants at the last official count, but that was back in 2002) and as remote as it gets, the village is home to an airport, built for the Alaska-Siberian air road receiving Lend-Lease aircraft from the U.S. during World War II. Alas, it was abandoned long ago; also alas – we didn't visit it (no time left).
What we did visit was the 'Ice Residence of Chyskhaan – the Yakut Custodian of Cold', a museum in an old mine shaft inside a mountain! However, we soon found out that inside the tunnel it was just -10°C – a full 40 degrees warmer than outside it!
What they used to quarry in the mine I never did get to find out – the story changes depending on whom you ask. However, back in the early 2000s some locals set about seriously sprucing up the place to make it more attractive to tourists. They equipped it with multicolored lighting and various other installations, making it really quite something to behold: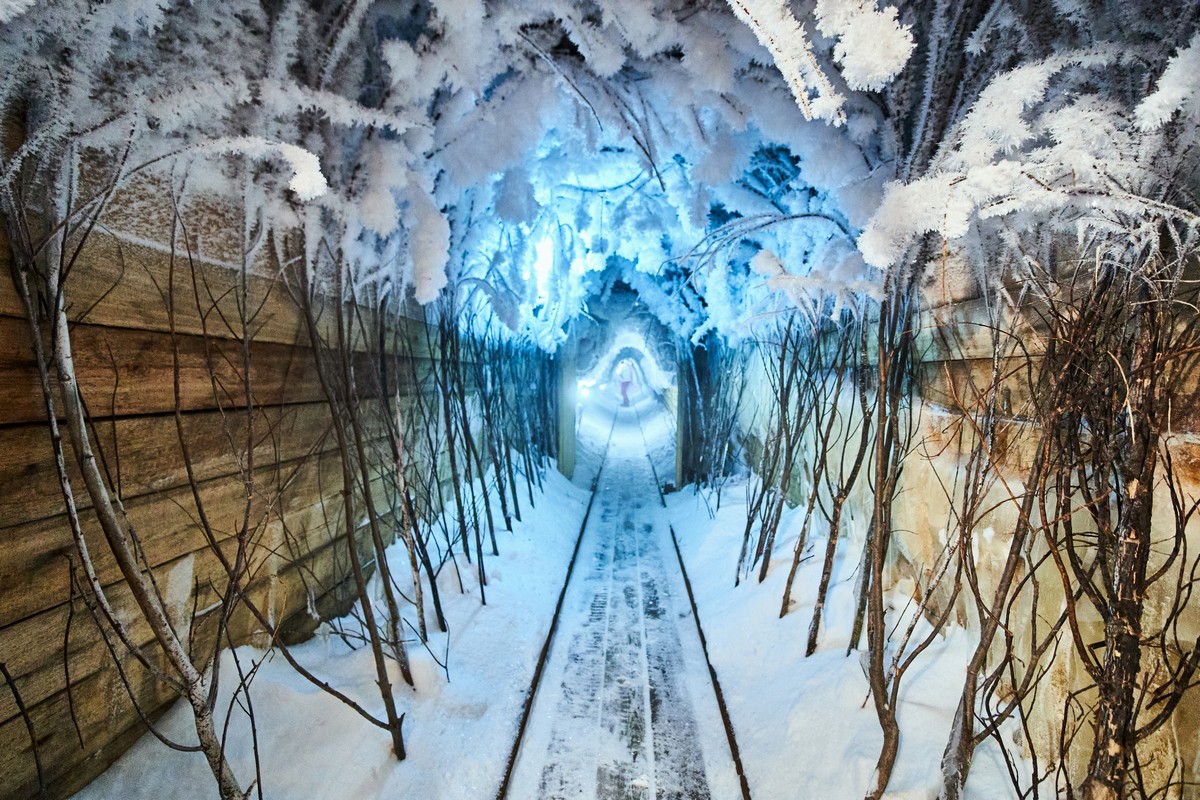 The main tunnel is around 100 meters long, and it has several short offshoot mini-tunnels. The walls and the ceiling are covered in a thick layer of hoarfrost, and the nearer you get to the exit, the stodgier – and prettier – it gets:
Very nice! The only thing missing – some light piped music to fit the setting (like in the caves in the Jeita Grotto outside Beirut, Lebanon).
Ice sculptures:
A simply marvelous place!
And check out the water crystals! ->
So, if you ever find yourself in Tomtor – which I highly recommend you do, of course – make sure to give this place a visit. Just remember to book in advance: since it never gets too busy here, they only open it up when there are guaranteed visitors wanting a look.
The place reminded me of a similar frost-themed museum in Yakutsk – the Permafrost Kingdom, which is also must-visit, but whose crystals aren't quite so large (though – I was there in August (of 2013); maybe in the winter they become bigger everywhere?).
The rest of the pics from our Magadan–Moscow road trip are here.