From Maldives to… Magadan!
One of the most pressing problems facing the world today is global warming. Its effects can be witnessed all over the globe – from the Americas to… Zambia. Whether man-made pollution has much of an overall effect on specifically global warming is open to question, and question that postulate I did some months back (but before you scream 'climate change denier!', no one's denying climate change. Click the link first:). But global warming is for real, whatever its causes, and it's serious and should concern us all. Ok, but what's any of this to do with Maldives or Magadan in the title? Well…
It turns out both locations may become more perceptibly vulnerable to global warming – and quicker – than most. Maldives: the sea level goes up due to melting ice caps… and it could be curtains. Magadan: if the permafrost there thaws – it might not be full curtains, but the changes to the flora and fauna could be significant. Ok, but what's the connection between the two – Maldives and Magadan? Well…
There is nothing really that connects Maldives and Magadan. Two places on the planet couldn't be more different. It was us who made the connection: flying from Maldives to Magadan! Not directly (no flights: shame; would have shaved off hours up in the air).
Now – why Maldives? Why not?!
And why Magadan? Well, we reckoned it might just be the last opportunity to ever really experience the true OMG-crazy-cold of northeastern Siberia!
All righty: back to the Maldives where we began…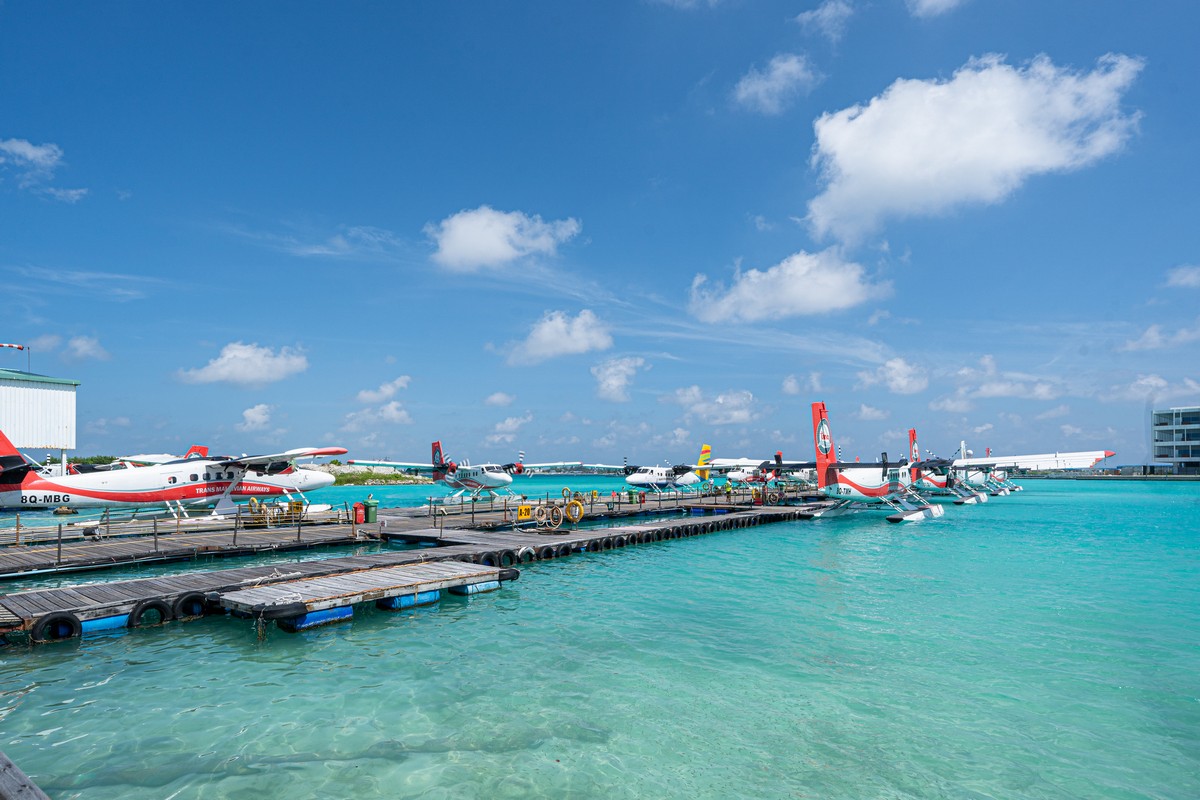 Our long journey began with some archipelago-hopping on these here seaplanes:
Here's our route: Maldives – Moscow – Magadan:
From the seaplane the views were sensational:
After the seaplanes it was back to the tedium of regular commercial airlines for the long-haul to Moscow. And it was here where the fun began. Or, 'kinda' fun, for at times I didn't find anything funny in the slightest!
The plan was: to leave Malé (Maldives' capital) airport on Aeroflot and land at Moscow's Sheremetyevo nearly nine hours later. Then, less than three hours later, take the scheduled 'Rossiya' (Aeroflot's subsidiary, remember this bit) flight to Magadan, taking seven-and-a-half hours.
However!…
Right from the outset when we were deciding on the timing of this spot of aerial continent hopping and buying our air tickets, I had big reservations about taking flights so near New Year – what with the Russian national state holidays only into their third day (out of a full 10!): I simply know how certain folks of any and all types and calibers and classes and working roles and whatevers always seem to allow New Year revelry to get the better of them.
Therefore, just in case (of late arrival in Moscow for the connection), I did the following:
1. Arranged for a suitcase with my things in for Magadan to fly from Moscow without me (it was taken by the folks I'd be meeting in Magadan, also flying from Moscow, but on a different flight). From Maldives to Moscow I flew with no baggage (just my hand luggage).
2. Bought some refundable tickets Moscow-Magadan for the flight the following day, just in case I missed the first flight.
3. But all the same, we really wanted to make it in time!
And guess what happened? Yep: the flight from Maldives arrived at SVO late! But it's not as simple as that; let me back up a bit…
1. Things first started to go pear-shaped still in Maldives. The Aeroflot folks at registration couldn't for some reason register me right the way through, for both segments (Malé-Moscow, Moscow-Magadan). I was issued a ticket to Moscow and that's all. In Moscow I'd have to go through passport control (at least I had no baggage to wait for), and go to the ticket office and buy a ticket to Magadan. In 2021 folks. And not on April 1.
What? How? Why? What for? EH?! Wait – this wasn't two different airlines involved. This wasn't two airlines in the same alliance. This was one airline – Aeroflot!
2. Like I say, the Maldives to Moscow flight was delayed. By a full 90 minutes (the Moscow to Maldives flight was delayed by an hour, but we had no connection to be in time for so no stress).
3. As time was real short, I asked to be ferried asap over to my connecting flight. I could make it, maybe; after all – no baggage, remember?
4. The Malé-Moscow flight landed at 18:58. I dashed off the plane first and ran. And after a distance was met by a lady with a board with 'VIP' (remember that!) and my name on it: hurray! Maybe I'll manage it; there was still hope.
5. I tell said lady with plaque I've no luggage, so let's try and get me a ticket in the free zone. 'No. Not possible'. Why not I still don't know. Couldn't I have bought an electronic ticket on a smartphone? It was probably this or that not working properly during the New Year holidays, and Igor the IT guy had 'left for Nirvana' and without him there was no chance of sorting it. And where's this 'VIP' service anyway?!
6. So, I galloped through passport control, down some steps, passed a startled (by our galloping) customs, outside, into a bus, and onto a toll road (!) to get to a different terminal – but only after taking a silly-long detour to avoid massive repair works going on around that different terminal.
7. Finally, I arrive at the other terminal and get a boarding pass issued just half an hour before the flight to Magadan.
8. We board, eager to accept the 'refreshments' offered to try and calm the nerves after the high drama of the rush from hell ).
It was a night flight. Come late morning we were eight time zones away to the east – in sunny Magadan!
First impression at Magadan? The airport is covered in advertisements. Weird! ->
'Welcome to Kolyma – the golden heart of Russia!'
Second impressions of Magadan – there's a certain… positivity about the place. That good impression was nearly spoiled by there seeming to be not a single restaurant in the city that could cope with a table for 10 on the first night. But, like I say – 'nearly': we'd forgotten about this hiccup by the second evening.
Magadan – like! Magadan – a lively city, even amid a pandemic. It has an assured future ahead of it, I'm sure!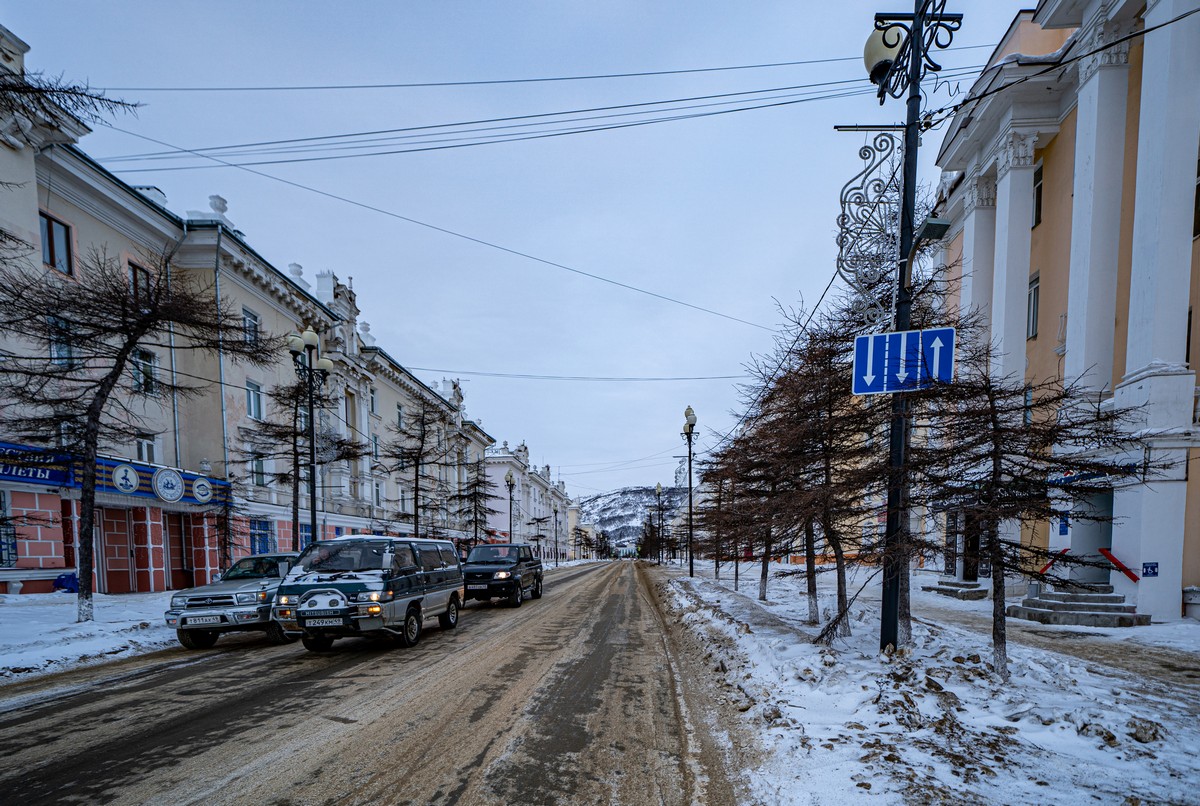 But more detail on the city a little later.
Meanwhile, we check our smart devices and find out – woah – it's minus 40 degrees Celsius outside. Yikes! That's 'nose hurts' cold!…