Announcing – The 'Kaspersky Exploring Russia' tourism accelerator.
There are plenty of reasons I love my company, but perhaps the most… refreshing – is that our K-folks often come up with all sorts of different, original ideas of things to do and at the right times and in the right places. Thus, some of our brightest K-sparks came up with this here idea:
// The other day, during an online conference with Latin America, the following – I believe, Brazilian – phrase (can't recall the exact wording) was uttered: 
If the fisherman can't go out to sea, he just gets on with fixing his nets!
The perfect anecdote for our current situation, no? I hope you're fixing your nets. Meanwhile here at K – here's how we're fixing ours, among a few other ways…
Sat at home, many of us are dreaming of future vacations, I'm sure – but when will they be possible? And of course there'll be those who've had to cancel trips, vacations, expeditions, weddings…  Me personally I had to call off more than a dozen trips or postpone them indefinitely. But imagine how things are for the tourism industry – airlines, hotels, agencies. No one could have expected, and thus made contingencies for, the force majeure of this year. But perhaps hardest hit will have been newcomers to the tourism business with a great startup idea, a business plan, and little else, and then… boom. All plans torpedoed.
Well we've decided to lend a helping hand to those newbies and their budding projects. So here's introducing… our Kaspersky Exploring Russia tourism accelerator! This is a project designed to help cool, promising startups use their lockdown-at-home time usefully: to learn something new, to fine-tune their business ideas, to find investors, or simply to PR themselves. And after the pandemic, they'll be able to go to the – by-then hungry famished?! – market with their new, turbo-charged projects (maybe they'll be able to take care of a few of my exotic expeditions too)…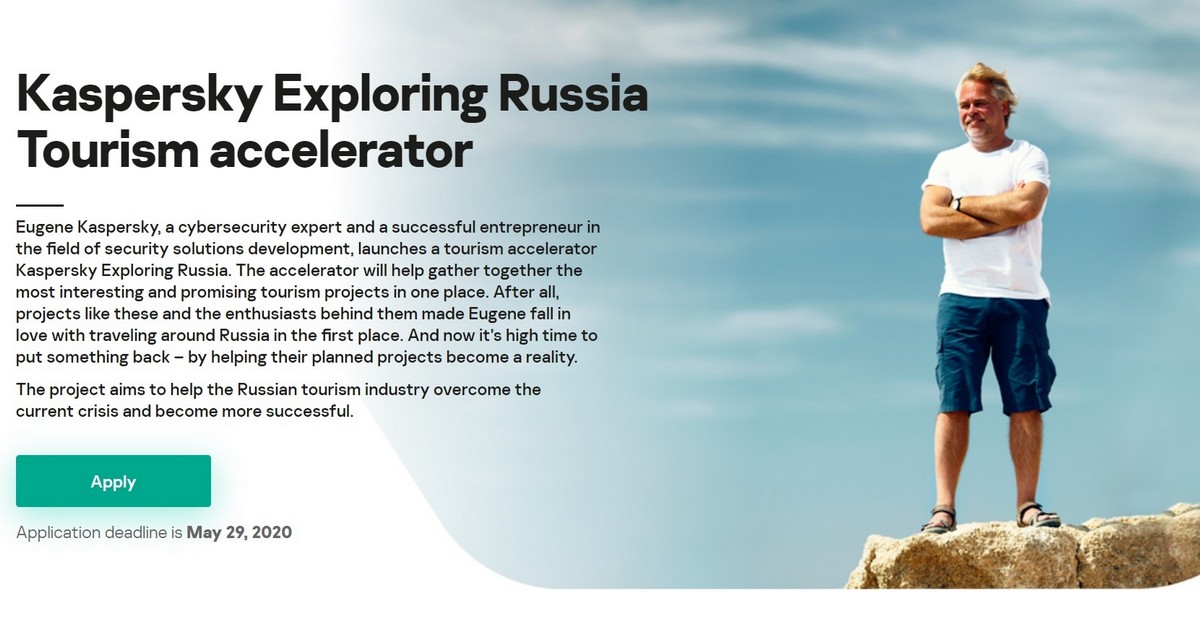 So, why 'Exploring Russia'?
Well, you'll know how much I love to travel across Russia – Kamchatka, the Kurils, Altai… My summer vacation is nearly always in one of these regions. This year is no exception – I have a three-week Altai trip booked, featuring hiking, rafting and other cool stuff. There are so many beautiful places in Russia, but they're often just not that well known about outside the country. And it's not just their relative inaccessibility that's at issue – there's also the lack of the necessary infrastructure, plus often a lack of professionalism – and sometimes financing too. Accordingly, I want to make Russian tourism more accessible and comfortable – and Russia more inviting overall as an international tourist destination. That's why we're looking for Russia-oriented (not necessarily Russia-based) projects that will help open up the country and allow it to reach its full tourism potential. And btw: those 'projects' can be either existing, up-and-running projects, or even just mere ideas in someone's head.
There are four 'tracks', or nominations, which project-applications can be submitted for:
Travel Tech – for projects that make extreme and leisure tourism more accessible;
Infrastructure Track – for projects that make extreme and leisure tourism more accessible, and that also popularize and create infrastructure for it;
Social Tech – for projects that are socially significant in the fields of travel and tourism; and
Sustainability – for projects that have a positive impact on sustainable development.
And we're looking forward to receiving the coolest, smartest, and most interesting, original and competitive projects for each!
So how will this accelerator work?
Out of submitted applications, the jury will select 10 finalists. These will then take part in the online learning program that will run from June 9 to 24. This will consist of individual consultations with leading experts from the tourism sector and big business, master classes, and lectures, and meetings with investors and a chance to attract financing from them. Note – everything will be in English! Information about all finalists we'll place on our corporate and also my own personal social media.
At the end of study period there'll be a demo-day (we don't know if this will be online or offline, but we're hoping for the latter) where the 10 finalists can present their ideas to our jury, which includes me, out of which we'll select the best three.
The winners in third place will be awarded software subscriptions tailored to solve their business needs. Those coming second will get PR and marketing support for their projects. While the gold medalists will be awarded an online education grant directly relevant to their project, plus a personal consultation from me personally. All three winners will also get our Small Office Security, so that's at least one headache they won't have to worry about.
And we're taking applications up until May 29, so get your skates on!
Good luck!…