Tasmania – Day 2: dunes, whisky and Linux penguins.
NB: with this post about the place I visited before the lockdown I want to bring you some positivism, beauty and the reassurance that we will all get a chance to see great different places again. Meanwhile I encourage you not to violate the stay-at-home regime. Instead I hope you're using this time for catching up on what you never seemed to find the time to do… 'before' :).
The western Tasmanian coastal town of Strahan is pretty and cozy, but besides fishing and the nearby disused mine, plus a for-tourists railroad, there's nothing to do here. It is the very definition of a 'sleepy' backwater town.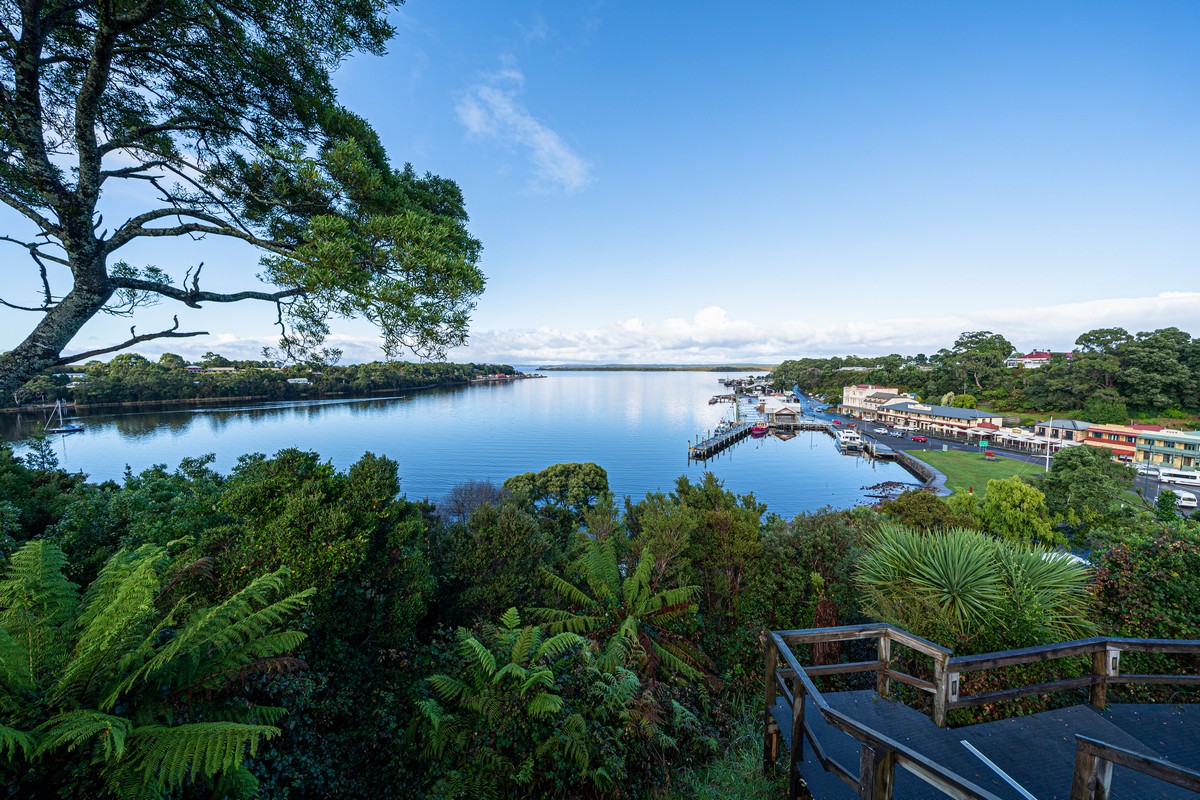 However, a little to the west of the town there's an awesome sandy beach, of a length of… wait for it… 30 kilometers! It's called, appropriately, Roaring Beach, but it's not just for sunbathing on. You can race along stretches of it. Which we did. Which I recommend!
Then, 12km to the north of Strahan there are the Henty Dunes. Now, to a tourist who was recently in the Namibian desert checking out the dunes here, of course these appeared somewhat modest. All the same, still worth a look, especially as they were on our way – north – just by the roadside. We couldn't have missed them if we tried…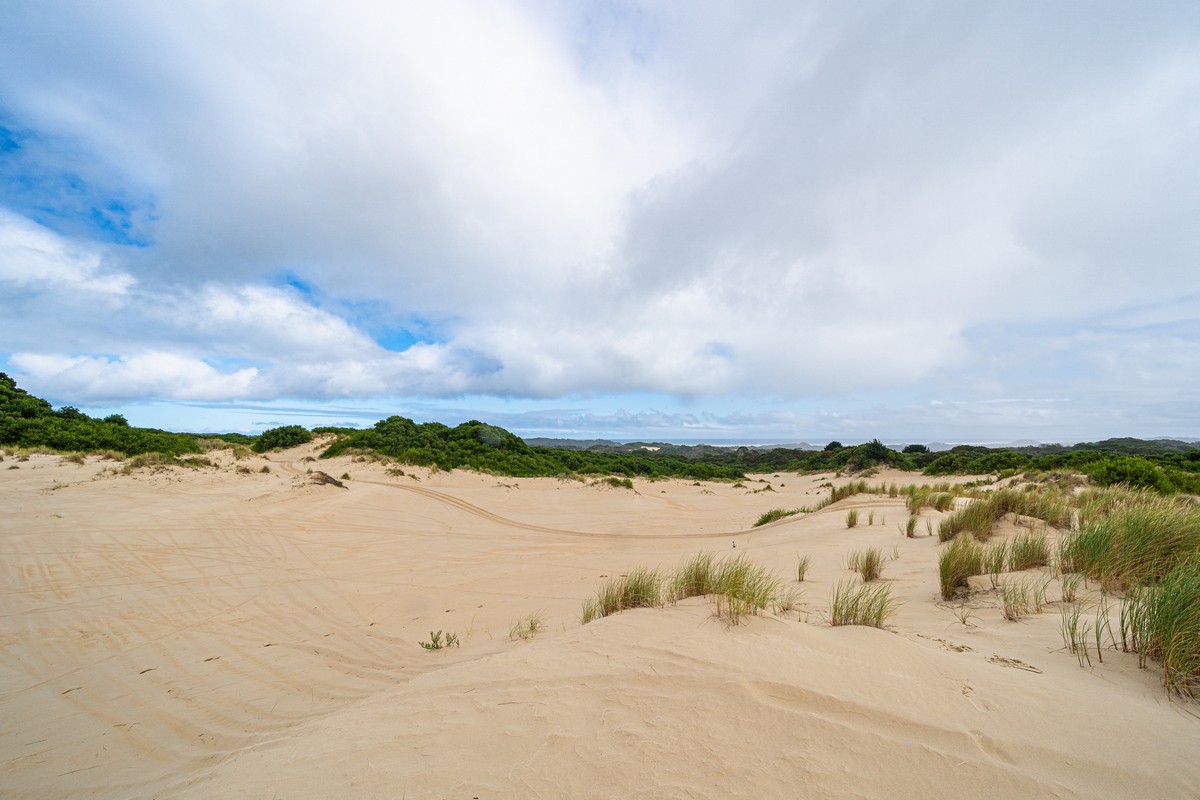 If we'd had an extra day it would have been great to spend it on this beach on quadracycles, traveling its full length – and width, up to the sea right over there ->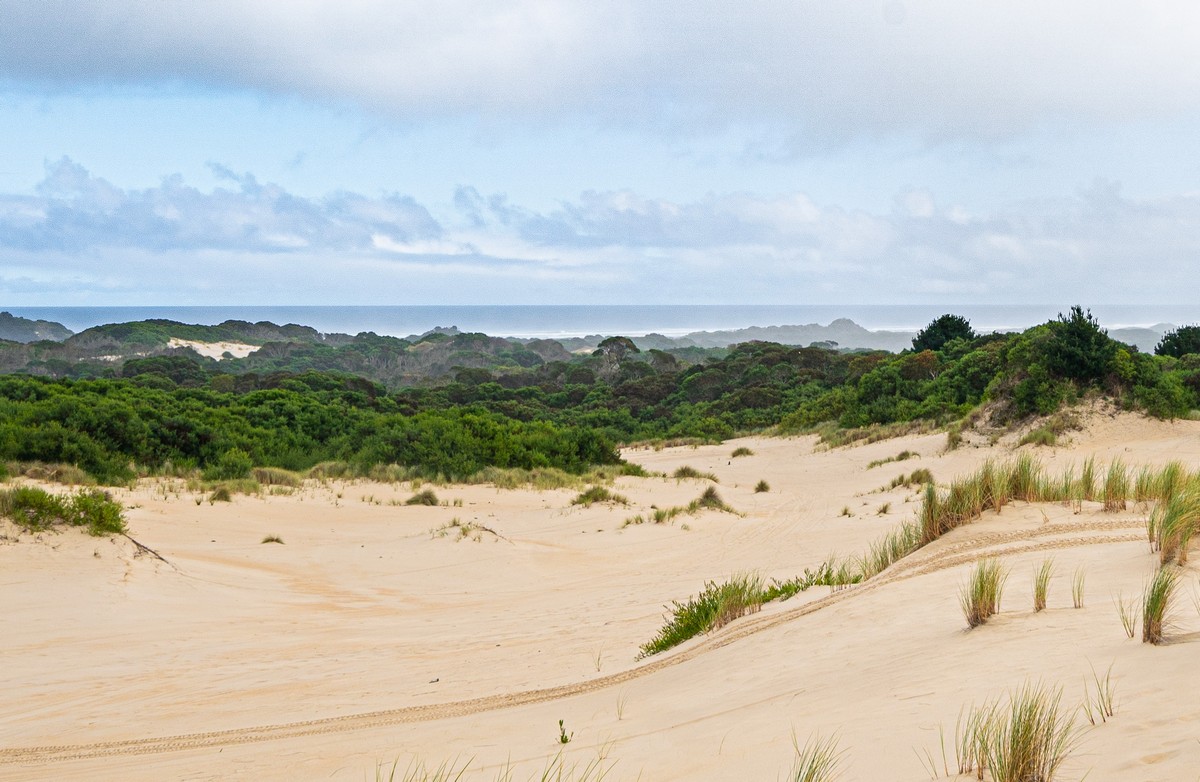 Next – back onto the asphalt and we continued our drive north – along this delightful road: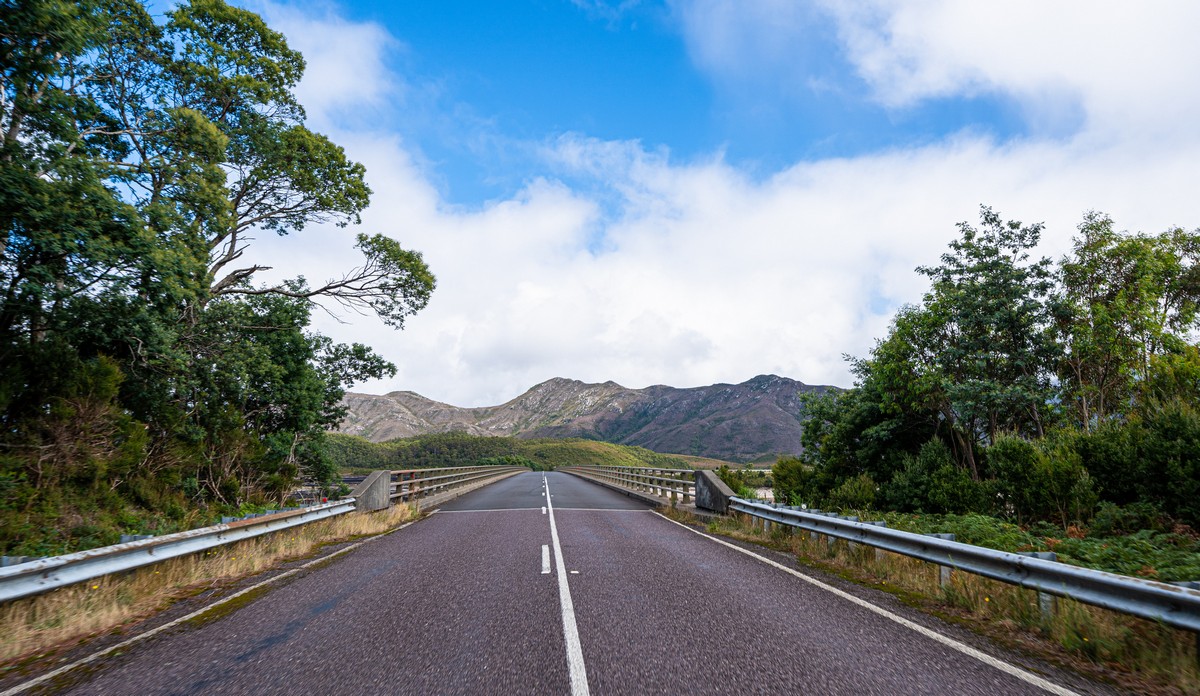 Solid and smooth, just as I – and any other driver, I guess – like(s), and also winding up and down mountainsides, meaning the 100km/h limit was no killjoy but just common sense. With no other cars on the roads whatsoever, it was a dream drive!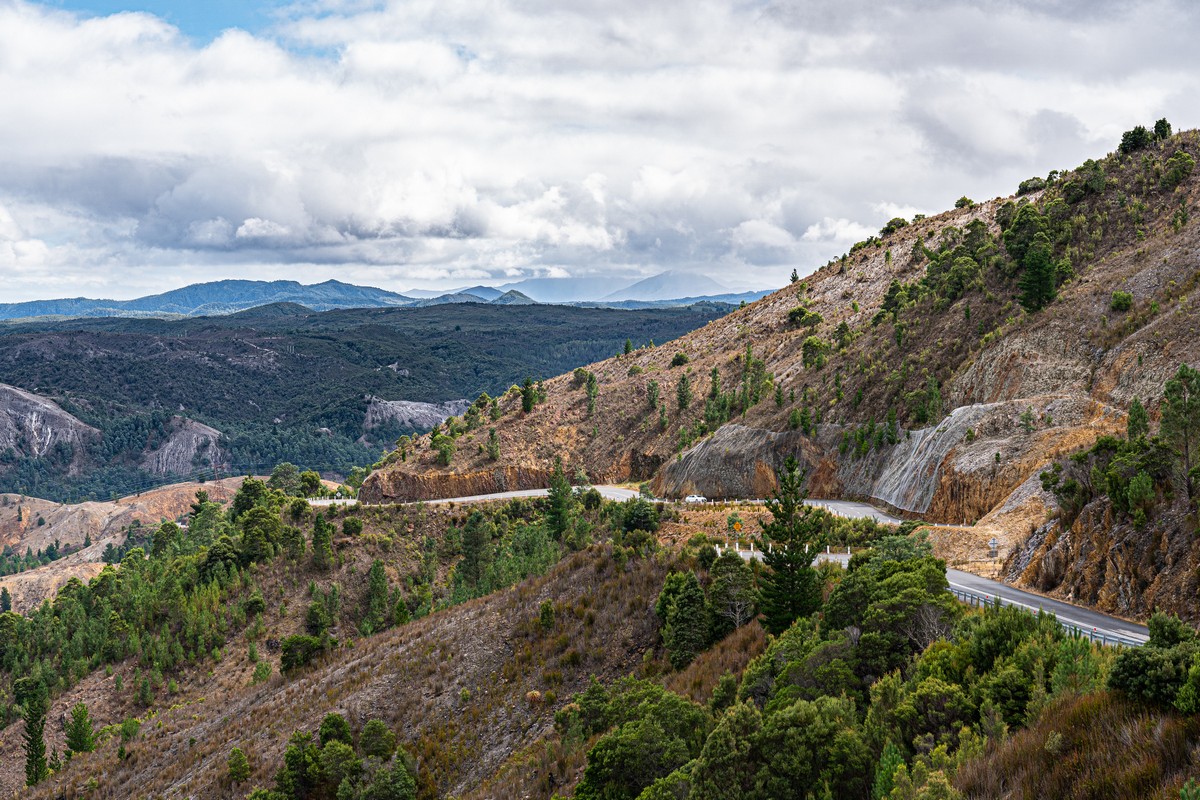 Our next port of touristic call – Montezuma Falls. As one does, we trusted our GPS navigator to direct us there, but… we shouldn't have. For it took us down this here muddy, asphalt-less track: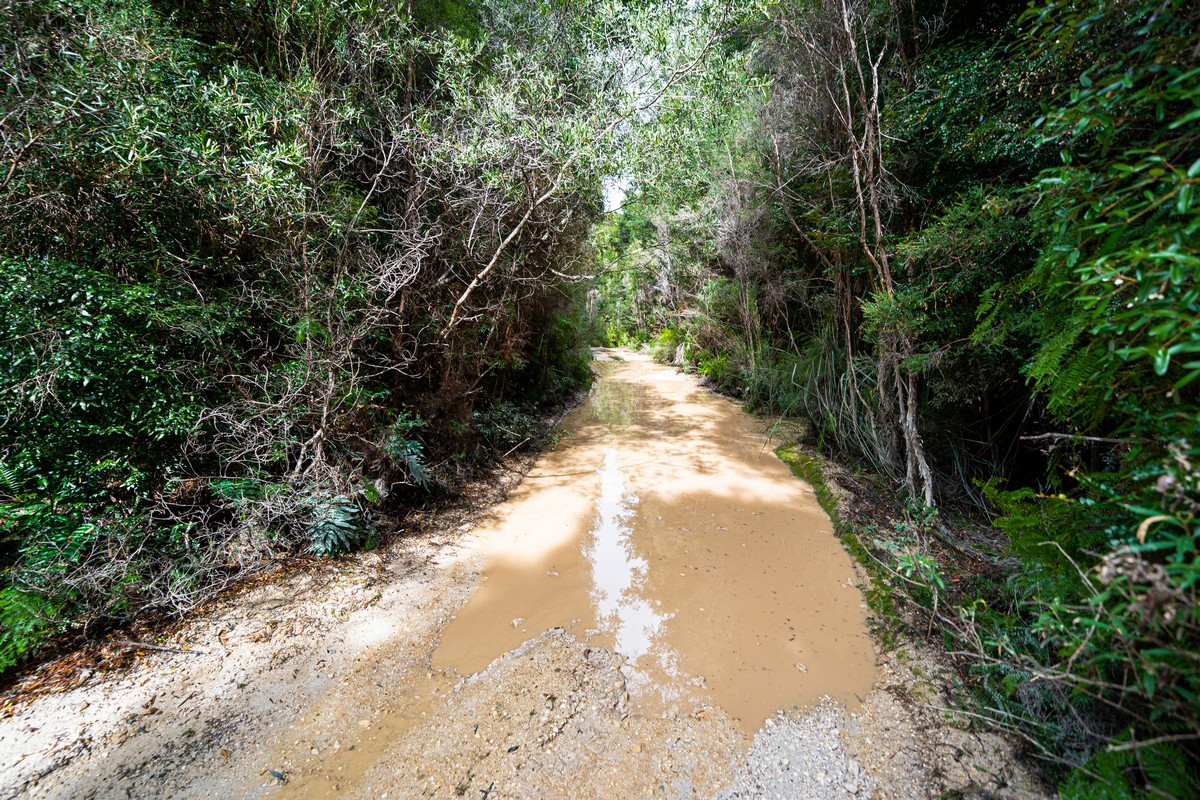 It does eventually lead toe Montezuma, but, what with us being alone (I mean – just the one car) and without a satellite phone (no mobile coverage here!), we got half-way when we decided to turn back! We just didn't want to risk being stranded out here in the middle of nowhere.
Imagine our incredulity when we hit upon the alternative road to Montezuma, which turned out to be perfectly fine – perfectly asphalted. Eh? After having given the sat-nav a good beating, we finally arrive at the Montezuma Falls.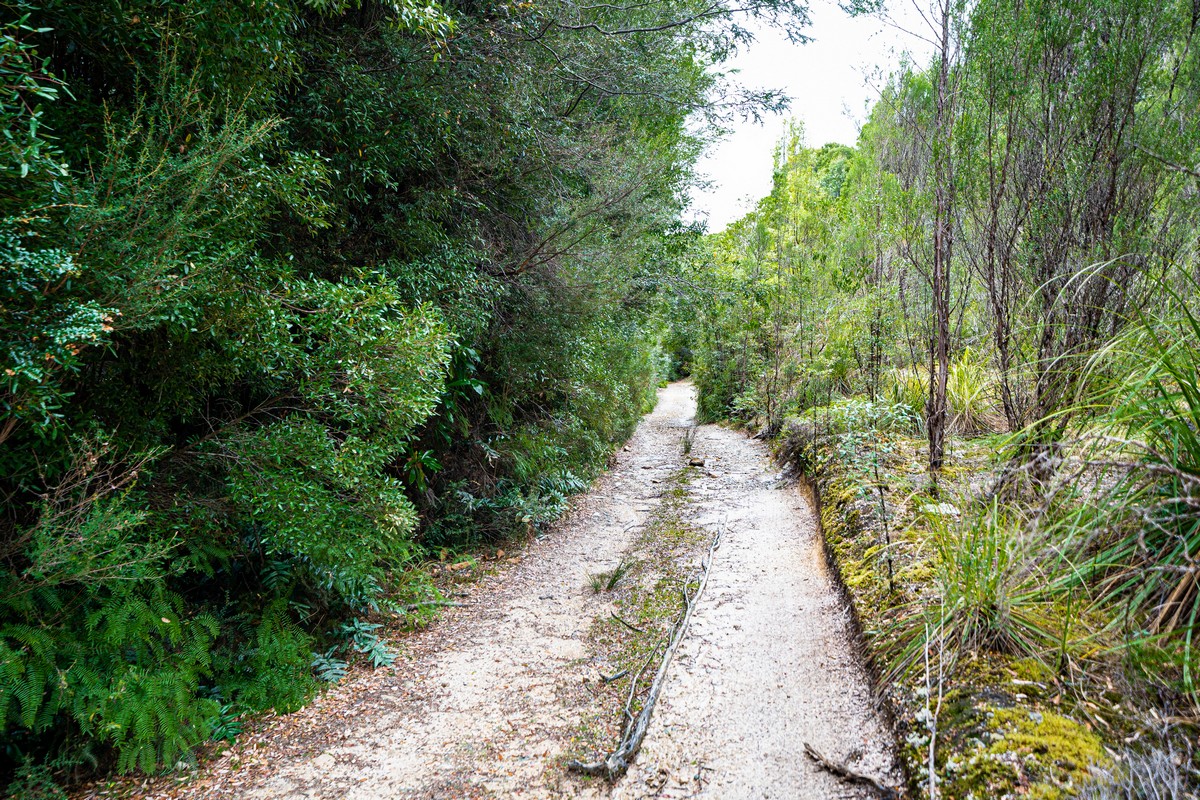 When we arrived we found that there was a 'forest walk'. Ideal, we thought. Then we checked the time. Ouch. Too little of it left. However, there was something else, besides the path, that caught our attention – a whisky distillery!
Now for a little info on Tasmanian whisky.
First – there is such a thing!
Second – there are a full 31 distilleries on the island!
Third – you can't find any of the island-made whisky in the local shops: it's too expensive! Hmmmm – interesting business: they sell one bottle of their stuff abroad, and with the proceeds therefrom, buy three or four bottles of regular imported stuff. Sounds like the perfect business model ).
And the views all around – very NZ-esque:
Woah: turns out this whisky was in the top-10 best-value whiskies of the world in 2015. Impressive!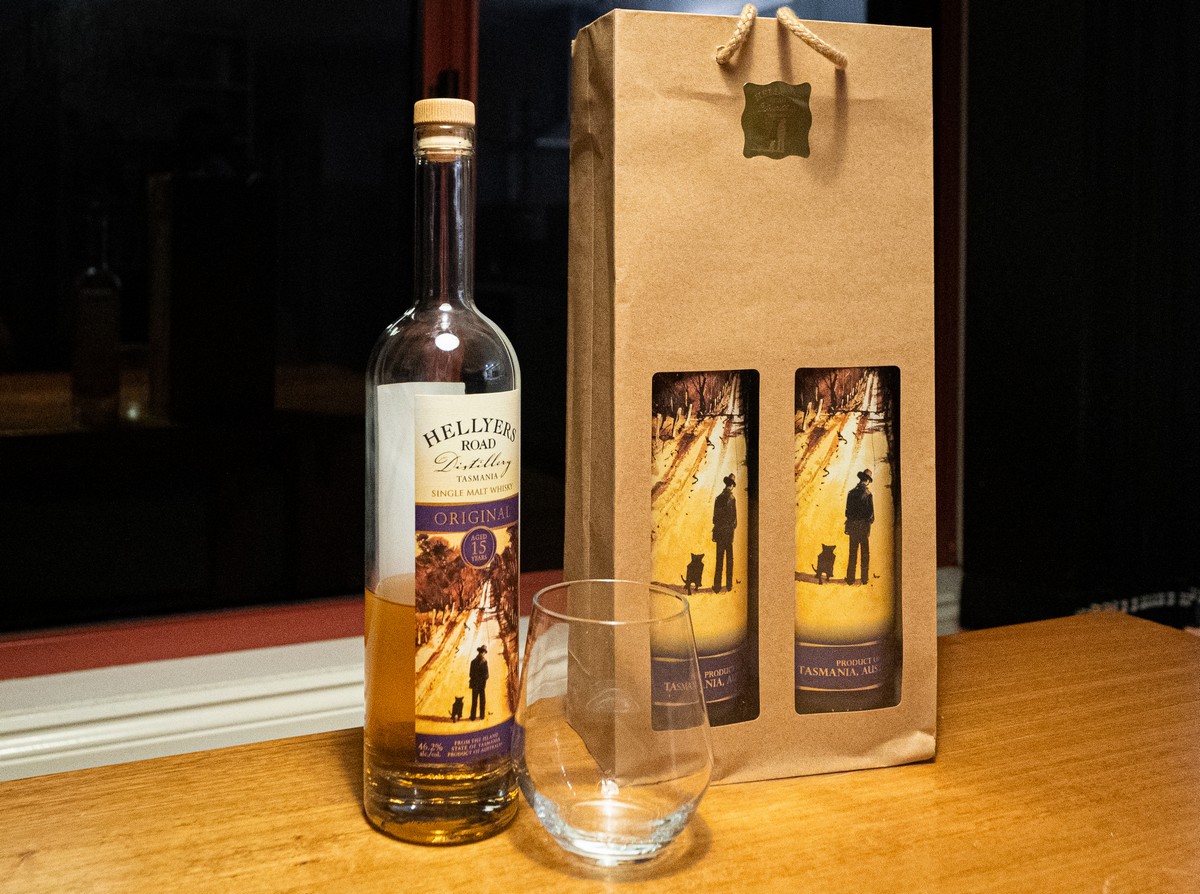 My travel companion, O.A., added:
Hellyers [sic] Road whisky is named after Henry Hellyer, an English surveyor and architect, who laid the first path here – in 1827. And the road that today runs through the nearby town of Burnie is named after him – Hellyers Road. Hellyers Road Whisky went on, in 2018, to another win – at the World Whisky Awards, no less. Not bad for an upstart distillery that's only been going 21 years. The Scotts must be livid!
Next up for us – the delightfully-named town of Penguin! Surely this meant there would be penguins here. We search… and we find one penguin; alas – a 'fake':
We didn't see the 'large colony of penguins' (. Later, we found out that they do appear from time to time, but they're by no means a permanent feature. Check out this sign! ->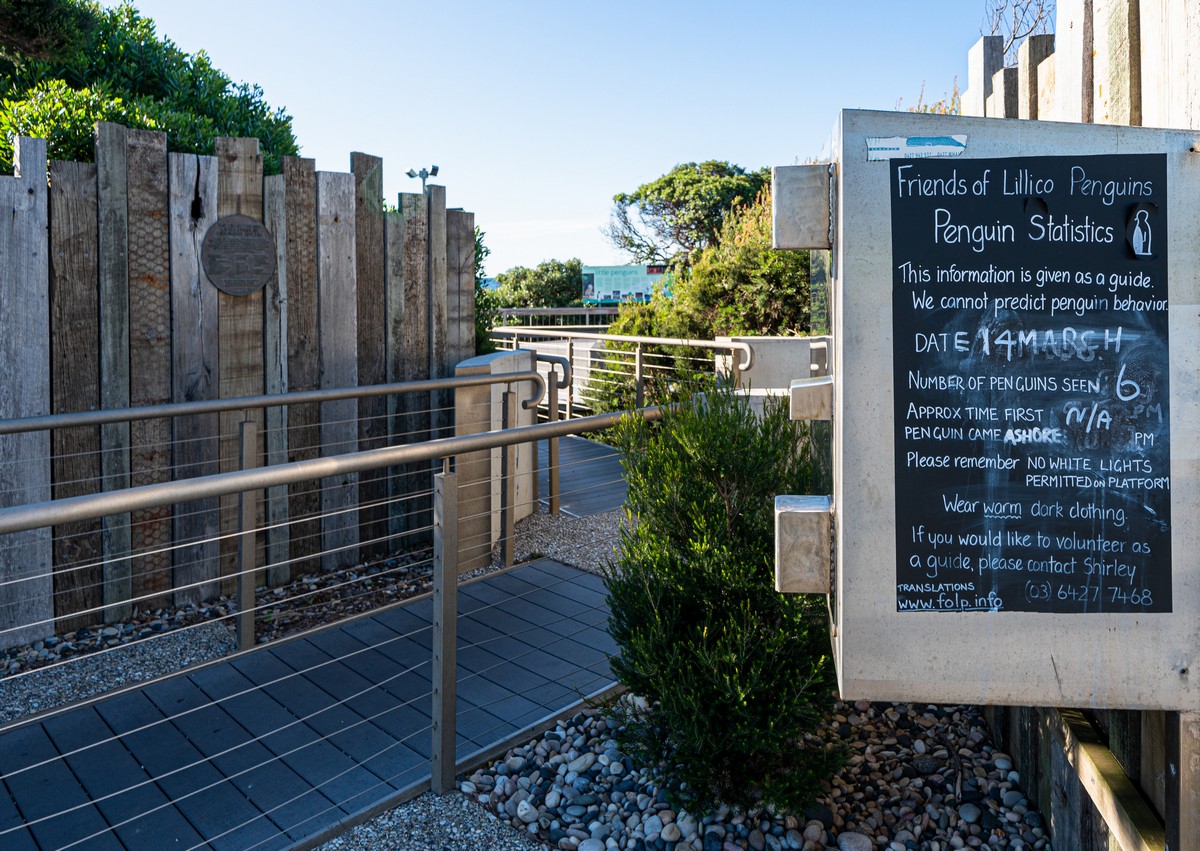 Meanwhile, this is what O.A. found out on the net:

The distance between Hobart and the nearest point on Antarctica is 2600 kilometers – twice as far as from Ushuaia, but 250km nearer than from Christchurch. So it should come as no surprise that the most famous inhabitants of Antarctica sometimes show up in Tasmania. However, the only type of penguin that breeds on the island is the little penguin – the world's tiniest. Apparently there are some 100,000 to 200,000 on the island – mostly here on the northwestern coast (also on Bruny Island off the southeastern coast of Tasmania. Incidentally, it is this little penguin that is used as the logo of Linux – Tux – originally chosen by Linus Torvalds after visiting here!
To be continued!…
All the pics from Tasmania are here.