Tasmania mania – day 1: off we go to Strahan.
NB: with this post about the place I visited before the lockdown I want to bring you some positivism, beauty and the reassurance that we will all get a chance to see great different places again. Meanwhile I encourage you not to violate the stay-at-home regime. Instead I hope you're using this time for catching up on what you never seemed to find the time to do… 'before' :).
For my further tales from Tasmanian side I'll be leaving the very best 'icings on the cakes' until, appropriately, dessert. I'll start out with the also-rans. Accordingly, overall, the plan goes like this: First check out the whole of the island, then the Tasman Peninsula, and then the Tasman National Park and its Three Capes Track. But before any of that – you need to get to Tasmania in the first place…
You get to the island in one of three ways from the Australian mainland: (i) on a ferry from Melbourne (12 hours; suitable only if you're bringing your own car); (ii) on an airplane to Tasmania's second city, Launceston (100,000 population); or (iii) on an airplane to Tasmania's capital, Hobart (250,000 population). The best way is the latter, preferably in the evening. Then you can be up early the next morning, get a rental car, and off you pop in the direction of the west coast; next – north coast; then – east coast; followed by the Tasman Peninsula; finally – back to Hobart, having come full circle. That works out at 1300+km. But we were kind of making the route up as we went along; thus, we were zigzagging quite a bit, which added around 500km to our route. The car rental folks were really quite astonished by 1800km in a mere three-and-a-half days ).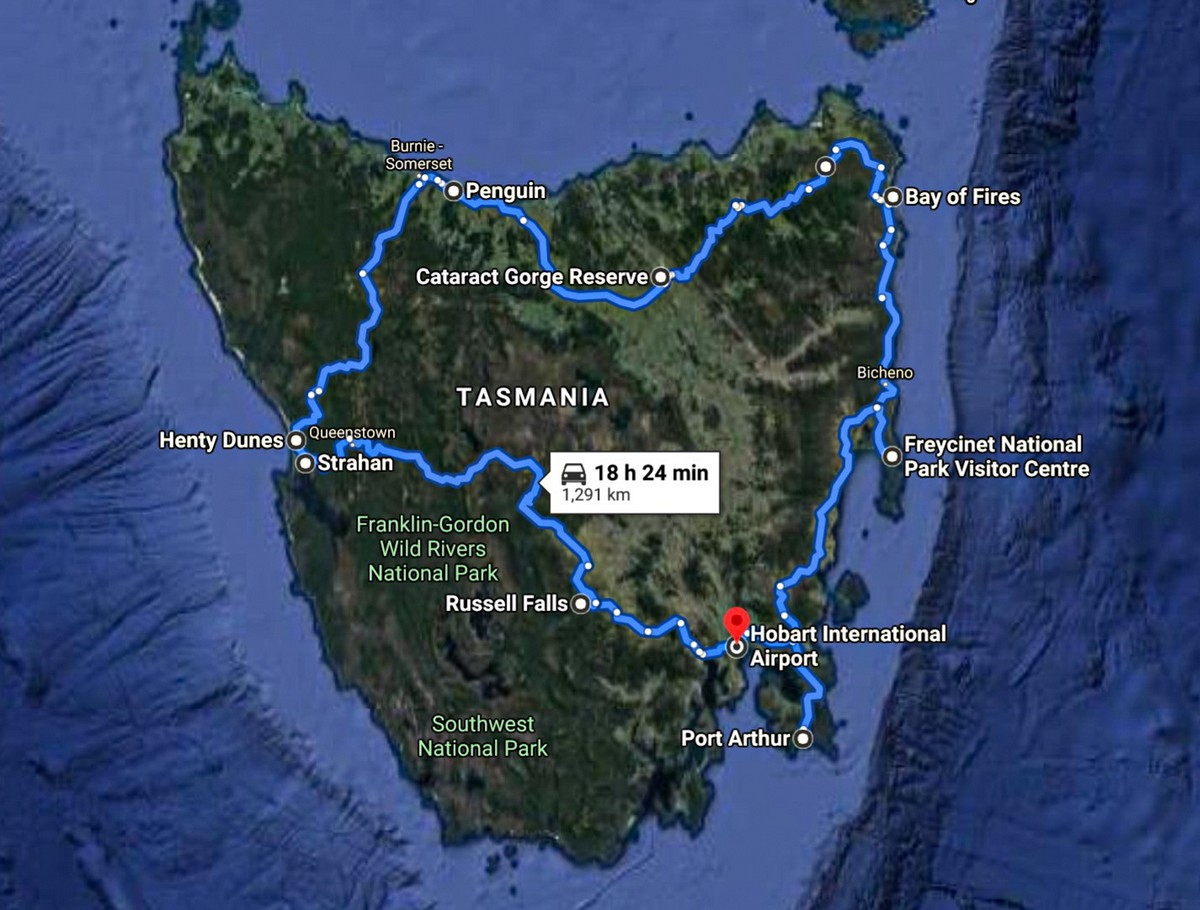 But we got up later than planned, and set of later than planned (more on this mistake later). Eventually off we popped, heading for Strahan on the west coast, and the scenery all the way was simply superb…
After an hour on the road, having traveled some 90 kilometers, we arrived at our first tourism: Russell Falls: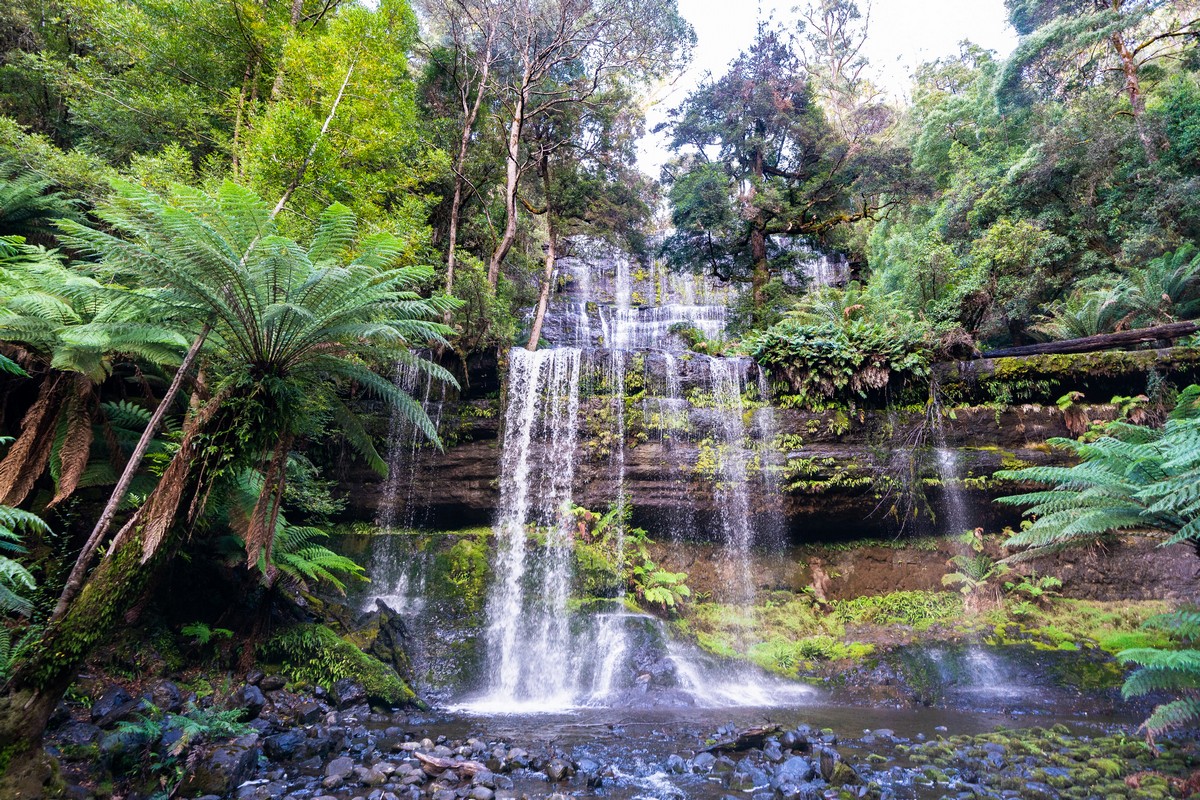 Plenty of nice strolling doable here – including up to the top of the waterfall ->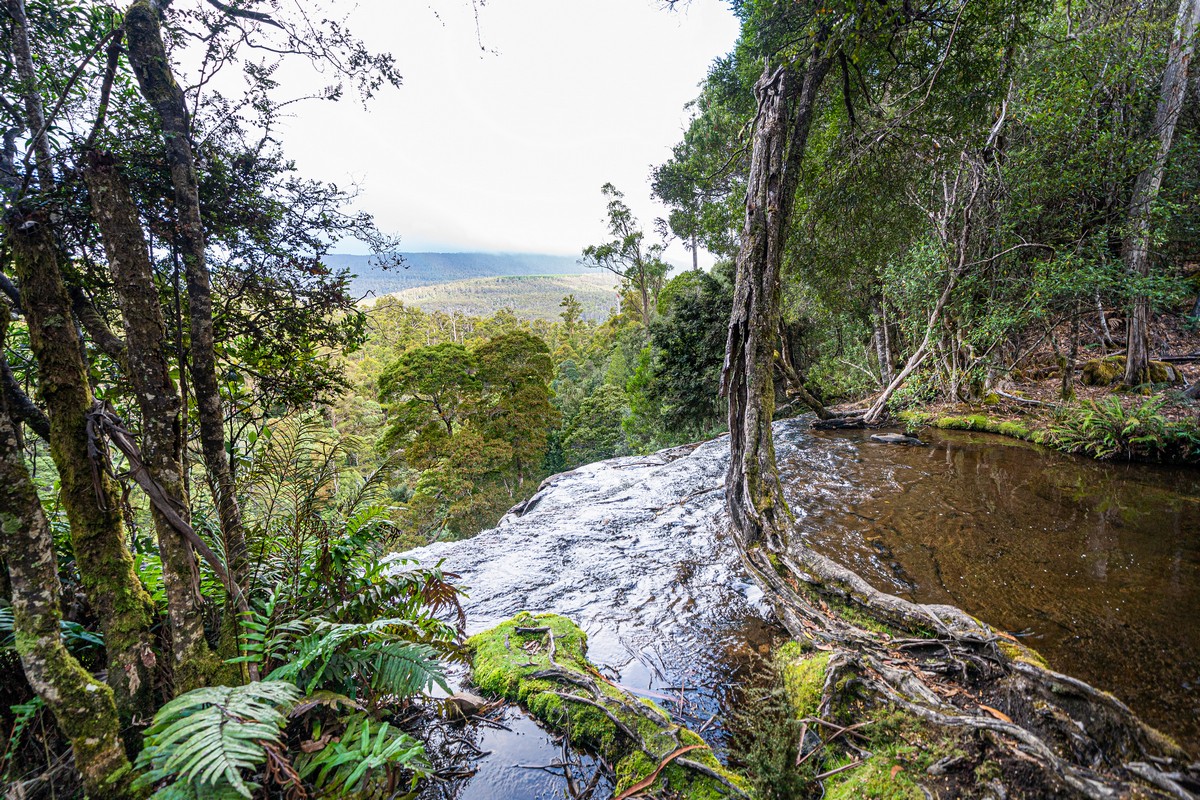 A short distance away – another, smaller waterfall. In short, this place – the perfect warm-up for Tasmania tourism.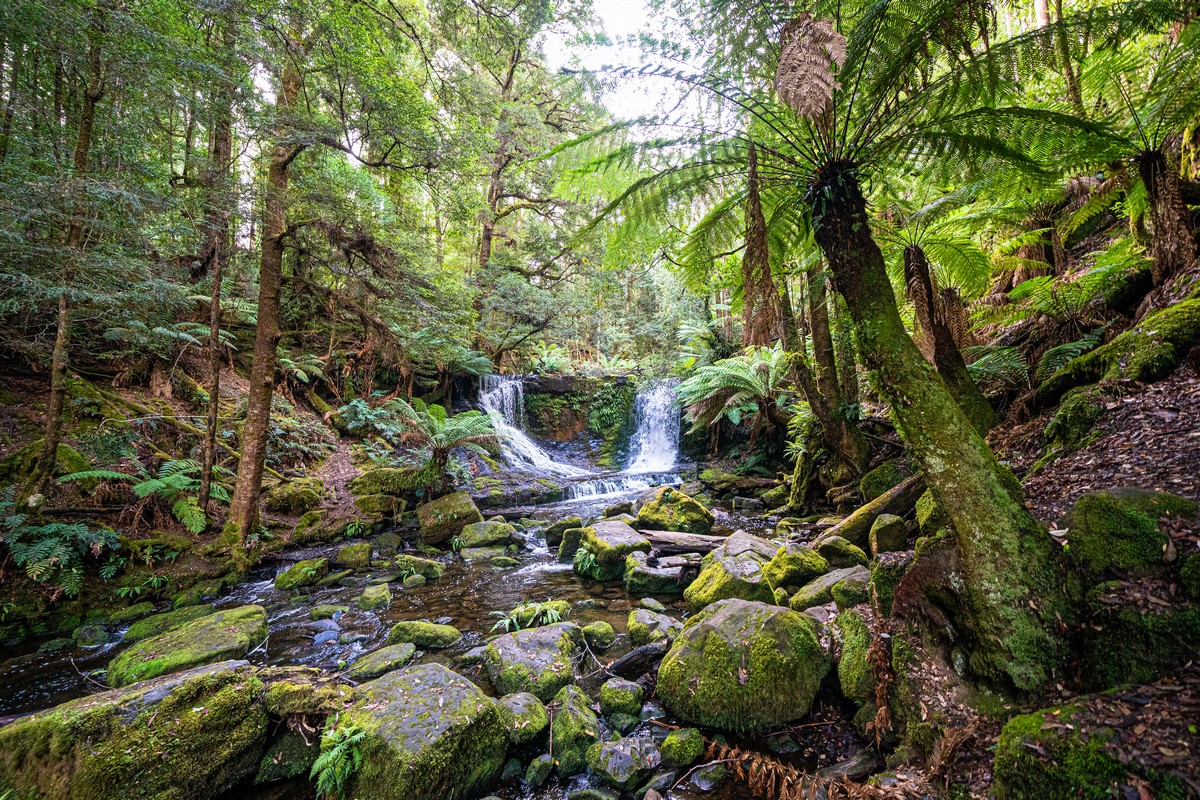 Onward we drive. We cross Bradshaw Bridge, taking it slowly to take in the views, which are wonderful. Alas – no photos: the barriers on both sides get in the way, and there's no sidewalk. Oh well; you'll have to settle for a vid (recognize the music on the radio?!):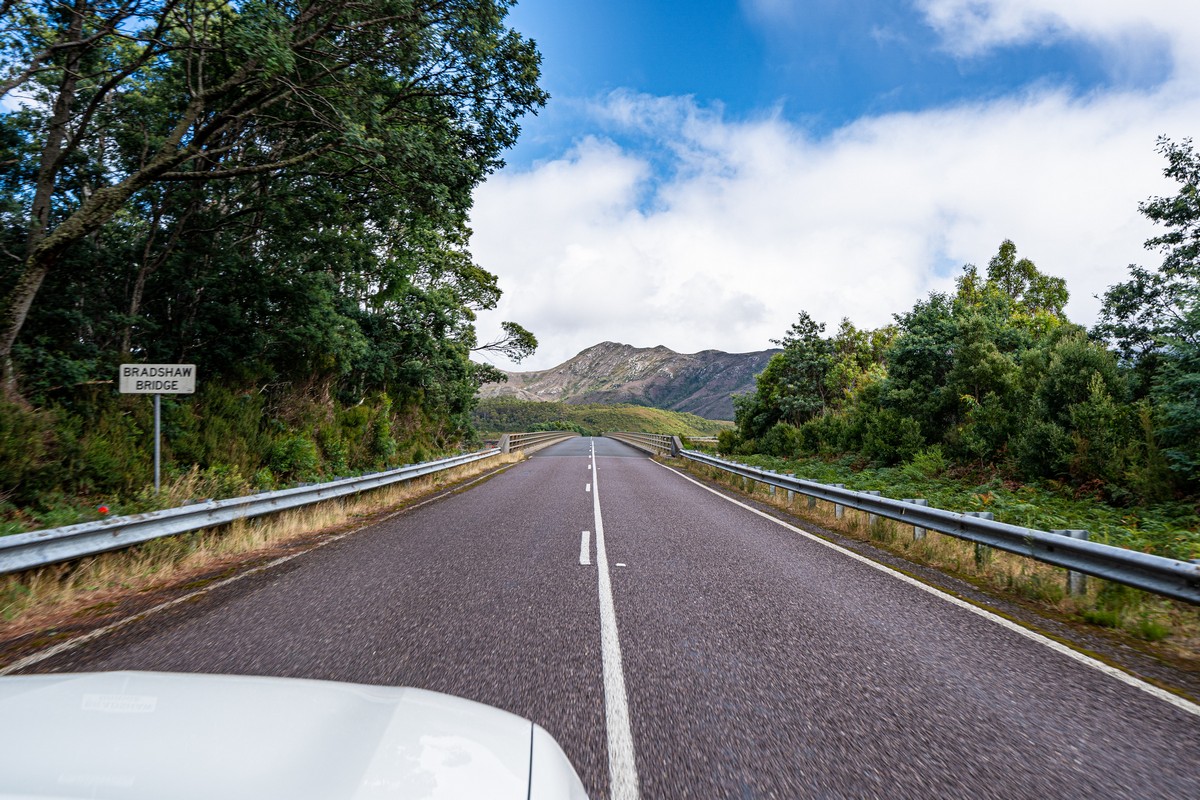 Oh those Tasmanians. It seems they take any old useless object and turn it into a tourism! Here, for example, is Iron Blow Lookout, a disused opencast mine. Man-made – but undeniably grandiose and impressive:
The place intrigued me that much I decided to look it up on the net, with the help of my travel companion, O.A. Here's what we found out:
The reason this place first became mine was because they reckoned they'd find gold here. Having discovered a gossan, they named the spot, appropriately, Iron Blow, and started blasting away with TNT (curiously, a seemingly primitive method, but one that's still used today!). They did find some gold, but hopes of hitting upon a full-blown seam of the stuff were quickly dashed, and the business dwindled just as quick. Later someone thought they'd find silver here, got to blasting the rock to smithereens again, but instead they found copper – enormous quantities thereof. In 1896 the first foundry was opened, and soon the deposits were considered the 'biggest in the world'; so much so that the nearest town – Queenstown – was nicknamed Copperopolis in the press. At the peak of the 'copper rush' (didn't know there ever was one? You're not alone!) the town's population reached 5000. And in over 100 years of the mining activity here a cool four BILLION dollars werer made for the region. In a word: woah.
Much later – in 2010 – yet another of the too-frequent accidents occurred, with folks getting killed. Also the place was a heavy polluter. Also – there was much less money. So eventually they closed it, and turned it into this tourist site. Nice! Btw: a bit more history about the mining here – here).
Btw: all these rock formations here – they're all of volcanic origin. Note: all the different shades of orange in the upcoming pics are due to this fact.
Briefly, what we missed here: Horsetail Falls and the marvelous path that leads up to them. Alas – we had no time for a stroll here. At least, we thought we had no time: we actually thought we'd be flying on to Brazil from Tasmania with our flight already book for in a few days. Little did we know you-know-what (I'm so tired of hearing its utterance; I'm not repeating it here) was about to kick in big time all over the planet (thankfully we did make it home; imagine being on lockdown here in Tasmania away from our families for weeks months?!).
We missed Horsetail because we set off after lunch – not breakfast. Mistake. Late afternoon it started to get dark, then there was rain, so we just passed on Horsetail. Don't make the same mistake folks!
We did take in Queenstown – Copperopolis – though. Its population is now a mere 2000, down from the once 5000.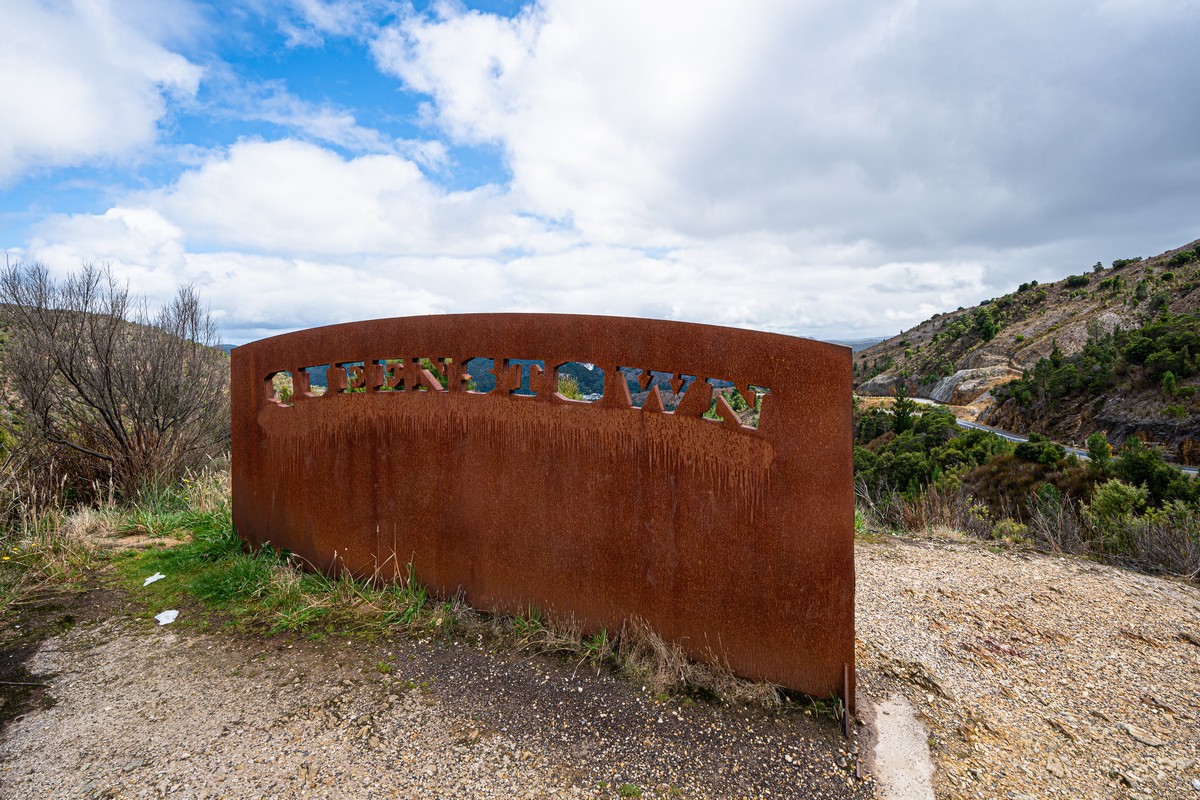 Interesting views around and about here: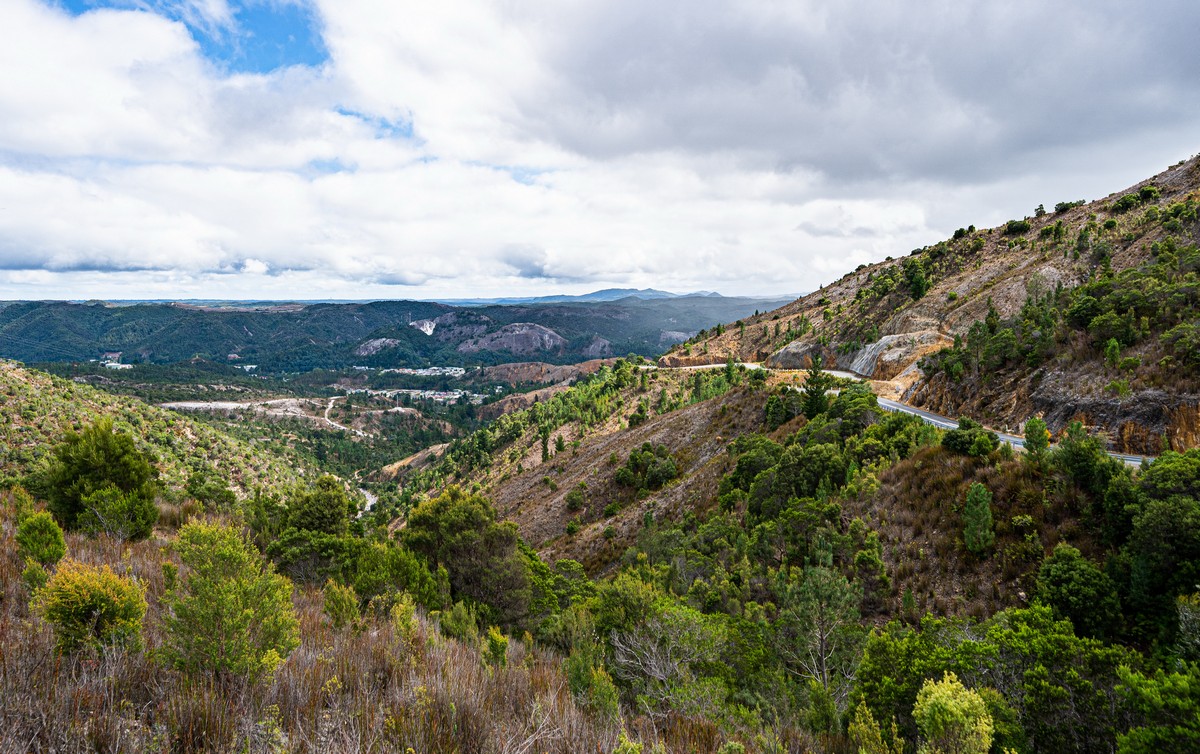 Next, the road turns into a non-stop zigzagger as it winds up a mountainside. So impressive was the road itself plus the views of all the orange rocks from it that I reckon it's one of my favorite roads in the whole world! Alas, the OMG stretch lasts a mere 3km:
Alas, Queenstown is a shadow of its former grand self: shops were closed, no folks about, not much to do or see. We had to get in some refreshing beverages in the only pub that was open. In short: let-down.
We drove on another 45km to get to Strahan. It was dark, raining, and the road was another zigzagger. Quite hairy! Another reason to leave early in the morning!
That's all for today folks. Good morning/day/evening/night to you – at home, I hope (like I am).
All the pics from Tasmania are here.
To be continued!…