Two days in Berlin, twenty hours in Doha.
Goodness me. The only thing being talked about, written about – worried about – of late is… I don't even have to name it it's so obvious to everyone except cave-dwellers…
Sure, seasonal viruses are commonplace, but this one sure looks anything but commonplace-or-garden. This ain't just a kind of flu. But this also ain't something so pandemically awful as the Spanish flu or the 1968 flu outbreak. I wonder – would today's medicine have been able to nip those two in the bud early? Well here's hoping today's medicine will do so for today's coronavirus. Btw, curiously, outbreaks like these occur almost exactly every 50 years. Spanish flu – 1918; then there was the 1968 outbreak; now – just over 100 and 50 years later, respectively – corona. Spooky coincidences.
As the world enters panic mode, with quarantines, economic downturns disasters, cruise ship passengers locked-down, frenzied bulk-buying, face-masks, gloves and hazmats… what's to be done? Get to work, I say. But extremely responsibly: social distancing, working remotely if possible, checking your health regularly, and reporting to the doctors if you suspect anything wrong. Exactly what I'm doing at the moment. But before things got really bad I had a very long business trip. Thus, as per, it was: suitcase > airport > takeoff > …Berlin!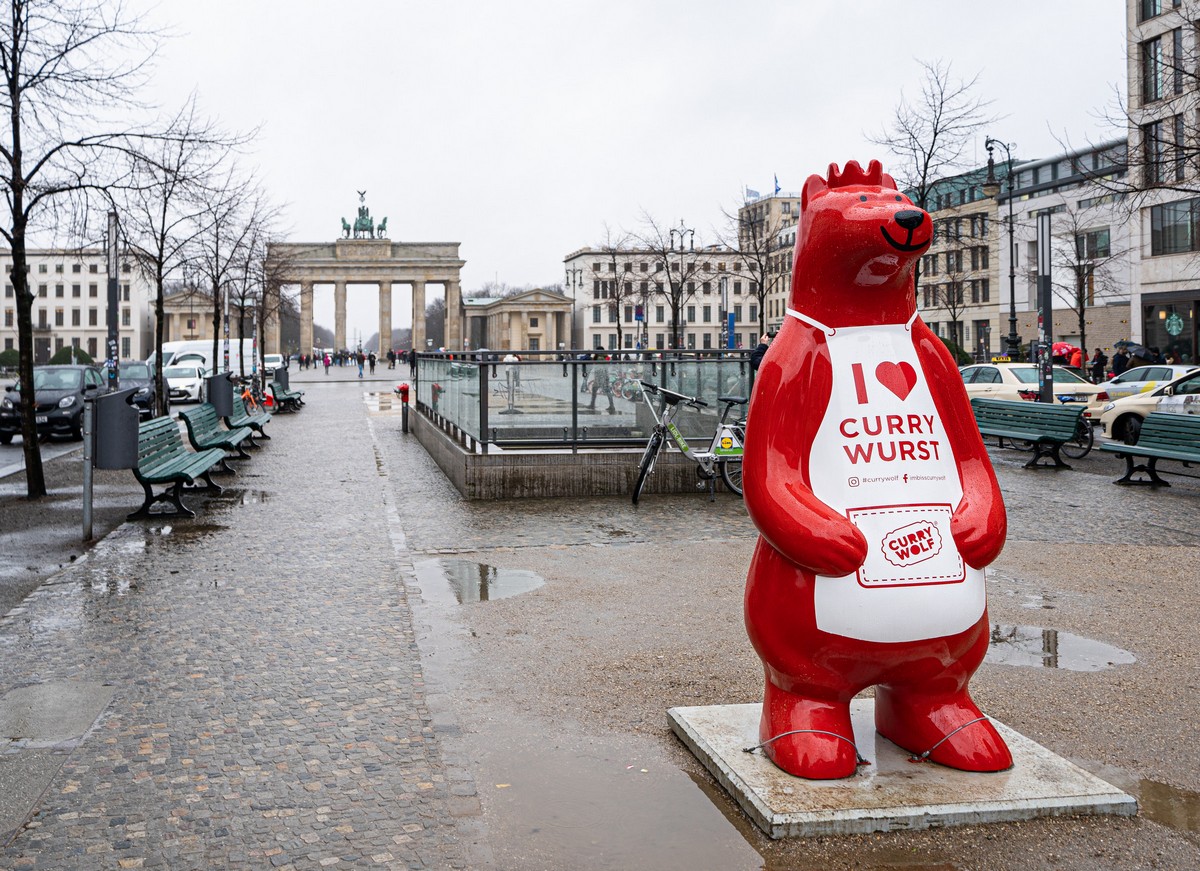 Of course, international air travel given the current situation is a little unnerving. This virus seems to be everywhere, and it's invisible – like radiation. I remember a similar unsure and perturbed feeling back in April 2011 when I flew to Tokyo, which had half as many folks as usual in it since the Fukushima incident. Curiously, our plane performed a large circle around… Fukushima just before landing!
Today though, if I had some business in Tokyo – or Seoul or Milan, say – I think I'd have second thoughts about going. Thankfully, so far, Berlin seems not to have been too badly affected, so my spot of business there – I reckoned I could get away with it (however, the situation is changing rapidly). Accordingly, off I flew, from an empty airport…
Over two days in the German capital I had some very important meetings and I spoke at a 5G conference – and in those two days I shook hands a full zero times. Indeed, here in Germany it's simply not done, and that's that. Quite right too. Good German common sense!
I was expecting the usual tourist magnets of Berlin to be only half as busy as usual. Well, there were notably less folks milling about – for example around Pariser Platz – but not half as many, even given the cold rain:
Alas, as my business itinerary in the capital was fairly chokka, I had left for tourism a mere… three minutes! Suitcase in hand, between hotel front door and taxi – a few snaps, and that was it. I didn't see a single Midori Kuma, either; but I did see a few other 'kumas'…
And anyway… hardly the best time to even contemplate tourism, surely. But it is a good time for traveling – airports, railroad stations, roads – practically empty what with folks staying home. So it was back to the airport – very quickly (zero traffic) – and on to my next destination…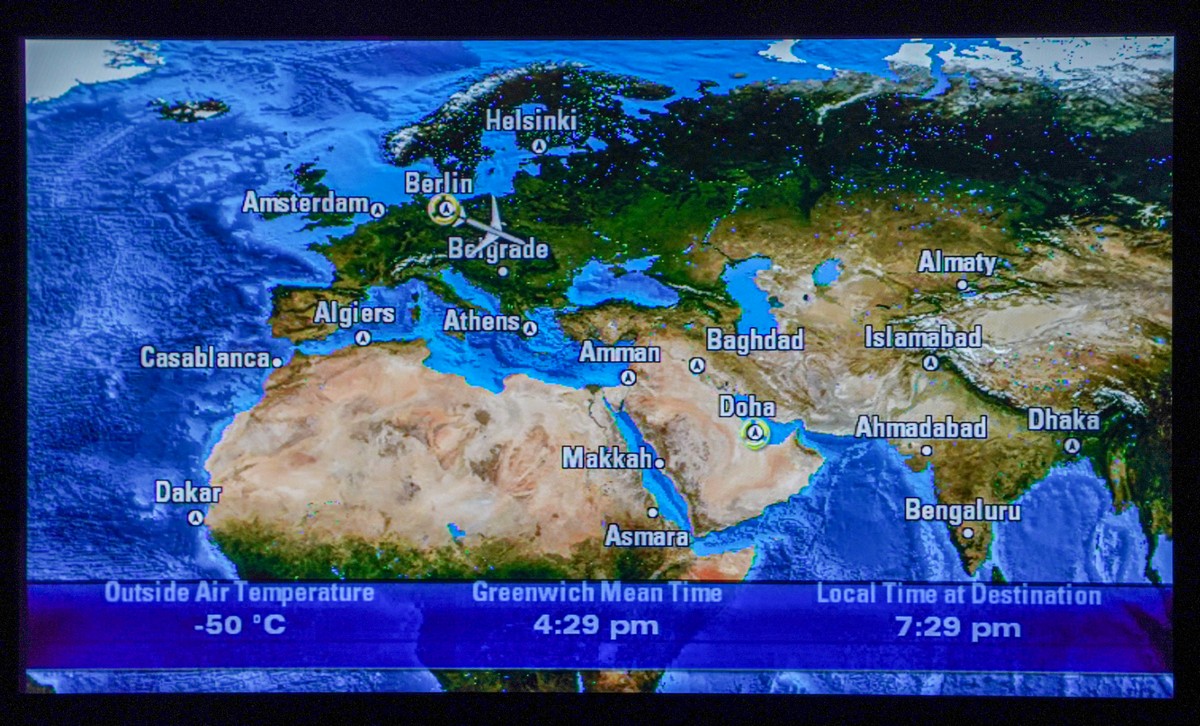 Not long after we'd taken off we suffered some really quite bad turbulence, which lasted quite a while. Rather symbolic, I thought: Europe is being badly shaken. But its not just Europe – it's the whole world, I continued to muse… 'like never before' came the autocue in another spooky coincidence:
Indeed this 'experience like never before'… it really is rather disconcerting. It's tough working out just how much we should worry at present. For me personally (and I'm not endorsing this to anyone), I've opted for: a decent measure of 30-year single-malt positivity, three cubes of cynicism-ice, topped off with a single meh-cherry. Oh, and the Sudoku on the plane helped with simply taking my mind off it all.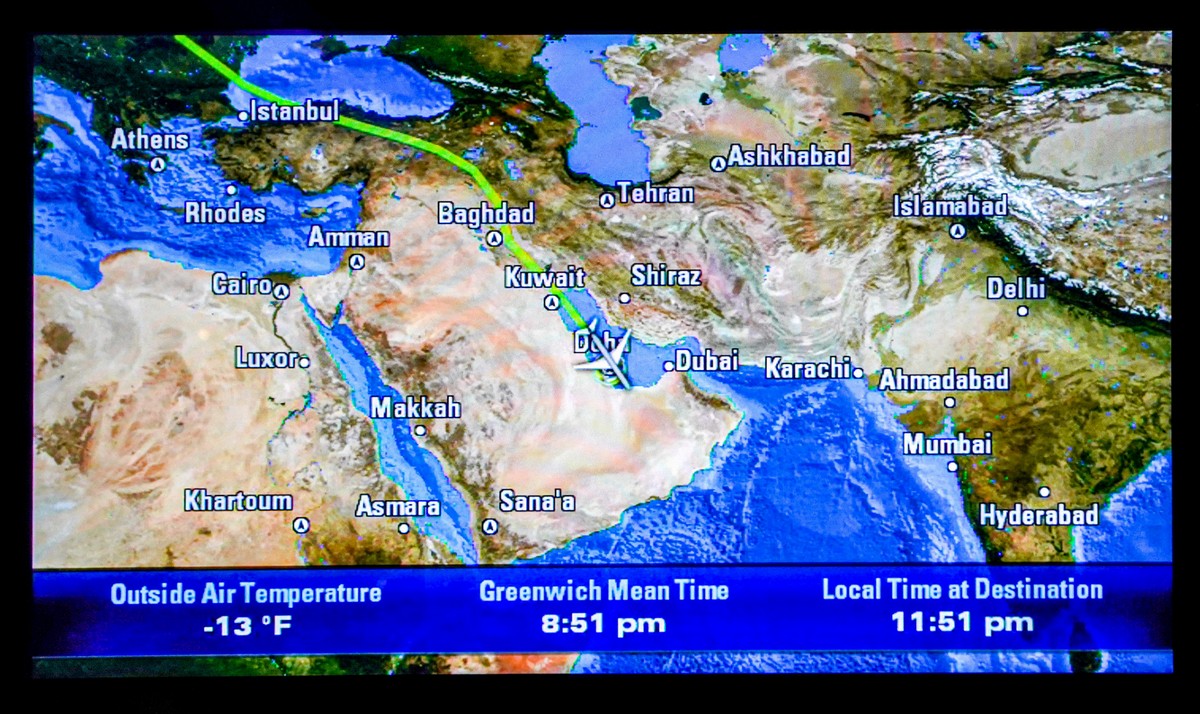 A few hours later and we were in Doha, Qatar. Nice new, big, fresh, posh airport: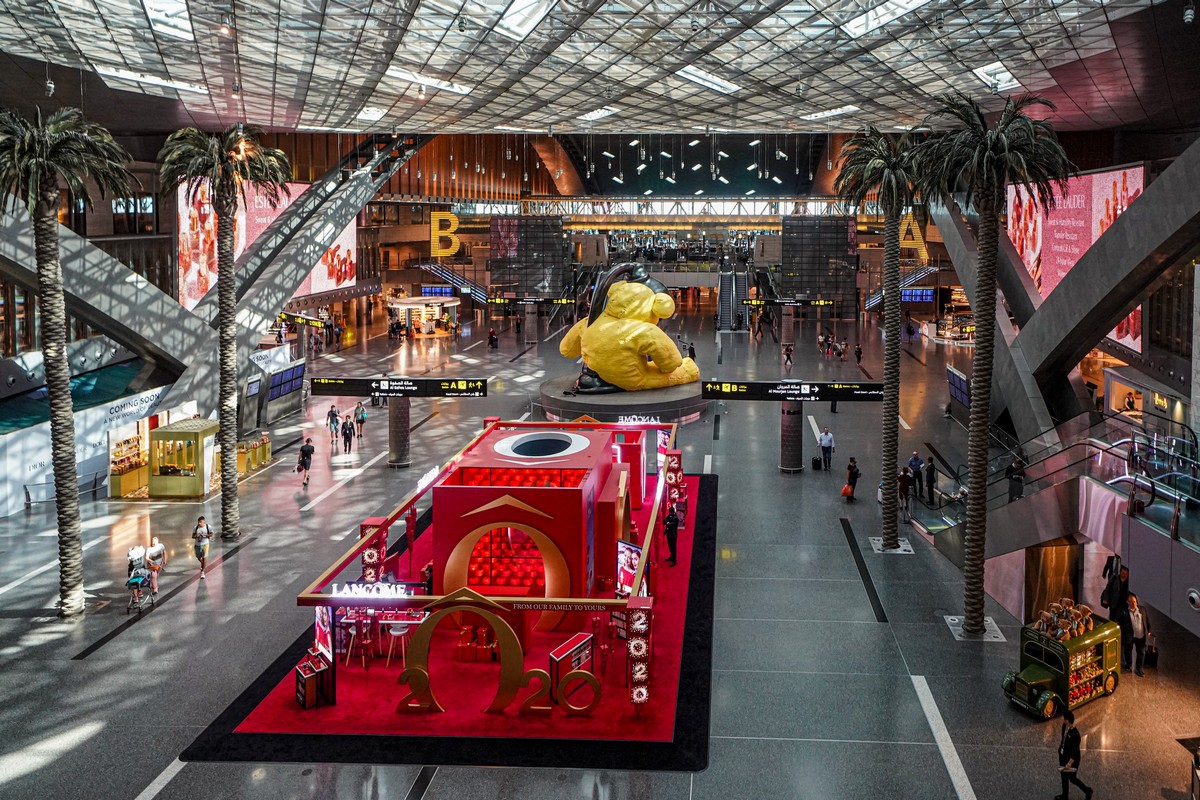 But no matter how fancy an airport is, it can never make up for… a 20-hour connection wait! The airline I was initially booked with had cancelled my flight, and the best option left featured this 20-hour stopover. Mercifully, the airport has hotels literally inside the terminal. Phew. Time for some shut-eye and catching up on emails and things.
And I mean a proper hotel with proper rooms; not those tiny pod thingies…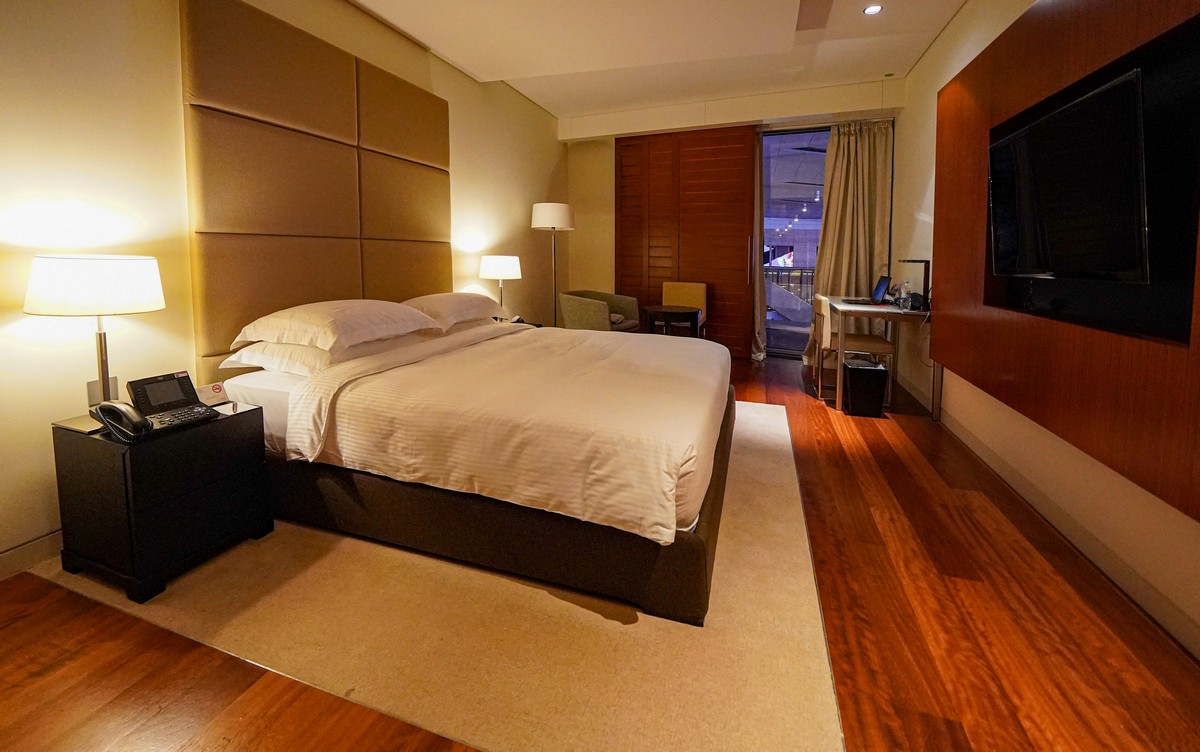 The view from my 'balcony' ->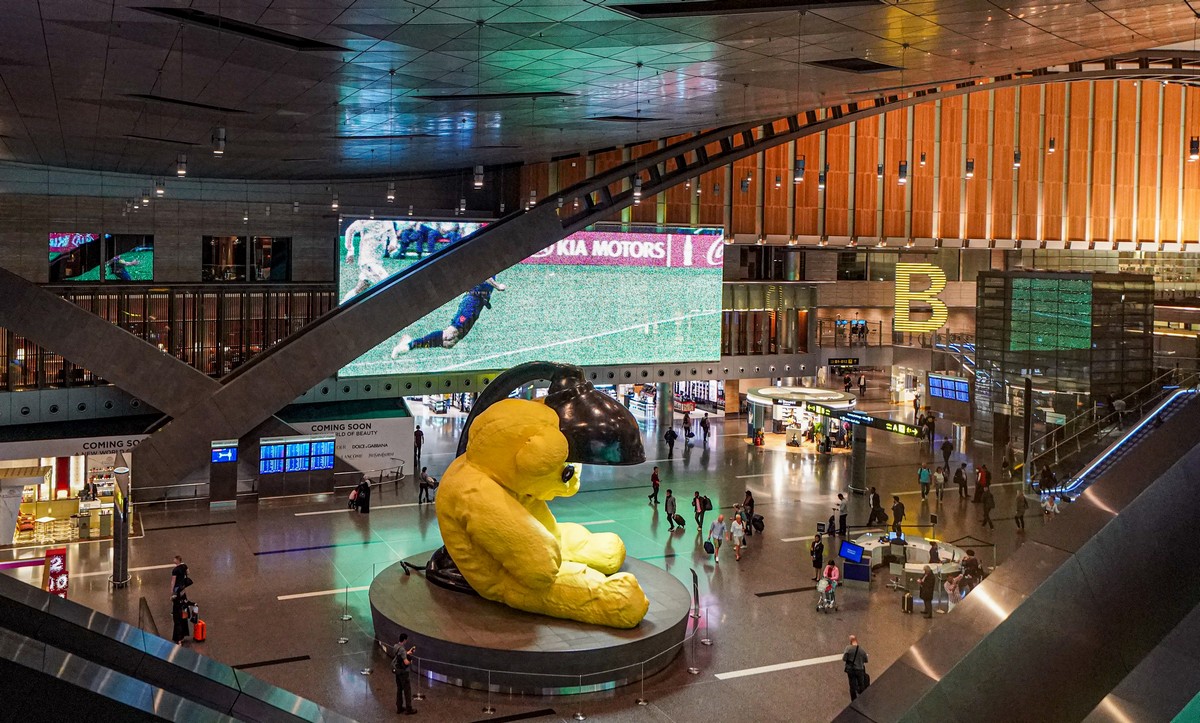 Alas, the minibar was empty, except for a few bottles of water. Still, I didn't fancy venturing out in search for something stronger (that might have been tricky anyway, considering we were in Qatar). At least there were slippers… However, not your usual pair of disposables. No. Here in Doha Airport they give you two slippers that differ in both size and color. Oh well, at least they were the same in one way – they were both for the right foot! Now that was a first!…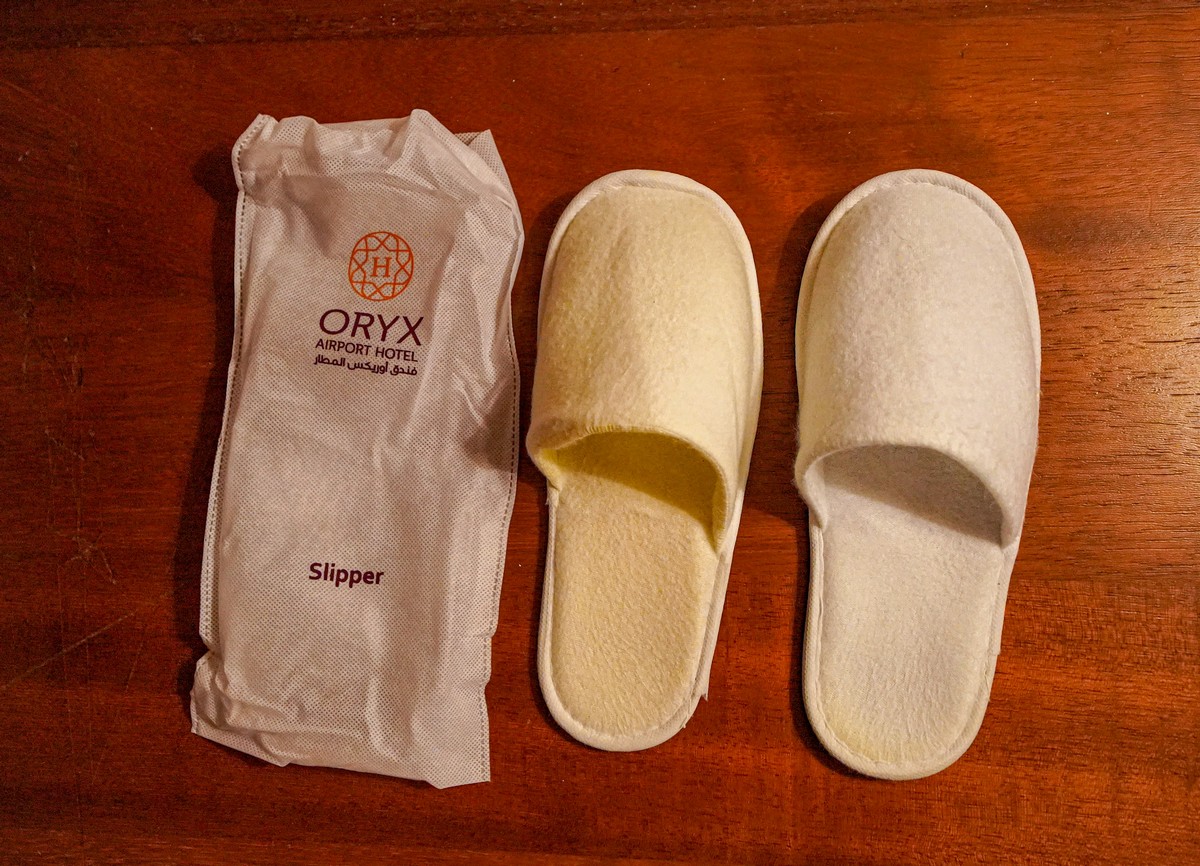 And there I sat, in two right-foot slippers, sipping on… green tea, tapping these here words. After a snooze my flight was coming up. Goodbye Doha; hello… – find out next time…