If I had a dollar for every time I've been asked this question in 30 years…
Hi folks!
Can you guess what question I'm asked most of all during interviews and press conferences?
It started being asked back in the 1990s, quickly becoming the feared question that used to make me want to roll my eyes (I resisted the temptation:). Then after a few years I decided to simply embrace its inevitability and unavoidability, and started to improvise a bit and add extra detail to my answers. And still today, though my answers have been published and broadcast in probably all the mass media in the whole world – often more than once – I am asked it over and over, again and again. Of late though, it's like I've come full circle: when I'm asked it I actually like to remember those days of long ago!
So, worked it out yet?
The question is: 'What was the first virus you found?' (plus questions relating to it, like when did I find it, how did I cure the computer it had infected, etc.).
Clearly, an important question, since, if it weren't for it infecting my computer all those years ago: I may not have made a rather drastic career change; I may not have created the best antivirus in the world; I may not have raised one of the largest private companies in cybersecurity, and a lot more besides. So yes, a fateful role did that virus play – that virus that was among the early harbingers of what was to follow: billions of its 'descendants', then, later, cybercrime, cyberwarfare, cyber-espionage, and all the cyber-bad-guys behind it all – in every corner of the globe.
Anyway – the answer finally, perhaps?…
The virus's name was Cascade.
But, why, suddenly, all the nostalgia about this virus?
Quite simple really: because this year – 2019 – happens to be a full 30 YEARS since that momentous capture of Cascade! And that means it's also 30 YEARS since I started working directly in the line of work I still find myself in today!
Good lord. 30 years?! Well, it's a nice anniversary to be able to have (I wonder how many other cybersecurity experts from back in the day are still on the frontline?!), and it's also a nice round figure – a jubilee, even. And the occasion made me think about some nostalgic statistical analysis (as it would any mathematician-turned-cybersecurity expert, naturally:). After all, those 30 years practically represent the full time-line of the evolution of cyber-nastiness: that's worth a look for sure…
Right, so where do we start? Ah yes – 30 years ago. And what shall we start with? Ah yes… OH NO! That question! Ok, one more time won't hurt: 'How did you net Cascade?' :-)
Rewind first – to not long before my computer was infected with Cascade…
I first found out about computer viruses in a Soviet computer magazine. That was at the end of the 1980s. The USSR was entering its final days and there was glasnost, perestroika and cooperatives. There also appeared for the first time journals all about computers.
For some reason I was really curious about viruses. I made a note for myself – and also told the management where I worked (nothing to do with viruses) – that there is such a thing, and that the computer inventory at work needed checking from time to time to see it had been infected.
For this, I got hold of a floppy disk with some 'antivirus' programs on it. Back then they were distributed as shareware; you could use them for free, and if you liked them a small amount paid to the developers would be appreciated (back then I had hardly two rubles to rub together, so essentially they were freeware to me; not that I was using them for any commercial purposes). If my memory serves me well, on that diskette there were two antiviruses: VIRUSCAN, by John McAfee himself, and ANTI-KOT, a Soviet development by the Moscow-based programmer Oleg Kotik.
So, every week or so, I started checking my work desktop computer for viruses. Then, one day – in the fall of 1989 – precisely 30 years ago to the season – my ANTI-KOT detected Cascade. I then removed the infection to cure the computer. I also made a copy of one of the infected files. Later, when I found the time, I disassembled the machine code of the virus, wrote a disinfection program for it, and shared it with colleagues and pals; and that, as they say, was that – the ball had started rolling…
A few months later I had a constant stream of folks knocking on my door in search of healing for their poorly computers. Woah. Suddenly, this wasn't all just curious, it was exciting too, and since I'm very curious and like excitement, I was 'in the chocolate', as they say in Russia. It was then that I felt like I wasn't in the right business; surely curing computers was the thing for me? And so I left my job to join a computer cooperative to start professionally developing antivirus – ones like these:
Oh my goodness. 30 years since those first steps?! Difficult to remember it all. Accordingly, we've put together this here retro pixel-art infographic chronicling all the main events over the last near-third-of-a-century in the world of computer virology and antivirology. Click for the full version of the pic: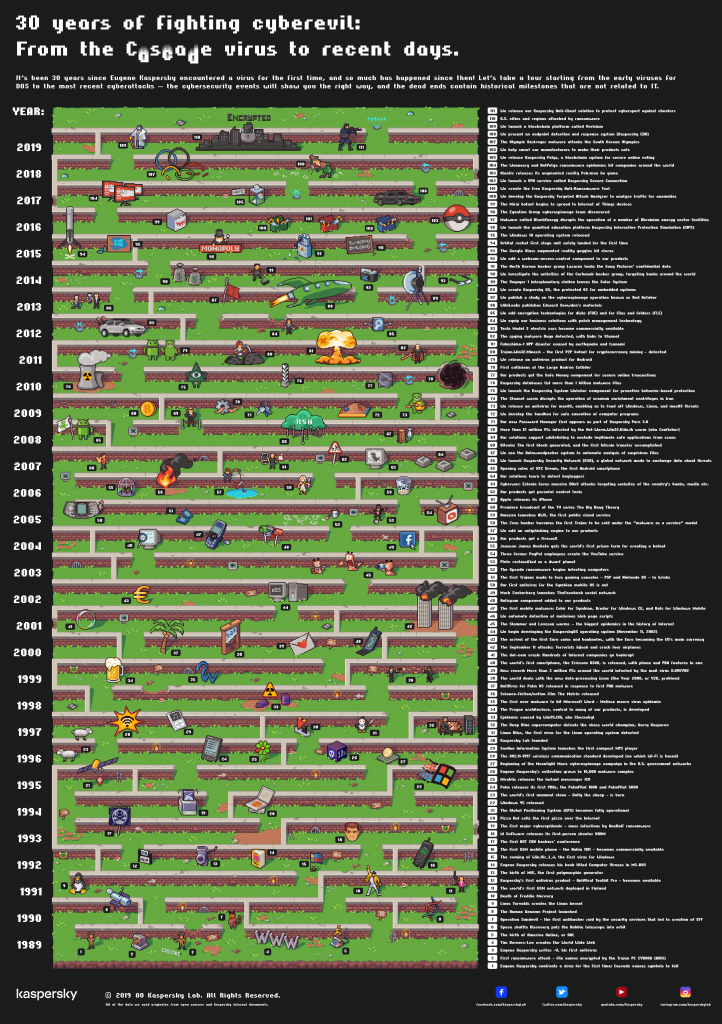 Some of the data we used for the infographic is interestingly curious in its own right. For example, this graph showing the exponential rise in the present decade of malware we've detected (2019 data covers the first six months of the year):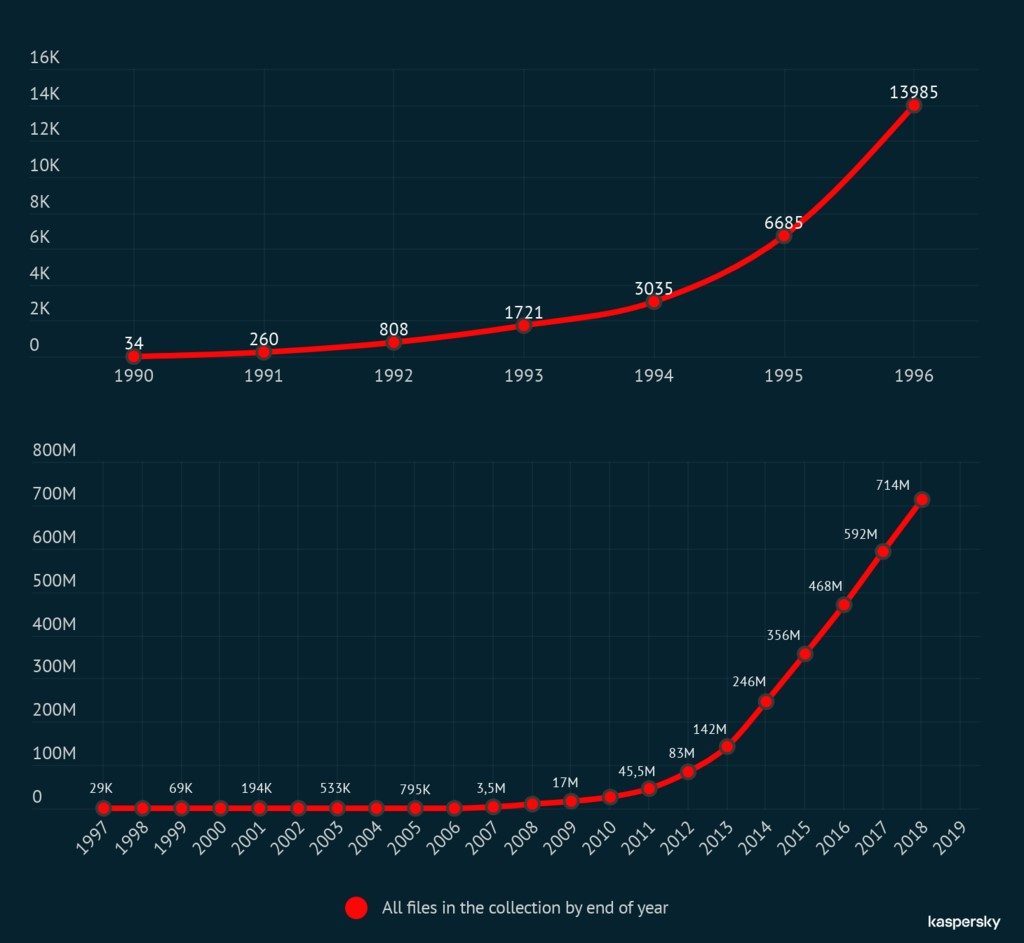 Here's the growth chart of threats for mobile devices:
And here – malware for Linux:
And for MacOS:
Looking at the infographic, you're reminded of just how much the world has changed over the last 30 years. There have been some genuinely historical events – from the collapse of the Soviet Union and the creation of the European Union, to the cloning of living organisms and the emergence of the internet as we know it today. Which makes it all the more satisfying to remember that we at K haven't really changed at all in terms of what we ultimately do – protecting the world from cyber-evil no matter what. Our methods have changed, for sure – plenty – but the mission hasn't. And as we move deeper into our third decade as a company, it's yet still more satisfying knowing that we know exactly which direction we're heading in in this incessantly changing world – and how to make it even better.
.@e_kaspersky shares his story how he got into the cybersecurity business 30 years ago, and some interesting statistics that represent nearly the full time-line of the evolution of malwareTweet