Istanbul's new airport: humungous, ambitious – and delicious!
A new airport has opened in Istanbul! And about time too, for the former main airport had long since been overstretched but couldn't be expanded because it's in the city itself (it's now used just for cargo, business and other unscheduled flights), while the national carrier has been impressively expanding its geographical spread of destinations around the globe. Woah: a quick glance at Wikipedia tells me that that geographical expansion is so impressive that it's given Turkish Airlines the highest number of countries served by an airline – a whopping 121! The second highest is Air France, but way behind TK  with just 91. Turkish is also sixth in the rankings of most destinations (304 cities) served, with only international cargo and US airlines ahead of it (i.e., hardly the fairest of comparisons). It's also tenth in the world on fleet size – again behind US/Chinese/postal behemoths (and Ryanair:). But I digress…
So it was logically decided some years ago that Istanbul needed a new, bigger airport hub – a grandiose one; therefore one was built on a greenfield site outside the city. It's size is 6 x 4.5km; it has four (!) runways each four kilometers long; and a gigantic terminal some 800×400 meters (that's the main building, not including all walkways to the gates). In a word three words: oh my ginormous!
Here's the view from up top: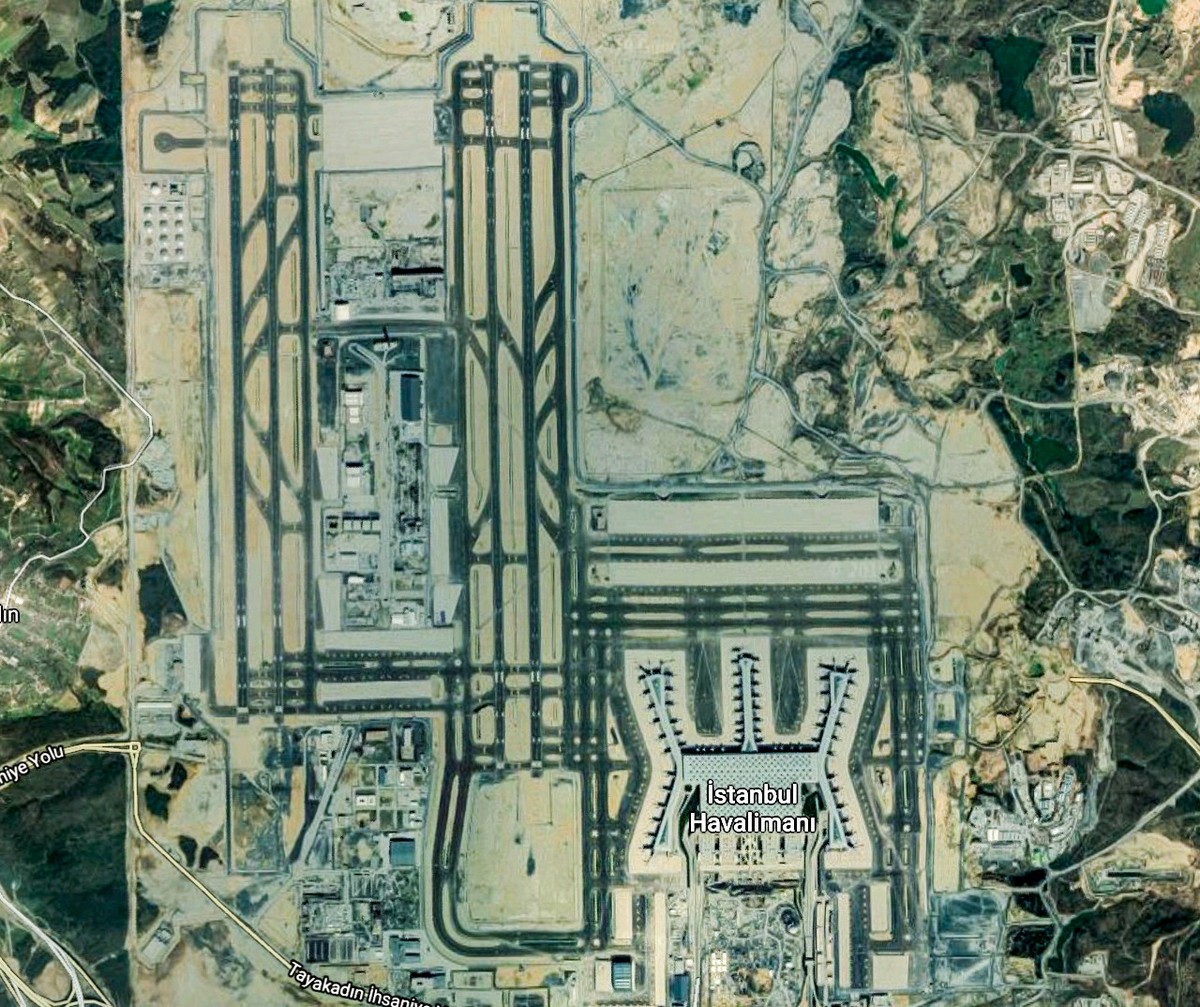 …And inside – a Cyclopean construction. Ultra-modern, ultra-rather-nice actually…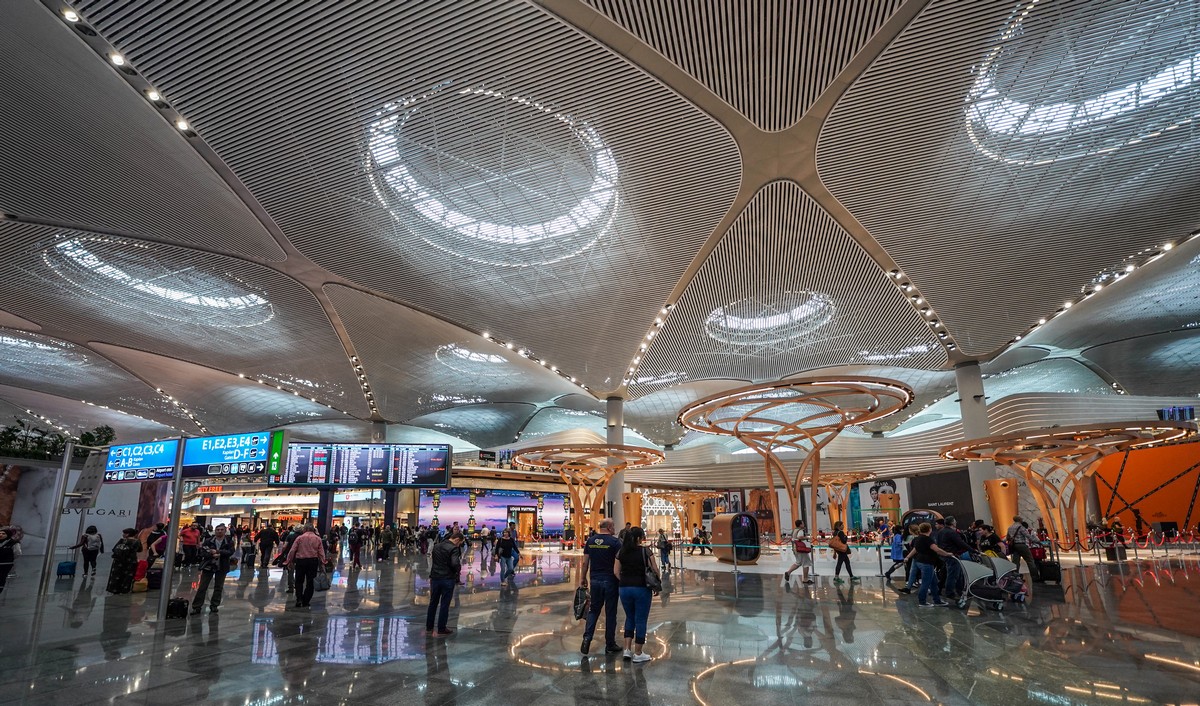 View from the second floor: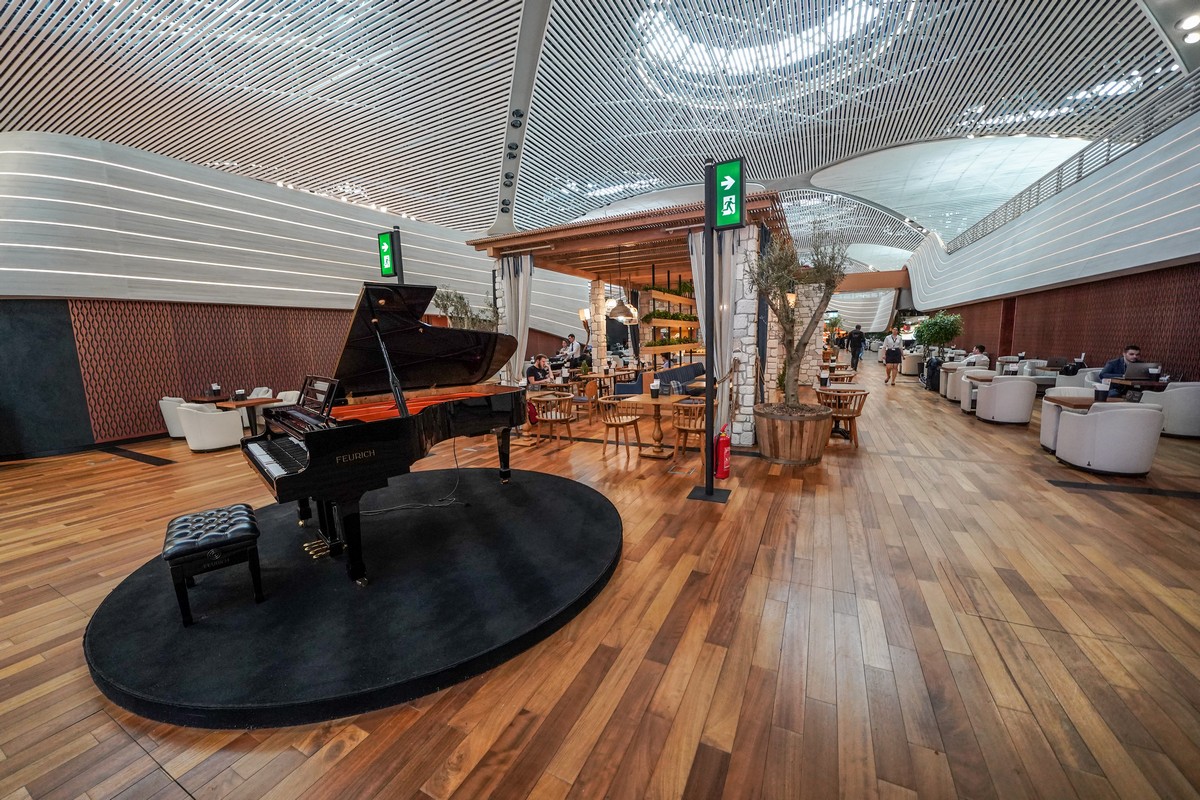 Departure lounge: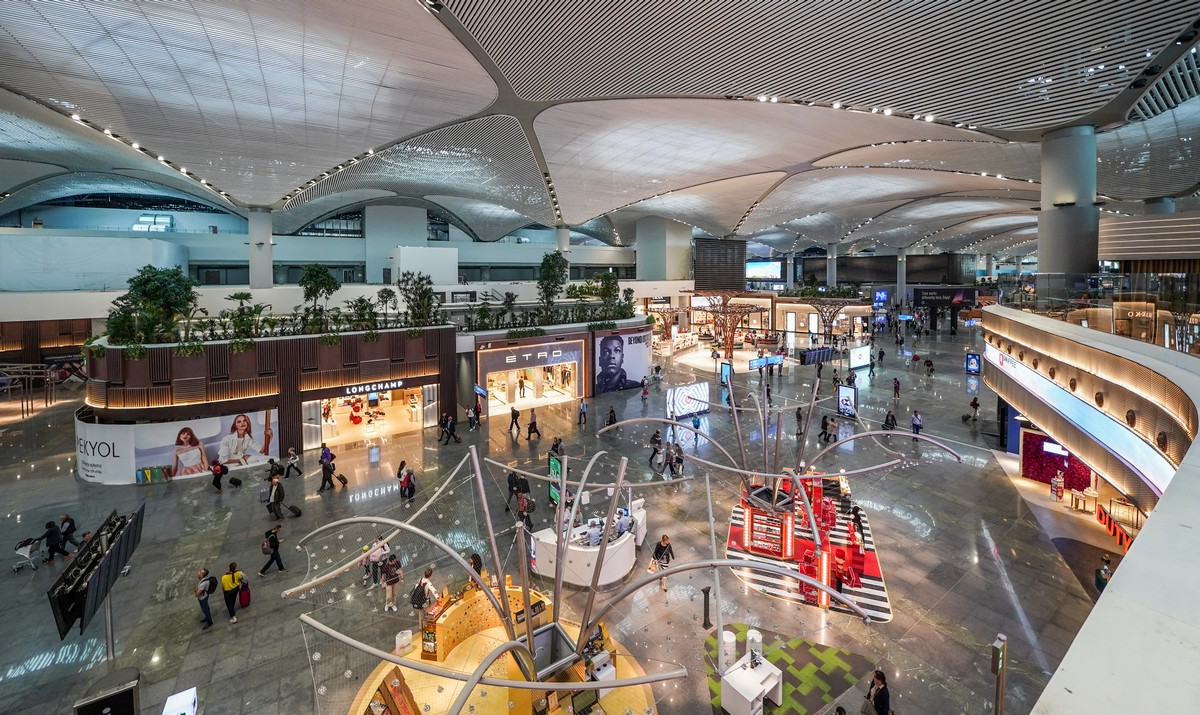 The IATA code for the new airport is IST, which Atatürk used to have (which now has ISL). And now, IST, according to its management, is the largest passenger terminal in the world, covering 1.4 million square meters.
Other sources on the net beg to differ, stating that Dubai's airport is bigger. But it doesn't matter – they've still done a great job! And their plans are just as ambitious: they're aiming for 200 million passengers served per year! Wow – now that is ambitious: the busiest airport in the world in 2018 served ~107 million (Atlanta Airport). To compare: Dubai: ~90 million; Paris Charles de Gaulle Airport – 72 million; JFK – 62 million.
The thing is – there are a few downsides to massive airports. For example, you can be ages taxiing after landing – we were a good half an hour (!) on the ground before we came to a stop! We appeared to encircle the whole terminal, then we were put onto a bus (when a boarding bridge was nearby), which also seemed to take us around the whole terminal. In all it took more than an hour from touchdown to being sat down waiting for our onward connecting flight. Boo!
Still, as my travel companion, A.S., eagerly pointed out, the food in the place was oh-my-gourmet! He even took a large helping of delicacies from the sweet tray too ("this sweet stuff is just soooo delicious!"), which I've never seen him do ever! I quote him, in the business lounge:
"It's like a really good restaurant in here. National dishes done with pride, clearly. And they cook everything in front of you, and all the ingredients are fresh and totally tasty. 20 types of appetizers; 10 types of olive; a huge barrel of aiyran; and the deserts – [see above]. I didn't try any booze, but by the looks of it, it would be hard to resist the temptation. Besides, there's a golf simulator here, and capsules for taking a lie down in. In short – you could spend several hours here easily and it would never feel like waiting for a plane, which is always a bit of a pain."

I quote A.S., btw, as I didn't partake in any of the feasting there. They fed us ok on the plane, and I wasn't going to have two lunches – I need to think of my weight ahead of the summer expedition that's coming up…
PS: a traditional brainteaser – can you guess where we were flying on to? Here's our smallish plane waiting for us…