Football evil-eye: banished!
Guten tag, boys and girls!
Something very serious has happened in my life…
For most of it – my life, that is – whenever I'd watch a football (soccer) match in a stadium, the home team I'd (nominally) be supporting (I've never really chosen any particular team to support more than any other)… would always lose! Even when I'd watch a match on the box – 'our' team would lose! It's a bit like how I'd turn up to a Grand Prix – and Ferrari would lose.
Anyway, it looks like, finally, the spell has been broken. For the other day I was in the stands watching a home match of Eintracht Frankfurt – and they won! Hurray – for Eintracht, and for me: now I can watch some footy and enjoy it like everyone else with no fear of jinxing the result!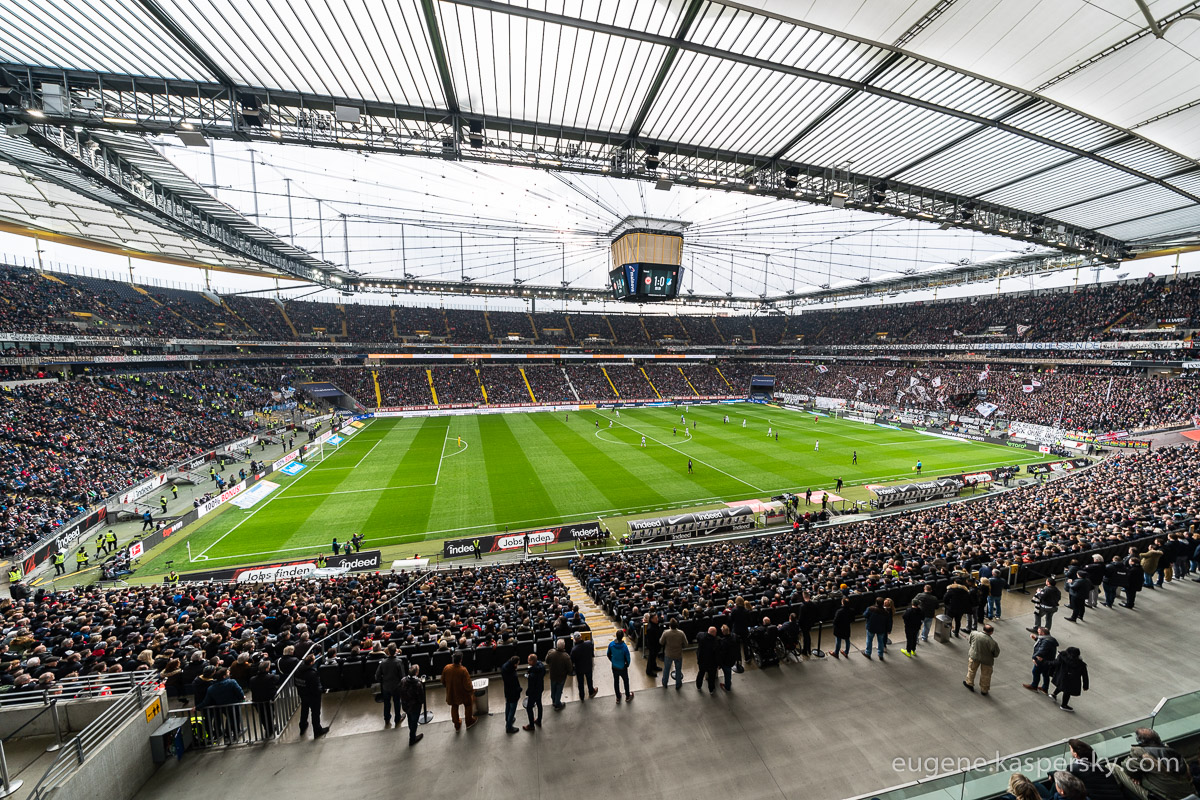 My jinxing matches – I first noticed it in the late nineties. Back then I was working 12 or 14-hour days, weekends too often, and no traveling like I do today. So I certainly didn't have time for watching a football match. However, once, in Cambridge in the UK (where we had an office), we were in the pub (of course), and there happened to be a match being shown on the TVs in there. The place was fairly rammed: the match was England v. Romania in some international qualifier. And England lost. I'm just glad those astonished – and a bit angry – England fans didn't realize my watching the game out of the corner of my eye might have affected the result.
Then, a few years later, I was watching a match again on the telly – the final of the 2002 World Cup, in Germany, between the hosts and Brazil. Guess who lost? Yep – the home team where I was watching. The German fans were livid. A zillion pint glasses seemed to have been smashed across the city – as were a few windows of restaurants, we saw. Police were everywhere.
Btw, the Germans got even with Brazil 12 years later in the semi-final of the same tournament – remember the score? 1:7! I remember a joke from back then: 'Supporters – silent; children – quieter than mice; even dogs stopped barking… Never before had Brazil gone to bed amid such a deathly silence!'
Aaaanyway. I'm not big into footy. However, our German colleagues – are: big time. So when they came up with the idea of sponsoring the Frankfurt club, you can imagine how keen and persistent they were in trying to convince the management board it's the right thing to do for further business victories in the region. Well, we trust our regional offices know best what to do on their home turf, so we agreed! Last year we signed a sponsorship agreement. Alas (or, actually, for the team, probably it was for the better:), I wasn't able to fit in some matches earlier, but the other day – there we were in the stands of Waldstadion! I'd finally made it!
A few hours before the match:
I was asked to get onto the pitch to say a few words to the club's fans – but only after a video broadcast up on the huge screens from a fan who goes by the name of… Sebastian Vettel! Small world ).
Fans, players warming up, full stadium!
Black-and-white striped scarfs all around ).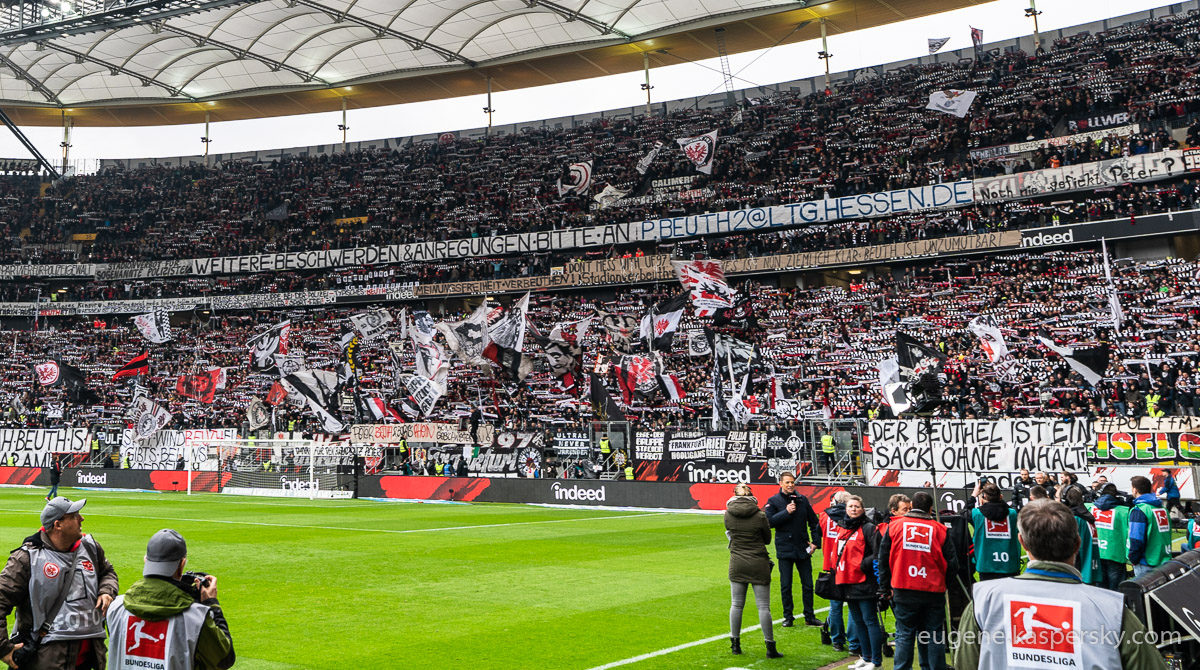 The team's talisman – the club's eagle!
With just a few minutes of the match to go, Eintracht were losing 1:2 (to Hoffenheim, btw), which I was secretly afraid of, of course. I was just getting ready to leave and tell myself to never – ever! – come back to watch a game when – in the 89th minute… you guessed it – goaaaaaaaaal! Cue extra-time – and Eintracht score another to win. Hurraaaaaaay! 3:2! And my 'if you watch – your team loses' spell – clearly vanished, I hope – forever!!
Btw – check out our special boxes:
That's all for today folks. All the pics from Frankfurt are here. Auf wideresehen!