A familiar Kamchatkan grizzly face – in a town in Switzerland.
Hi folks!
The other day I was strolling about the photogenic small city of Fribourg in Switzerland. It was so photogenic my camera seemed to take pics of its own accord! Anyway, you'll see pics my Sony auto-took a bit later in this post; but for now – a lengthy digression!…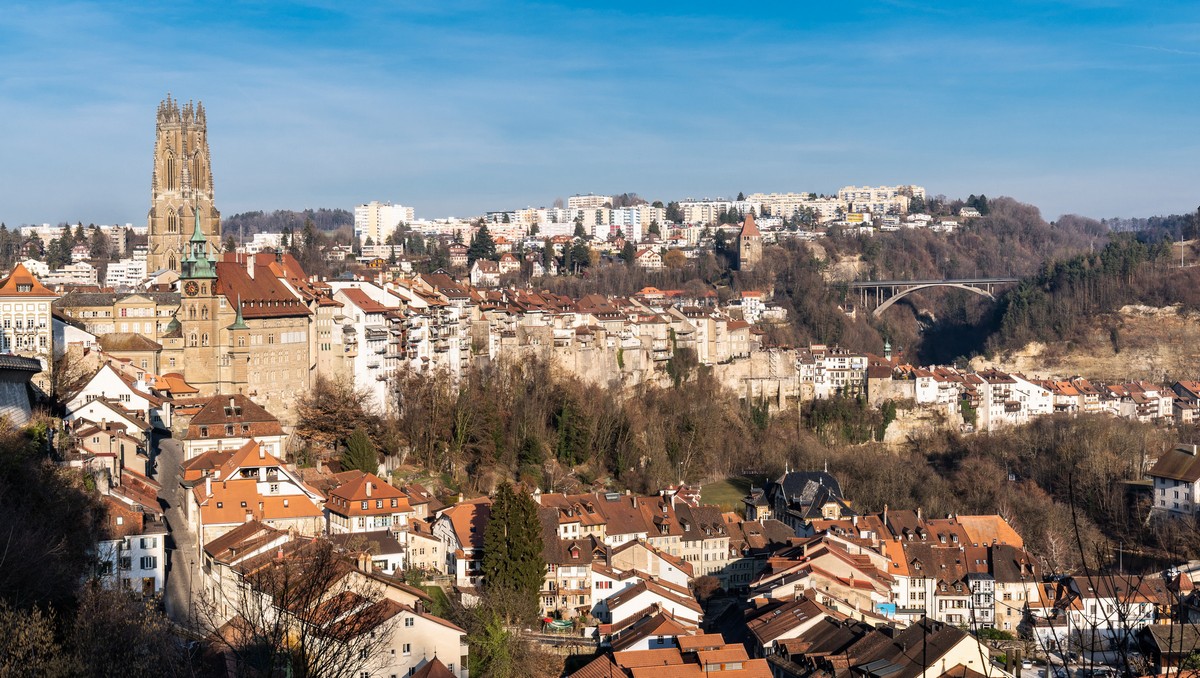 I hadn't been to Fribourg before, so this was a +1 to the number of towns and cities I've visited. And this +1 closely coincided with a question I was asked just recently on the KL Fan Club: 'How many towns/cities have you visited?' Well, having visited a full 91 countries, it was clear that totting up the number of towns and cities wouldn't be all that easy: first, I'd need to recall each one; second – er, but what exactly is a 'town', and what exactly is a 'city'?
What is a town/city? First of all, I guess this depends on which country a town or city is located in. But after a bit of research on trusty old Wikipedia, I've come up with what I'll determine to be bigger than a village – i.e., a town or city: a dense population center of 10,000 or more, which isn't centered primarily around agriculture or fishing. And if there are some towns in the below list whose population is around 10,000 and I'm not certain they should be included or not – I place those in brackets.
I've added one other definition of 'town' outside the above definition, which also counts as a +1 if I've been there: any settlement, no matter its population, that's hundreds of kilometers from any other settlement (for example, Yulara, near Ayers Rock in Australia).
Then comes another question: How do we define 'been to'? Well, a stroll, plenty of photography, and maybe some business: that for sure equals 'been'. Just a connection at an airport – maybe staying just the night with an early onward journey and only seeing the hotel (like I did in Wellington, New Zealand), or just a taxi ride through a town/city with maybe a stop for a bite to eat tops – that sure equals 'not been'.
Ok, so – my list. I've divided it up into regions and countries going round a world atlas from top-left to bottom-right, with the occasional zigzag.
North America
Canada = 3. Vancouver, Ottawa, Toronto.
Greenland = 1, [2]. Nuuk [Ilulissat] (it's less than 10k).
United States = 21 [23]. Anchorage, Honolulu, Seattle, Minneapolis, Chicago, Louisville, Boston, New York, Washington, San Francisco, San Jose, Los Angeles, Las Vegas, Sedona, Las Cruces, Dallas, Austin, Atlanta, Orlando, Miami, Key West. [+ small, less than 10k: Valdez, Alaska; Page, Arizona].
Mexico = 8. Tijuana, Monterrey, Puerto Vajjarta, Guadalajara, Veracruz, Mexico City, Merida, Cancun.
The Caribbean = 2. Havana, San Juan.
Latin America = 16. Antigua, Panama, Cartagena, Bogotá, Quito, Puerto Ayora, Cusco, Brasilia, Sao Paulo, Rio de Janeiro, Foz de Iguassu, Santiago, Valparaiso, Punta Arenas, Buenos Aires, Ushuaia.
Atlantic = 2. Reykjavik; Torshavn (Faroe Islands).
Europe
UK/Ireland = 9. Belfast, Dublin, St. Andrews, Sheffield, Plymouth, Oxford, Cambridge, London, Brighton.
Nordic countries = 7 [8]. Bergen, Trondheim, Oslo, [Longyearbyen], Stockholm, Helsinki, Espoo, Copenhagen.
Continental Europe
St. Malo, Lille, Paris, Lyon, Strasbourg, Avignon, Marseille, Cannes, Nice, Monaco, Andorra La Vella, Bilbao, San Sebastian, Madrid, Barcelona, Girona, Figueres, Valencia, Lisbon, Faro, Brussels, Antwerp, Luxembourg, Utrecht, Amsterdam, The Hague, Hamburg, Hannover, Cologne, Bonn, Dusseldorf, Koblenz, Bochum, Frankfurt, Mainz, Magdeburg, Berlin, Dresden, Nuremberg, Ingolstadt, Wolfsburg, Munich, Geneva, Zurich, Davos, Fribourg, Innsbruck, Vienna, Milan, Verona, Venice, Bologna, Florence, Rome, Naples, Palermo, Syracuse, Valletta, Warsaw, Krakow, Częstochowa, Prague, Brno, Bratislava, Budapest, Dubrovnik, Belgrade, Skopje, Tallinn, Riga, Vilnius, Kiev, Dnepropetrovsk, Bucharest, Constanta, Athens [Fira], Heraklion, Chania, Rethymno, Nicosia, Limassol, Paphos.
Russia
Kaliningrad, St. Petersburg, Veliky Novgorod, Pskov, Kaluga, Zelenograd, Moscow, Volgograd, Rostov-on-Don, Novorossiysk, Yalta, Sochi, Vladikavkaz, Yaroslavl, Kazan, Saratov, Ufa, Innopolis, Orenburg, Ekaterinburg, Novosibirsk, Barnaul, Gorno-Altaysk, Yakutsk, Yuzhno-Sakhalinsk, Kholmsk, Petropavlovsk-Kamchatsky, Khabarovsk [Severo-Kurilsk, Kurilsk, Yuzhno-Kurilsk — tiny, but around them there's nothing].
The Caucasus, Middle East and Asia.
Caucasus: = 3. Batumi, Yerevan, Baku.
Turkey: = 2. Istanbul, Ankara.
Israel: = 3. Tel Aviv, Jerusalem, Eilat.
Riyadh, Abu Dhabi, Dubai, Muscat, Tehran, Bukhara, Astana, Baikonur, Kazakhstan, Semipalatinsk, Ust-Kamenogorsk, Almaty, Karakol, Delhi, Mumbai, Colombo, Kathmandu, Tokyo, Kyoto, Osaka, Fukuoka, Nagasaki, Naha, Seoul, Zhangye, Chengdu, Xi'an, Beijing, Tianjin, Wuhan, Hangzhou, Shanghai, Guangzhou, Hong Kong, Lijiang, Taiwan, Hanoi, Danang, Ho Chi Minh City, Bangkok, Pattaya, Kuala-Lumpur, Cyberjaya, Singapore, Jakarta, Yogyakarta.
Africa = 5. Marrakesh, Tunisia, Libreville, Johannesburg, Cape Town.
Australia and New Zealand = 10 [11]. Broome, [Yulara], Brisbane, Surfers Paradise (!), Sydney, Canberra, Melbourne, Auckland, Rotorua, Christchurch, Dunedin.
Phew. That's around 250 cities. I think that's everything, but I'm sure to have missed something.
Anyway, back to Fribourg…
Up from above:
And from down below:
Such a quaint little city – especially in the spring sun. We had the evening free before the following day's conference, so – you guessed it – walkabout! And the best kind too: a round-walk starting and finishing at the hotel: Hotel > stone bridge > cathedral up the hill > down again and across another bridge > hotel.
I wasn't against walking up the steep hill, but there was a funicular that had to be experienced! Built in 1899! 120 years old!
Kerosene lamp still in place!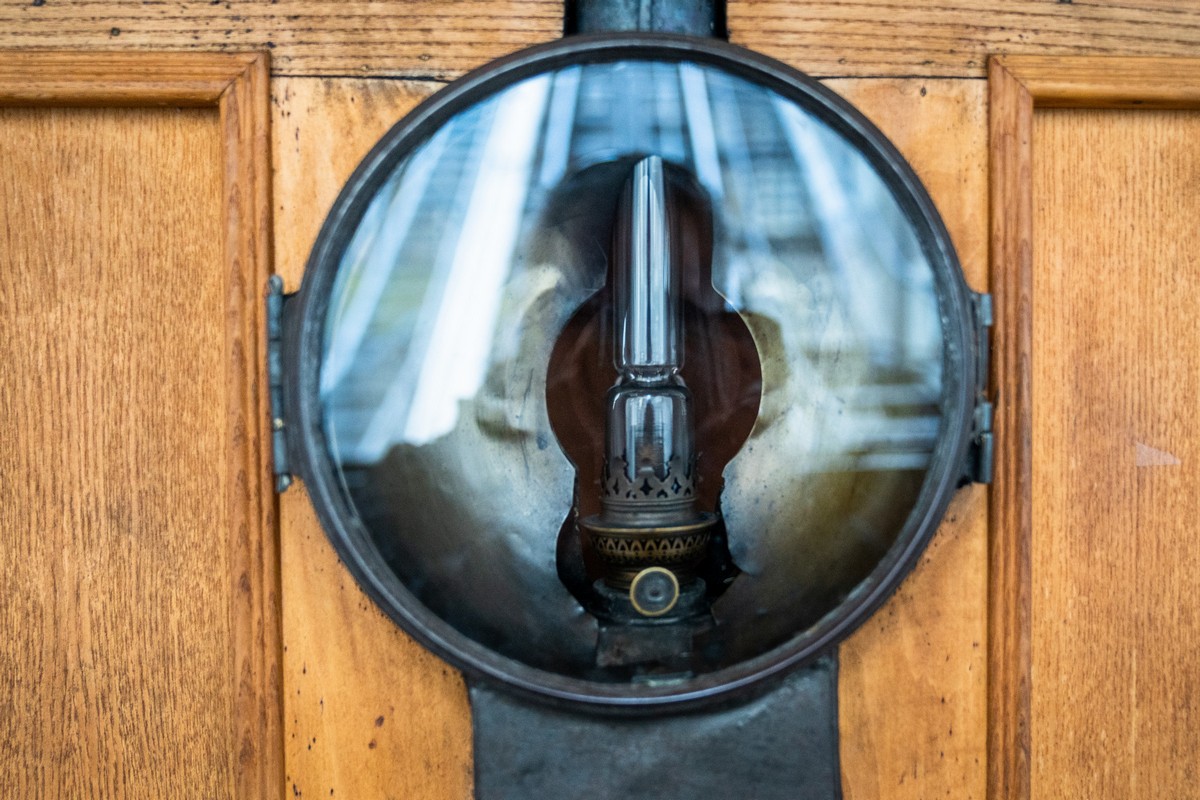 And if adjust the focus…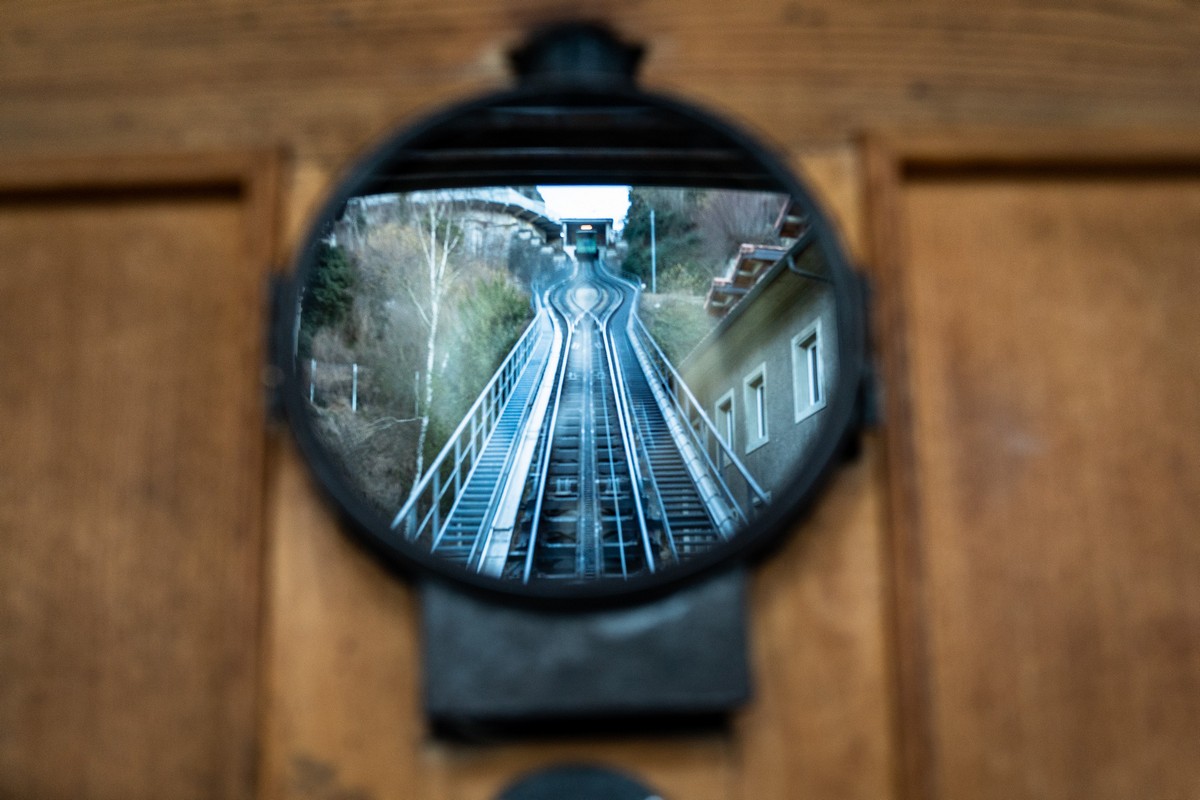 View from up top: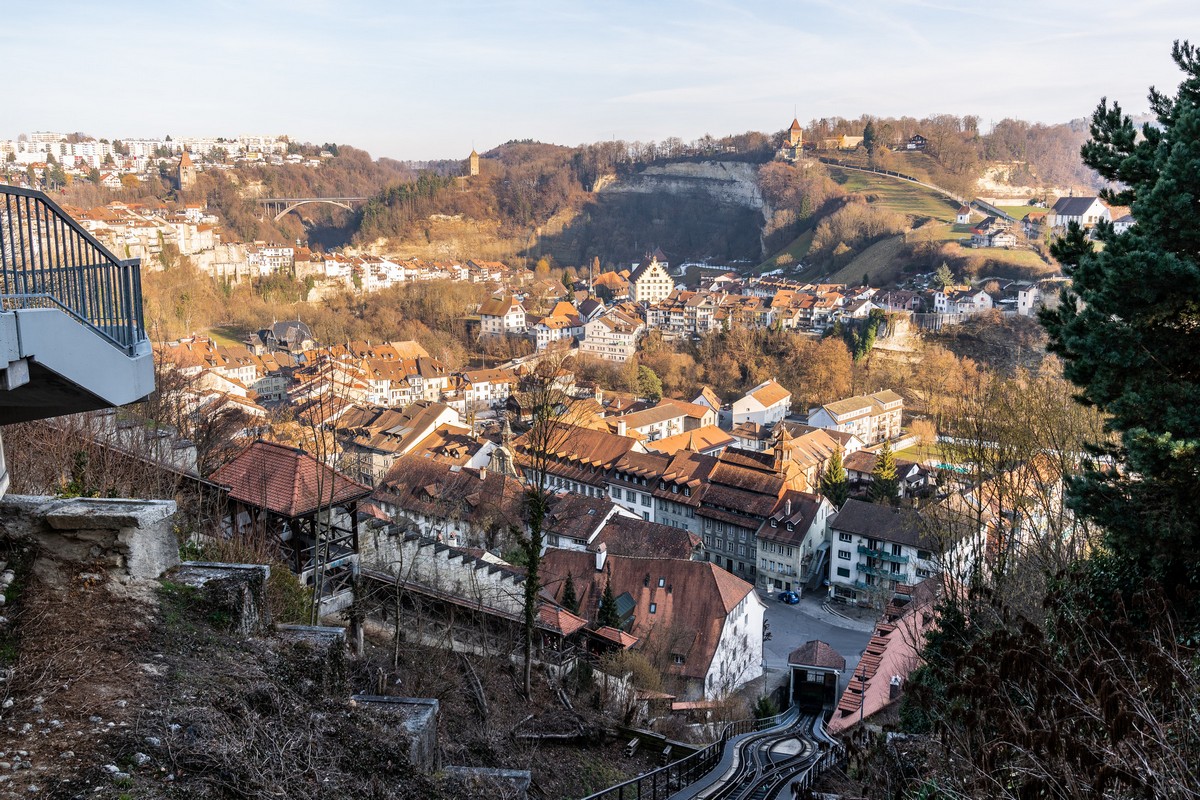 Next, something rather remarkable happened. I met an old acquaintance – right here in the middle of Fribourg, in the middle of Switzerland, in the middle of Europe. And the acquaintance – from nowhere near here; actually, from pretty much the middle of nowhere!…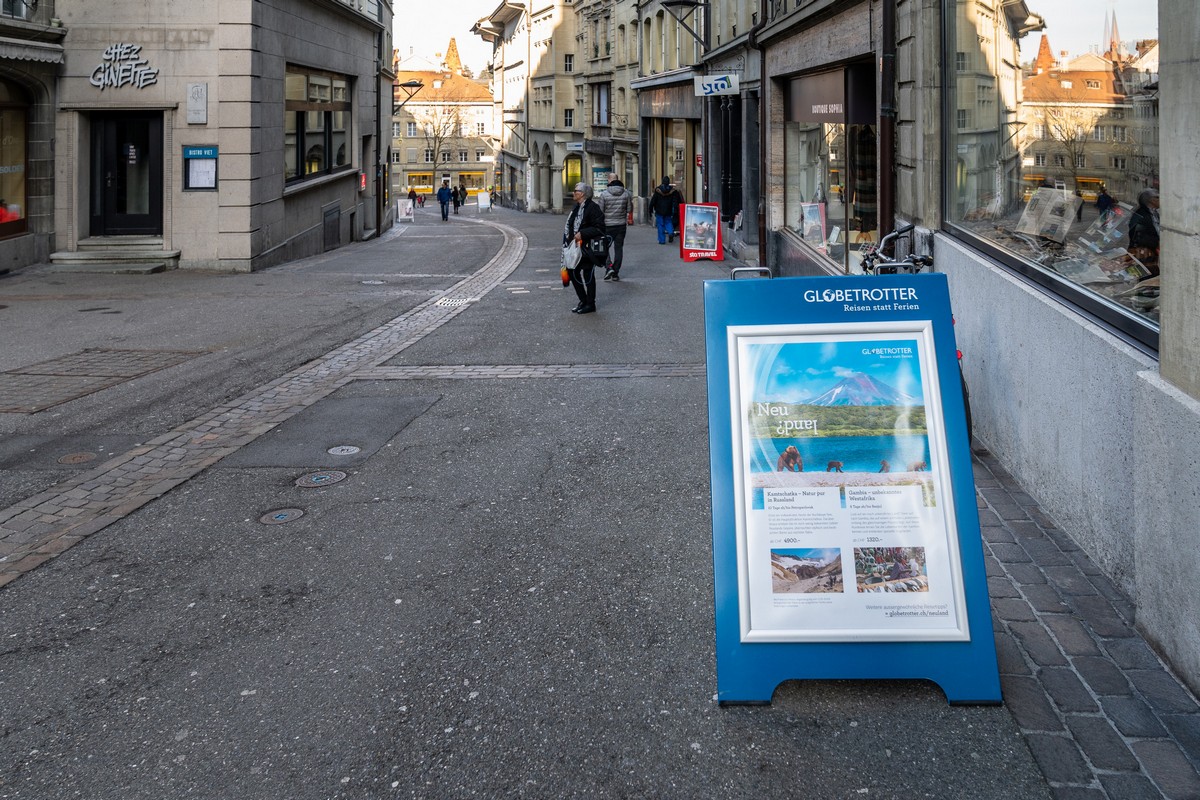 We passed a tourist agency – I see a stand outside advertising… my beloved Kamchatka as a destination! But that wasn't the 'acquaintance'…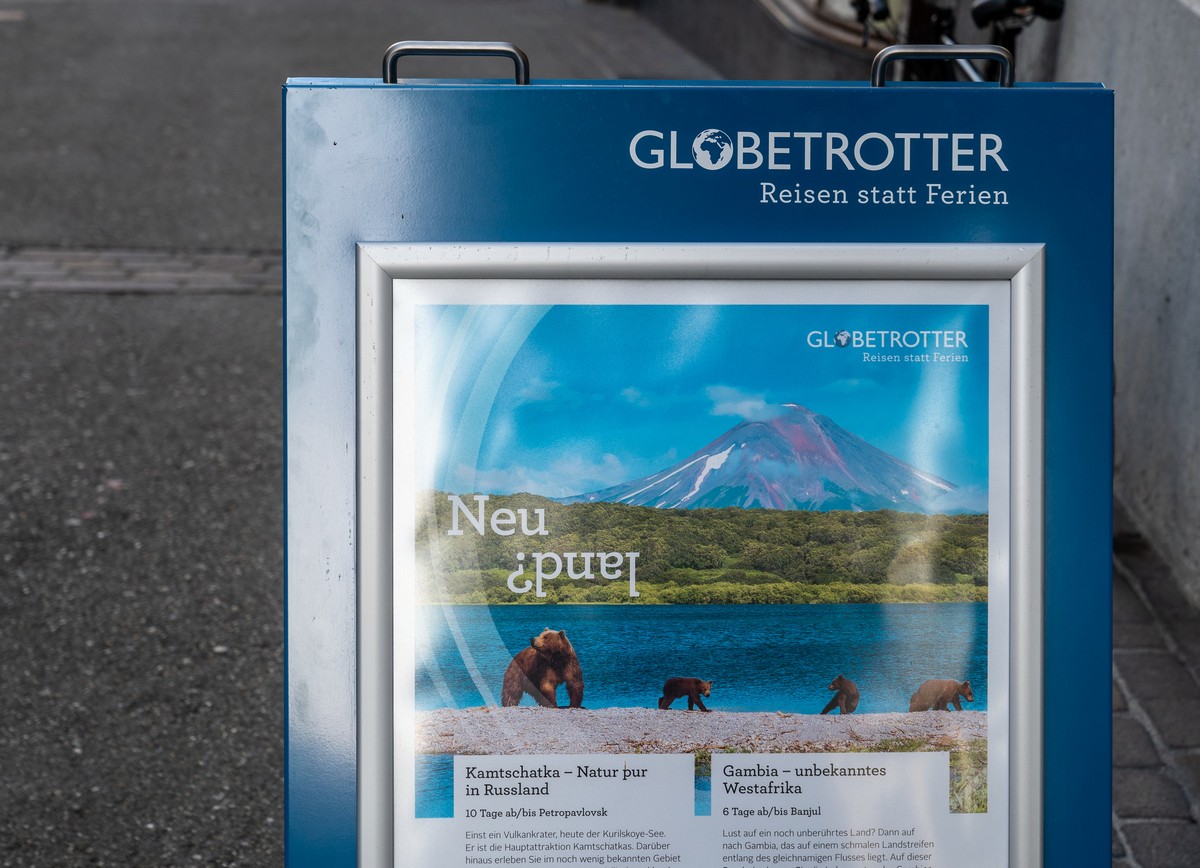 I take a closer look, and there on the pic – Matilda the mommy bear and her cubs! Well I never!
I first 'met' Matilda back in 2010 – and on that very beach where she is in the pic with the volcano in the background.
And it was deffo her. If you've only seen a couple bears ever (or none) – they all look pretty much the same. But if you've seen a great many over the years – and some particular ones over and over, you start to distinguish them apart. Well this is her. I could tell by the fur, the squint of the eyes, the shape of the head…
For example, this mommy bear – nothing like her:
What a small world!
Not that she's not used to PRing herself the world over: she's featured in a French movie too. We saw it being shot back in 2012. Check the balloon (no drones back then!) that carried the camera:
Then, a few years ago, there I was on the treadmill in the gym, and I glance at the TV screen in front of me (tuned to National Geographic or some such) – and there she was again. And now I see her on a photo on an advert in the street in small city in Switzerland!
Onward we stroll around the city. Empty streets. After the hustle and bustle of metropolises, it felt very provincial here compared.
And inside the cathedral – also no one. Literally not a soul!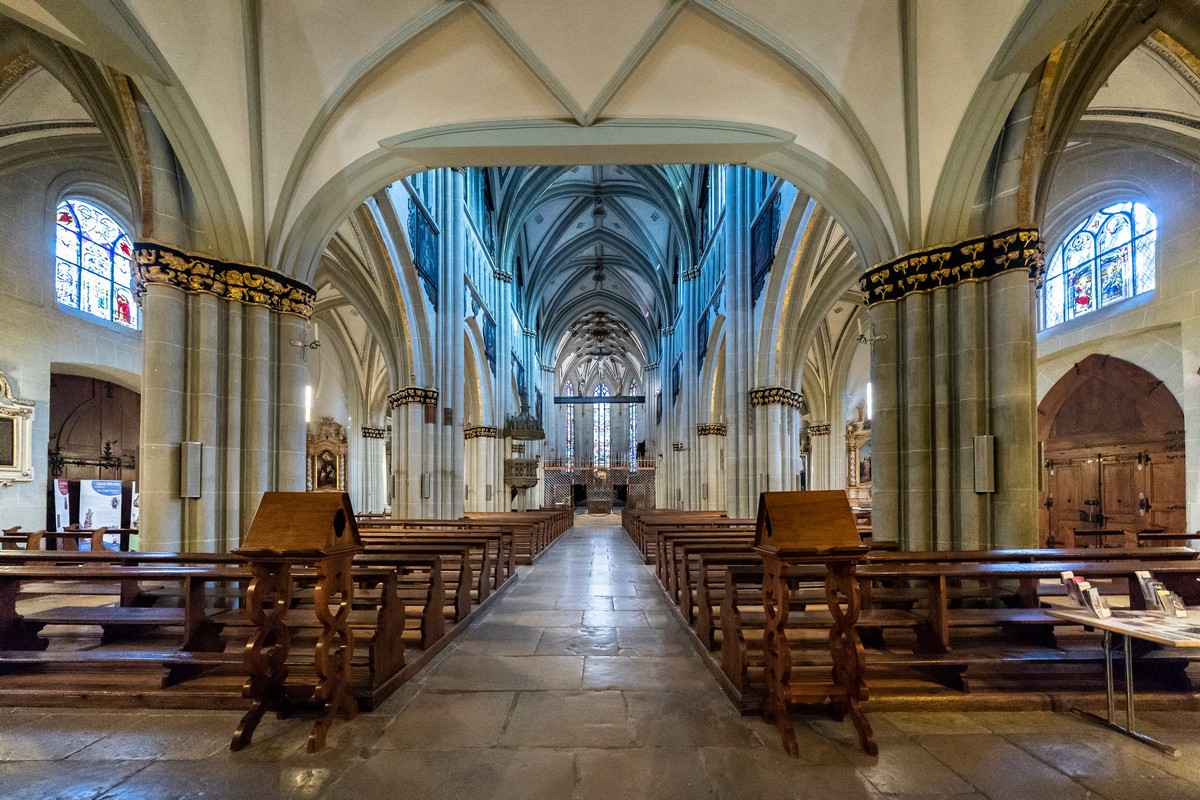 River, hydroelectric power plant – around a hundred years old:
A warm, tranquil Swiss evening…
Come the morning – also amazing views all around, which my camera again took pics of all of its own accord…
We headed over to where the day's business was at: the Swiss Cyber Security Days conference. I gave a speech up on the stage, did three interviews, had a few meetings, and had various other bits of business to see to.
The Swiss Ministry of Defense's stand; spooky:
What surprised me was how this rather small city (some would think of it more as a town) with a population of less than 40,000 features a rather massive conference center. And by the looks of this here banner – it's never quiet here, plus the range of themes is impressive: from job forums to… tattoo conventions!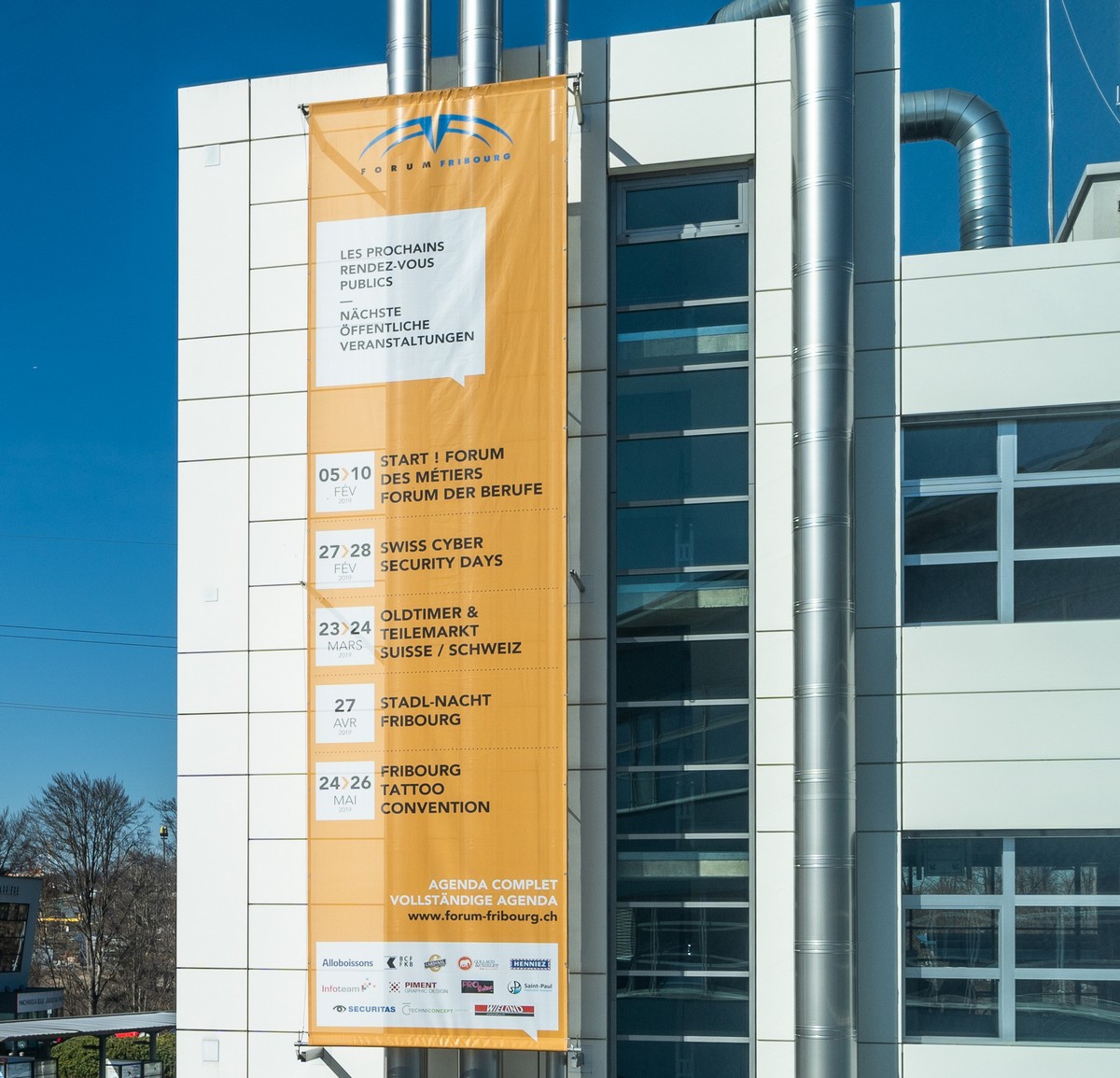 Well that's all from Fribourg folks. The following morning we took a car to… I'll tell you in the next blogpost…
All the photos from Switzerland are here.