Rubik-therapeutic in the Pacific.
Over the New Year holidays a group of friends and I headed down to Ecuador for our traditional festive portion of unusual/active/exotic trekking/volcanism/photography. As usual, it was 'active tourism until you drop', cramming in as much we possibly could. Anyway, I'll be writing blogposts on the trip – coming up shortly, but in the meantime I'd like to share with you a personal achievement I'm rather proud of – one completing a certain puzzle…
First: rewind…
Games/puzzles/toys. They come; they go. Some come and then disappear very quickly. Remember Tamagotchis? They were the biggest toy fad of the 1990s – early 2000s. Kids got so attached to their 'digital pets' that some were even driven to suicide when they suddenly broke. No, really.
More recently there was Pokémon. Once all the rage; now – all but disappeared. But there is another category of games that come – and stay. These are the timeless games that are just so darn good they're not going anywhere. Chess, cards, dominoes… – been around centuries if not millennia, and will be around for millennia to come. Some modern-day games fall into this category of 'stayers' too. Not many, but some. Tetris, for example. It came, it became a fad-craze, interest died down a bit, but it didn't go away. (I remember playing for hours on end on one… until one day I saw 'blocks' falling down in front of me in the street; that was when I realized it was time to quit:). The same thing happened with the Rubik's Cube…
I used to complete this cube-riddle using the standard cross method. Then I mislaid my Rubik's Cube and mostly forgot about it (like many others did) – for 35 years! Then, just recently, while isle-hopping around the Galápagos – as you do – I recalled I'd packed some Rubik's Cubes after recently finding them in a store somewhere and purchasing them, so one evening on the boat with not much to do I had a trip down memory lane and solved them. And not just the standard 3×3 model; also the 4×4 and the 5×5: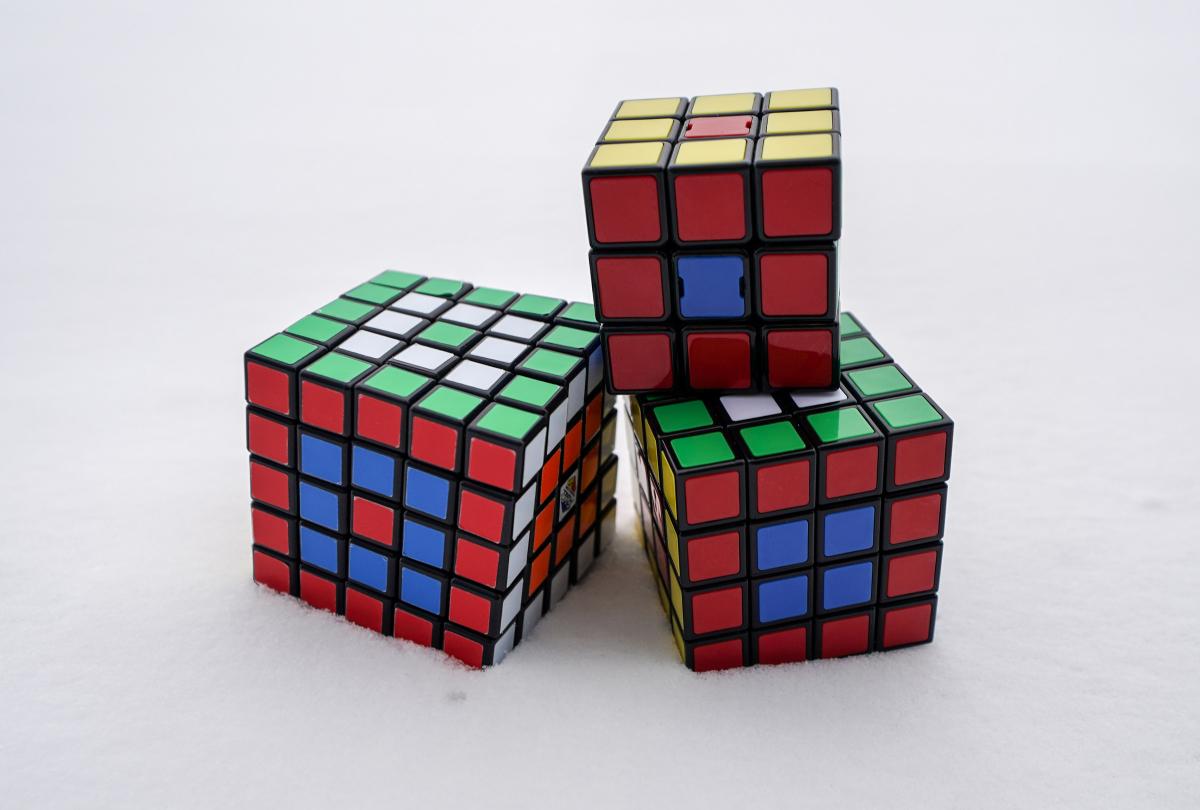 Really glad I packed them. I got at least five other fellow adventurers hooked on the 3×3, while a Rubik's expert among us told me of a 'secret' method for solving the 3×3. Meanwhile, I learned how to do the 4×4 and 5×5. An engrossing, enthralling, entrancing exercise. Highly recommended! Especially in Ecuador!…