Montserrat: half-paradise, half-ghost-isle.
Hi folks!
Next up, Montserrat, aka, the Emerald Isle of the Caribbean.
Brief main info: This is another British Overseas Territory. Population: ~5000. Again, the locals don't live too high on the hog; however, the island has a pleasant climate and outward appearance, which makes it a hit with foreigners who live very high on the hog and who like to visit, as can be seen from all the very nice houses and villas (from a helicopter).
In 1995, Montserrat's volcano, dormant for centuries, suddenly blew its top and soon buried the island's capital, Plymouth, along with its airport and docks, under 12 meters of mud. Apparently no one died; everyone was evacuated in time. But after the devastation it left, more than two thirds of the population left the country, and a full half of the island is still closed off as unsafe. You can only get there with a special permit and with a guide with a two-way radio.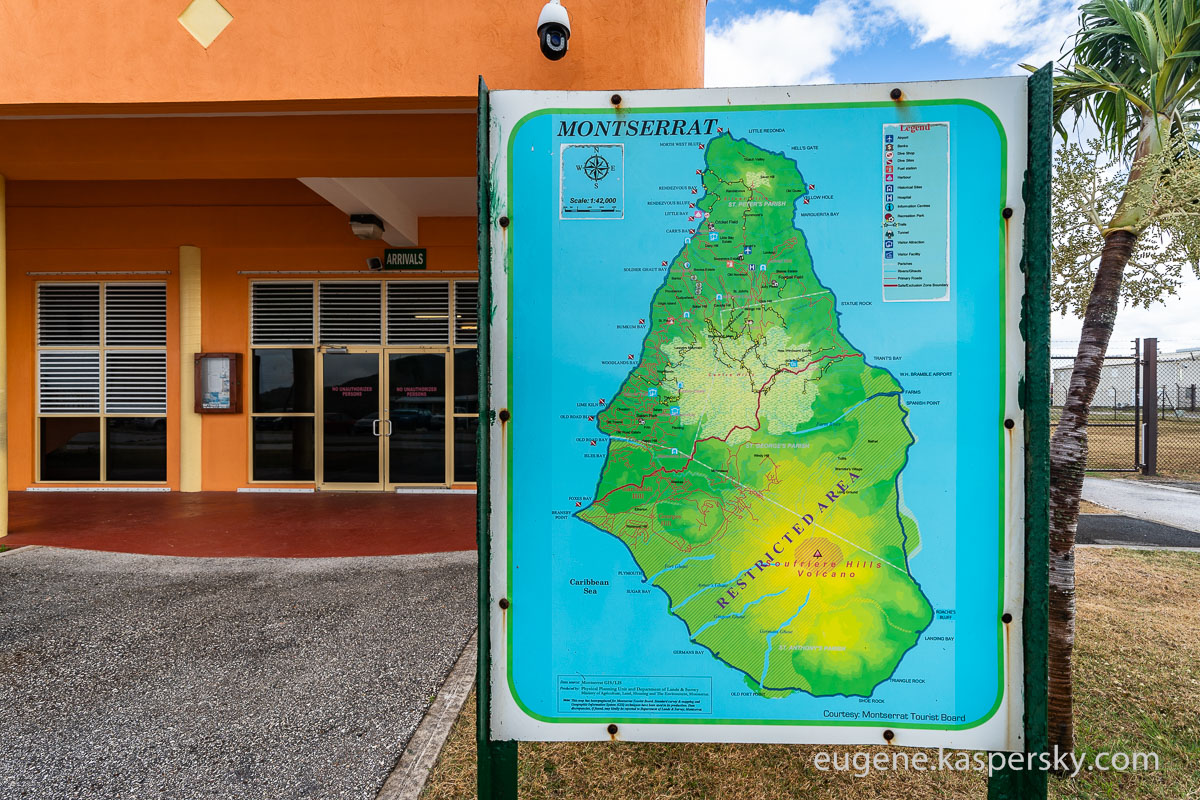 We got the special permit. Wow, what tragic scenes…
And from such a beautiful volcano:
The folks who stayed behind moved to the north – which was untouched – where new villages were built. Curiously, where the cricket pitch once lay, they installed the new airport runway!
Airport:
Tunnel under the runway: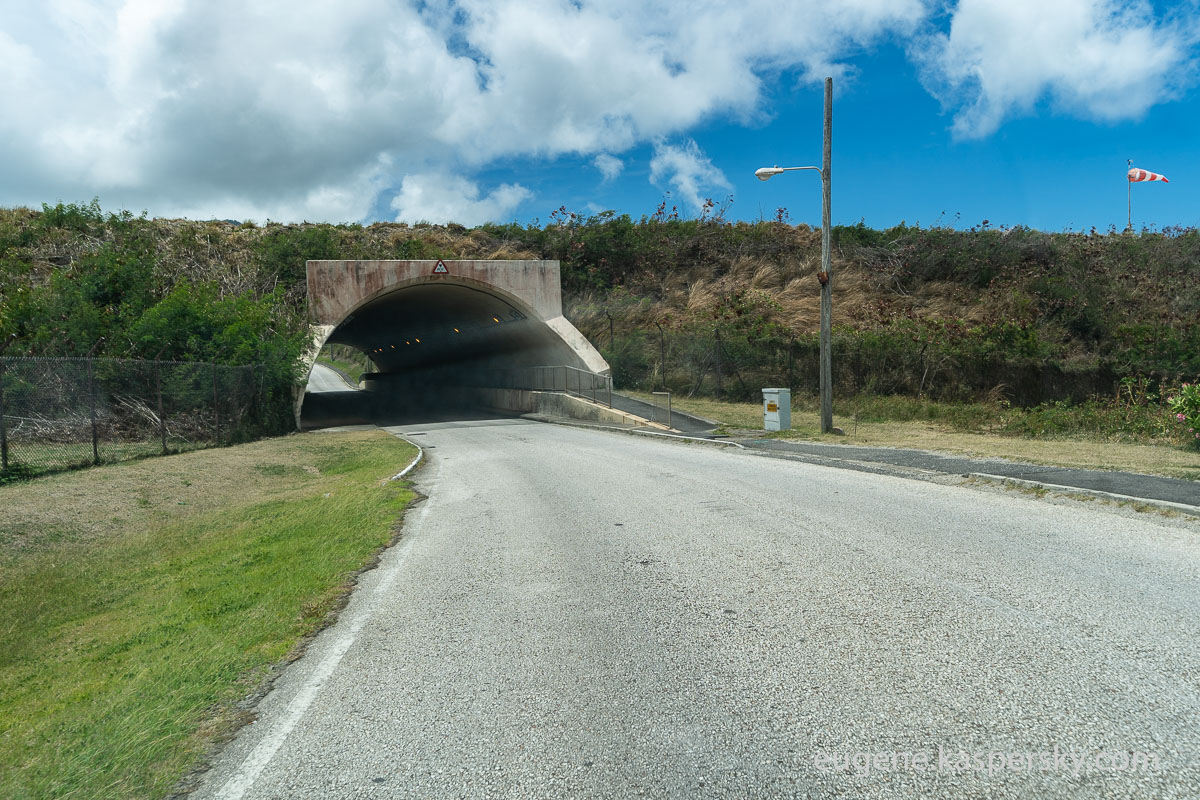 On the way into the Exclusion Zone we pass through a checkpoint. Our papers in order, in we drive…
This place. Never quite seen anything like it. Gruesome. Spooky. Sad. All sorts of emotions come to the fore…
Formerly a bakery. Once the smell of fresh bread. Now… Brrrrr. Let's get out of here, eh?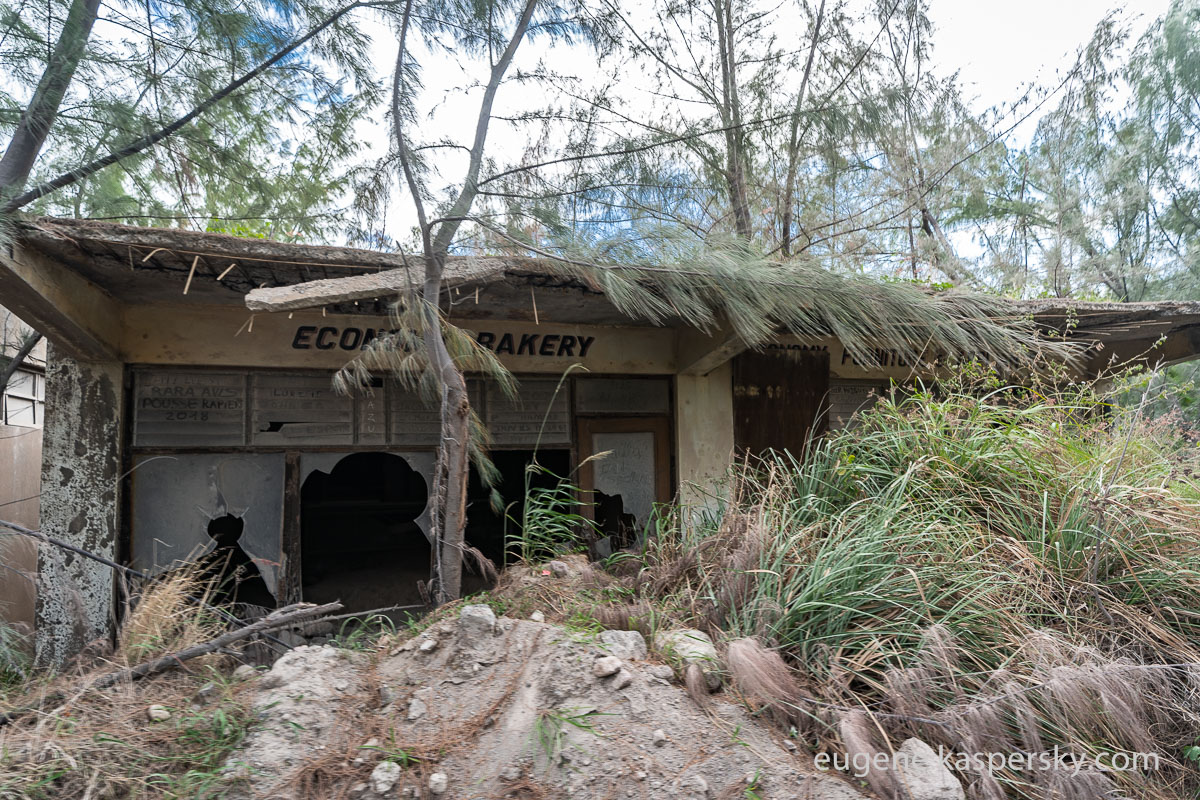 Remember yesterday's Anguilla? Flat and dry and barren? Check this island out: mountains that reach the clouds, and moist and green.
The owner of the roadside restaurant we stopped at had seen it all in his time. Told us some right tales. He'd witnessed the cataclysms, and took part in the island's reconstruction. Most interesting.
That big pic of the big volcano… wait – I recognize that… yes – it's in Russia!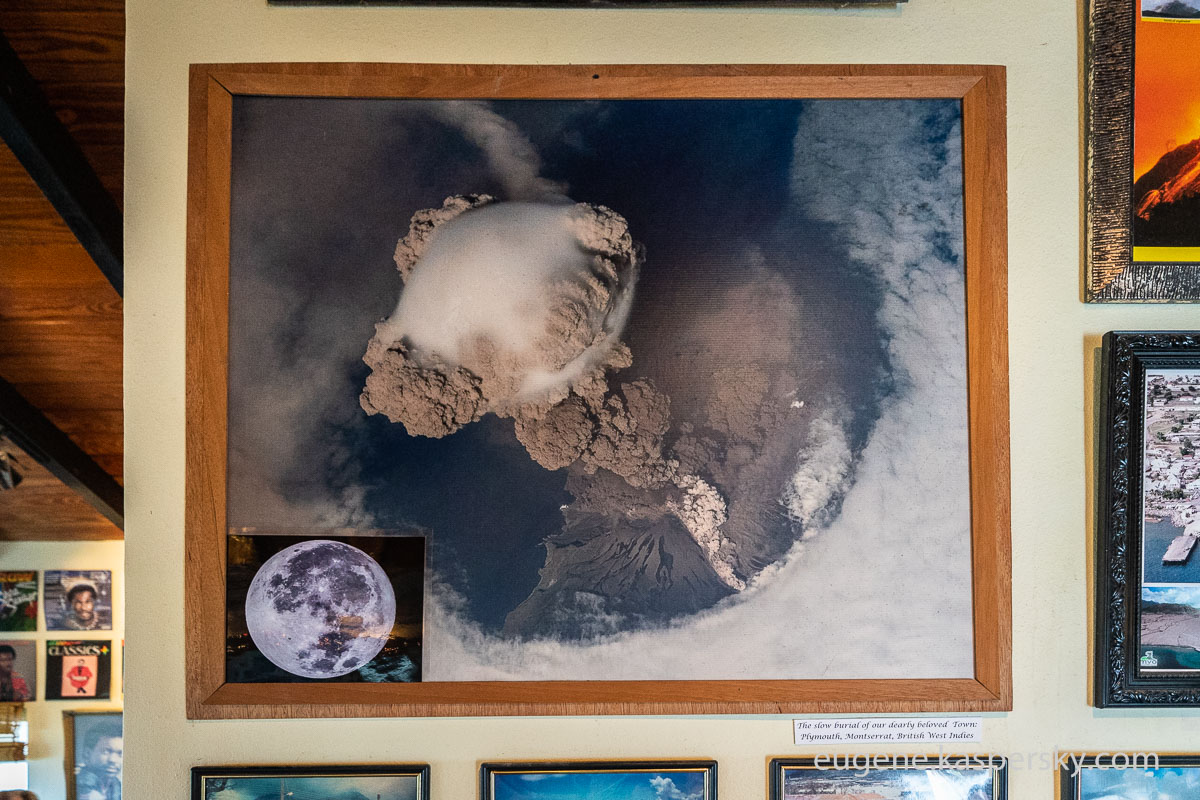 It's Sarychev, on Matua – one of the Kurils! But it says there it's on Montserrat! Eh? Or is it Wikipedia got it wrong? Surely not. Btw, I was there on Matua in 2014. After seeing this pic, I started to mistrust all we were told on this excursion. It was probably all, as we say in Russia, noodles being hung upon our ears.
But not to worry; our excursion was coming to its end anyway.
Woah. Now I see why our plane didn't fly over the crater. Those aren't just clouds – it's also volcanic emissions. The smell of sulfur even got through the air conditioner's filters. What a pong!
More abandoned homes:
And that, folks, I do believe, brings my Lesser Antillean mini-series to a close. Ok, there's one more post to go, but that's more of a post-script one; still – no less interesting. You'll see what I mean tomorrow.
Bye for now folks!…
All the Montserrat pics are here.