Liked my Bora Bora pics? Well I've plenty more of the same. Got quite a few Bora Bora tales to tell too – all based on just the one day we were there.
But first of all we had to get there. From Tahiti it's around 250km; from Tetiaroa ~240km. We flew there on this here little birdy, the flight lasting around an hour:
Down there – Motu, where we'd be staying…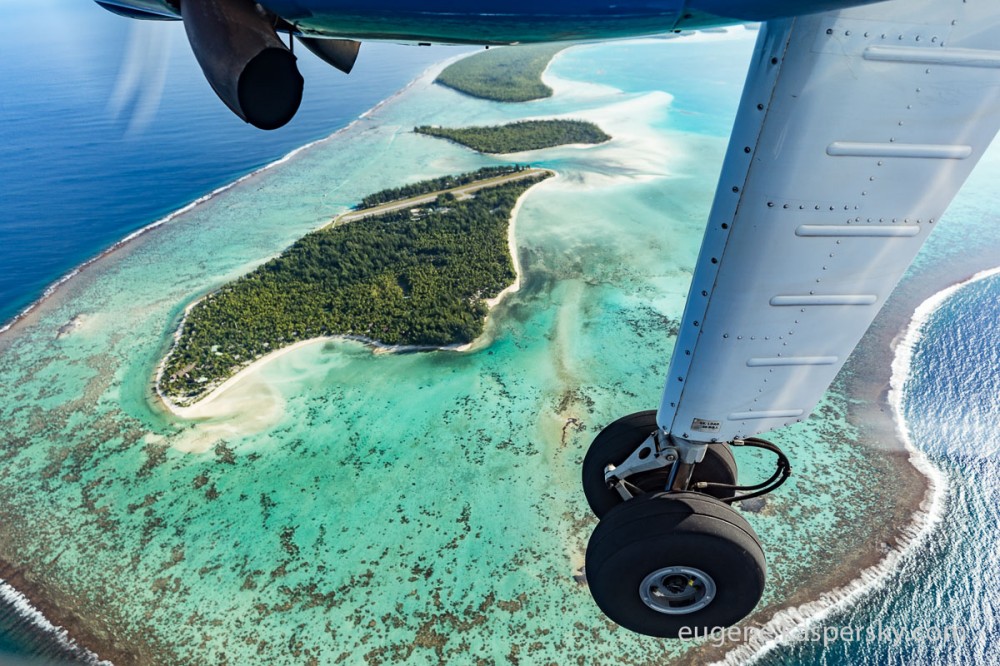 Motu is one of the islands of Bora Bora – down there in all its tropical beauty.
Here comes Polynesian fascination No. 1 for the day…
At the airport, instead of a parking lot they have a mooring area and lagoon! I like this place already!…
Ia orana Bora Bora!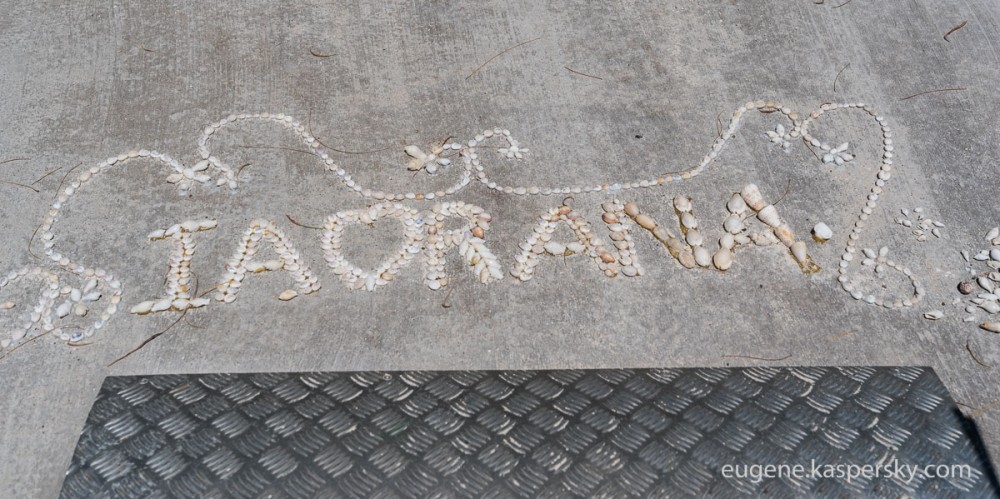 Not long after we landed we were transferred to boat. The guide played the guitar and sang, the captain beat a drum while simultaneously steering the vessel, and we did our best to clap along to the rhythm. The song? Bora Bora nui e. Nice tune, nice rendition; lovely weather, paradisiacal panoramic views. The day just seemed to be getting better and better!
Our first port of call – the main island for a quick tour thereof.
Suddenly the road took us up a hill, and we came across some unexpected war relics:
The views from up there are… armor-piercing – just like everywhere else on this atoll.
The views are so astounding, I wondered how analogue-era photographers managed. Just 36 pics per film? Imagine the inhumanity?!
They say that you can climb to the top of that mountain without any special climbing gear. The views from up there must be even better, no matter how unimaginable.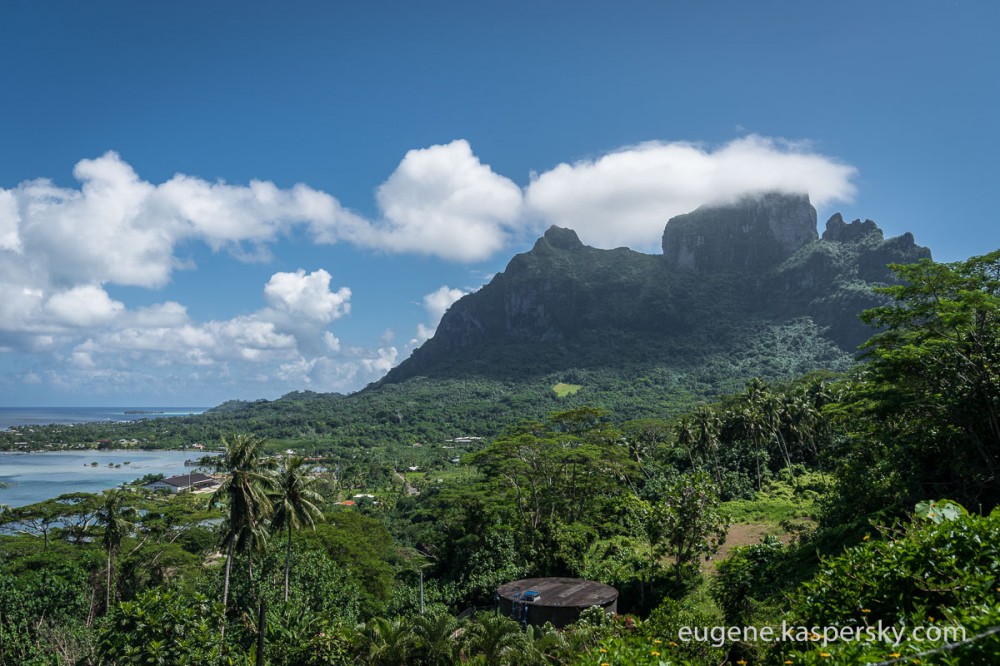 Here's the famous Bloody Mary's, a fave eatery of Hollywood stars and other famous folks. Check out the who's who list of visitors:
The gent's restrooms brought a smile to my face. But I daren't show you the pics. Just check them out when if you're here. Apparently the women's are fine.
Opposite the restaurant – more landscaped picturesqueness + beachiness. I almost miss the snow! Joke.
But even better than Bloody Mary's was another eatery…
…Where the table and chairs you eat at are in the sea! Never seen that before. What a great idea! The food's comes to the table on trays, you sit down with seawater nearly up to your knees, and you tuck into the freshest of various seafood dishes, with little fishes all around you scrounging for scraps.
What an innovation! I don't think it'll catch on back home though. Or could it? In summer, like… why not?!
"AAAAArrrrgh – SHARK!" was our first, natural reaction…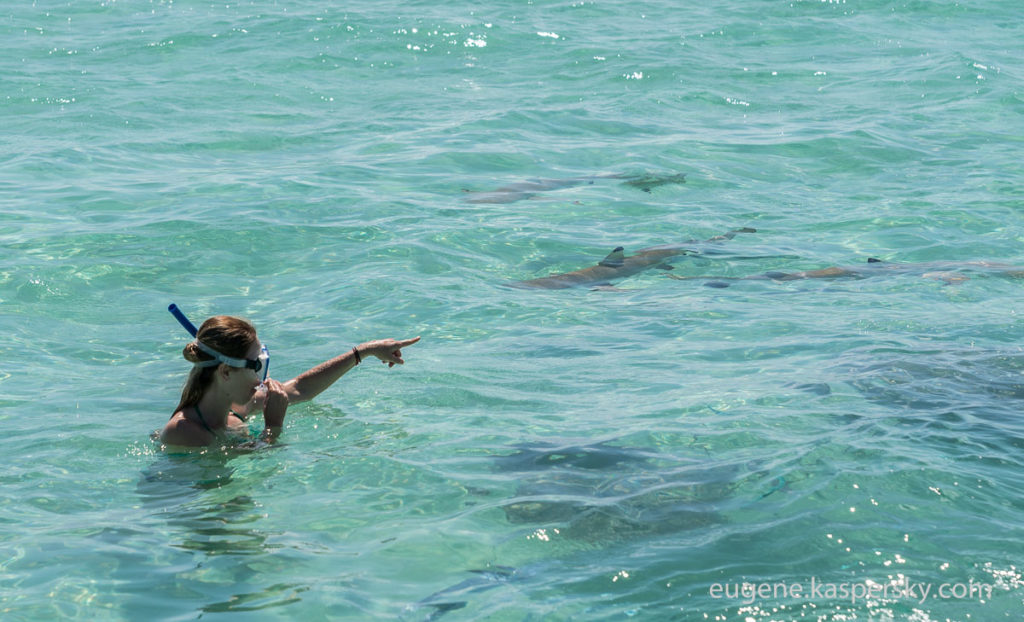 But after a while we got used to them and wanted more of them!
The bathing here is incredible. I do believe it's worthy of inclusion my World's Top-Bathing Spots List. Coral fossils with multicolored tropical 'fish soup' where it's shallower, feeding various skates (btw: apparently they remove the tail-spike so that the tourists don't get hurt), and even small (therefore safe!) sharks, plus gannets and seagulls savaging too. Sometimes large black mantas join in the fun and feasting. In all a veritable interactive aquarium!
Our next attraction – this here boat-house. It's roams the lagoon all the time. You board, sail for a bit until you reach your desired spot, drop anchor, and take in the surroundings from this different, very cozy viewing point.
Now, believe it or not, diving's perfectly ok here! As mentioned, the skate have had their stinging tails removed, and the sharks – lemon sharks up to three meters long (just imagine swimming next to a few of those!) – don't bother humans and stick to their diet of fish. Phew. All righty – let's dive in!…
Hmmm. All this underwaterness – it got me thinking again: I really do need to stop procrastinating regarding that long-overdue purchase of an underwater camera. Any of you, dear readers, specialists when it comes to such kit? Which one should I (finally!) go for?
Next up for us was the airport – direct from the ocean. Goodbye to the guides and off we flew once again…
Arriving at the airport in a boat got me thinking: wouldn't it be great if we could take a boat instead of a car back to the office, which happens to be right next to the Moscow Canal, which, in turn, passes right by Sheremetyevo. No traffic jams! And if only the water in the canal would be as turquoise as it is here, with multicolored fishes, coral reefs, and taxi drivers that sing jolly tunes. It was then when I woke up from my dream :).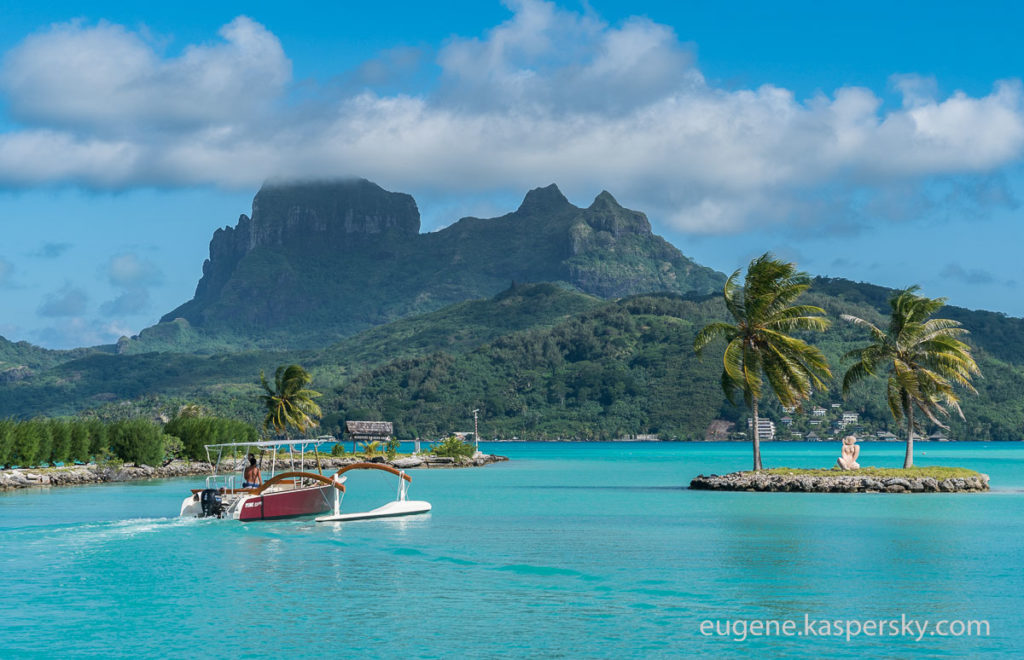 Next up – the short flight back to Tetiaroa.
What a wonderful day in a wonderful place. Must get back here. And for those of you who've not been – you guessed it: get here one day too!…
That's all for today folks. But back with more Polynesian adventures shortly…