Rome: layer upon layer, added over millennia.
I've long been used to extended business trips, sometimes taking me right round the world, sometimes lasting months. The template goes like this: suitcase packed > car > SVO (sometimes DME) > destination No. 1 > destination 2 > destination 3 … 10+ > MOW (doesn't matter which airport; main thing: I'm back) > car > home. So it came as a bit of a surprise to me that my first business trip of 2018 turned out to be a simple and super-quick one: Moscow (SVO) > Rome (FCO) > Moscow (SVO), and all in two days!
Eh? What was that? A business trip? Surely not?…
I mean, if you're going abroad on business you need to really go – and go, and go plenty more. All this go-and-come-straight-back lark: nope – not for me. (So I hope those who organize my multinational toing-and-froings are reading this:).
At least – that was my initial reaction to this micro-business-trip before it happened. But then it did happen. And I found out to my surprise I liked it. A lot. But of course I did: it was to Rome. What's not to like?…
Rome! The Eternal City! You could spend an eternity losing yourself in this city, soaking up the history all around you – literally everywhere in this ancient city.
Rome: grandiose, monumental, charming, chic. Those are just four random adjectives that spring to mind. But you'll probably know this already. You've seen Roman Holiday, La Dolce Vita, and Nights of Cabiria, after all (what? You haven't?? Remedy that – subito!). For sure it's one of the most… significant cities in the world. So its inclusion on my list of Top-20 Cities of the World should come as no surprise. More adjectives: multi-layered, grand, magnificent. Also – unpredictable, especially if you go off the tourist-beaten-track a bit; for example, to Case Romane del Celio, which I had a brief look around back in 2014, but which it seems I didn't write a blog post about.
Even if you're in the Italian capital for just a few hours, you really must go walkabout there. Not doing so should be illegal. And even if you can't make it to Piazza di Spagna, at least just take a stroll round the block – just that will be a delight.
I wonder how old these palm trees are? Anyone know?
I stayed in a hotel not far from those palms. Here's the view out of my window: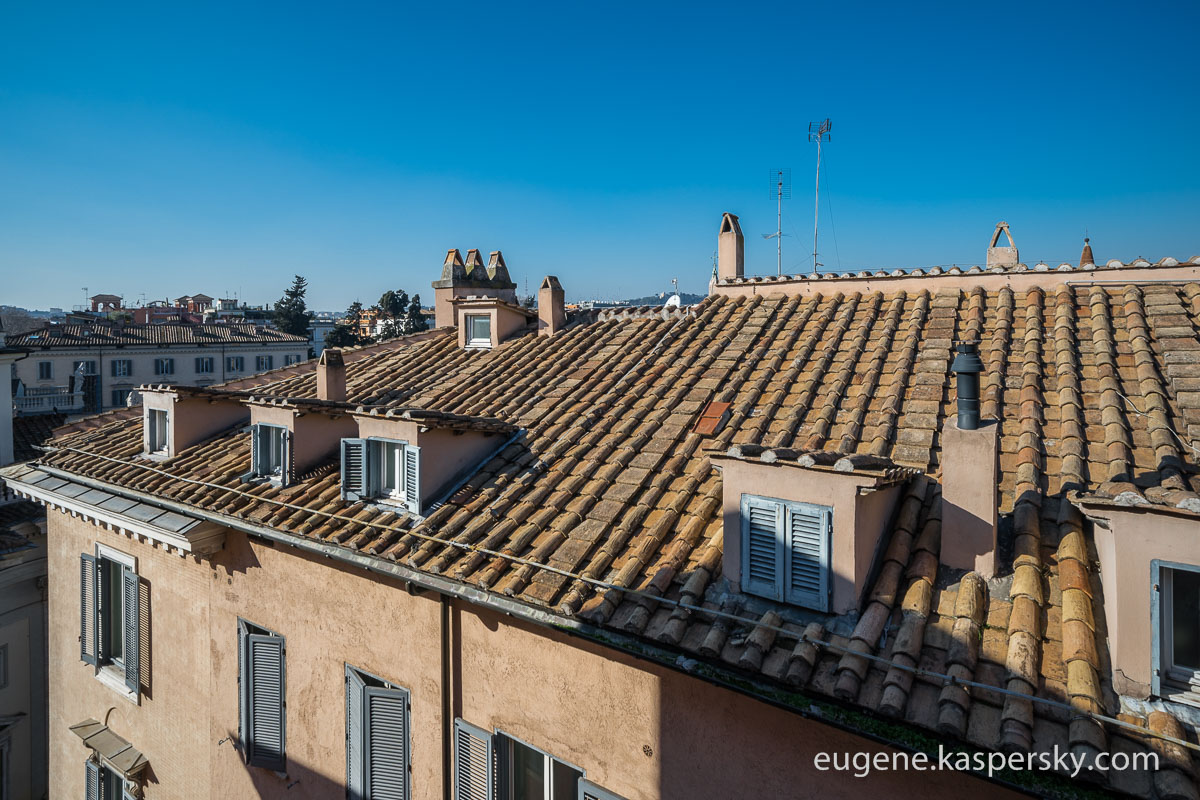 Next up for me: alas, not tourism, but work: I'm to meet the Mayor of Rome. Must prepare for that. So not long after landing I changed out of my sneakers, jeans and t-shirt and into something more formal, and off I headed to city hall on the Capitoline Hill to meet the mayor!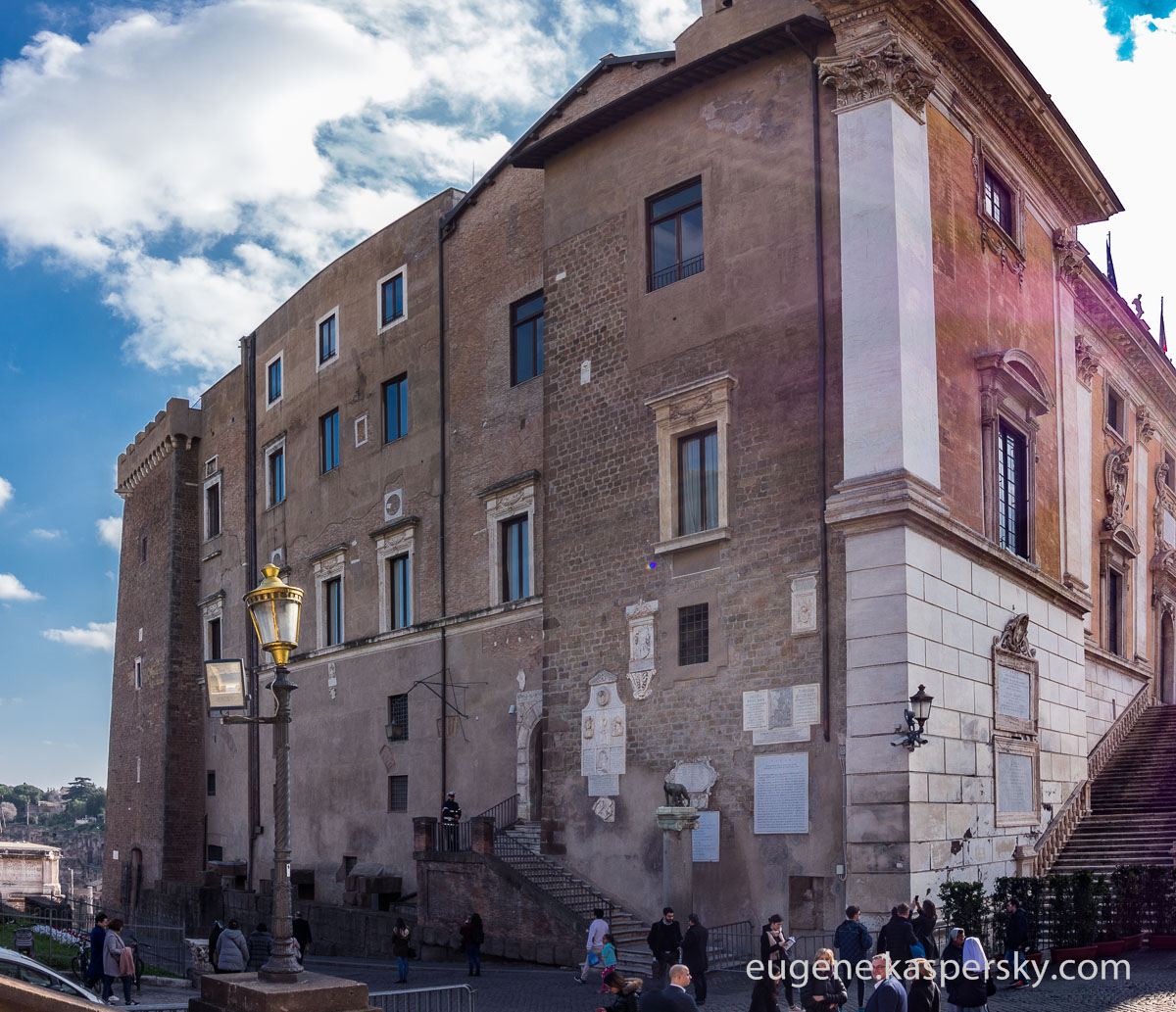 Yes, the mayor's office is in one of the main touristy centers of Rome; it's just that many of the tourists don't realize the building is in fact city hall ).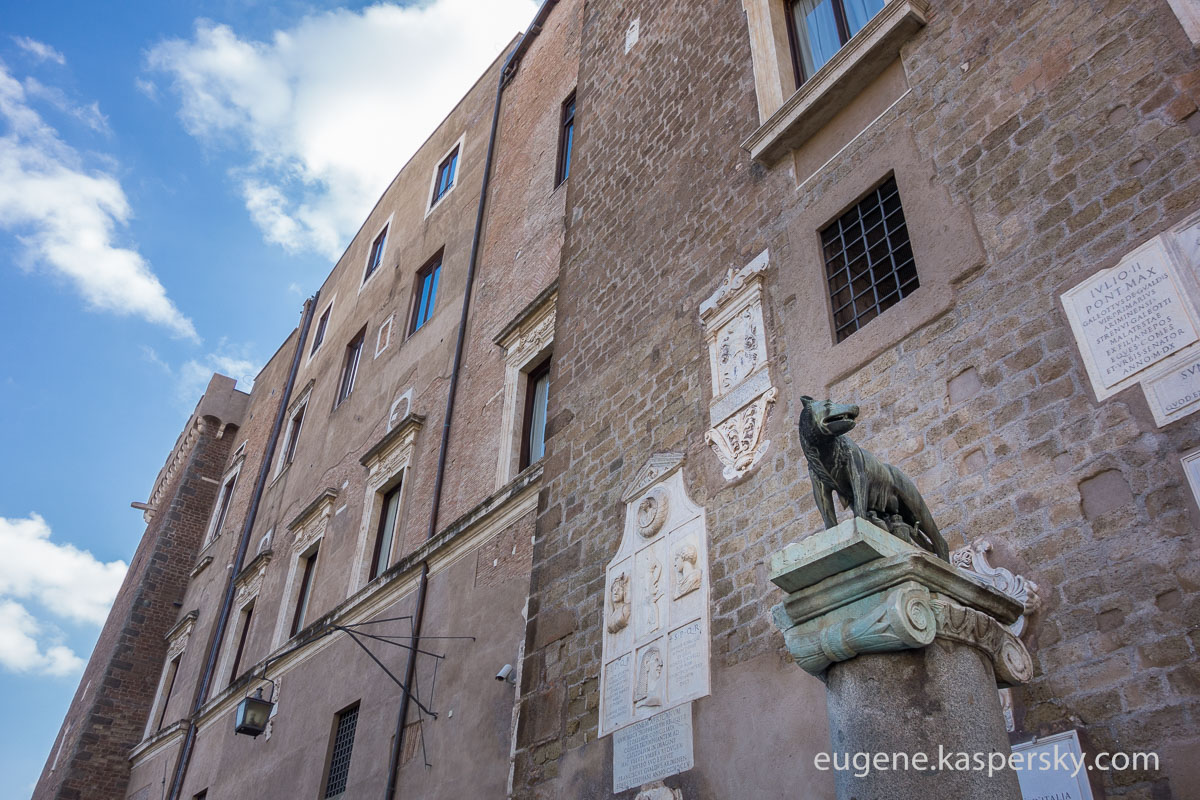 What a building! If you look carefully you find it's made up of many layers – or levels – built up over the millennia. For example: here there seem to be bricks from the Middle-Ages laid upon stone blocks from Roman times: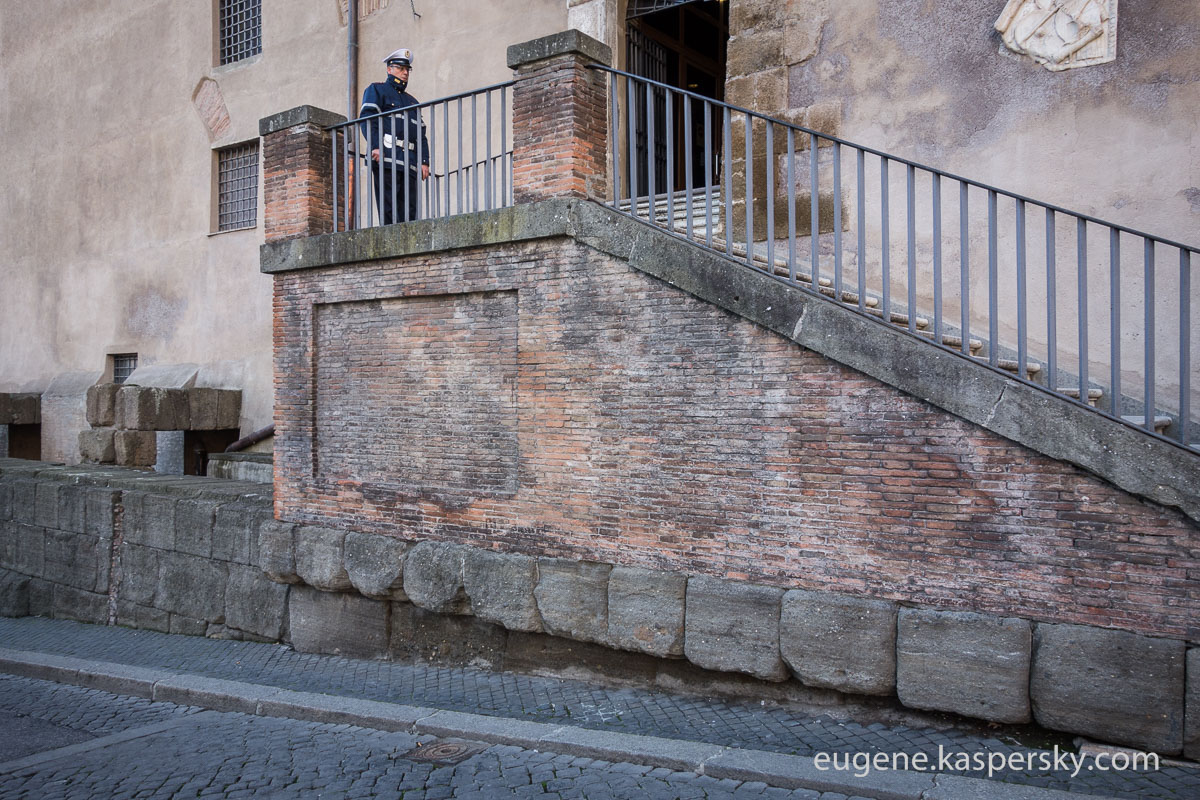 That's what's so awesome about Rome: it's a collage of assorted bits from different ages that can be literally thousands of years apart! And it's like that all over the city: no matter where you look, you'll find an antique of some kind. To construct something here from nothing I think is probably impossible – there'd always be a (rightly-so) protected building – or just the foundations of one – where you'd want to build. How they modernize Rome I'll never know. Yep, it must be tricky being the mayor of the city.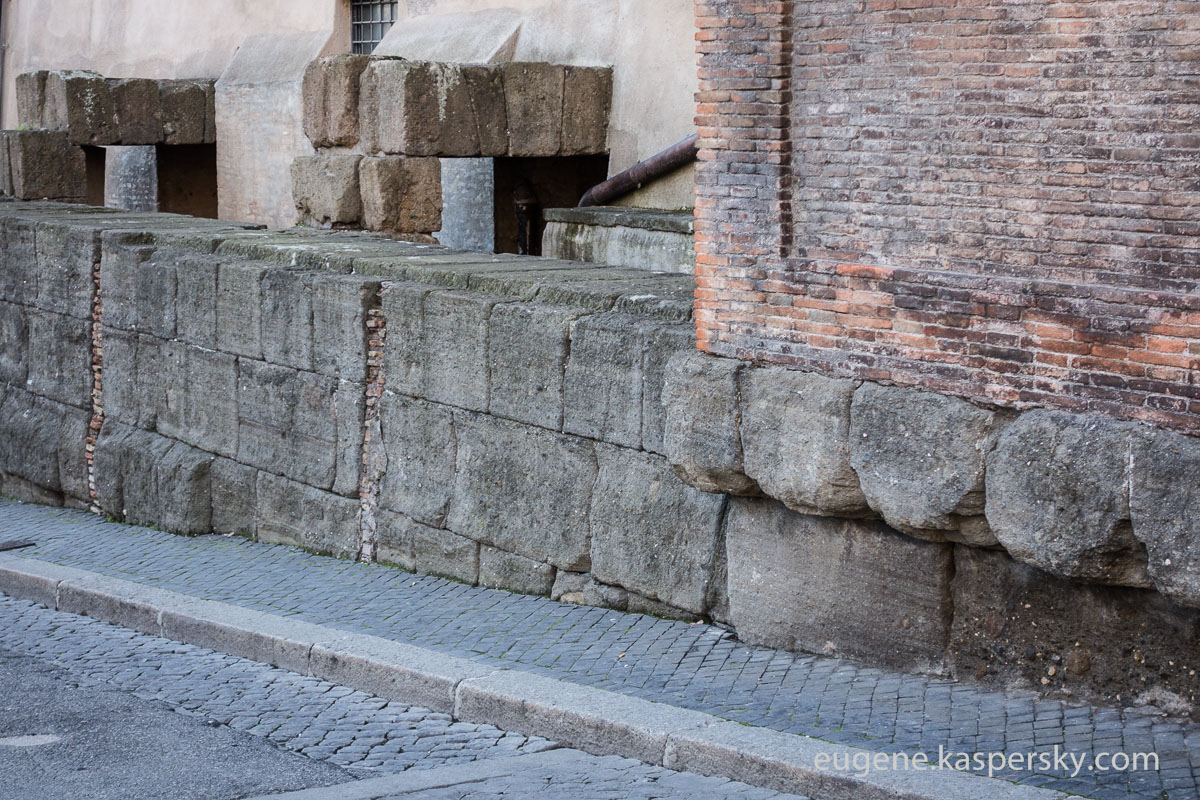 Yes, a meeting with Virginia Raggi was the reason I was in Rome – not a micro-touristic inspection of the city's ruins, as one might have sinfully assumed.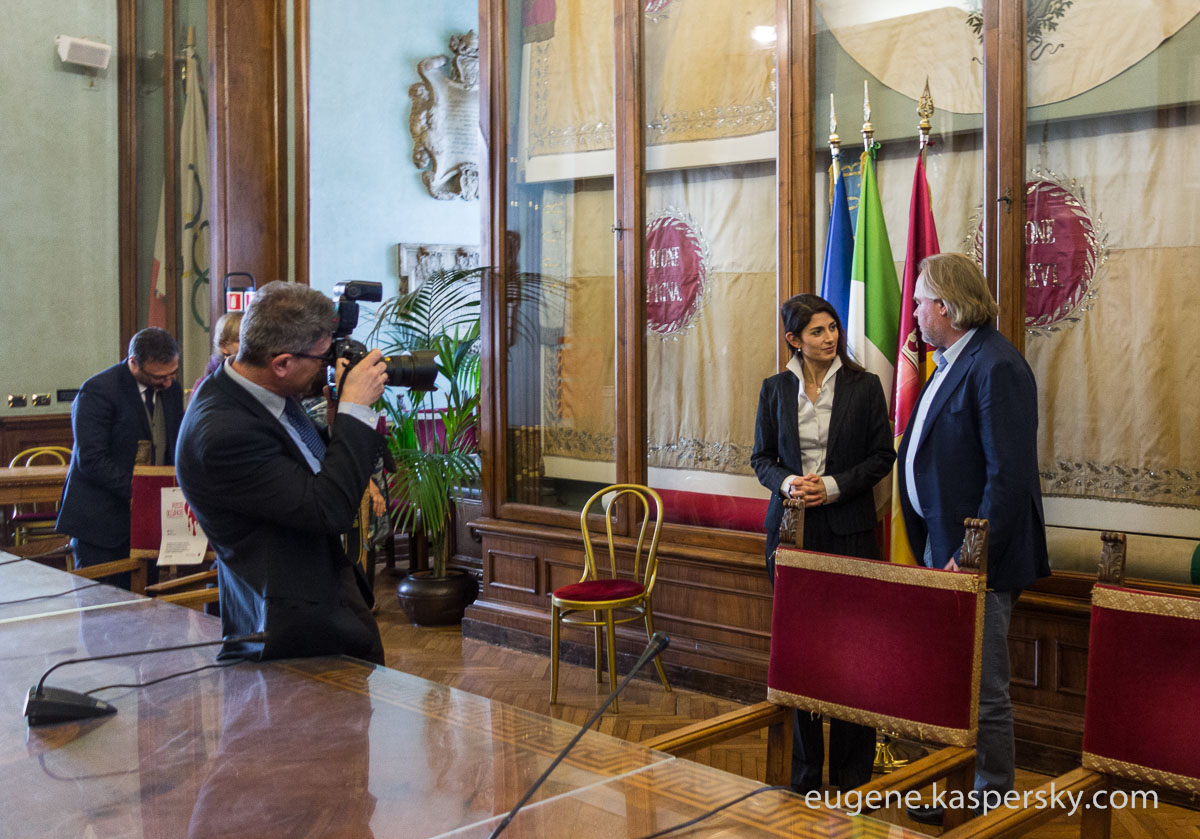 The photo above is from inside the Hall of Flags. A lot has happened here since it was built some 400 years ago, but I won't go into that here. If interested check out the internet. I'll stick to just a few things that stood out for me here…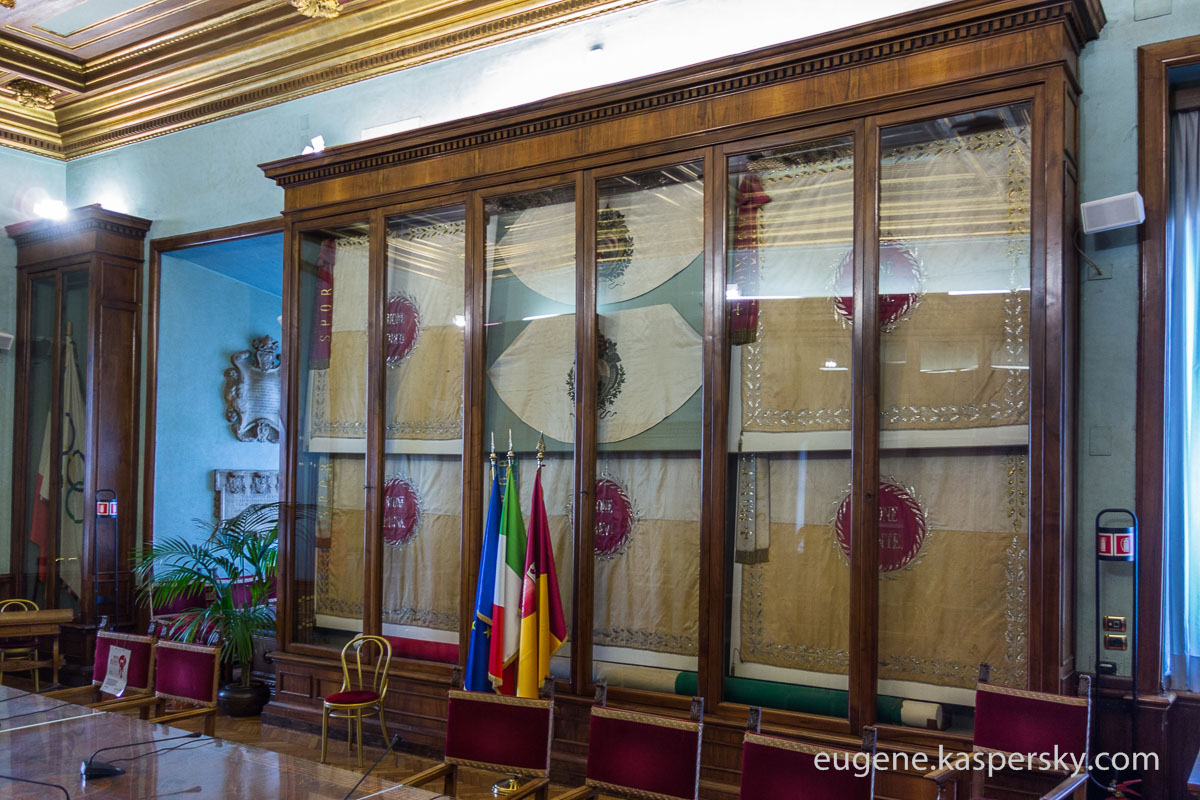 The flag of the 1960 Summer Olympics in Rome: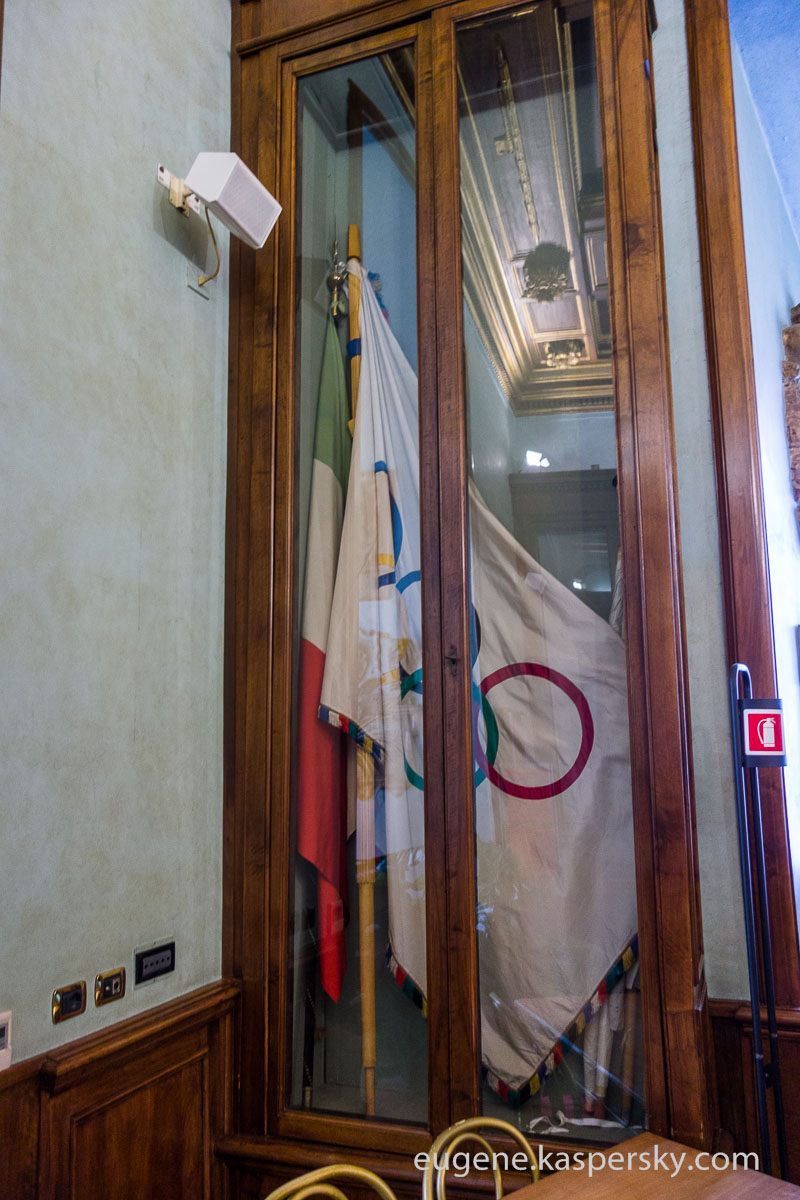 I was honored with a guided excursion of the building, which turns out, incidentally, to be the Senatorial Palace, today used by the city's municipal authorities for meetings.
This is where only the mayor stands during the meetings. And me – not during meetings!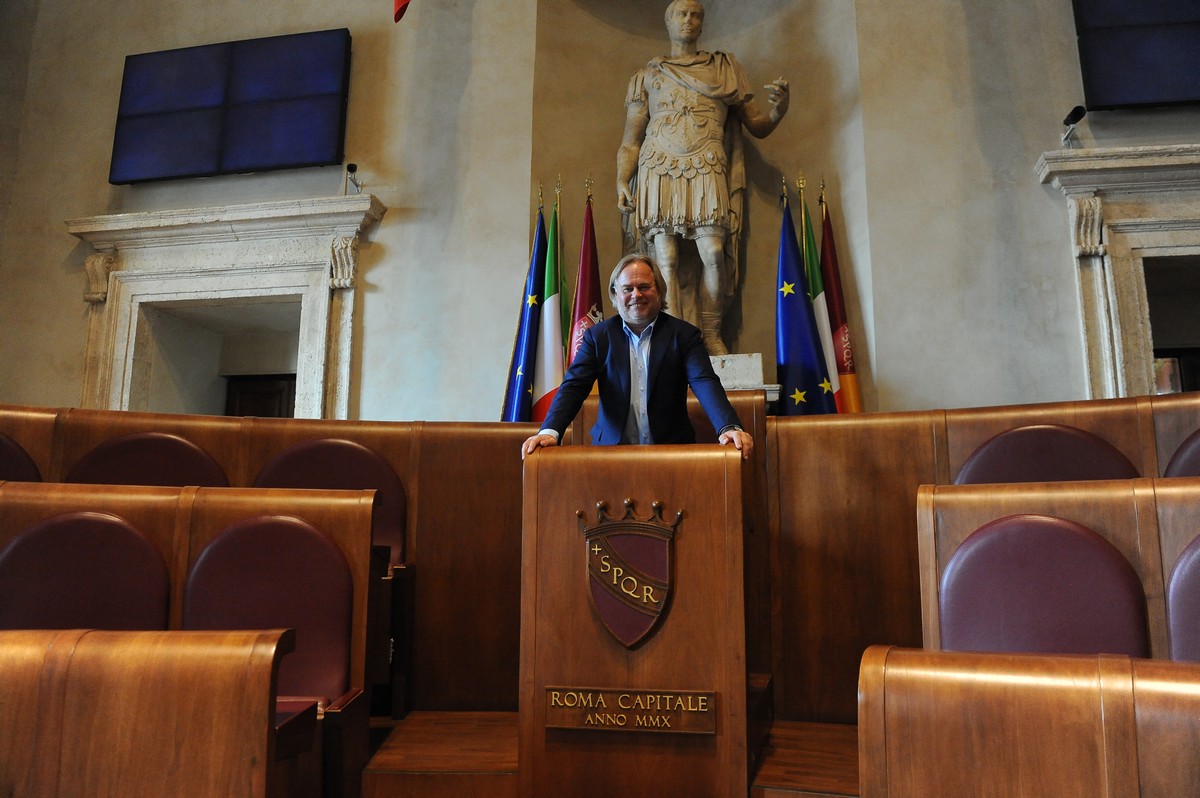 Dotted around the hall are all sorts of ancient stone blocks and columns that were originally from the Tabularium of ancient Roman times, upon the foundations of which the building is constructed.
Our guide showed us a room where in ancient times they stored salt. Apparently, in ancient Rome salt was used as a means of payment. And it was through this use of salt that today we get the following words in English (and similar ones in many other languages):
Soldier (salt was used to pay soldiers' salaries);
Salary (see 'soldier');
Soldo; and so on.
(I wonder, does 'salad' too have its etymology traced back to this room?:)
The building has quite a history. The structure as it stands today was finished by none other than Michelangelo in 1605 (I had a quick look at Wikipedia), built up on the ruins of the Tabularium, as mentioned above. But the Tabularium itself was built upon the foundations of ruins of a prehistoric temple. What that temple is built on is a mystery to archeologists today…
After the excursion around the inside of the building it was time to go up onto the roof. Amazing views therefrom, as could have been expected…
So as you can see, though I was here on business, luck would have it a spot of tourism featured too. Be careful what you long for ).
After such a long day, it was back to our hotel – coincidentally the 'Russia' hotel. Even the ice in the bar has the Russian flag on it!
That's all from Rome folks. Back soon, with more virulent volcanism from incredible Indonesia!…