We aggressively protect our users and we're proud of it.
Another sensationalist media story was released today stating among other things that Kaspersky Lab helps a certain intelligence agency in getting their hands on sensitive data from another intelligence agency through the home computer of a contractor. Another accusation in the article is that we are very 'aggressive' in our methods of hunting for new malware.
The first statement sounds like the script of a C movie, and again – disclosed by anonymous sources (what a surprise). I can hardly comment on it besides the official statement.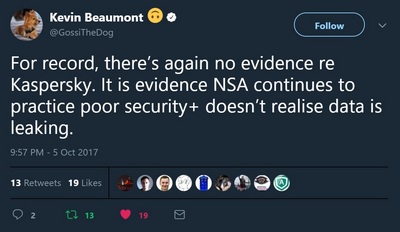 However, I couldn't agree more with the second claim about being aggressive in our hunt for malware. We absolutely and aggressively detect and clean malware infections no matter the source, and have been proudly doing so for 20 years. This is the reason why we consistently get top ratings in independent, third-party malware detection tests. We make no apologies for being aggressive in the battle against malware and cybercriminals – you shouldn't accept any less. Period.
While protecting our customers, we do – as any other cybersecurity vendors – check the health of a computer. It works like an X-ray: the security solution can see almost everything in order to identify problems, but it cannot attribute what it sees to a particular user. Let me elaborate a bit more on what we do and what we don't when protecting our users from cyberattacks:
What we do
Every day, we develop new heuristics and advanced detection mechanisms that flag suspected malware and send it to machine-learning-powered back-end for automatic analysis. These heuristics are designed in a way so that they focus only on a particular type of data – one that has characteristics potentially dangerous to computer health. And the data's risk is the only feature the heuristics care about.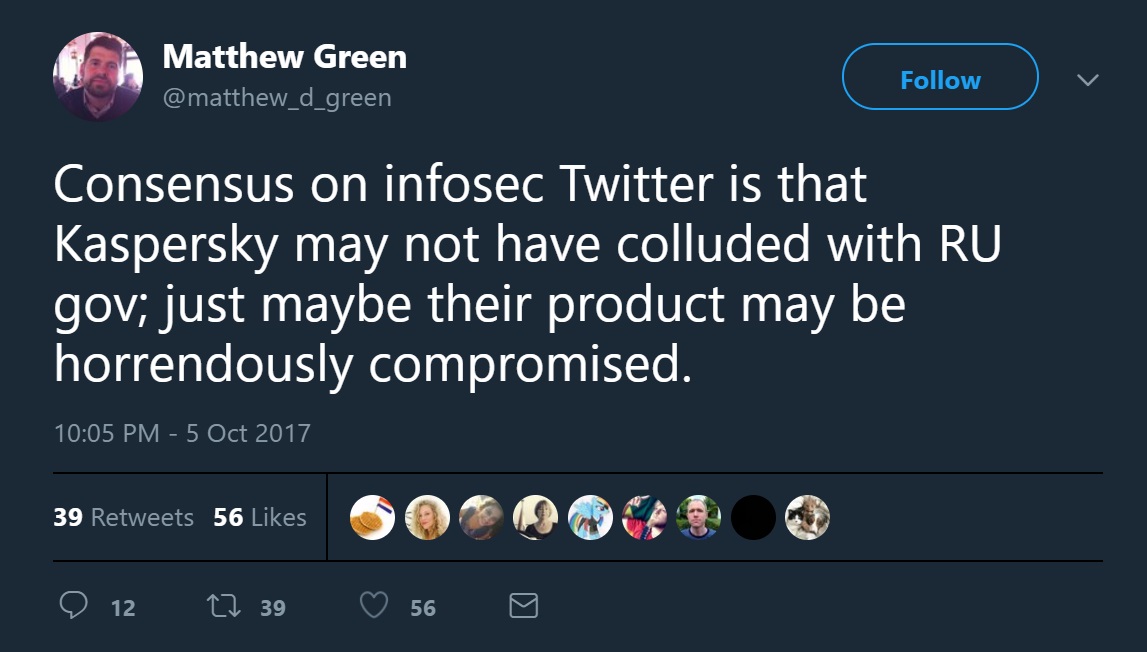 We focus on high-profile cyberthreats that have the potential to impact many users. Such threats are usually very sophisticated and may consist of multiple components – not necessary malicious at first glance. Please read our recent ShadowPad story as an example.
To betray user trust is easy and it would be immediately spotted by the industry. In its 20 years in business Kaspersky Lab gave zero chance to question its dedication to customers' security
We hunt for and analyze all kinds of threats. We ignore none. We also invest a lot of resources into systems that protect our users from malware, make their computers more secure, and allow them to enjoy their user experience as opposed to worrying about it.
In the wake of this latest article I want to emphasize the following: if our technologies detect anything suspicious and this object is identified as malware, in a matter of minutes all our customers – no matter who or where they are – receive protection from the threat. In the most serious cases – such as global malware outbreaks like WannaCry or sophisticated cyber-espionage platforms like Equation – our researchers analyze the threat deeply and publish the research with indicators of compromise openly, so not only our customers, but all other users and our colleagues in the cybersecurity industry can learn how to protect against the new threat. Customers' security is our mission, and we're committed to protect against all kinds of cyberthreats regardless their origin or purpose. This approach is the foundation of our business and is what our users pay for.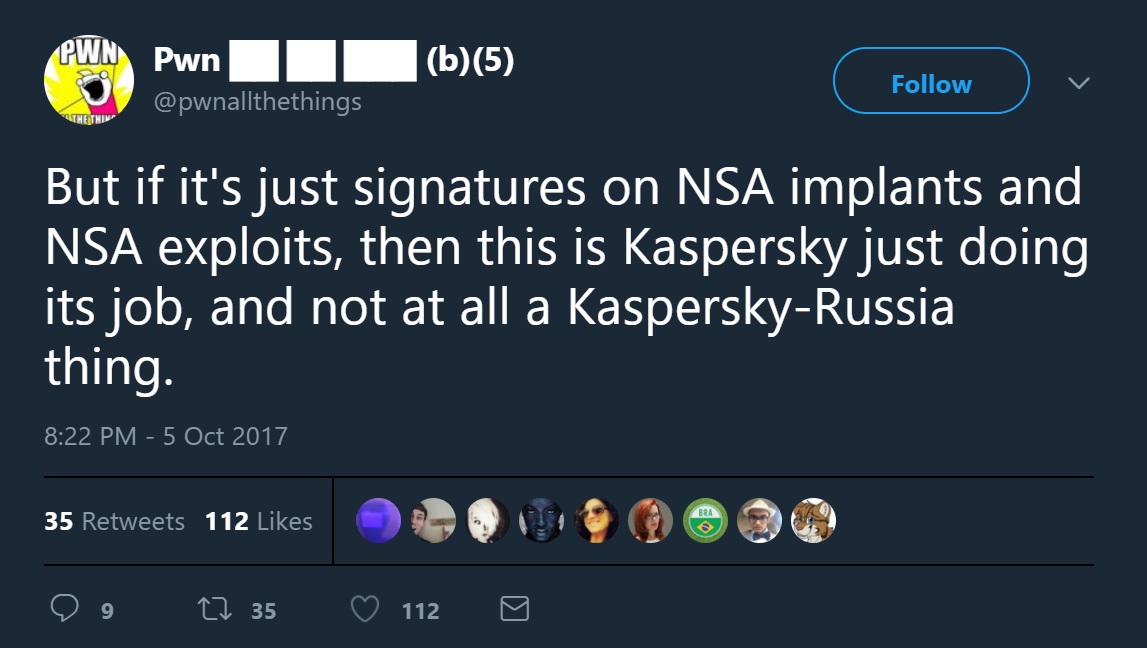 This is the one and only way of how we deal with cyberthreats. The new allegations look to me like this: someone just took this process of how we deal with a threat, added some fictional details, and here we go – the new C-movie script is ready.
What we don't do
With big power comes big responsibility. We never betray the trust that our users place in our hands. If we were ever to do so just once, it would immediately be spotted by the industry and it would be the end of our business – and rightly so.
To understand why something like this would be impossible for Kaspersky Lab or any other reputable security company, one needs to understand how the cybersecurity industry works. In our industry there are mainly two types of folks: first, those who do offensive things: breaking software, creating espionage tools, exploits, and – to the extreme – helping governments with their spy efforts. And second, folks who fight for users, take their side, protect them from attacks, create software that defends computers, and cause all manner of headaches for spy agencies.
The allegations look like this: someone just took the process of how the cybersecurity industry deals with a threat, added some fictional details, and here we go – the new C-movie script is ready
This is a fundamental separation, which expresses itself in many ways – from what is considered ethical by one category or the other, to reputation and separating right from wrong.
For 20 years, KL has been fighting for users. It's pioneered many technologies, including machine learning and cloud security, created one of the world's best security products, and strived to ONLY hire people who abide to the highest ethical standards.
Any of our experts would consider it unethical to abuse user trust in order to facilitate spying by any government. Even if, let's say, one or two such people would somehow infiltrate the company, there are dozens of internal technological and organizational strategies to mitigate the risk. There are also 3000+ people working at Kaspersky Lab and some of them would notice something like that. It's impossible to hide it from everybody.
Now to the complicated part
But no matter how great security technologies and measures are, the security of millions can be easily compromised by the oldest threat actor there is – a $5 USB stick and a misguided employee
Even though we have an internal security team and run bug bounty programs, we can't give a 100% guarantee that there are no security issues in our products; name another security software vendor that can! Software is made by people and people make mistakes – no getting round that.
Now, if we assume that what is reported is true: that Russian hackers exploited a weakness in our products installed on the PC of one of our users, and the government agencies charged with protecting national security knew about that, why didn't they report it to us? We patch the most severe bugs in a matter of hours; so why not make the world a bit more secure by reporting the vulnerability to us? I can't imagine an ethical justification for not doing so.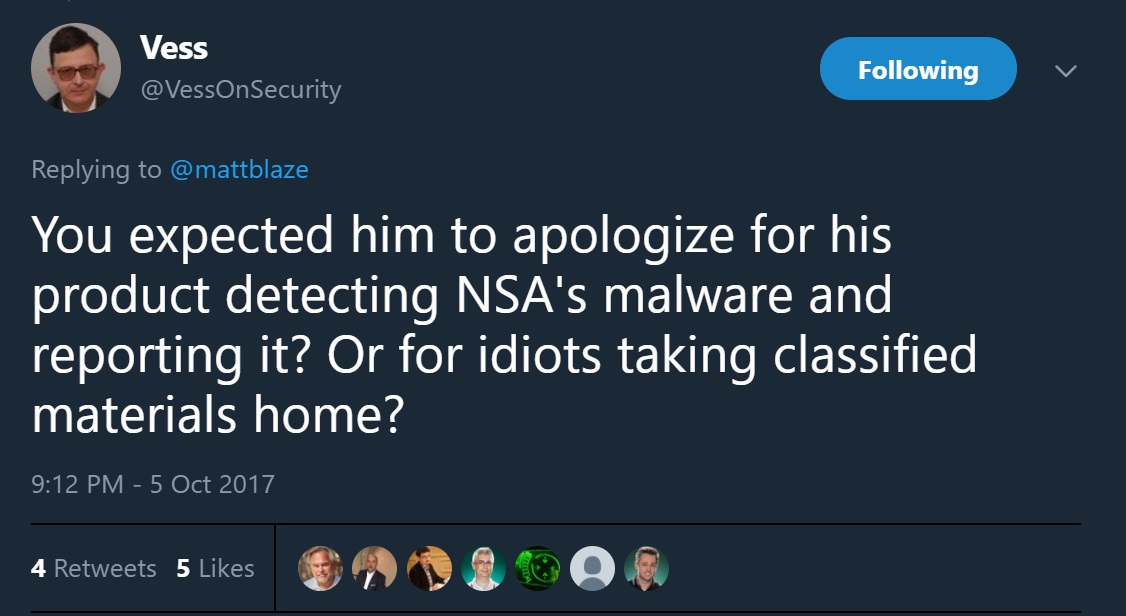 In the end, I can't shake off a disturbing thought: no matter how great security technologies and measures are, the security of millions can be easily compromised by the oldest threat actor there is – a $5 USB stick and a misguided employee.
Dissecting the recent WSJ cybersecurity story: truth, lies and disturbing details by @e_kaspersky himselfTweet