100 kilometers around Tian Shan – yes you can (just). 
Hi folks!
August – always quiet. And that includes here on my blog, as you'll have noticed. So here's for a bit of catch-up: it's time to report back from my recent walking trip around the Tian Shan mountains. Coming up: peaks, glaciers, mysterious natural phenomena, daily trekking-tourist notes, occasional rock-climber notes, descriptions of light-headedness brought on by low oxygen levels, and thoroughly non-office-like physical exertions. Also coming up: why we chose this particular particularly remote spot for this year's spot of extreme tourism…
First off: how did we get there? Here's a brief pictorial review:
Logistically it was all rather simple really: first Bishkek, then a seemingly endless car ride to Karakol. Hmm – interesting what you find out on Wikipedia about lesser-known places:
"A Russian military outpost founded on 1 July 1869, Karakol grew in the 19th century after explorers came to map the peaks and valleys separating Kyrgyzstan from China. In the 1880s Karakol's population surged with an influx of Dungans – Chinese Muslims fleeing warfare in China."
A long trip into mountains a long way from home always starts with getting food and drink supplies in from the local stores, since hauling provisions with you from home is just makes no sense. So we located the nearest groceries store and got down to getting in the necessary bread, butter, cold meats, nuts and seeds, candy, fresh lemonade, ice cream, etc., etc. As we were approaching the tills I noticed the alcoholic drinks section. I was naively expecting the obligatory Stolichnaya, Johnnie Walker and Beefeater, but none of those global giants was present! On offer instead was an extensive slew of domestic brands I'd never heard of, or seen – let alone tasted. But this was no time for experimenting with unknown liquor; we swiftly passed on toward the till.
The fruit-and-veg market, on the other hand, was pleasingly reassuringly familiar – so we got plenty of the super-fresh local produce in.
All groceries duly procured, it was into the 4x4s and we were off on another long road trip, this time to Engilchek Glacier.
"Ahhhh" went the chorus upon seeing the surrounding countryside.
And the further we drove, the wilder and more awesome the surrounding views became; that is, apart from the view right behind us, which was nothing but the dust our Land Cruisers had kicked up.
Almost there… The main thing was not coming a cropper on these 'roads' ).
A few more miles…
Oh my gorgeous!
We'd got a very early rise the following morning, so tried to get an early night. Yeah right. Our camp's generator made a hell-raising racket until 3am, so none of us got a wink of kip before then. Grrr. But to heck with negativity; we had ahead of us a long and action-packed journey east, and no generator – no matter how loud – was gonna spoil that… How could it, when our plans for the following 10 days went something like this: ~100km along the x axis; ~2.5km along the y axis; seven overnight camps; plus one ascent up to the top of a (nearly) 5000-meter mountain!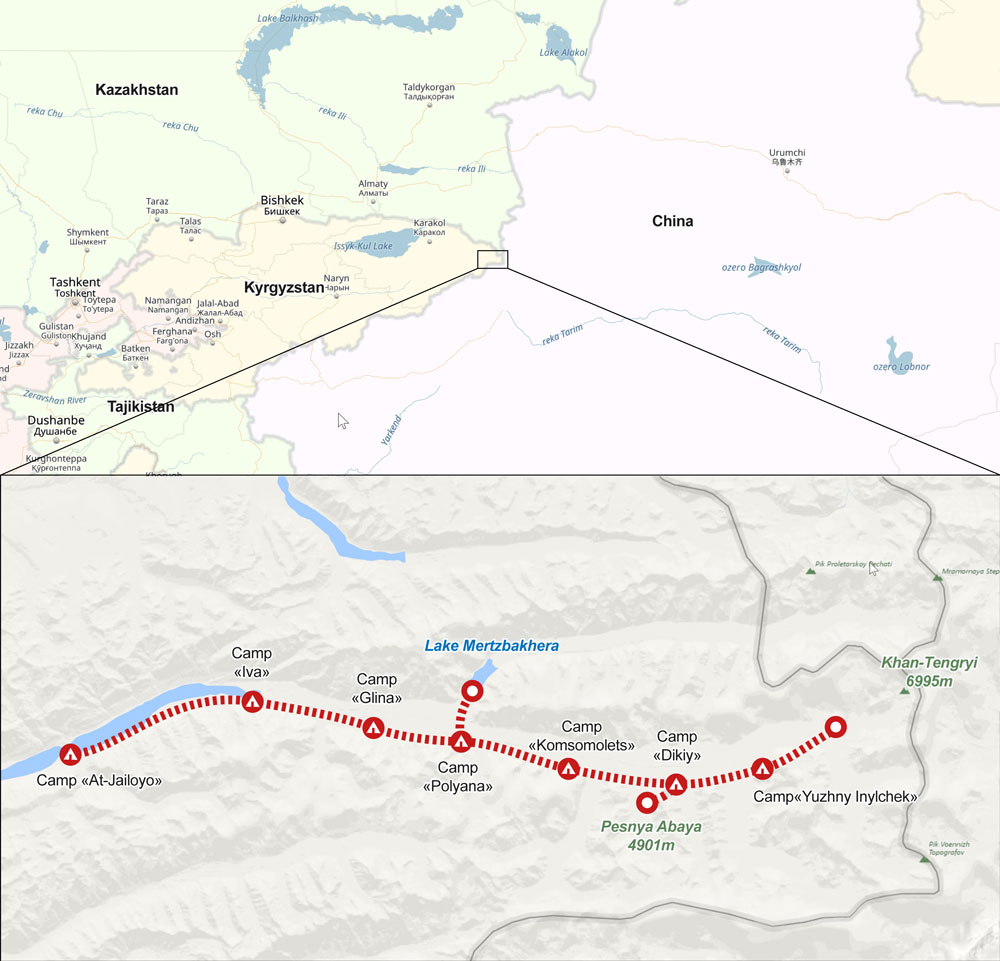 It goes without saying that our guides were of the highest caliber, conscientious in their daily work and being ever-helpful to their clients, as in this instance:
Let's go!
And over there are the moraines. Let's get at 'em!…