I'd heard so many good things from different people about Sardinia, the magical Italian island in the Mediterranean, but never been there myself. The sun always shining, clear blue sea, the tastiest grapes, cool cliffs, incredible islands along the shore… I should have made it here long ago, but it was never to be – until last week. So after we were done with business we had did a spot of tourism…
The sun is hot here, but you get an occasional and very welcome respite therefrom in the form of white cotton-wool-ball fluffy clouds floating by overhead…
In-between the picture-postcard villages you get rocky outcrops dotting the hillsides…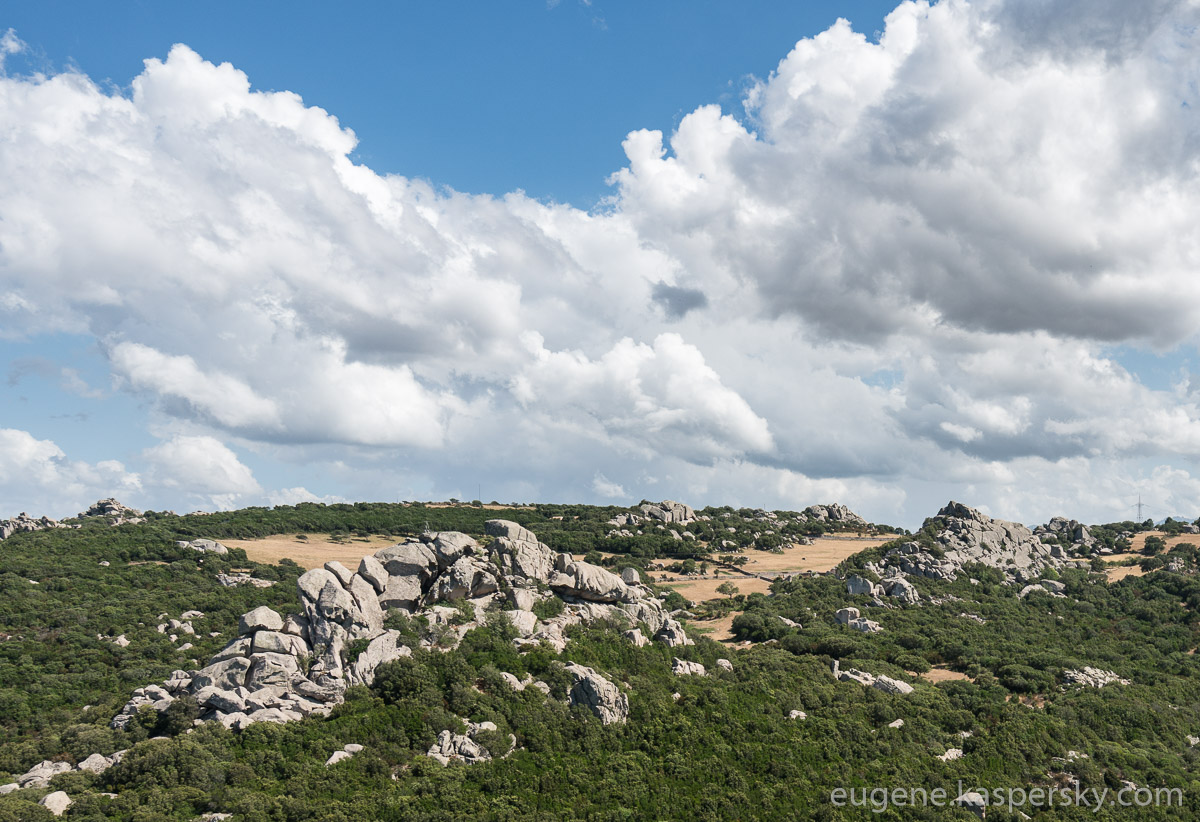 So what are you to do if you have the following?
A full free day;
Sardinia;
A wish to want to check out as much of the island as possible?
Well, first off you need to be able to move about the island with maximum speed, since it isn't small: around 270km from top-to-bottom and 120km across. If you start out from the top of the island, alas, you have to miss out the Maddalena archipelago, as you need to get to it on a boat/yacht and need to spend at least half a day on the trip. Instead, you start your study of the island with the Rio Pitrisconi canyon, here.
It's a place that's not all that well-known – either to tourists or the Internet, but it's still well worth a visit. The landscapes here go something like this:
Here they have tourists put on wet suits, helmets and climbing harnesses, and have them do a spot of abseiling or zip-lining:
Actually, it's not plain old abseiling/zip-lining, it's canyoning. You scale the cliff wall down some 15 or 20 meters, and then have a splash about in the natural pool below:
This canyoning is real fun. Of course, in the dry season (summer) the water in the pools is stagnant. In winter the water's gushing gustily down the cliffs in streams (and no doubt canyoning is dangerous). In summer the water smells a bit like a swamp and is rather unclear and cloudy, but all the same, overall it's a worthwhile experience; must be so much better in winter, however.
It's especially cool if you've never done anything like this before. That was me! And I have to say, though it's not easy to blow my mind with this or that extreme outdoor activity, this one sure did. Descending down a rope down the side of a vertical cliff really is something! Plopping into the pool below isn't bad at all either. It all adds up to a must-do!
We were doing the canyoning thing for two hours, but it felt like 20 minutes. It was that much fun. Like I say: must-do!
After our post-canyoning shower and a bite to eat we were on our way to our next spot of Sardinian micro-tourism, about which I'll tell you tomorrow…
The rest of the pics from Sardinia are here.
Back soon folks!…