All righty boys and girls, herewith – back to my customary ongoing narration after a short pause caused by all sorts of events being packed into a short length of time on the road. Ready? Popcorn procured? Beverage beakered? Then we shall continue…
The Indian Ocean: the Indian WhOcean! Its shores include those of many an esteemed continent and its water anoints many a beautiful island. I've been on all of the continents – including the lesser-visited southern one – but as to the list of islands I've some way to go yet until I can say I've been to them all (and checked out their historical/geographic/touristic/beautific highlights, preferably after some useful business activity, as per the usual template).
But as you'll have noticed long ago, I usually just gloss over the useful business activity and get straight to the fun bit. Well, some things never change, so here you are folks – straight to the chase: a short post on my recent trip to Seychelles!
Seychelles (singular, and no 'the'!) is a 115-island archipelago-country ~1300km to the southwest of Somali (the nearest country on the African continent) in the Indian Ocean, and ~1000km to the northeast of Madagascar – here. And as seen from a satellite – here. And as seen via a camera on the ground – here:
I was surprised to find out that Seychelles belongs to the East African geographic region. Haven't seen much of Africa, but have been a few times. Anyway, this visit to Seychelles gave me a +1 to the countries I've visited in the world – now 83. Another 17 to go to my century…
A little history…
The Seychelles islands were among the very latest in the tropics to become permanently inhabited, after being uninhabited throughout most of recorded history. If Wikipedia is to be believed settlers appeared here a mere 250 years ago! That's almost a thousand years later than the Polynesians settling on Hawaii! Arabs apparently showed their faces earlier, as did various pirates, but neither settled permanently.
Another Seychellois curiosity: the name 'Seychelles' comes from… a finance minister! Yep: Jean Moreau de Séchelles, Louis XV's minister of finance. Quite why I have no idea. I mean… finance? )
There's plenty more interesting and curious about the Seychelles, which all needs careful investigation; kinda like this: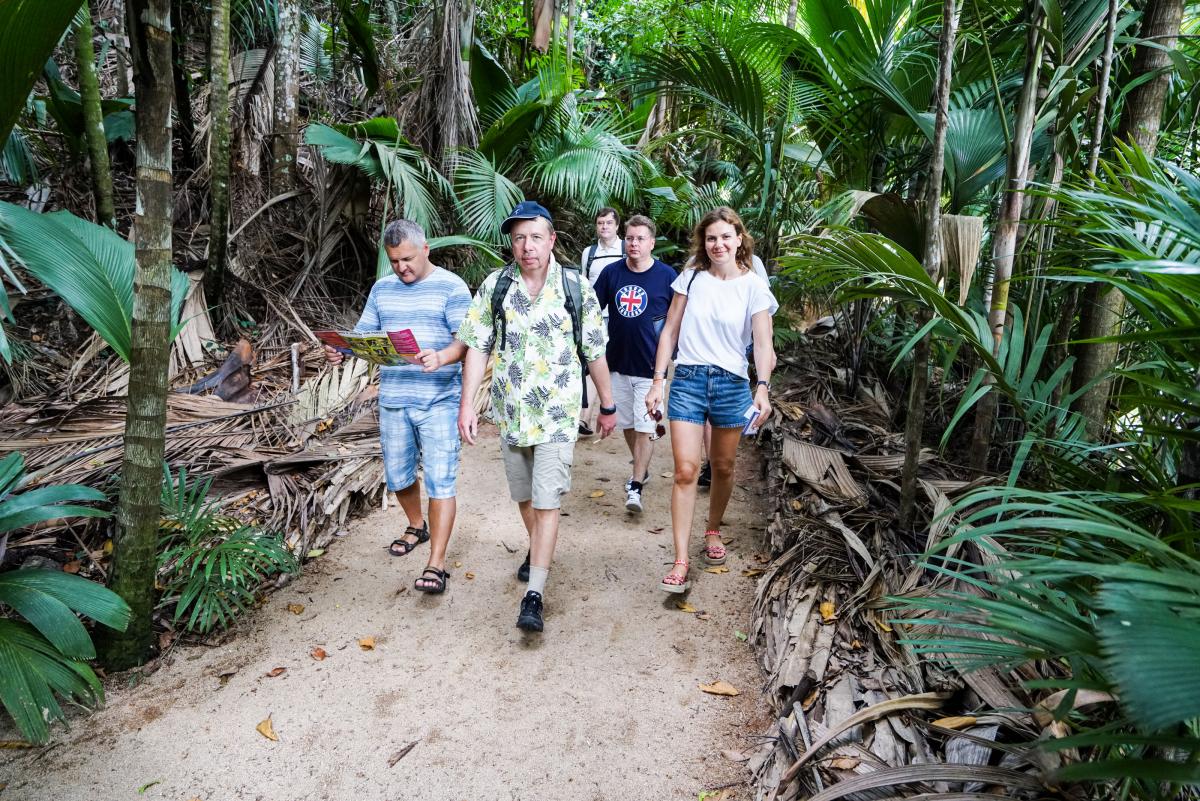 What's the first thing that comes to mind when you hear 'Seychelles'? That's right – that you'd like to be there right now: under that tropical sun, bathing in the clear green sea or strolling along one of its picture-postcard beaches.
So yes, I guess we were lucky – especially lucky: -25º in Moscow; +25º in Seychelles!
You could call Seychelles lucky itself: a third of the working population works in tourism, and income from tourism makes up a whole 70% of the public purse.
Incidentally, in the three lists of countries by GDP (nominal) per capita (i.e., converted into USD), Seychelles comes around 45th in all three. Not bad at all for an Eastern African country. It's just a little behind Greece, and is ahead of Poland, Hungary and Russia! /* There are also lists of countries by GDP (as purchasing power parity) per capita, but those are different figures.
So what else is Seychelles famous for? Giant turtles!
What else? The palm trees that grow here have the biggest nuts in the world – also the oddest/rudest shaped too!
They grow in hypnotically pleasing palm forests too…
But more about those in an upcoming post…
Meanwhile, I'll leave you with some more pics of these entrancing equatorial environs.
'Weh-chelles', 'Very-chelles', and even the following paraphrased rhyme in English sprang to mind while I was taking them!:
She sells seashells on the seashore Seychelles :-).
Back soon folks! Meanwhile – top up your popcorn supplies!…