Nightclubbing – Viennese Style.
Our introduction into Viennese nightlife occurred most unexpectedly: we were invited to a ball! A real ball, which takes place in a large concert hall somewhere in downtown Vienna. Woah!
To the sound of chamber music, with the men in tailcoats (white tie) and the women in ball gowns, the guests gathered for the 10pm ceremonial kick-off to the ball. The ceremony was most official – formally opened by two government ministers (of internal affairs and foreign affairs). Here's the latter making his speech. Yes – he is young for a minister :-):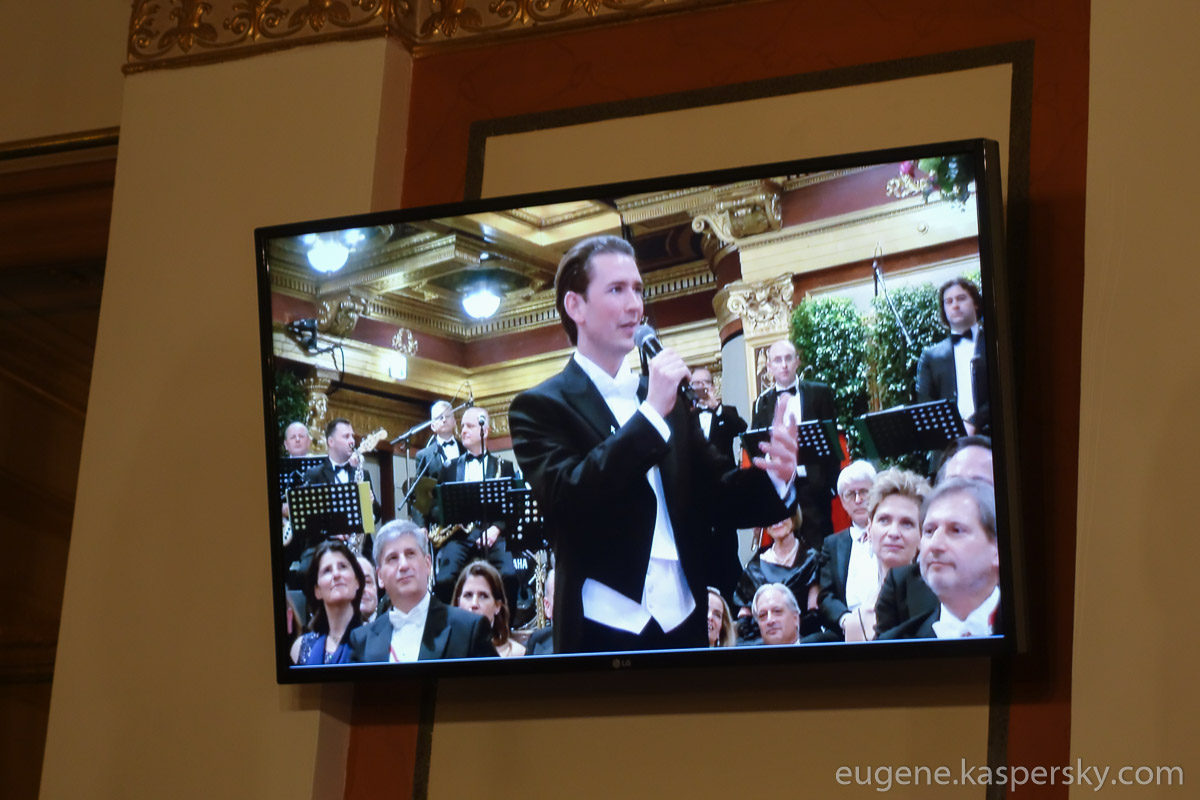 So, if I was there, why did I take a pic of a TV screen and not of the (young) man himself? Simply because there were that many folks in the hall – literally thousands! (Clearly evening-wear rental and/or sales must is a profitable business in the Austrian capital). So many ball-goers, in fact, that we couldn't even get into the hall for the opening ceremony, which was just like you see in the old films: guests being paraded in front of the royal/ministerial hosts, with a few formal words exchanged with each: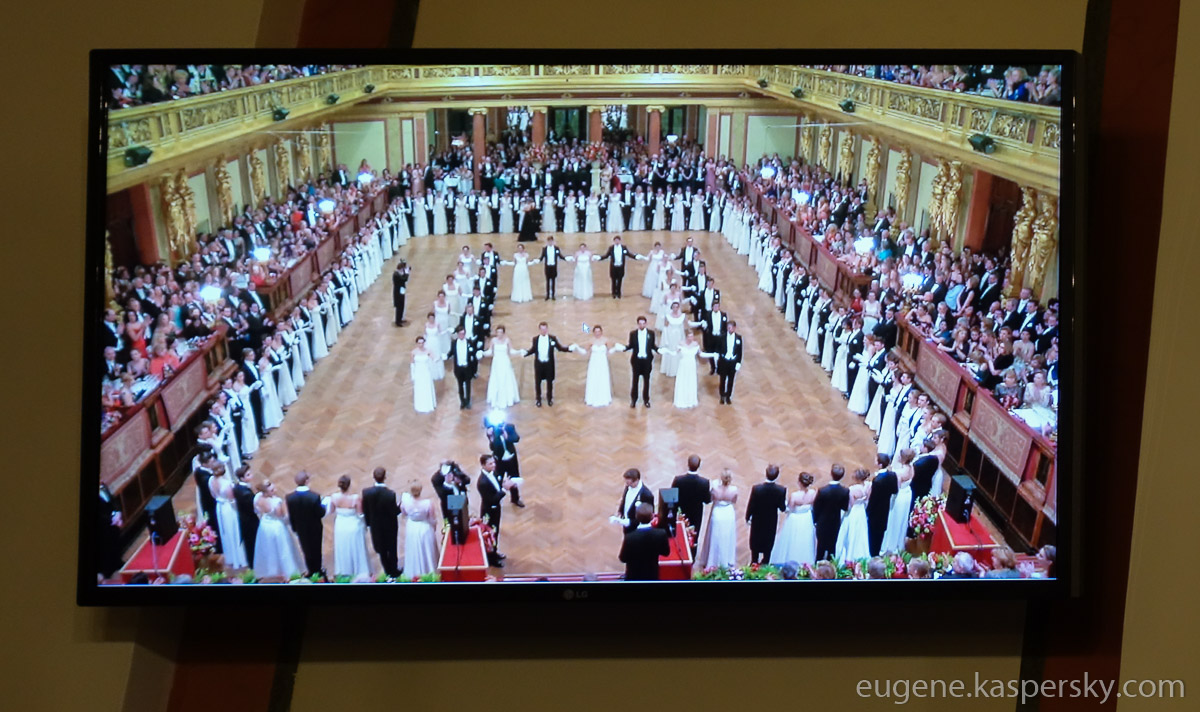 A little later things calmed down a bit and we managed to squeeze our way inside. And this is what I saw…
The debutantes' dance, or whatever it is they call it: young couples new to such a ball. They take dozens of lessons on how to do ballroom dancing so they can dance as per requirements at the ball. The ball itself is something like an exam, or so it seemed to me. Or simply a demonstration of the newbies' cavorting talent. The moms and dads in the audience must have been very proud:
Next, all those present roam about as per seemingly pre-defined routes. Some get out onto the parquet to strut their ballroom dancing stuff, others flit between the bars and restaurants on the various floors, while still others go to the club a floor below for some kinda rock'n'roll-like jiving. In short: unmistakably Viennese nightlife gets into full swing!
It turns out that Viennese balls aren't fuddy-duddy formal affairs, but fully fun and funky ones! We shimmied and shindigged until 5am. Hop till you drop ).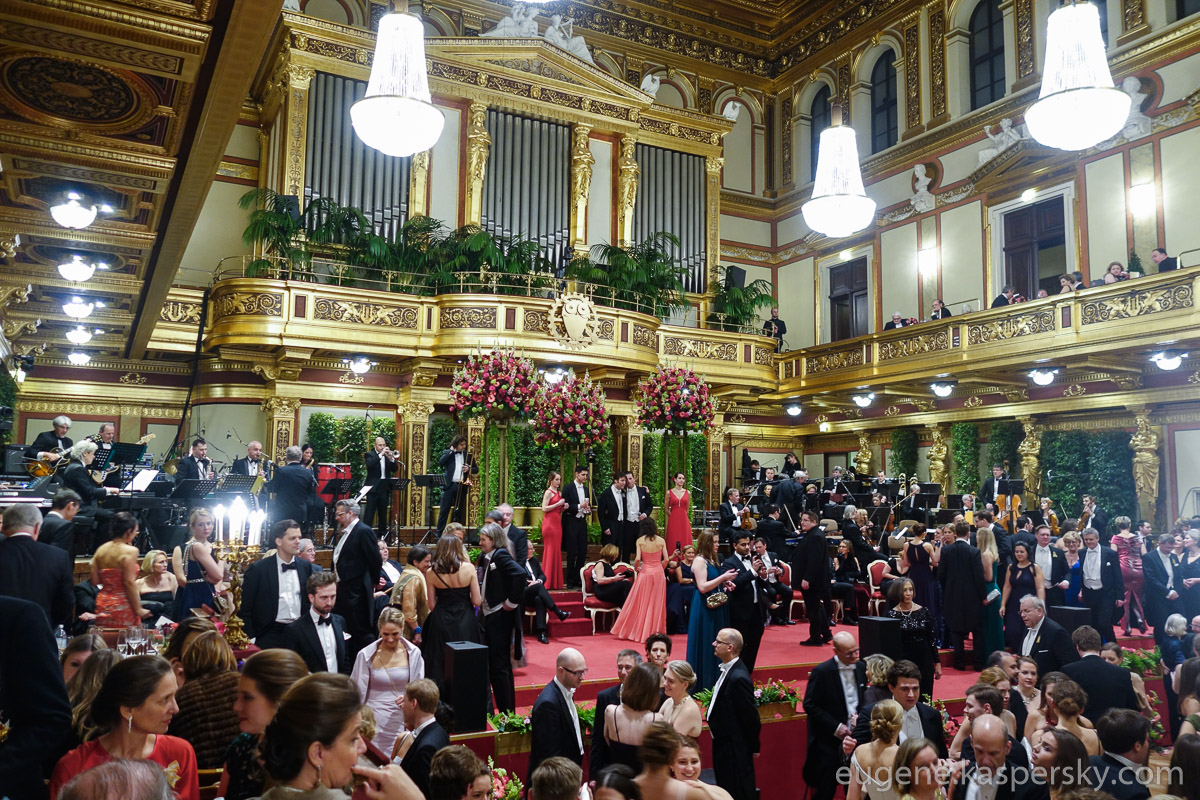 Another cool thing about this ball is how it's for party-goers of all ages. Young debutante-couples boogie on the dancefloor next to 60-year-old couples, and all age-groups in-between appear to be present too. Must say, this was the first 'nightclub' I'd been to where there's a good 40 years between the youngest and oldest punters. I hope it won't be the last: the extra-feel-good factor from this multi-generational door policy was quite tangible :-).
And now a bit more background info on the ball-phenomenon in Vienna…
Vienna is host to more than 450 balls like this every year. No that's not a typo! Don't believe me? Proof – here and here. Ball season has a schedule and, should you want to, you could go to several in a week. I made a quick calculation in my head: if, say, two to three thousand revelers attend every ball (like at the ball we were at), that means more than a million attend balls in Vienna in a year. Oh my gown!
Btw, the ball we were at was the Ball of Industry and Technology. Well I didn't see any industry or technology, just a lot of waltzing and tangoing! We were in the Musikverein, the venue of the main Austrian New Year's Eve bash. Anyone can attend, as tix are openly available to purchase. I didn't get to find out the prices of tickets to our ball, but those for a similar ball were around 100 euro (not expensive really).
So yes, should you ever be heading to Vienna, don't forget to take with your tail suit/ball gown – or rent same while there – and get out and into a Viennese ball. It's simply a must-do if here. It'll be an unforgettable experience – more so if you can dance :-).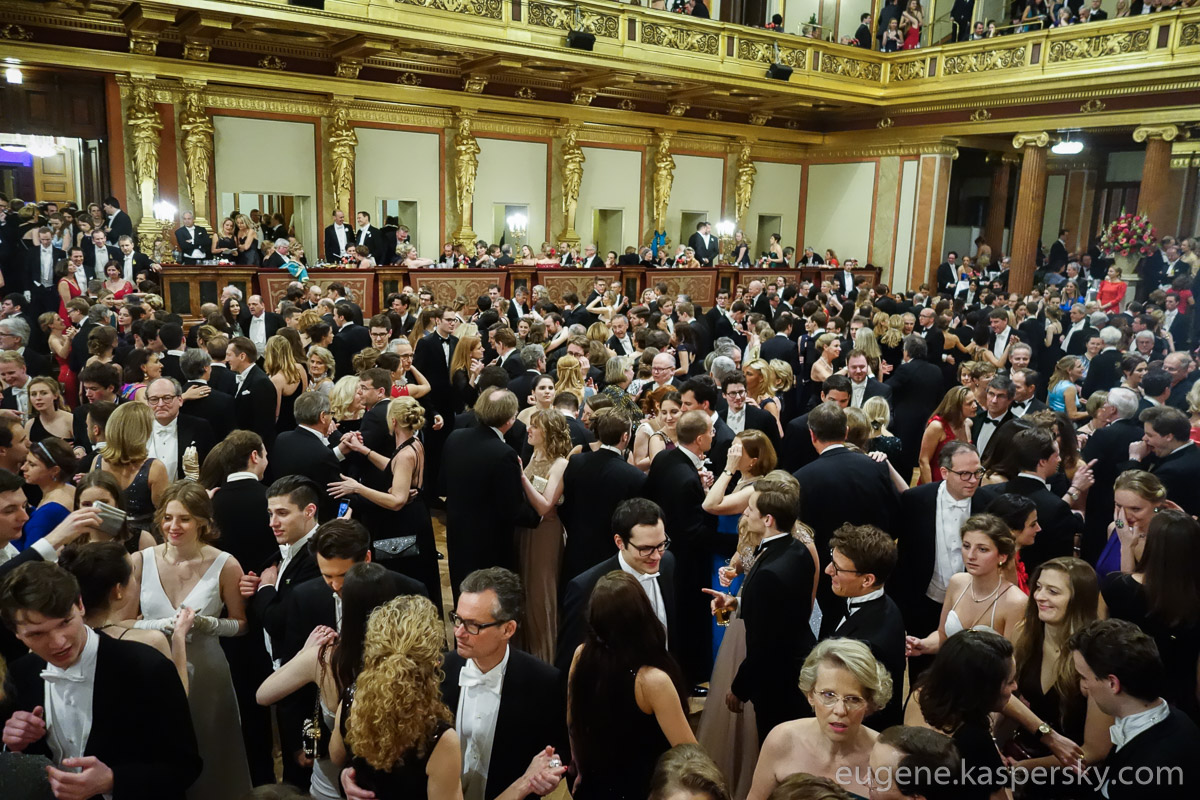 Over and out from Vienna folks. Back soon!…