An Obvious Formula. Monza 2016.
And now, boys and girls, for the main course – a very hot dish!
Formula One racing in Monza. It's a cult place for the motorsport crowds, and it's not far from Milan. It's all about the cars, bikes, racing loud techno, global gathering and loads more! That's why I'm here.
The place is so motor-oriented that even the 'carabinieri' have their Lotus out front at one of the entrances (there may have been more of them I didn't see).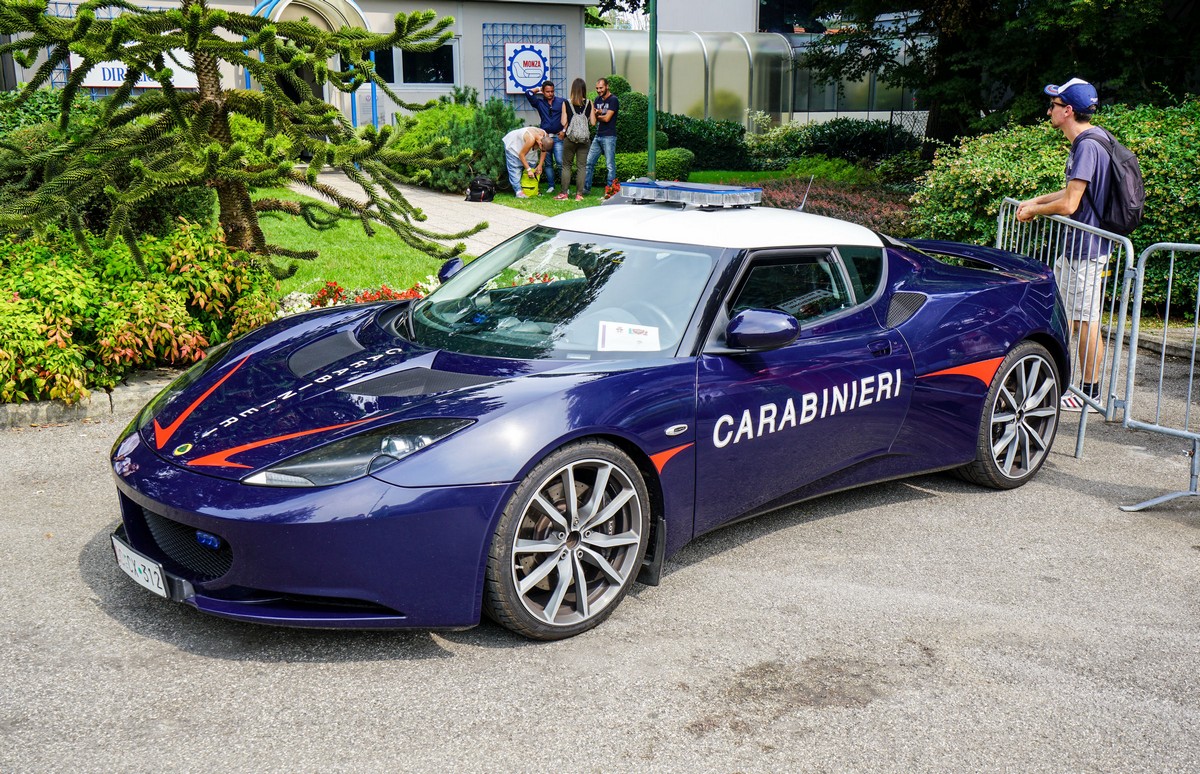 Before the race, however, I have a feeling that something isn't quite right.
Something was different about the paddock (where all the teams, stewards, drivers, managers, journalists and other unnecessary hangers-on hang out and sometimes do some work). There wasn't the usual commotion. There was no exclusive-looking crowd wandering around, no freshly-ironed haute couture on show, no discerning looks from behind [insert your favorite brand here] sunglasses, no glamorous girls that seem to be indifferent to everything, and none of the usual Formula-1 fuss. And the place seemed a little duller for it.
For those interested in what and how everything happens at Formula 1, you're welcome to look here. The pictures there give a much brighter impression, and they're pretty recent! I'm not a big specialist in Formula 1, but I've expressed all my excitement in my usual manner there. So I won't bother going over all the goings-on in the garages and on the track – you can read it all by clicking on the link above. For now, I'll stick to this season's events.
The start of the race was awesome! I don't know what Hamilton was up to at the start, but he had dropped from second to sixth (or fifth – I don't remember) by the time he entered the second corner. The Mercedes cars then demonstrated some magic. After five or six laps Rosberg had built up a 9-second lead – how?? And somehow they also managed to complete 53 laps with only one change of tires…
They all used super soft, soft and medium tires. They all had exactly the same set of tires – Mercedes, too. Everyone else had to change three sets while Mercedes managed on just two. It's not clear what sort of magical 'doping' they used to grease those tires. How do they manage to drive for so long and not wear down the tires at the corners? It's impressive. It's obviously some sort of mysterious German enigma.
Other than that, there was no real intrigue. The Mercedes and Ferrari teams finished in the same order that they started. The rest was not all that interesting for me… They might just as well have not bothered racing. The result was the same as the qualification round. Everything was pretty obvious … 'an obvious Formula'.
So, there we have it – yet another race at this famous track, though there's not really that much to tell. All that's left is to show some pictures. In any case, it's probably better to listen to the professional commentators rather than read the opinion of a not very knowledgeable medium-sized sponsor :).
Ah, I promised some pictures, right? Here you go.
Those who are quickest – usually those occupying the most expensive seats – are heading towards the podium, where the winners will receive their prizes and be treated to champagne.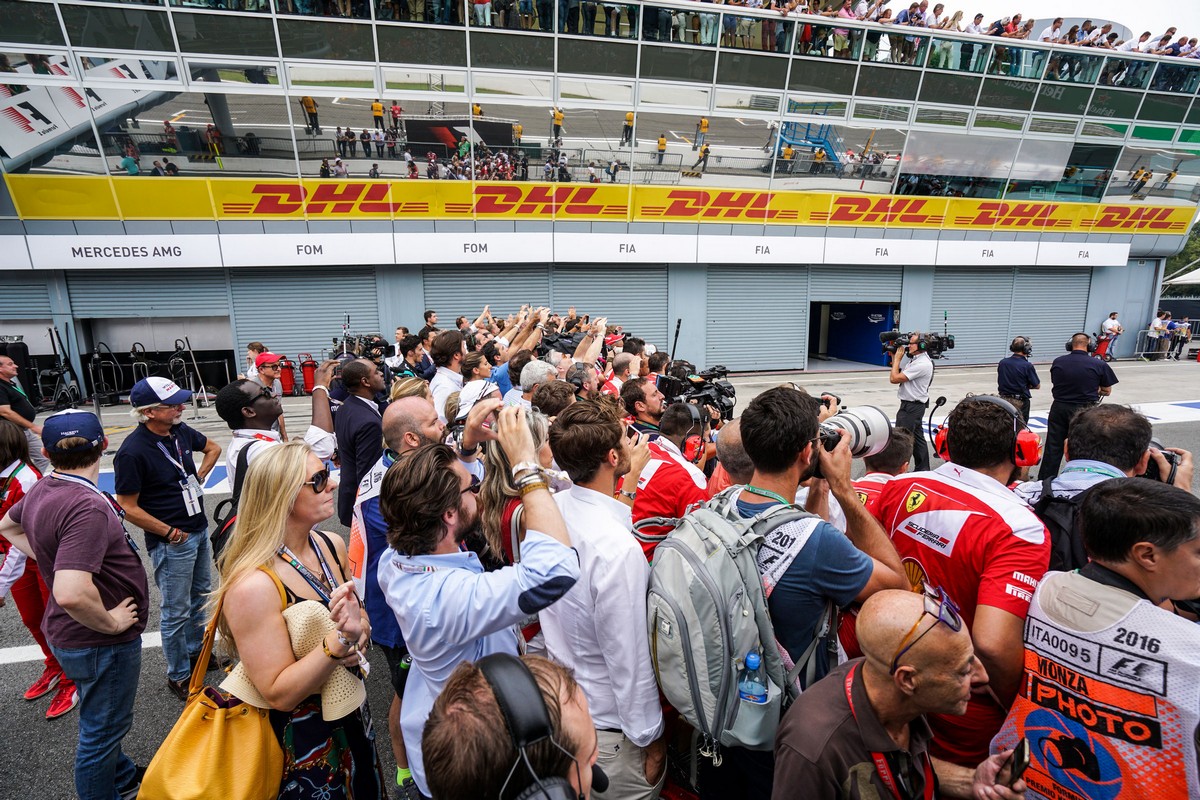 Those who will be doing the awarding appear on the podium…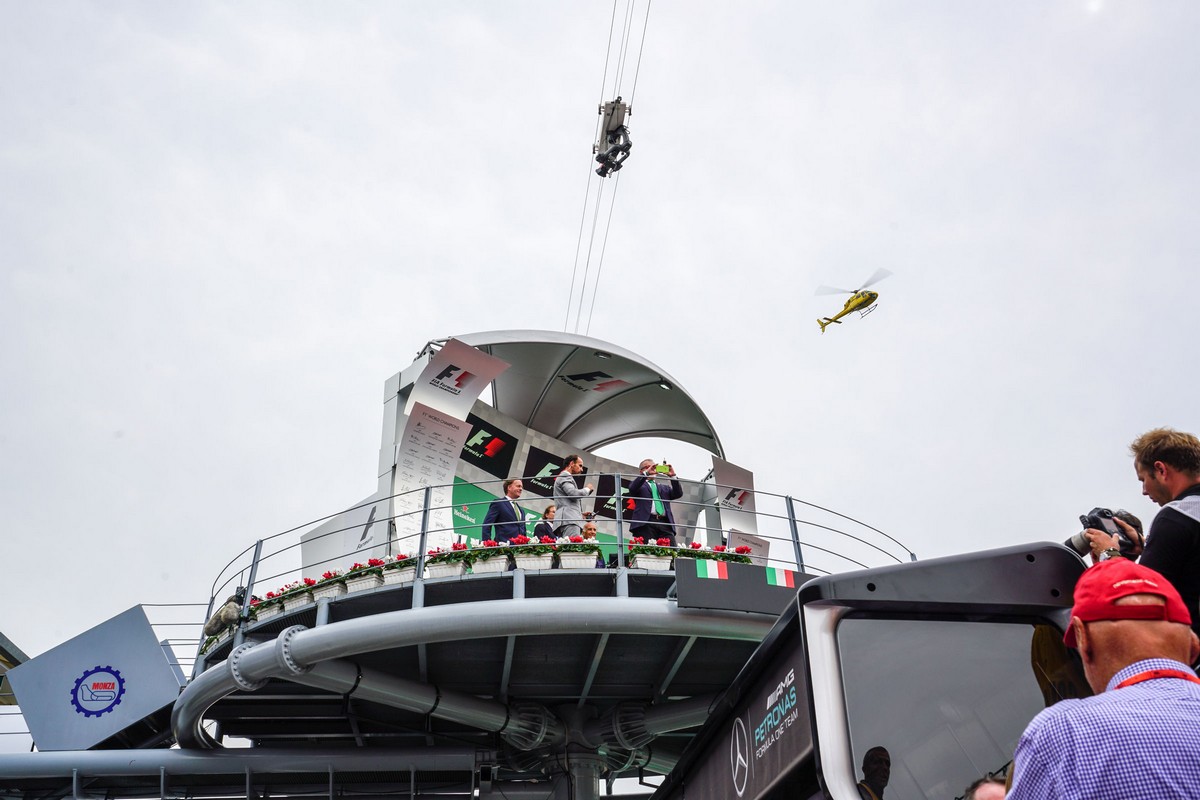 And take pictures of those waiting for the awards ceremony!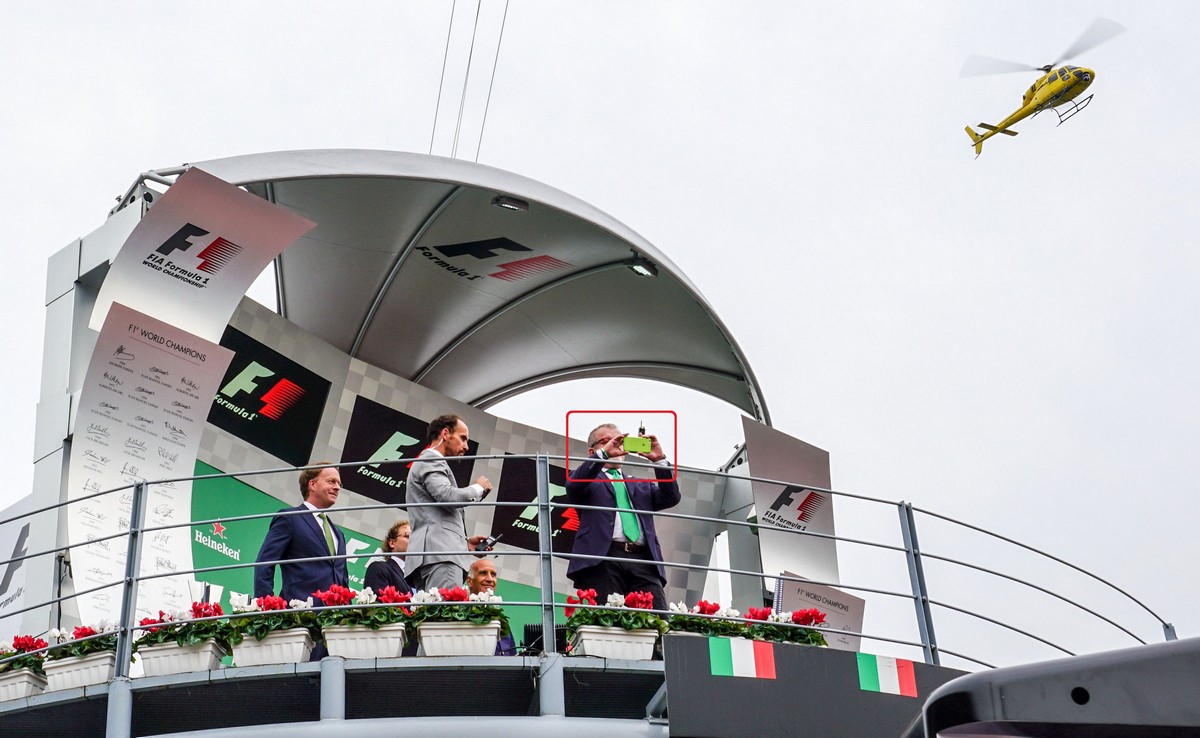 People are taking pictures with cameras of various caliber and in all directions. I couldn't help myself either.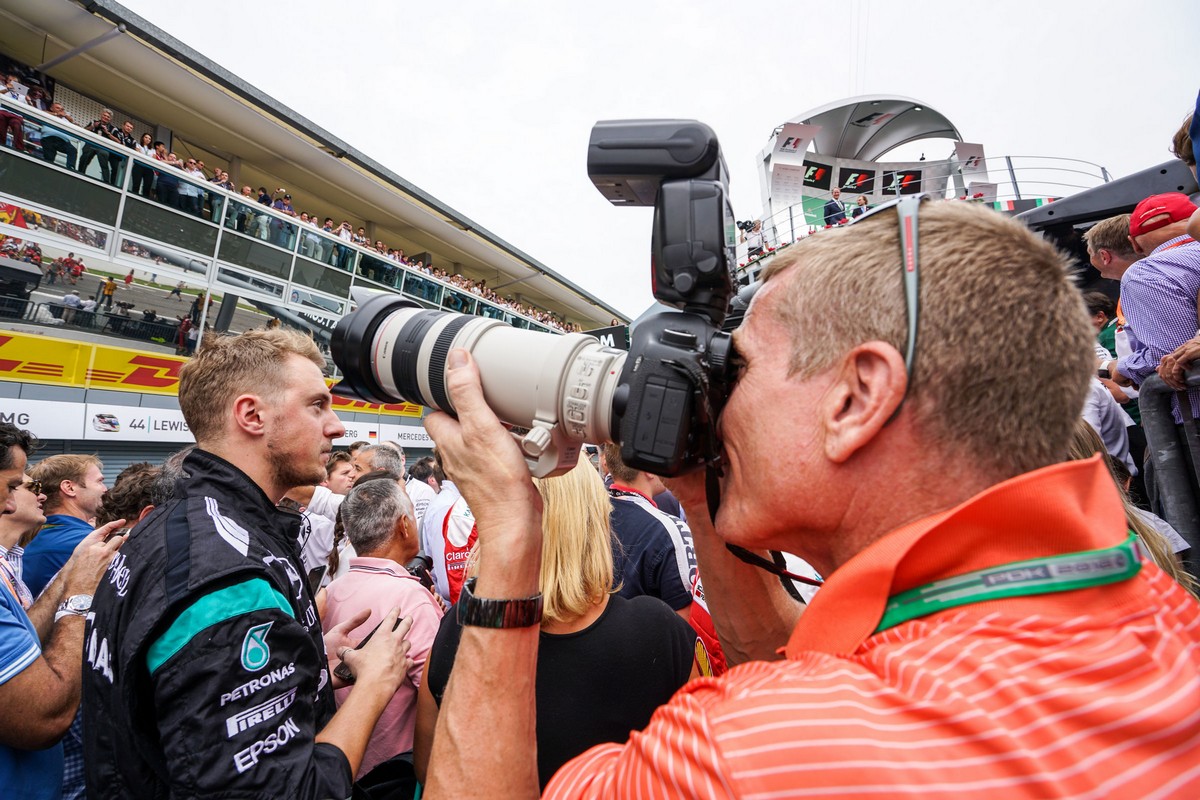 There is a very clean mirror on the wall. Could I take a decent selfie?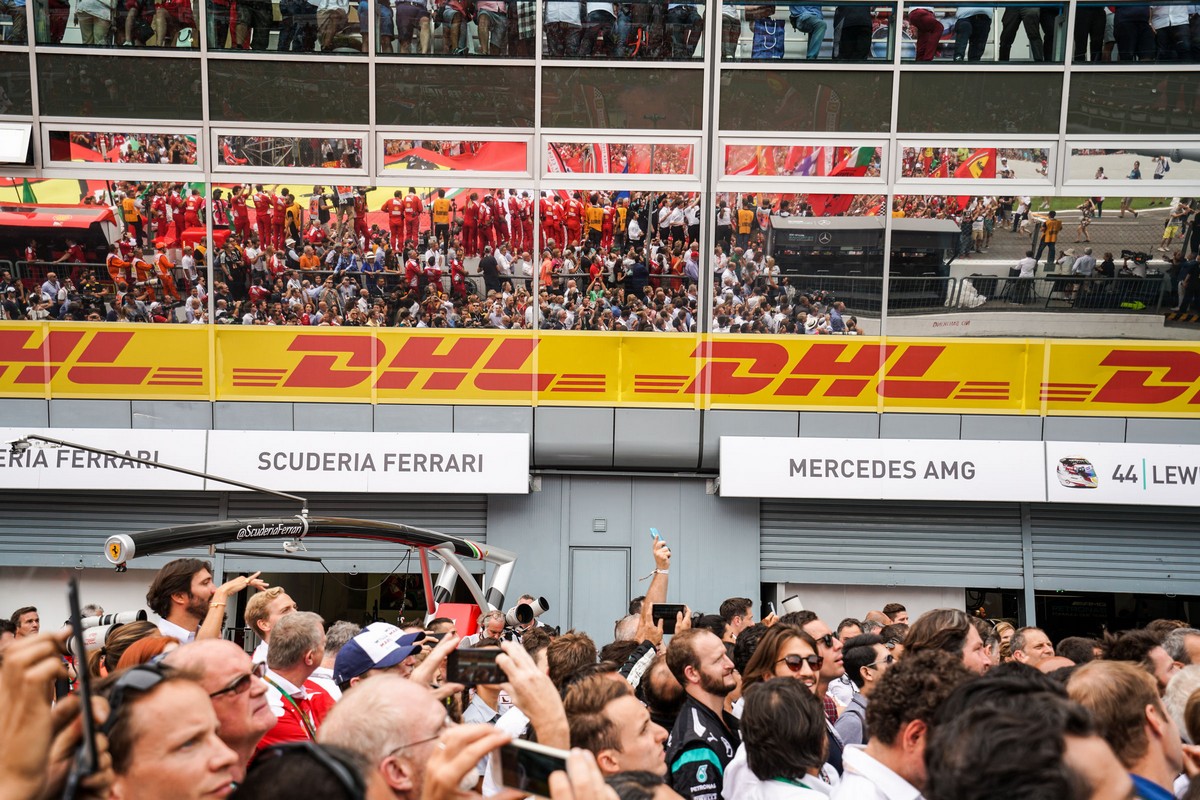 I could! The one in the bright green T-shirt is me! Try finding me in the previous picture.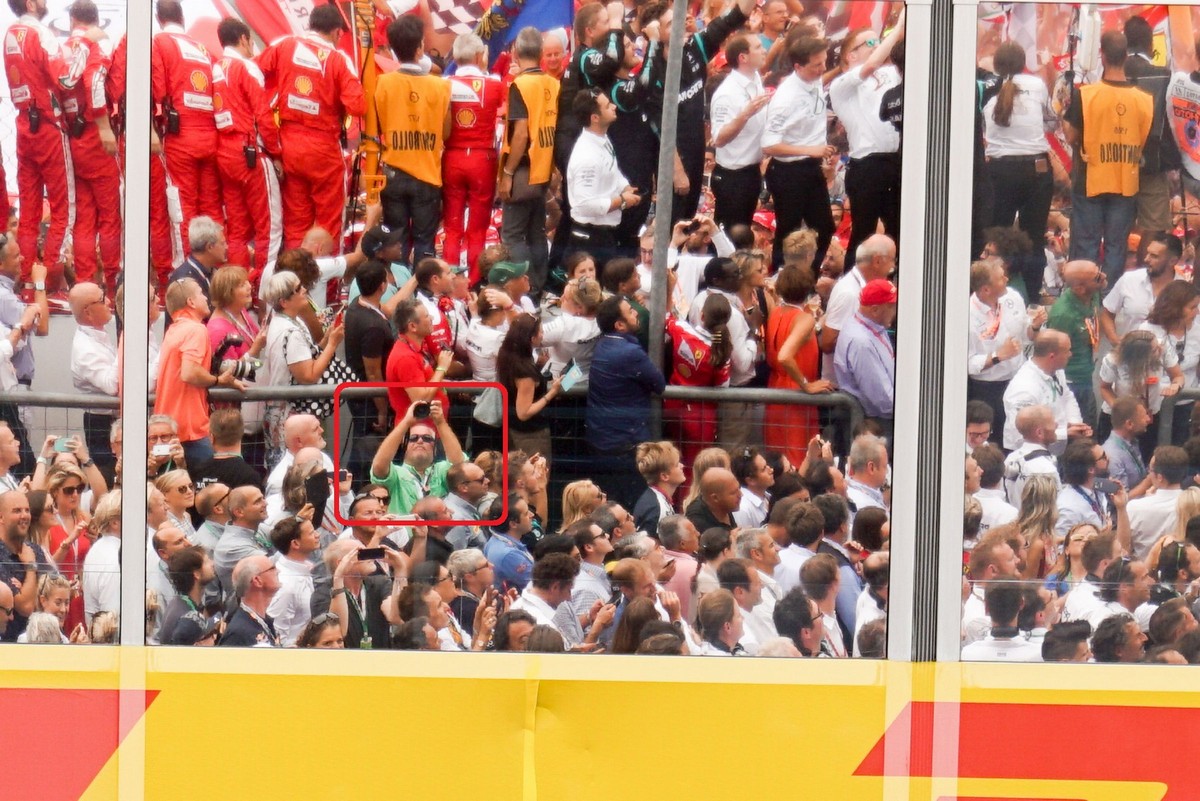 Here's another picture of the crowd with me in it, but who cares?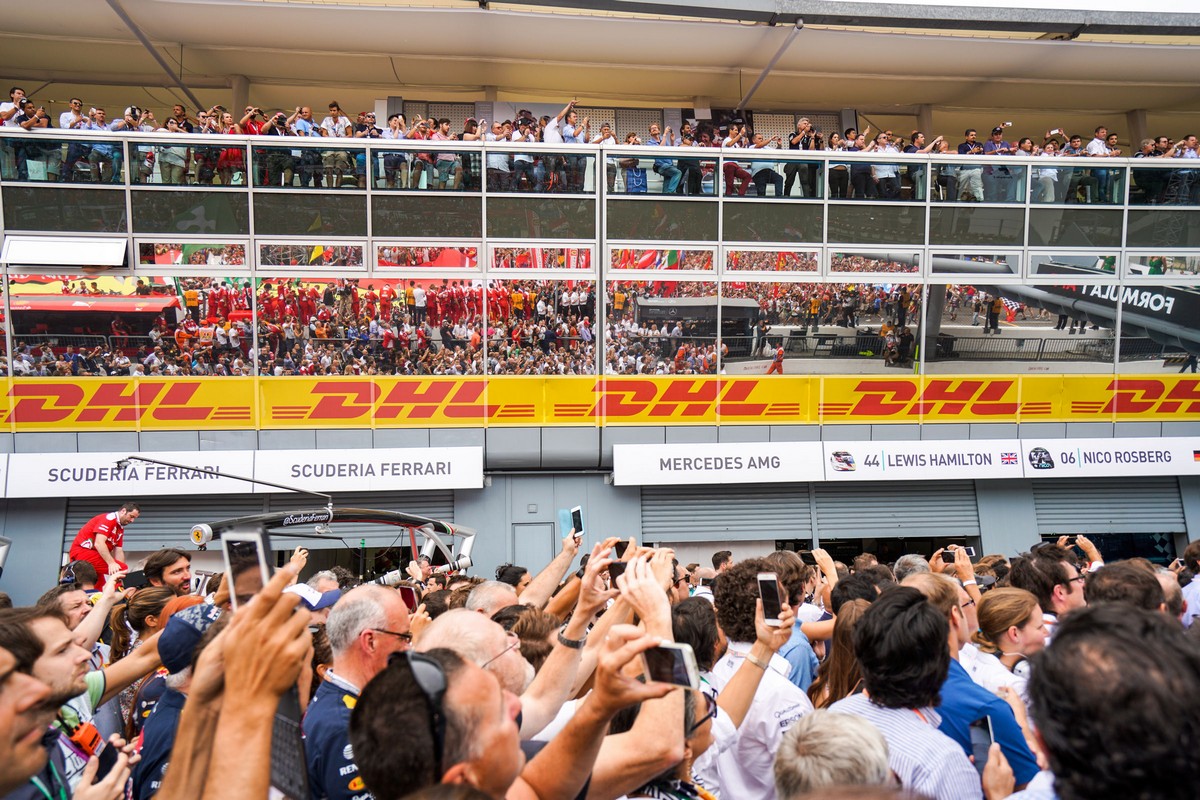 At last. The winners are on the podium. But I'm not that bothered about it. Mercedes came first and second, while Ferrari came third and fourth. That's not going to be good enough …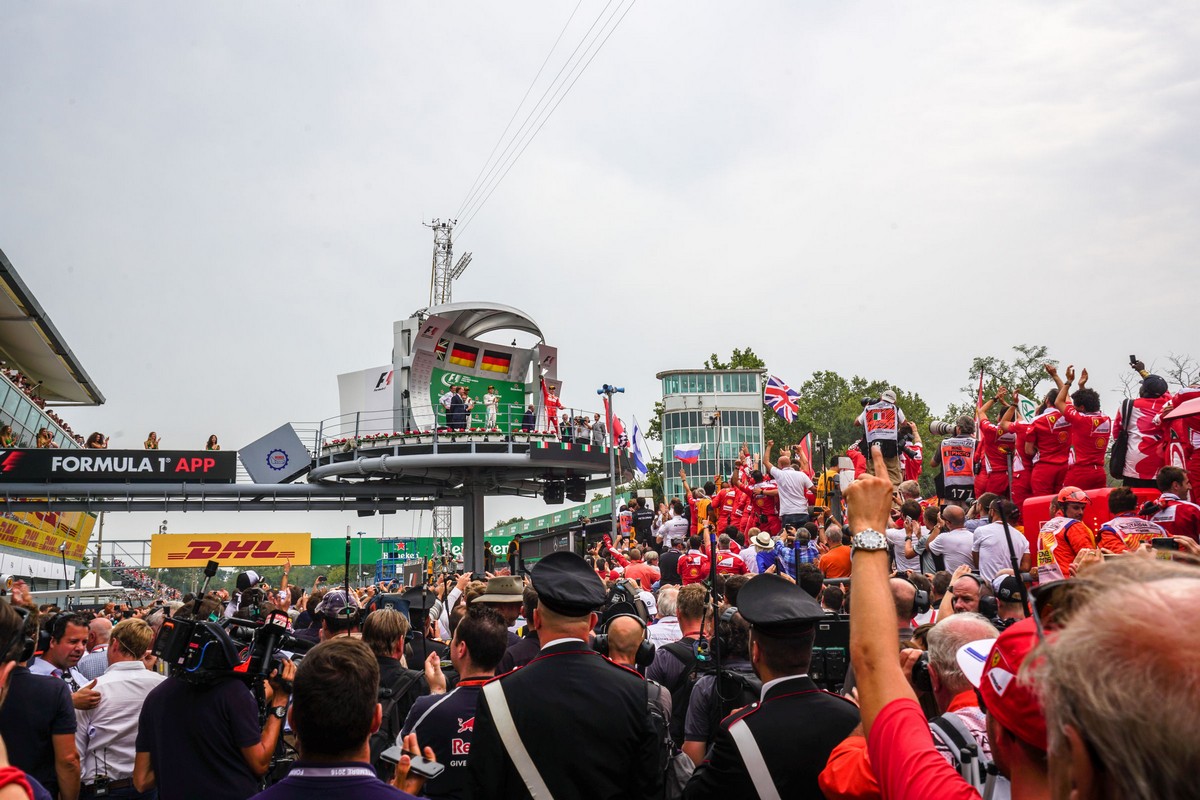 Next came the anthems, and a fanfare of popping corks and streamers. Everyone's happy and sets off home!
Lovely place, wonderful race, everything was great. But I would have preferred a win for the Ferrari team.