Legoland: Not Just for the Kids.
What's Denmark famous for? Yes, it produces nice butter and bacon and beer and political dramas, and I do believe pastries were invented there. But what's the one thing that's the most quintessentially Danish like nothing else? Yes: Lego. So when in Denmark…
… go to Legoland! Here! Infinitesimal Lego! Constructions, installations, models, and all sorts of Lego-related amusements. If only I were 40 years younger I'd have stayed forever. But alas I can't go back in time. Still, even at 50 I'd have wanted to stay a lot longer :)…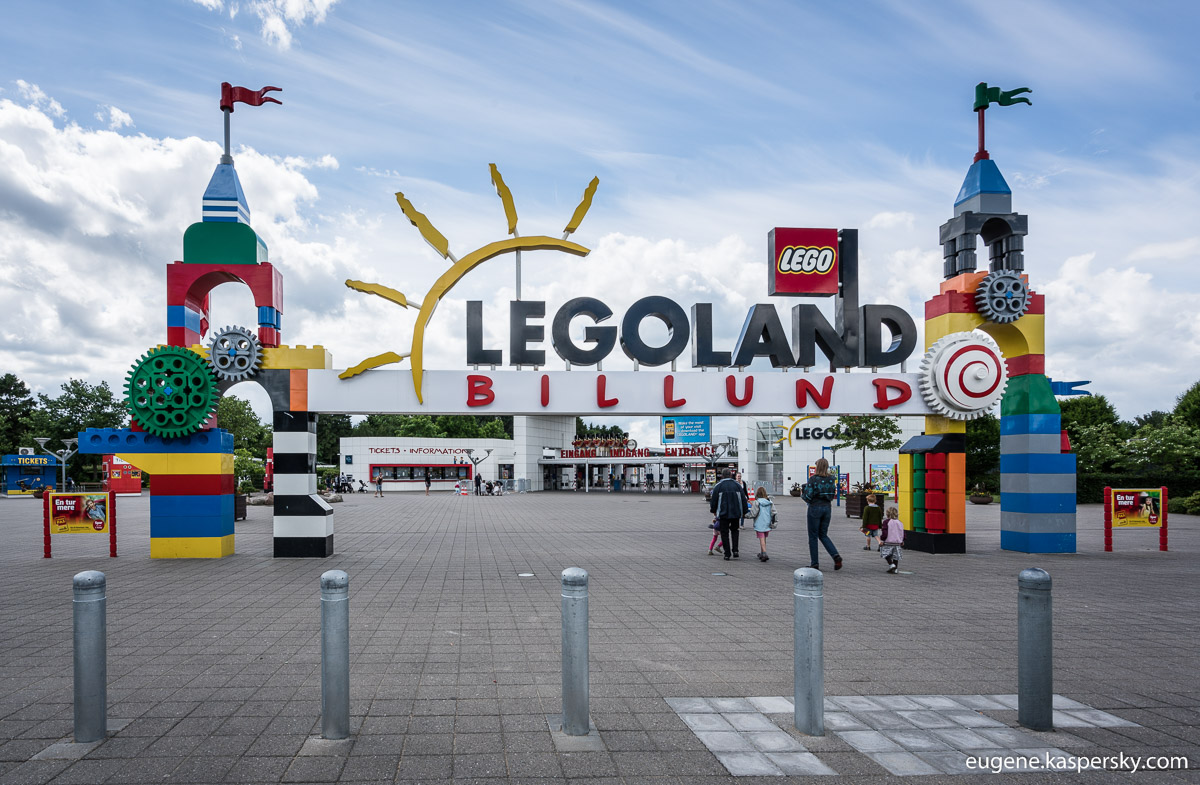 Right at the entrance you come across an outsized Lego installation – meaning, made out of outsized pieces a lot bigger than the standard mini-pieces. However, most of the exhibits seem to be made of the standard 'bricks'. In we go!…
Oh my word wonderland! You could roam about here staring at all the Lego expositions forever!
Btw, if you want super-zoom-able detail in these pics – just ask in the comments and I'll send you the original heavy-duty jpegs. However, I bet you can find plenty of such large HQ shots on the net…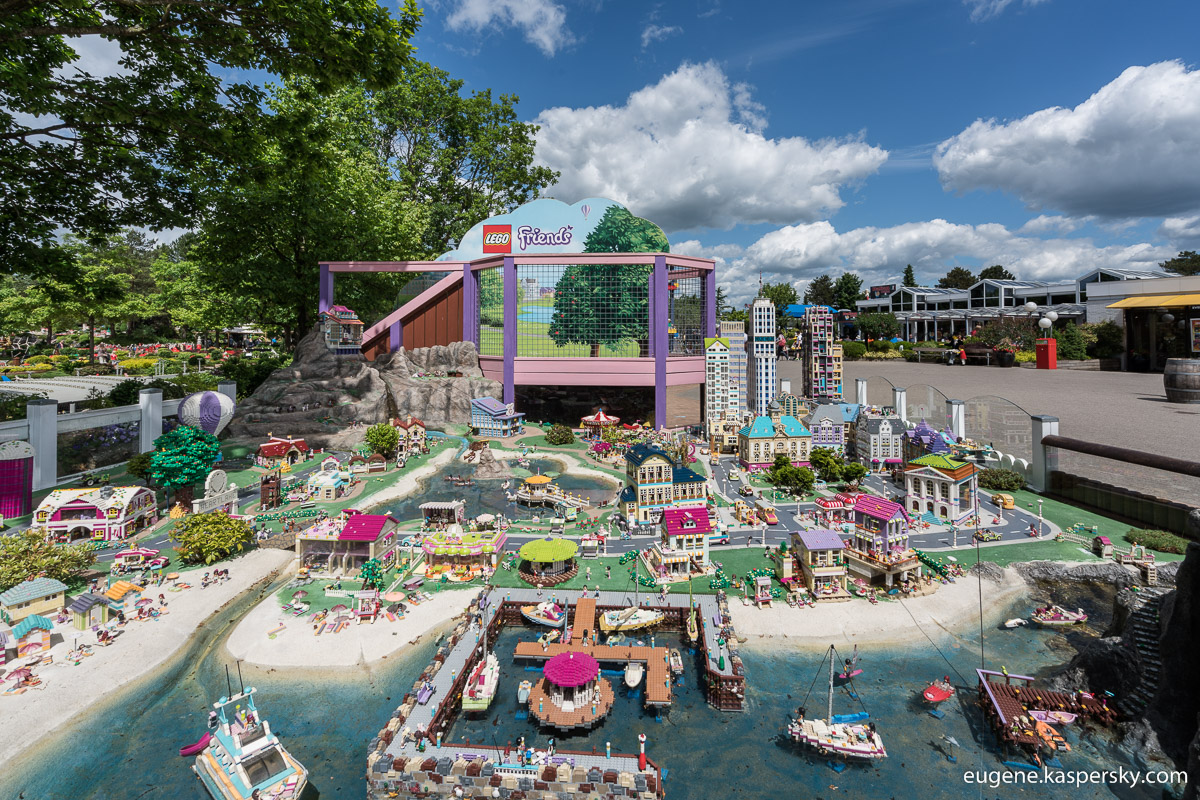 A little further and we came upon a map showing all the different installations. Eek. Guess we won't be meditating upon each of them – we had a plane to catch that night!…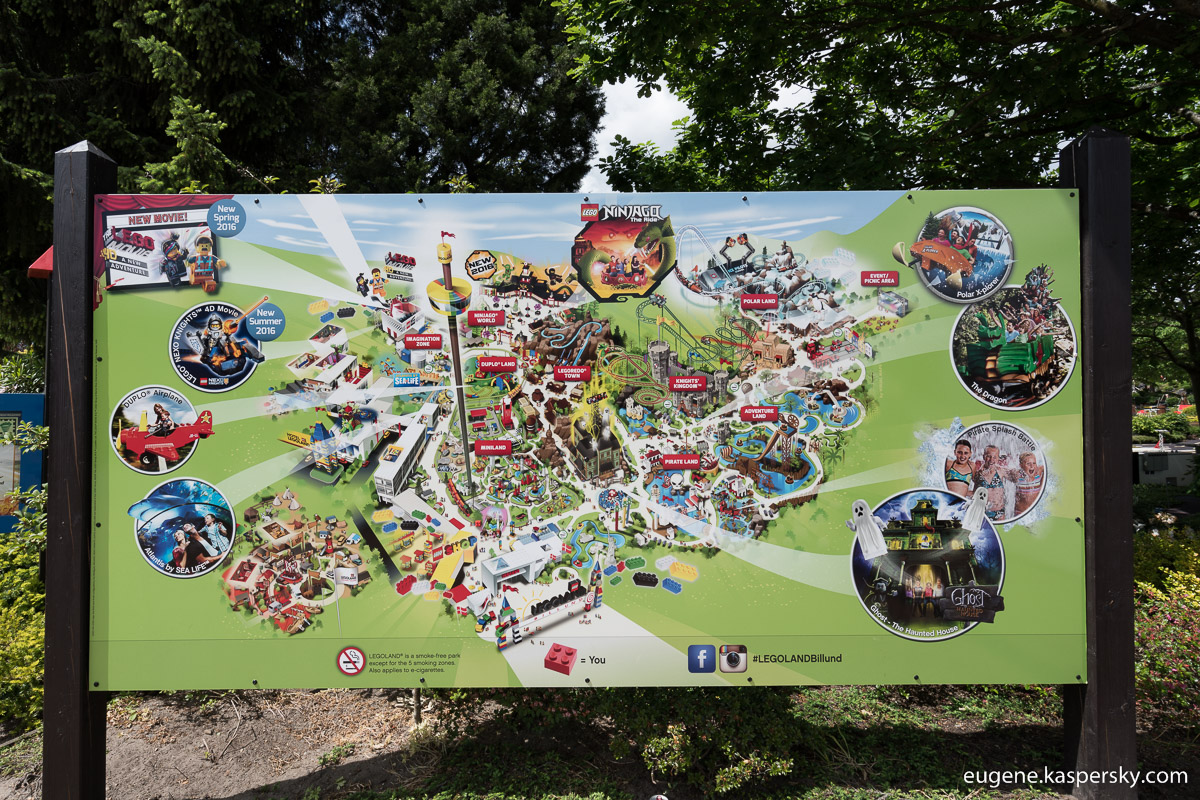 All righty. Camera switched to turbo mode, and off we pop…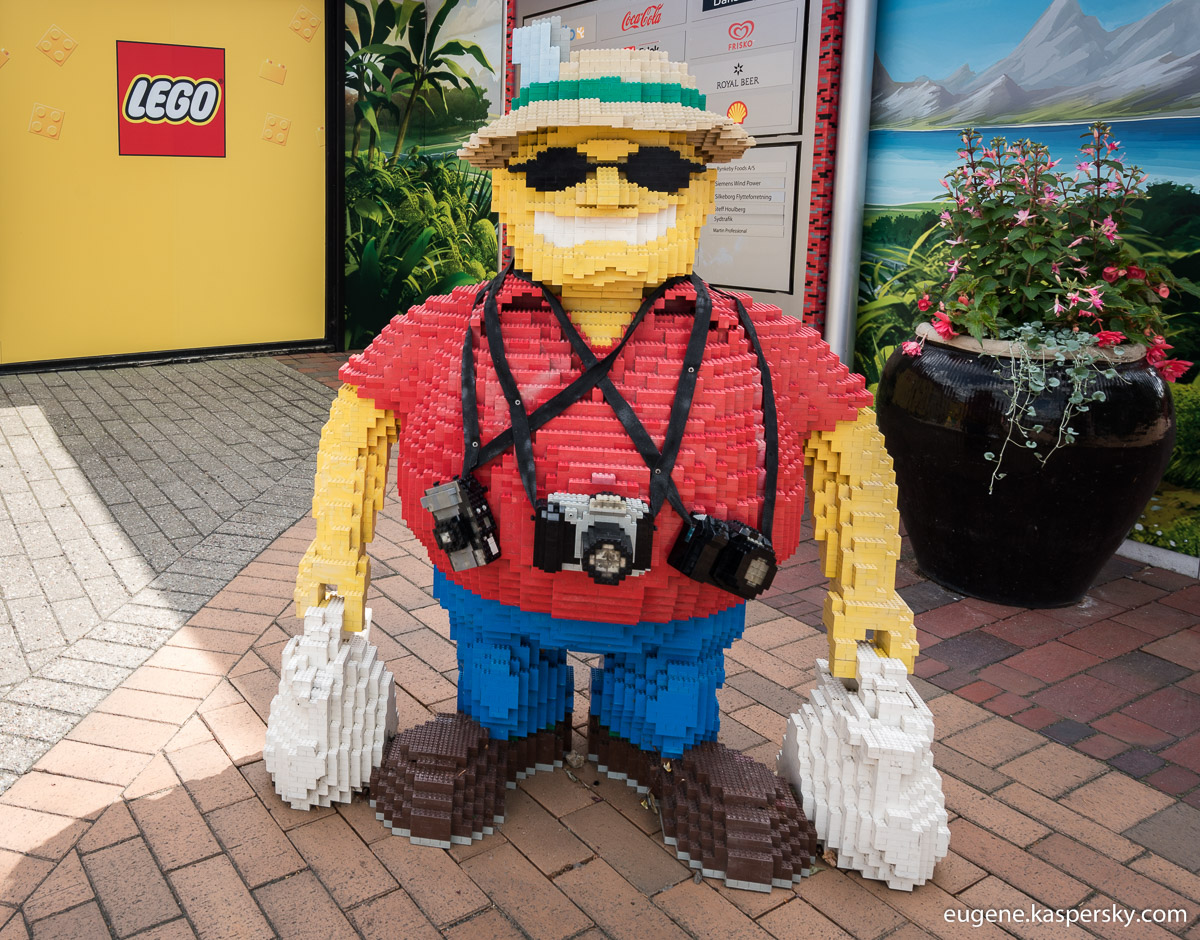 I was bowled over by both the quantity and quality of the constructions. No short cuts or bodges to be seen anywhere! Everything carefully fitted into its rightful place and even sometimes glued there lest curious tourists fancied a feel and spoil (now, how would I know that? No! I saw a child have a grab:). It must have taken the designers and fitters eons to have assembled it all. Historical buildings (I'm told the mini-Legoland in Berlin features a Berlin Wall – being toppled by the people), factories, railroads, boats and ships, and on and on and on the list goes – it's all here. After a while it all gets a bit too much – the brain goes into some kinda stupor, and a sit-down is needed to get back to normal.
But wait! The above pics are just those by the entrance. We haven't even got properly inside yet. This is insane…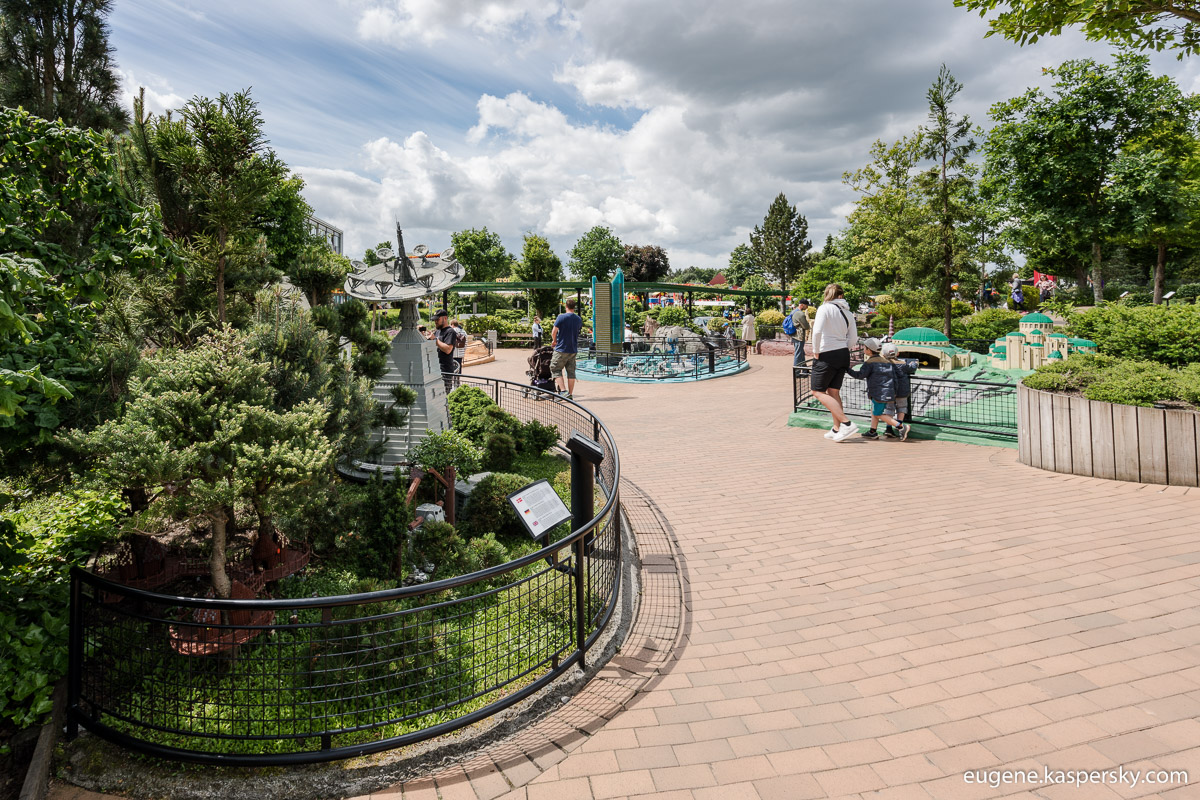 Recognize anything in the above pic? The below pics? Look closer! Yep: Star Wars theme! Oh my Force. I could easily let rip with a plethora of emotional words now, but I'll just leave you with the pics (always worth a thousand words).
This next scene I can't recall… Maybe it's from the latest Star Wars film?… Must have a watch during my next long haul.
Round the next corner, and what have we here? A hectare of miniature towns and villages and roads and canals and ports. Labyrinths of (real, not Lego:) footpaths and all around Lego, Lego, Lego.
Woah. This model of a few blocks in central Amsterdam is made of 2,100,000 Lego pieces! Oh my goodness! Btw, the boats actually sail along the canals, and the bridges get raised to let them through.
Amsterdam in all its… liberal detail…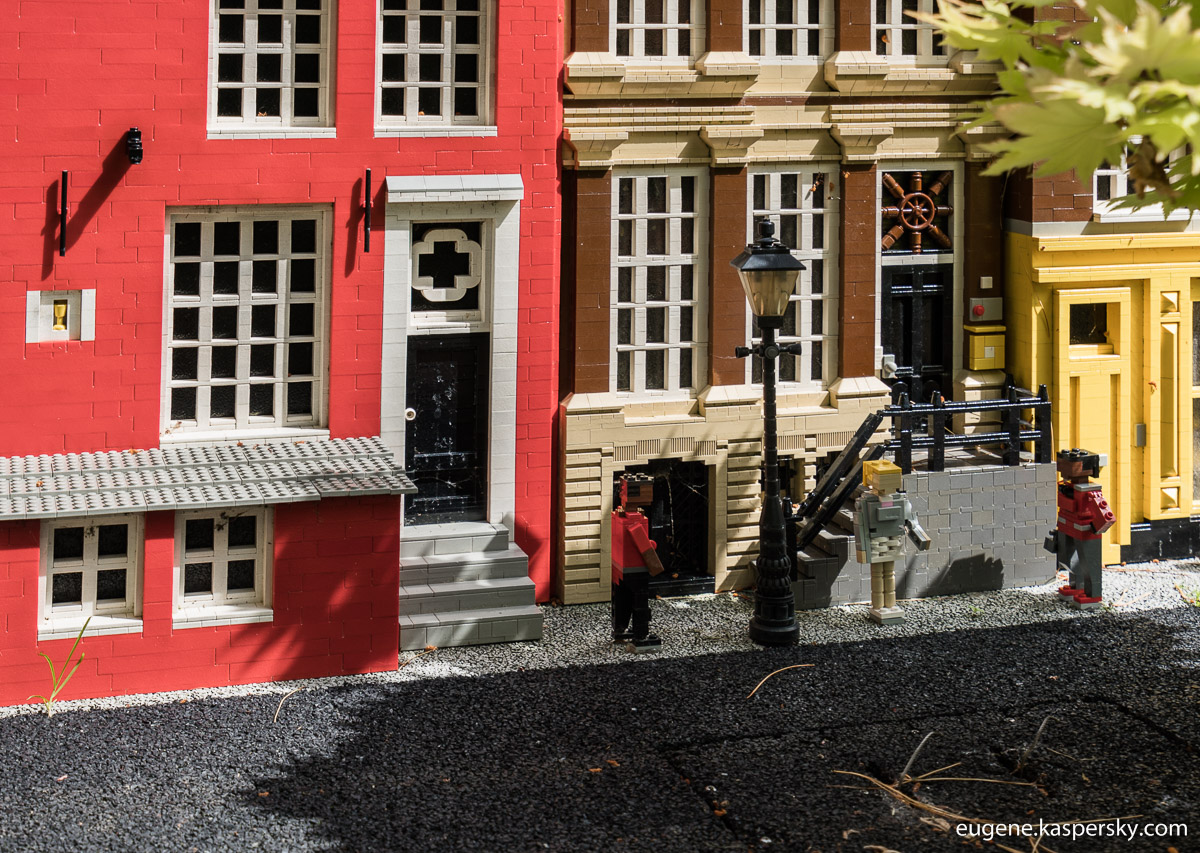 Hold on! I recognize this scene: it's of Bergen in Norway! The rainiest city in Europe!
Meanwhile in Lego Cape Canaveral…
And on and on. The cars and trains move about, and even a submarine swims around under the water!
Here's a model of Billund Airport, the real version of which is just over the road (and which, incidentally, was established in the sixties by the son of the founder of the Lego Group). The Lego planes don't fly, but they do taxi across the runways…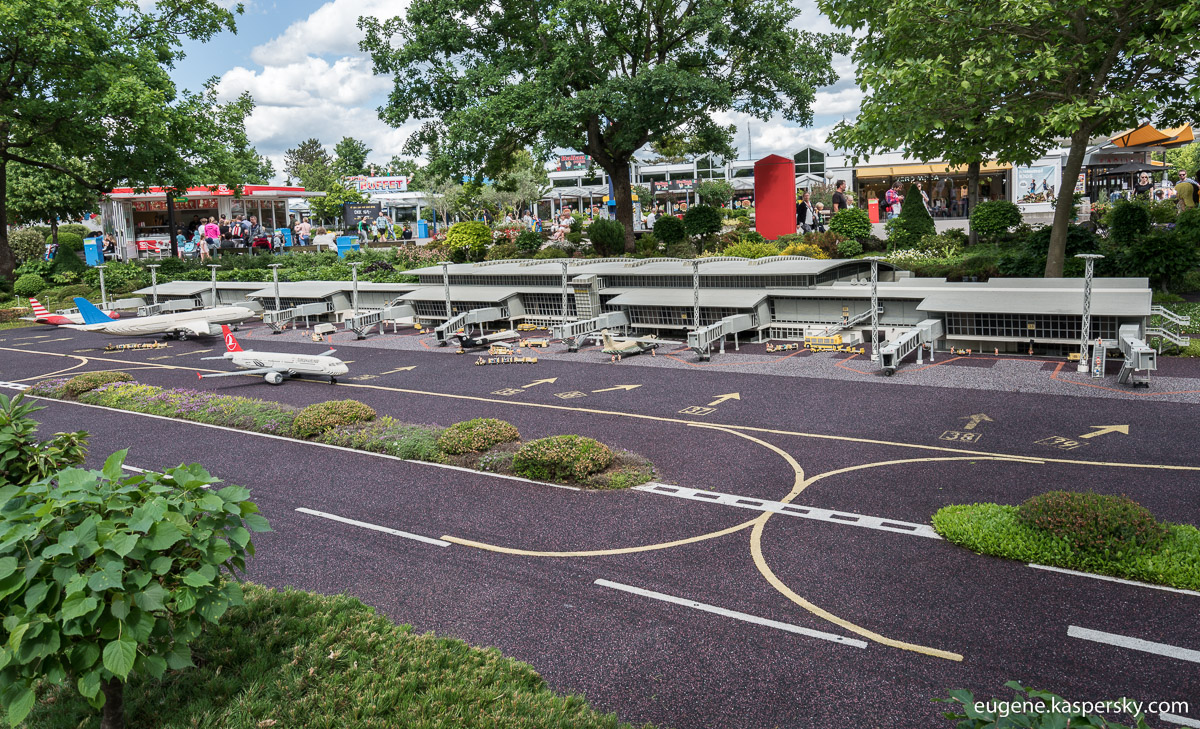 Next up – more models of famous historical buildings from right around the world. Incredible.
Hmm. The Parthenon. This is the nearest I've got to seeing the real thing! It reminds me: will just have to see it in the flesh ASAP…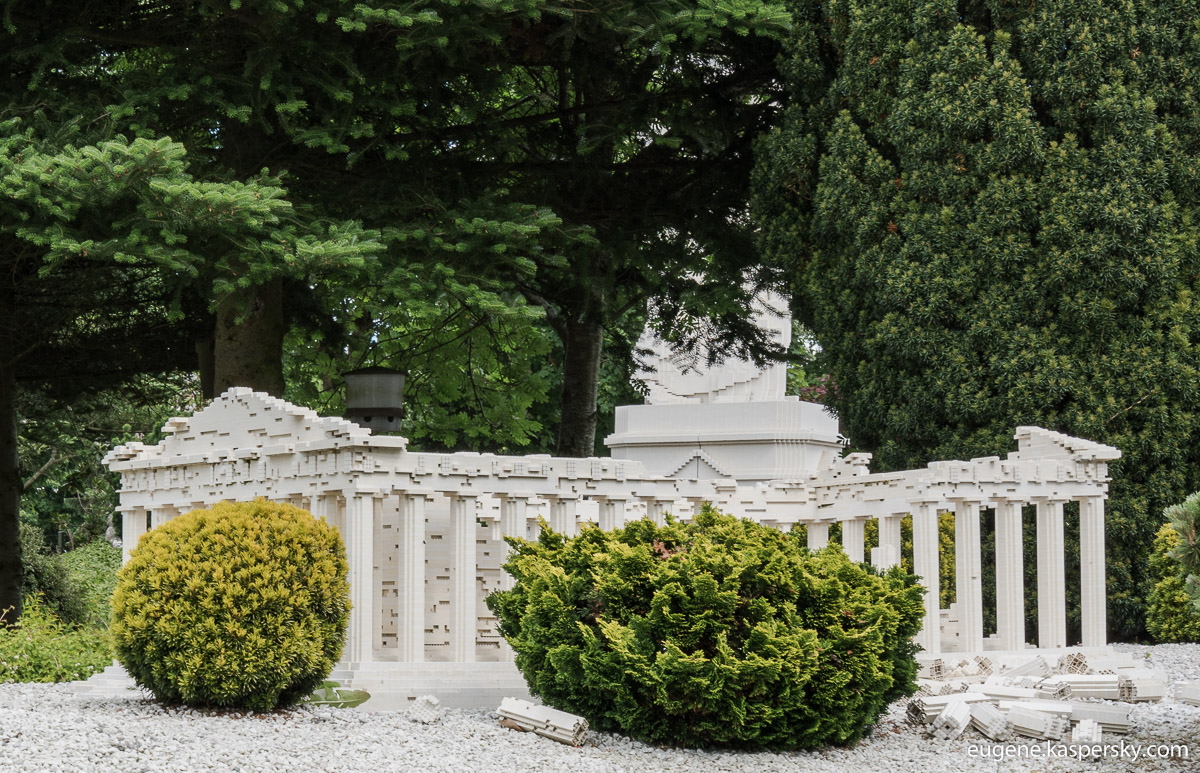 A gigantic mini-copy of the Statue of Liberty. 1.4 million pieces!
You may have noticed already that you view these installations now not from a path but from a waterway on little (Lego!) boats.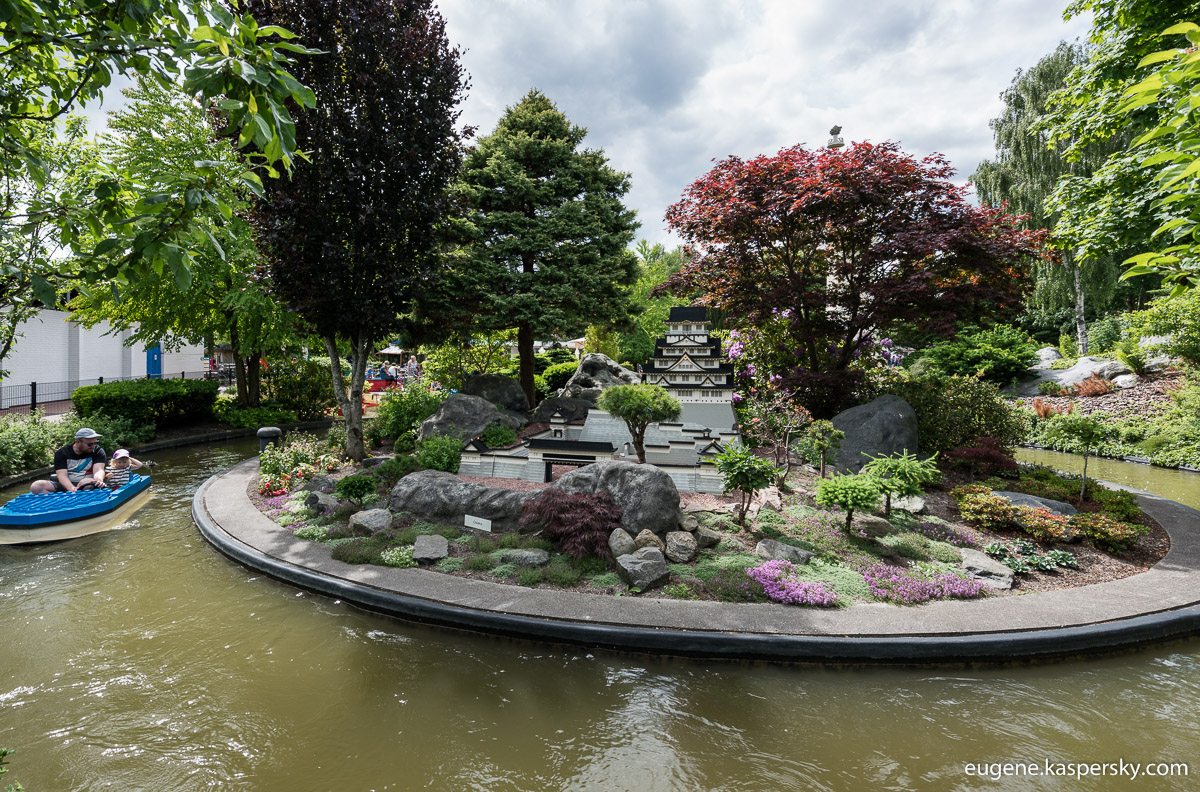 Special seasonal installations apparently come and go at Legoland. Unbelievable sometimes – you forget they're all made of tiny Lego bricks!
Legoland isn't one of those attractions like a museum where you just look and look and look at the exhibits. You can also sail and ride (assorted vehicles, helter-skelters, etc.) and generally take part and get involved:
When we were there the other day there weren't that many folks about. However, I guess at times it does get a lot busier – judging by the labyrinth cordons for lines of punters…
So it was a good thing we came here on a work day. I guess all the kids were at school and all their parents at work. Wait! So that means all the folks around us were no-good idlers?! Don't know about idlers – they appeared rather lively and energetic; like here: the aim of this game is to put out the 'fires' in the houses. No Lego pieces here oddly, but this was the only attraction in the whole park that wasn't made of Lego…
This attraction's only for those who don't mind getting wet. Not only can the jet-ski riders splash themselves and other riders, they also have to endure attacks from land: all along the shore are installed water 'canon' with levers and 'fire' buttons!
Of course, the canon are made of Lego too.
Those fond of a calmer, more relaxed experience can take a Lego-train through the Lego-jungle. (No canon hidden in the trees!)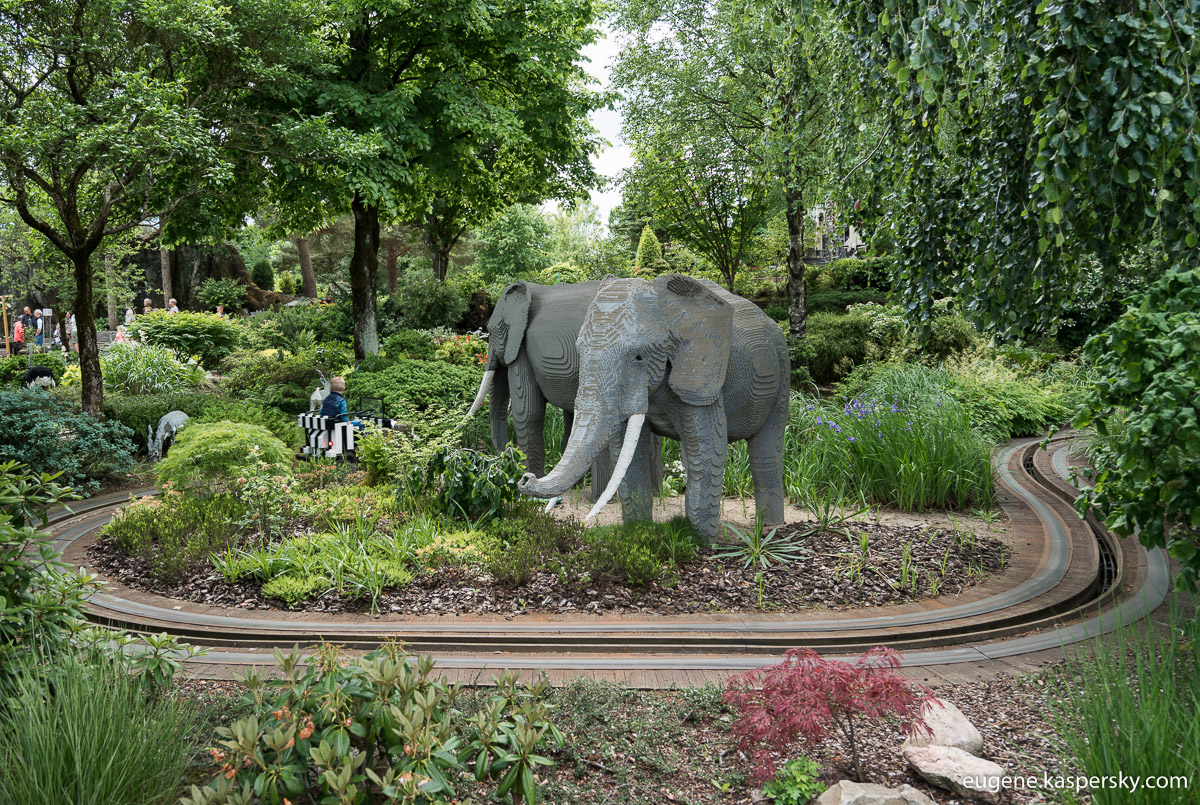 Incidentally, parents – be warned: children shorter than 120cm tall aren't allowed on the attractions!
My travel companion A.Sh. had a go on practically every ride in the park! Well, he did pass 1.2 meters quite some years ago, so why not? He also had a nostalgic trip down memory lane and built a few Lego models himself.
Lego-Atlantis! A seabed-explorer capsule made of Lego, but the features inside the aquarium are decidedly NOT made of Lego: live huge crabs, fish – including sharks! – and all sorts of other natural marine life. Impressive…
And if you want to get a closer look at the marine life in the aquarium you can use the glass domes that pop up from under it. Great idea! Haven't seen that before. Only problem is the domes are quite small. I couldn't fit in! A.Sh. managed fine. This is starting to form a pattern in Denmark.
A Lego-Atlantis. If only we could find the real Atlantis and start an archeological dig of it.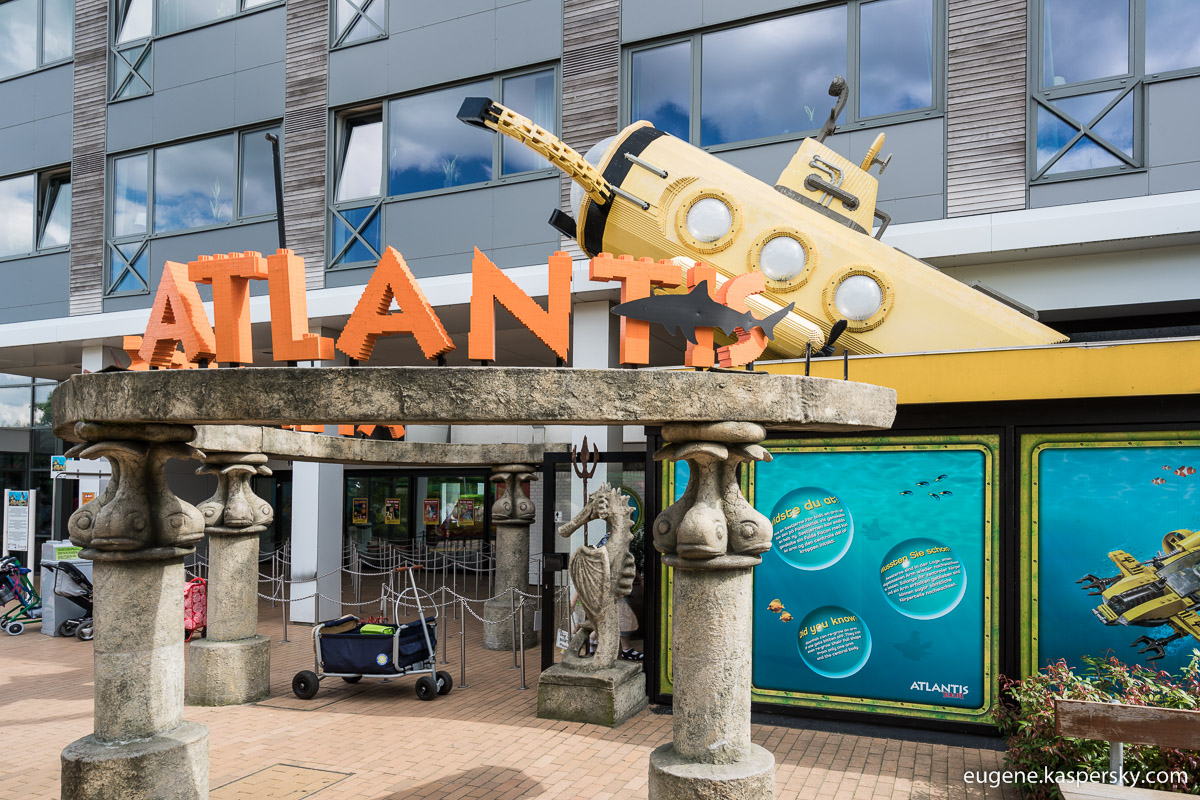 That's about it from Legoland folks. Want to know more? Head to the Internet. The story of Lego's creation and rise to stratospheric success is interesting, as are tales of the company behind it – the Lego Group. Incidentally, like KL, it's a private company! It started way back in the 1930s, when it sold wooden toys to Danish parents. Only decades later did it start with the plastic thing to become the massive brand it is now. Another interesting fact (a little reminiscent of Soviet approaches to social responsibility): by the time practically all the locals living near the manufacturing site here at Billund worked at it, the Lego Group started providing for the needs of the workers, for example by constructing a football stadium.
And here's the Lego-built (sadly, not of Lego!) Billund Airport. Nice!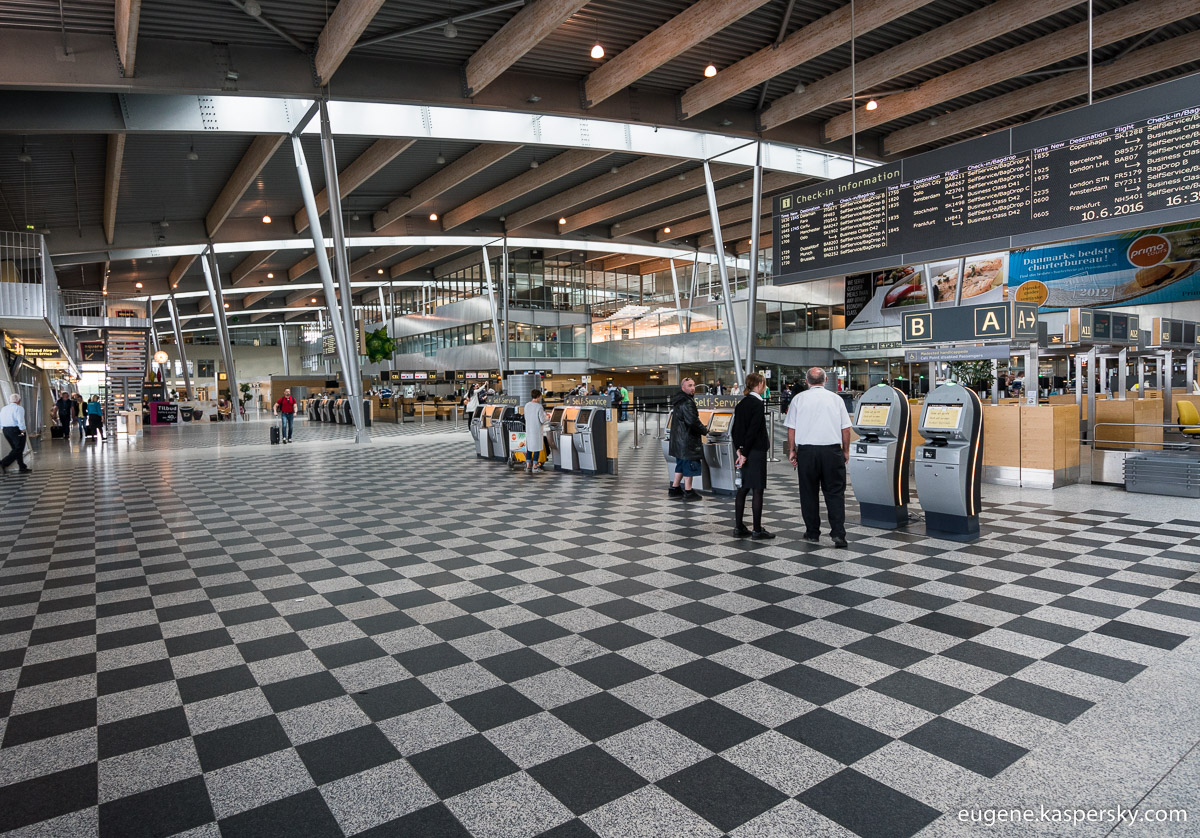 Where's the Lego?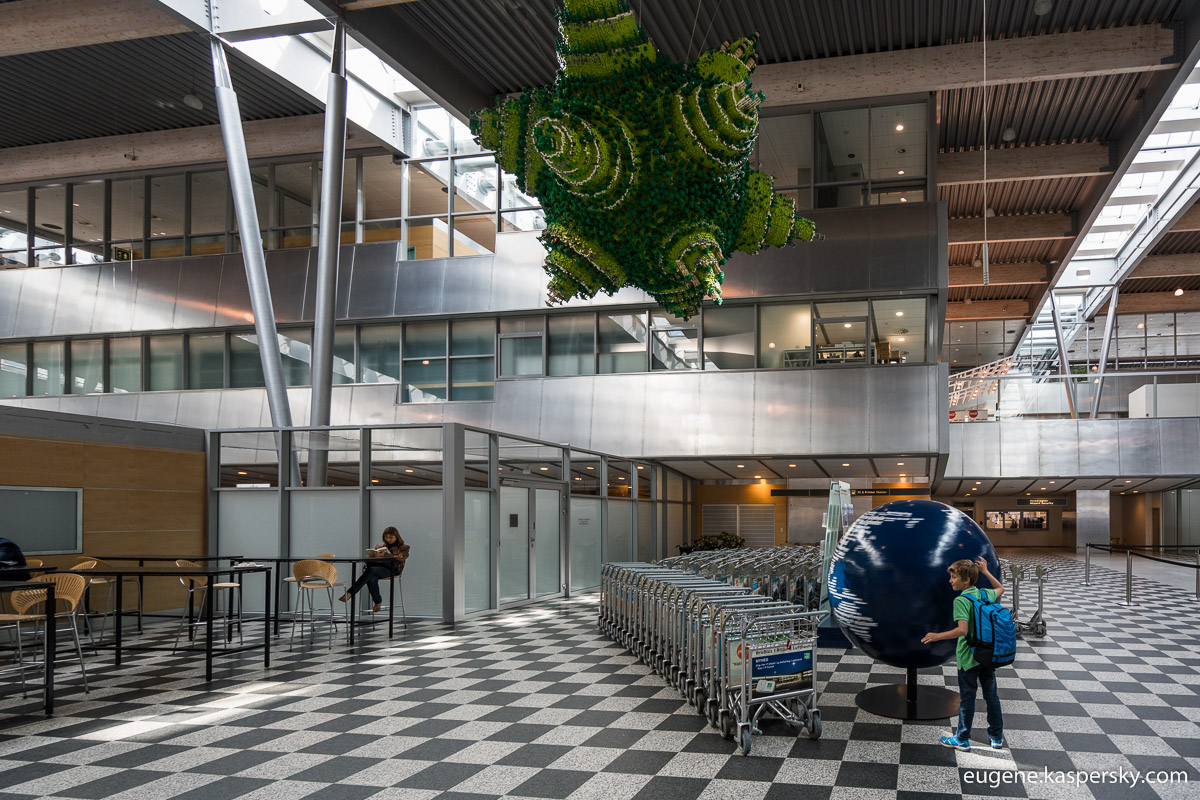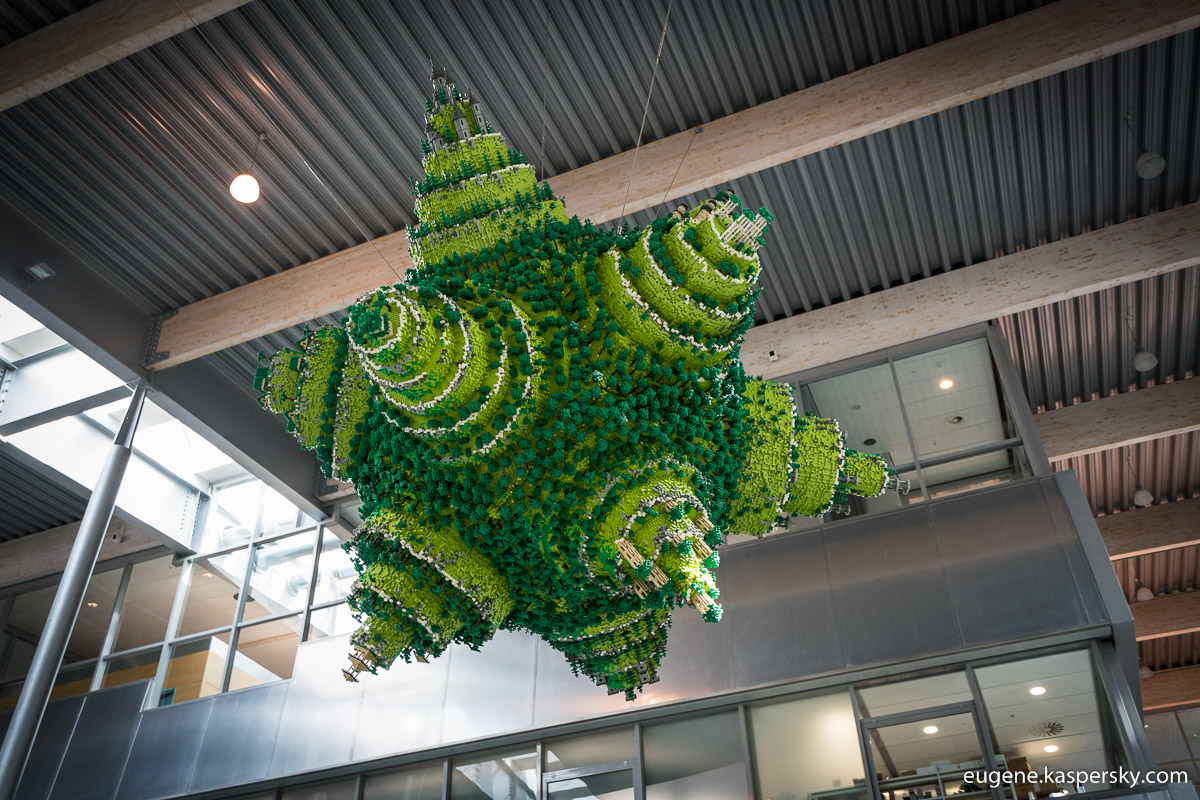 Ah. There it is. Up there! Had to be around here somewhere. Quite what it is though I'm not sure.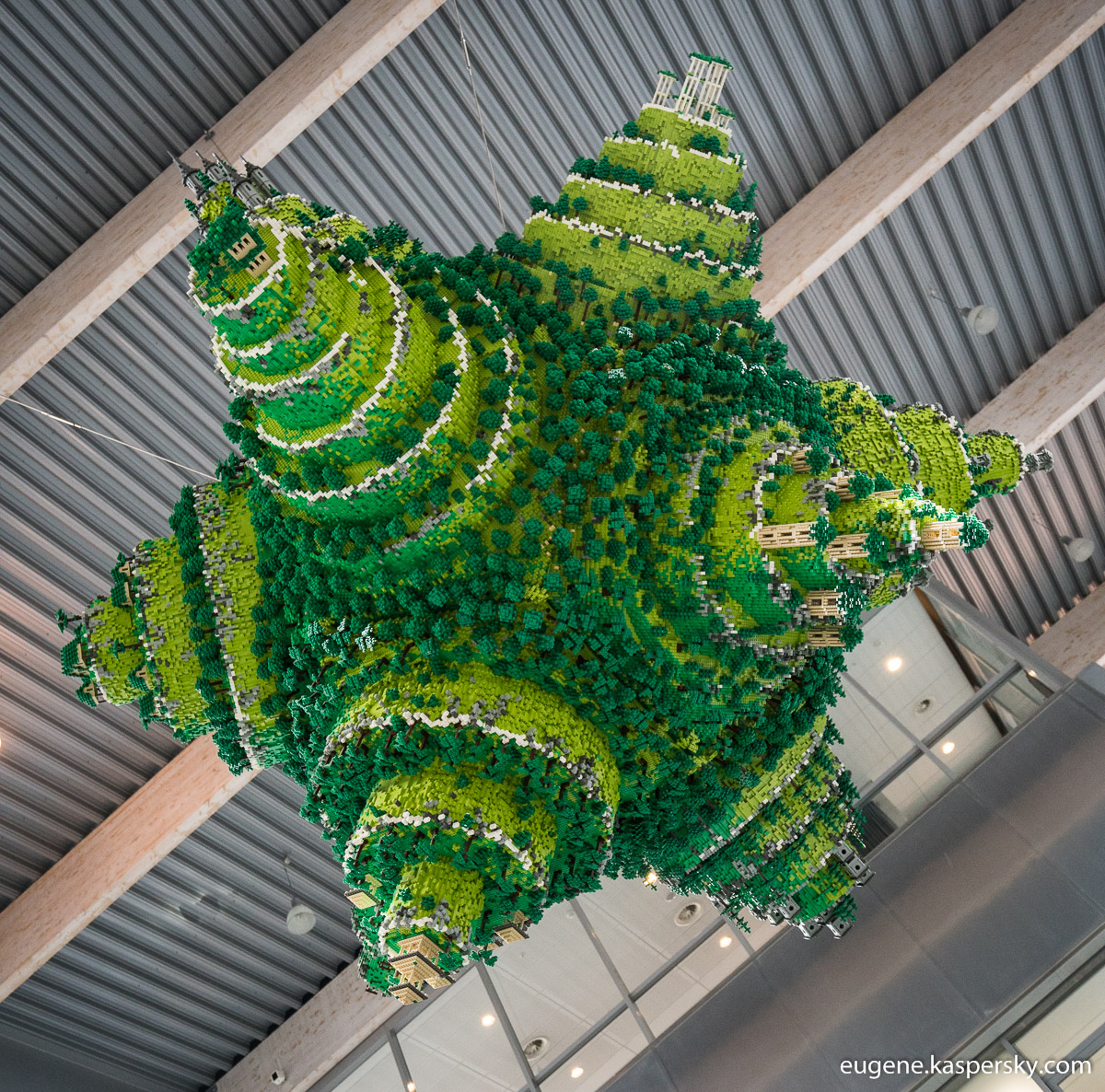 That really is it this time from Legoland. All the pics are here.
While I'm already far, far away, in…