What does an ideal weekend… smell like? I mean, an ideal weekend for boys… of all ages? :)
The answer, I firmly believe, is as follows:
An ideal weekend for boys of all ages smells of burning brake pads, of engine fumes, of gasoline, and of adrenalin. Motorsport. It's like rock'n'roll, only better.
Just recently some comrades and I had some spare time between business engagements and headed down to Italy to take part in the Adria-24 car race. It was a national-level race, but still very much a full-on adrenaline-pumping one. Unfortunately though, the sweet smell of car racing success didn't pass through our nostrils, for about half-way – after 12 hours – our car… died, and no amount of reanimation measures could save her. A great pity. Here's her corpse, poor thing: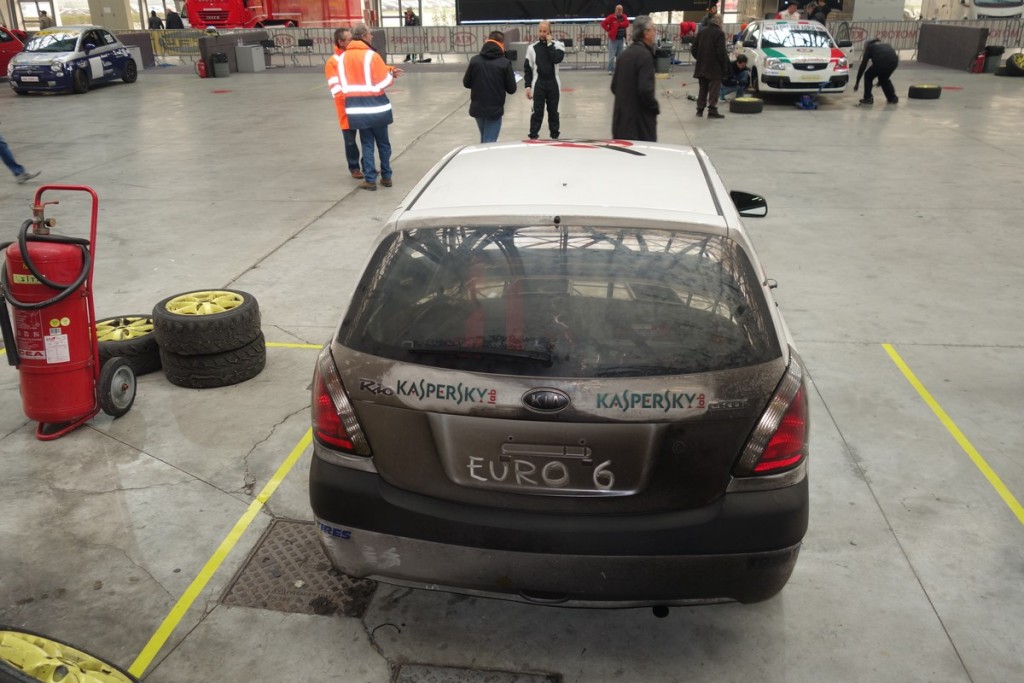 Yes, as you'll have noticed, that ain't no Ferrari; no F-1 car either. It's a diesel Kia Rio, the wunder-car of the Korean automotive industry! All the same, toddler-level races still rule: The volume is Man-o-War (only 1.5-liter engines, but with the exhaust off…); the speeds are (Top Gear) Star In a Reasonably-Priced Car (we touched 160 km/h), the thrill of the race is totally unforgetable, the knuckles are whiter than white, the eyes burn, and the will to win is through the (sun) roof. Oh yes.
"What teams are we racing against?" asked A.B. "They're not teams, A.B., they're the enemy!" answered A.M. That's a bit much, I commented. But I do know where A.M. was coming from… Turned out the other teams/enemy weren't the most sporting of competitors. They were big into bending the rules (some would call it plain cheating), while the judges just kept letting them get away with it. The other teams were also given newer and better cars. If we'd had the same, things would have turned out very differently. But our playing by the rules and being in inferior motors – we were doomed from the start. Still, let's not forget the spirit of sport – it's the taking part that counts. Hmmm, winning's nice too…
First, let's engage reverse and back up a bit…
There are all sorts of different auto races all over the world.
The most popular are Formula-1, NASCAR and INDYCAR. Next comes Le Mans. Then there's Formula 3000, WSR 3.5, Porsche Supercup, Ferrari Challenge, and many other international races, then another tonne of national ones. While super professionals take part in the super-best races, pros still race in the 'lesser' races – in all sorts of different automobiles.
Then there are the non-pro races (I won't use the word amateur as there's really nothing amateurish about them:); one example being this Le Mans-like endurance race in Italy – in Kia Rios and Fiat 500s!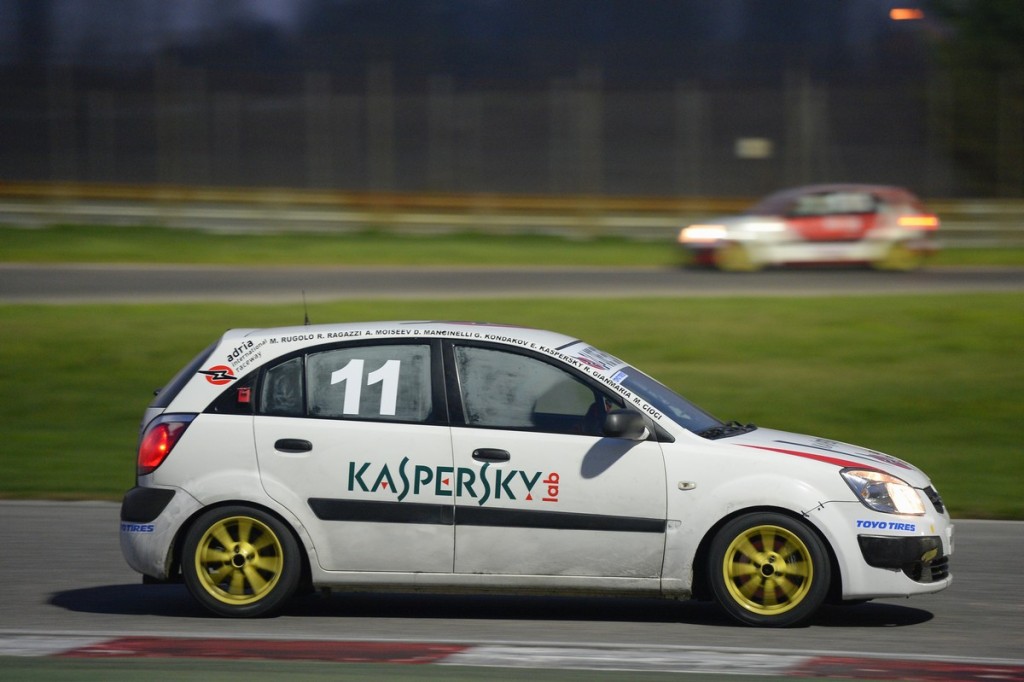 This is nano-racing, plain and simple.
The cars are no Formula-1 beasts, but they still shift. Taking part isn't for the faint-hearted. After all, these aren't your standard mini-cars you see on the street. They've been souped up big time and customized. Everything's taken out from the inside that isn't totally necessary, an internal steel safety frame is installed, the regular seats are swapped for racing bucket seats, and various hi-tech gadgets are added. Also, like at Le Mans, the race lasts a full day and night – 24 hours (from 1pm on Saturday afternoon to 1pm on the Sunday). In that time some 650+ laps are made. The track is 2.7km, so that's 1700+ km in total.
I mentioned it's not for the faint-hearted…
Now, our driver and colleague is one of the tough, brave and fit, but even for him it was pushing the limits of stamina. It was his first 24-hour race, and when he came out from behind the wheel after his 'shift' he couldn't open a bottle of water for trembling hands. The pro driver he was paired with also emerged looking a bit shaky – pale as a sheet too. Yep, they sure gave it their all. Just a shame the kit conked :).
The drivers are switched throughout the race. This year we should have had eight drivers. Each spot behind the wheel lasts a maximum of 90 minutes. The switch-overs take place during pit stops that take at least 10 minutes (the timing's strictly monitored). In that time the car's gas tank is refilled too, and the brake pads and other bits and bobs are checked. There are also four half-hour mandatory stops for tech-inspections, changing the brake pads, and so on…
Here's me getting told how it's done from a real pro: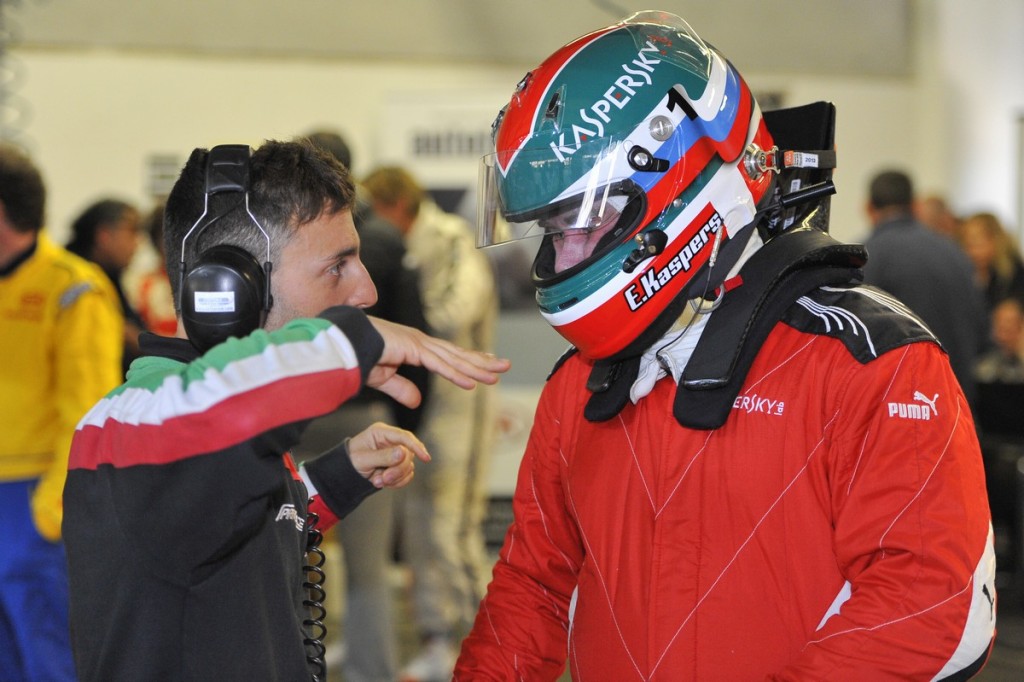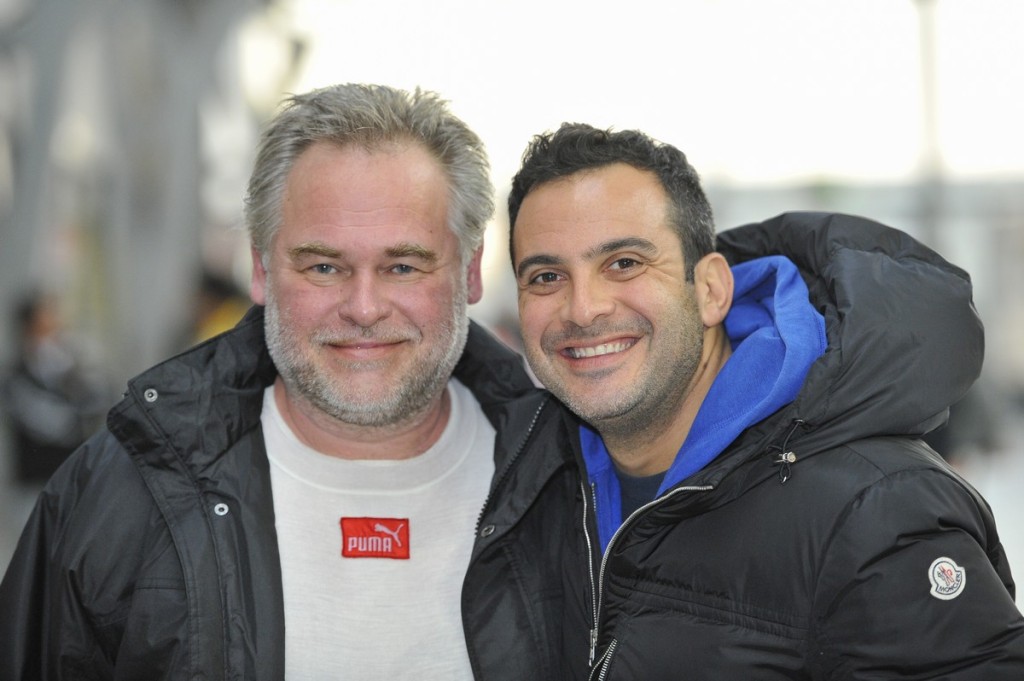 That's Marco Cioci, btw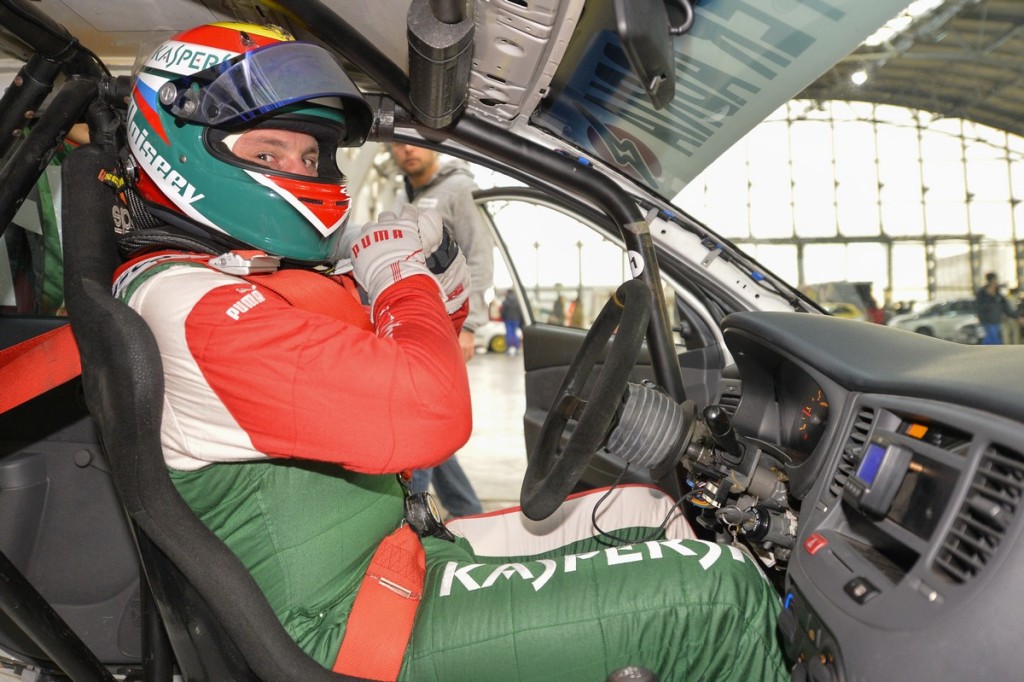 A.M. getting settled in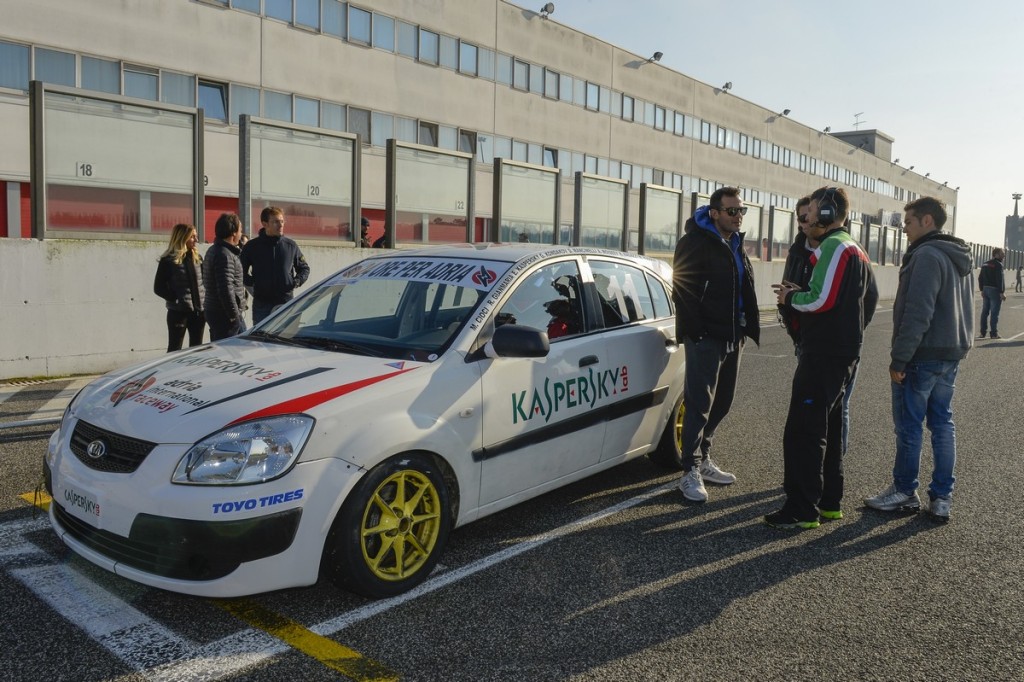 Still white and clean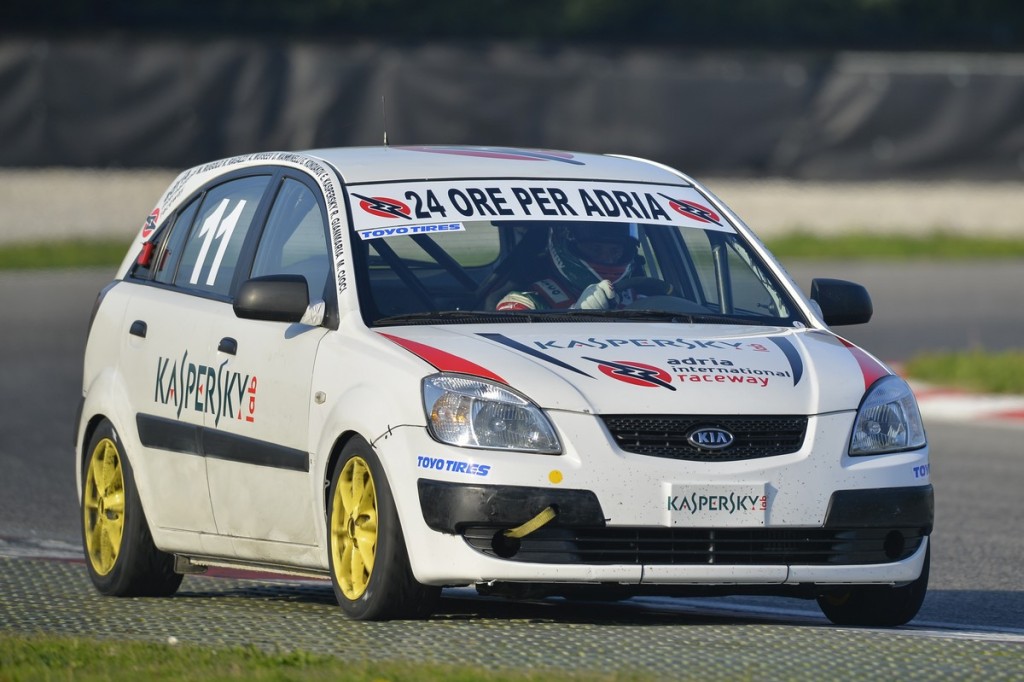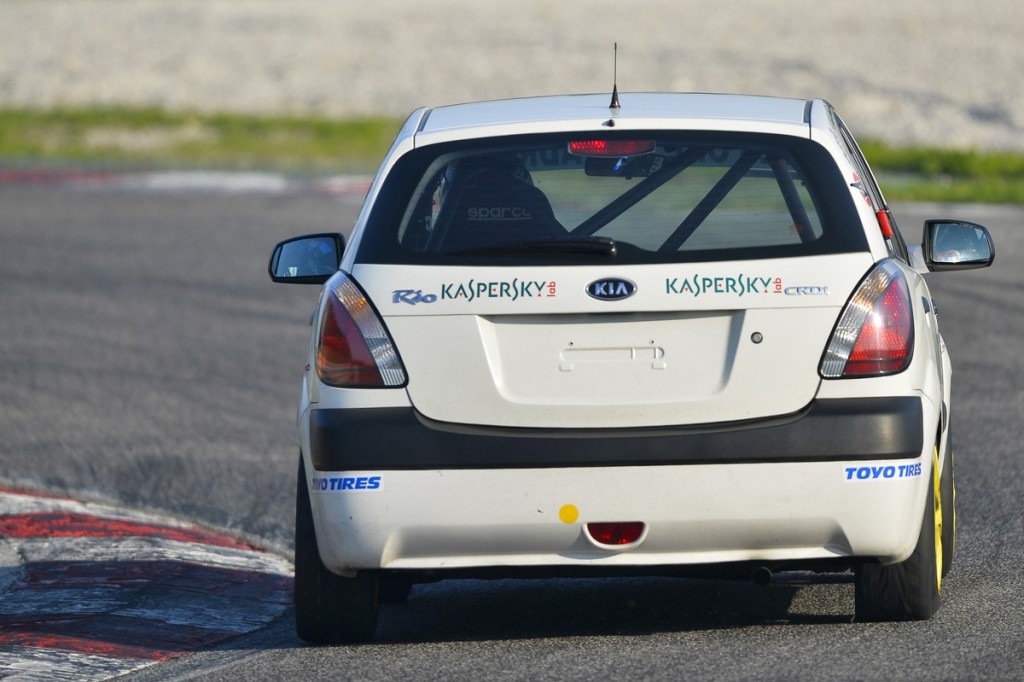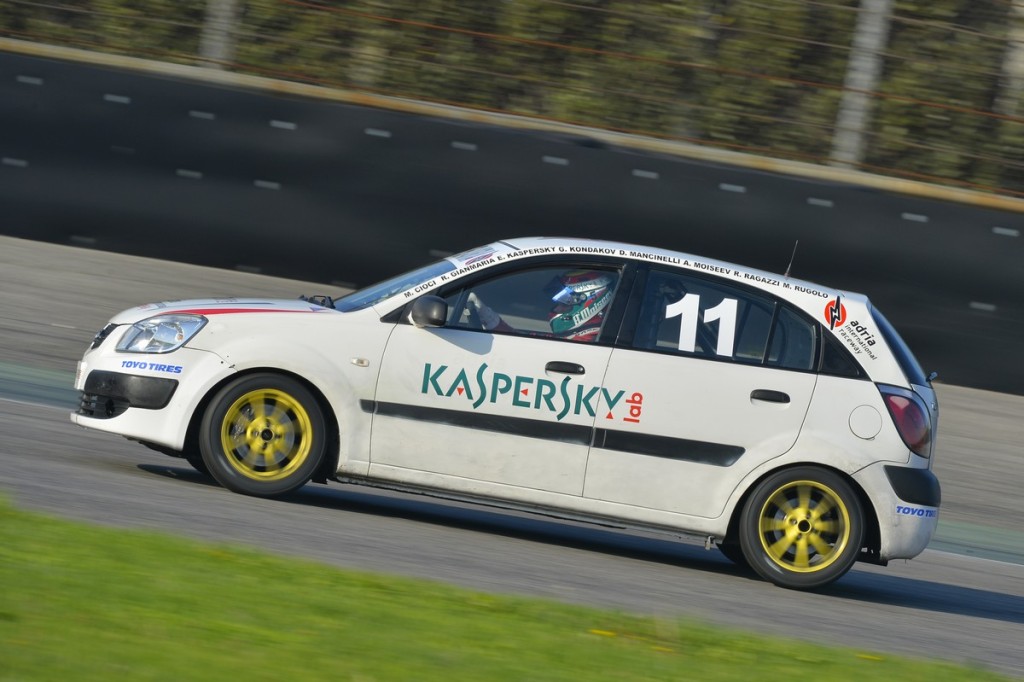 The unpleasantness started for us from the very start. No – before it!!
Straight away (still on the test laps!) our fuel pump started to play up and the car kept stalling. So we turned on the secondary pump – but you're only meant to do that with just half a fuel tank left. We we're full up! Then, just after the start, second gear wouldn't engage! Then fifth gear. Then first gear too! We had to make do with reverse, third and fourth. What a car. The thing was cursed! But we didn't give up – we carried on!…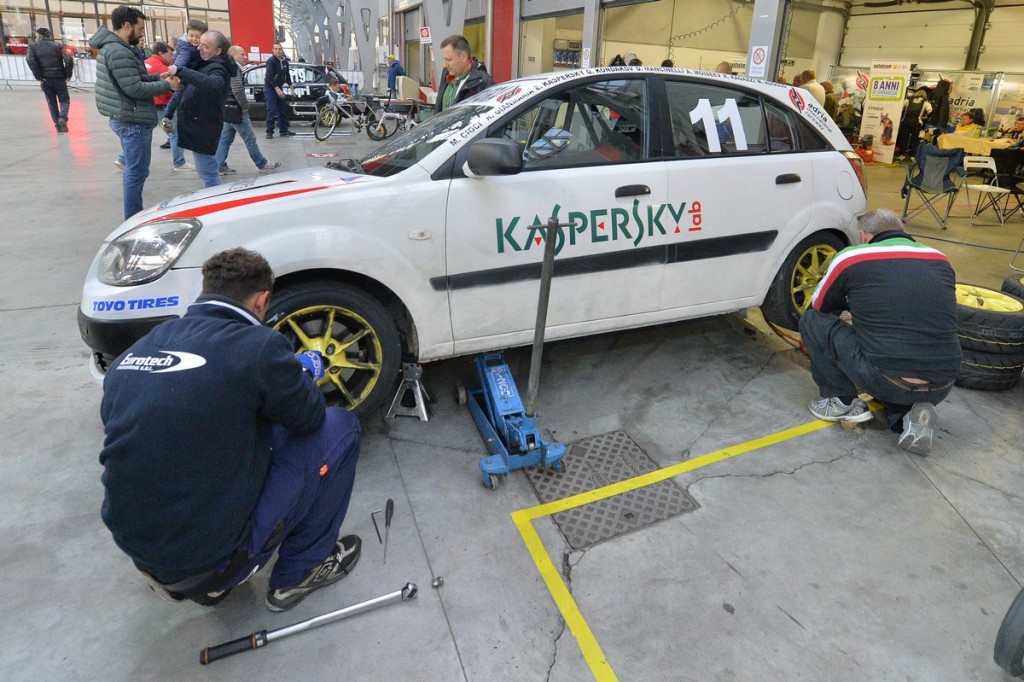 Change of driver; change of brake pads…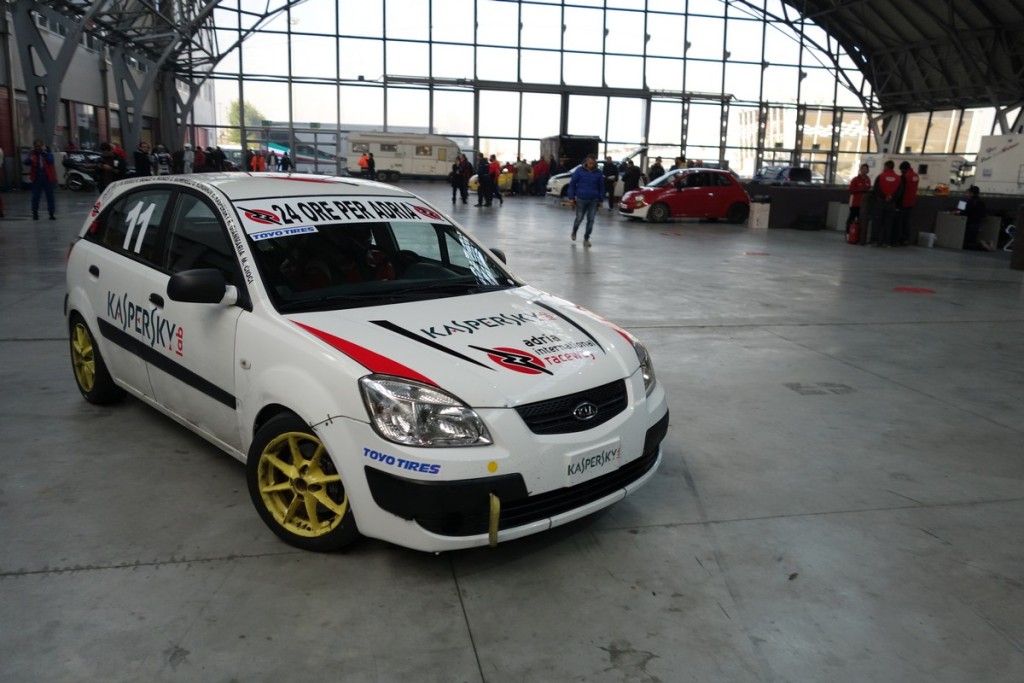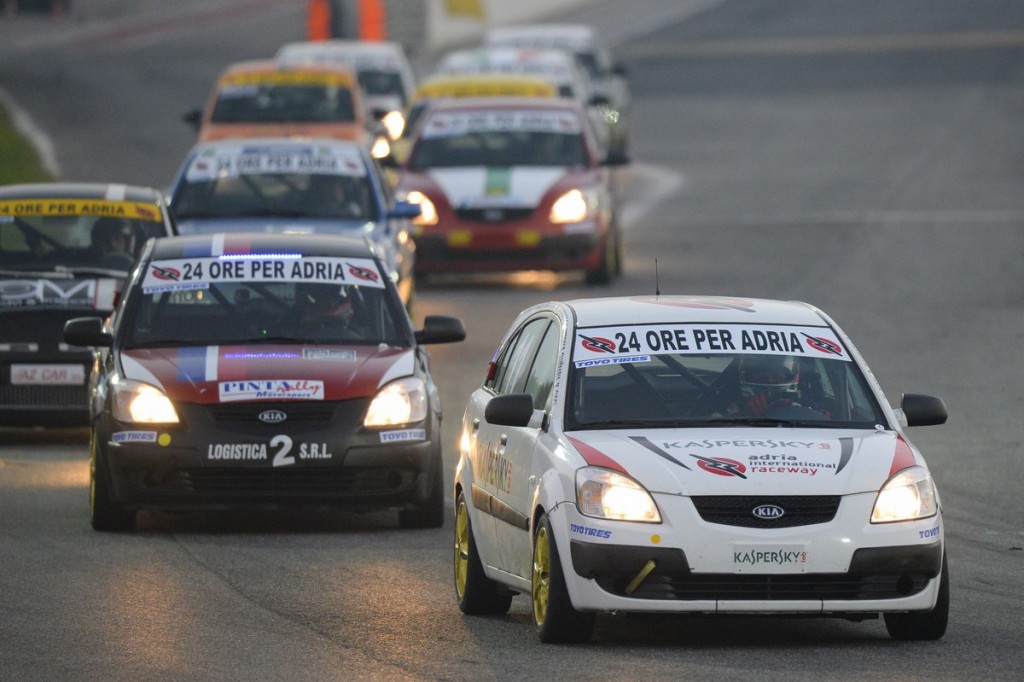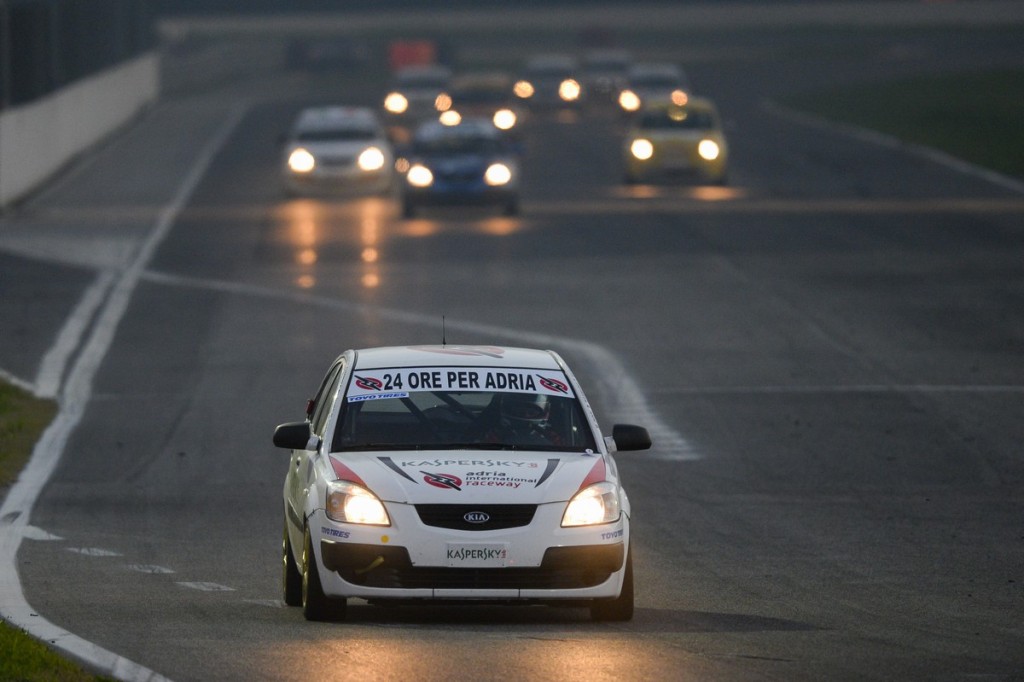 Night falls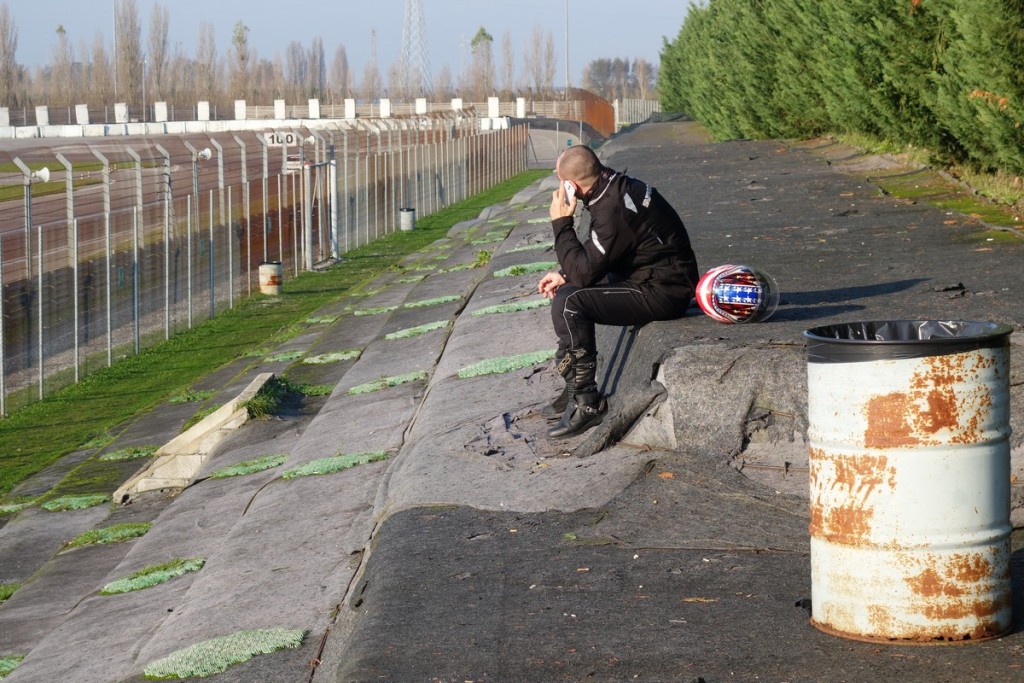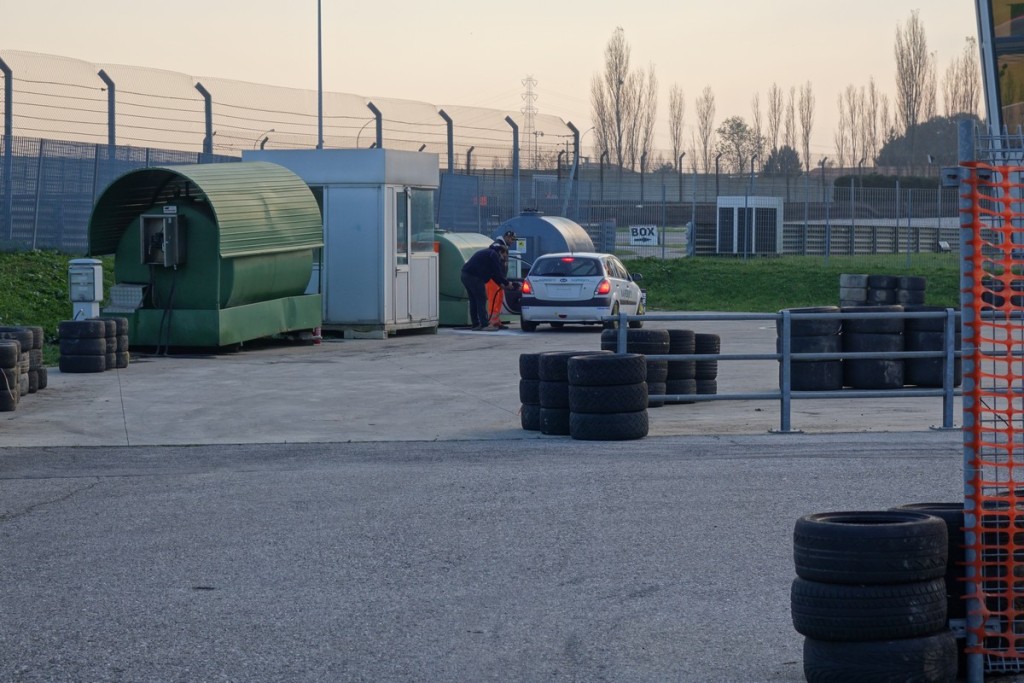 Refueling
After around 12 hours of the race our auto finally gave up the ghost completely.
It was towed to the garage, and all the drivers and technicians left to get some shut-eye. The EGR failed, then the turbo. Then came smoke blacker that the ace of spades from both the exhaust pipe and engine (you can see the marks left on the side of the car). The car just cut out, never to start again. And that was that. Finito.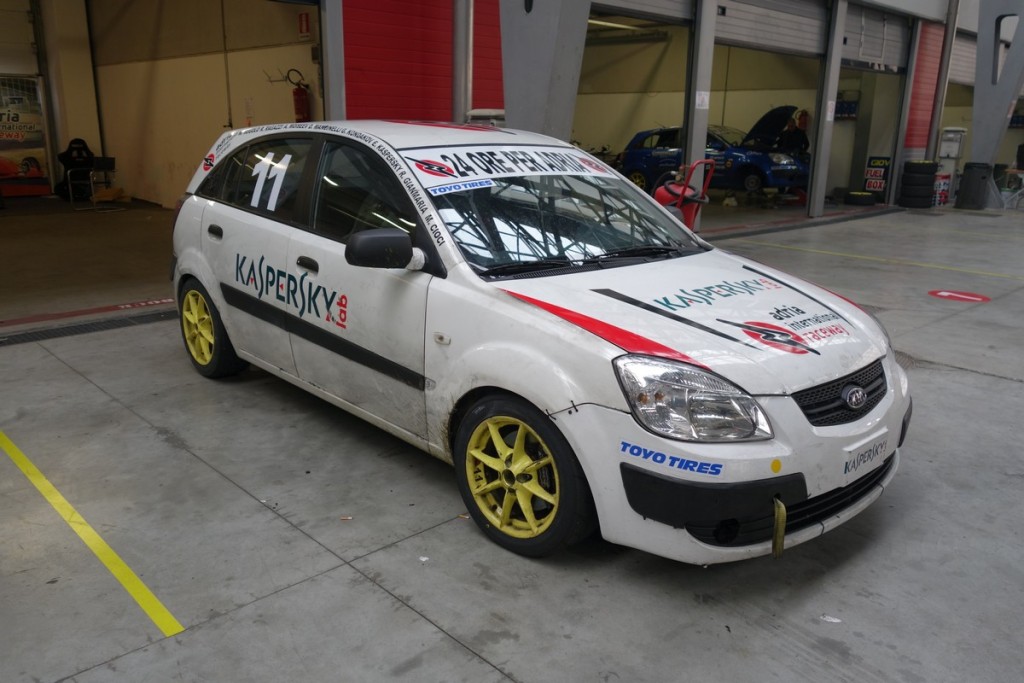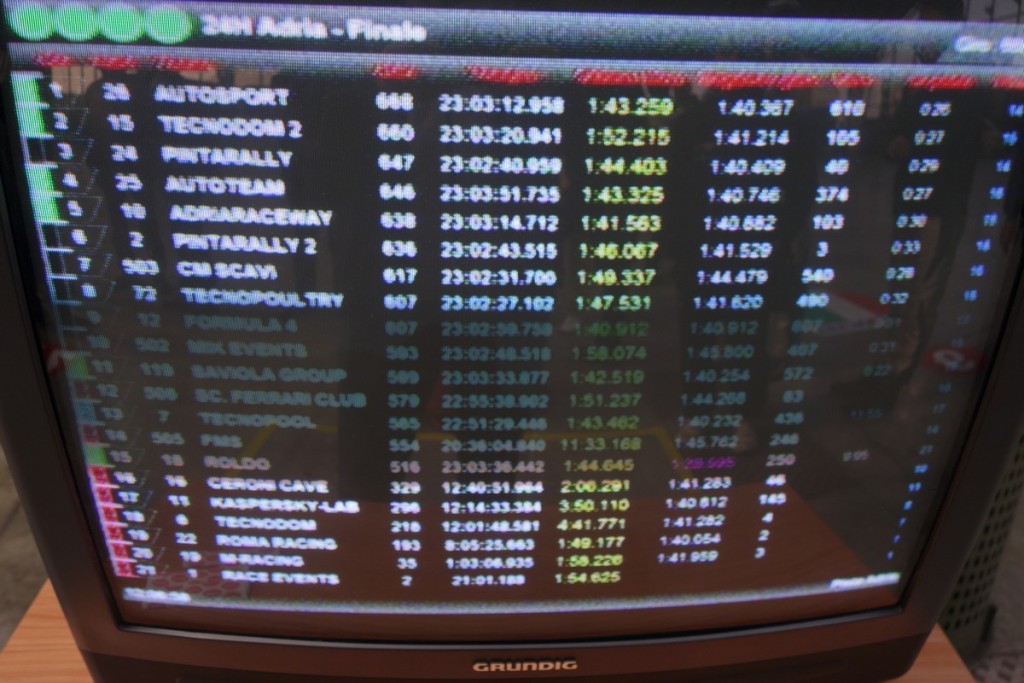 So yeah, it was shame we weren't spraying champagne over each other this year, like we did four years ago (back then we were in a Fiat 500 in a Fiat 500-only race. The Kia's a little more powerful).
Next time we'll have to be more careful and better prepared. We need to get the car sent there in good time – a week or two before the race, and make sure we're meticulous with the tuning so it won't mess up like this year. From our stroke of bad luck and defeat we need to step back, ponder, meditate even, and take stock. To learn from our mistakes and not repeat them. We're not used to losing – or giving up.
And on that more optimistic note, I'll finish for today. For all of you who read this to the end, thanks for your patience! Ciao!…
Racing with diesel KIA? That's possible and fun! See @e_kaspersky experience:Tweet