Oman? – Yeh' Man! Or – From Moscow Snow to the Arabian Heat.
Salam alaykom, everyone!
Next up on my spring globetrotting tour with T.T. – Muscat, the capital of Oman, for the Cyber Defense Summit. Here under the chandeliers were gathered together ministers and other government representatives, bosses of top corporations, the FBI and other legal enforcement bodies, and so on. The event was a closed one – as in, not open to the press. Ooh – secrecy! All the same I managed to fit in eight interviews.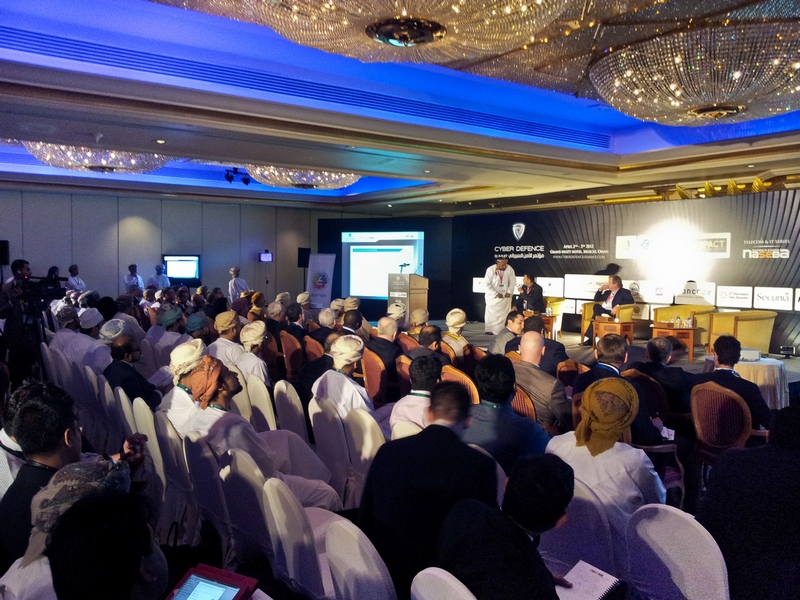 A ceiling to be admired – just ask the gent in the orange head dress
Now for a few facts about the Sultanate of Oman:
• Population: three million (135th largest country in the world)
• Yearly population growth: 2% (47th place)
• GDP: 81 billion dollars (78th)
• GDP growth: 4.4% (89th)
• Per capita GDP: $26,000 (51st)
• World oil export ranking: 27th
• Internet users: approx. 1.5 million (2009 figures – it could have gone up plenty since then). Wow – that's half the population on the www. Impressive!
Links: source, more details.
Interesting tidbit: crime is practically non-existent here (that is, besides illegal immigration – see below). Well, I've often heard that said about Cuba too, but no, here it actually seems to be the case, at least by outward appearances: right by the sultan's palace there are no police or security guards to be seen at all (imagine the White House, Buckingham Palace or the Kremlin unguarded!). And instead of soldiers doing the Monty Python silly walk to and fro in front of the palace there was a group of kids playing soccer. So laid-back they're lying down!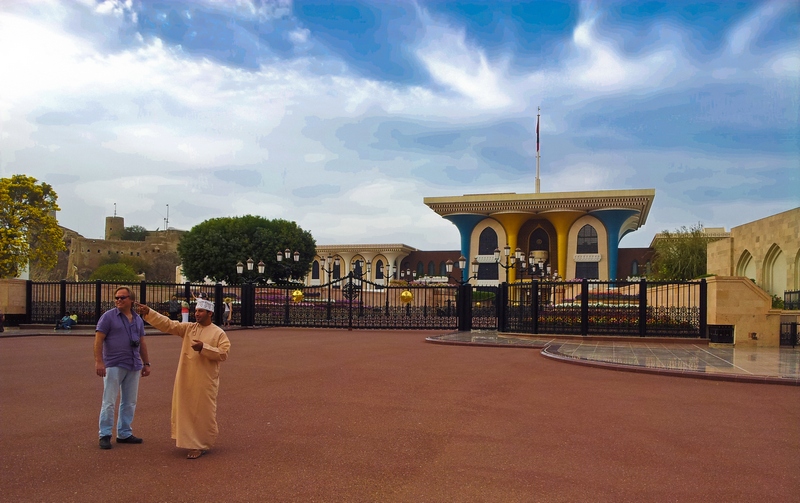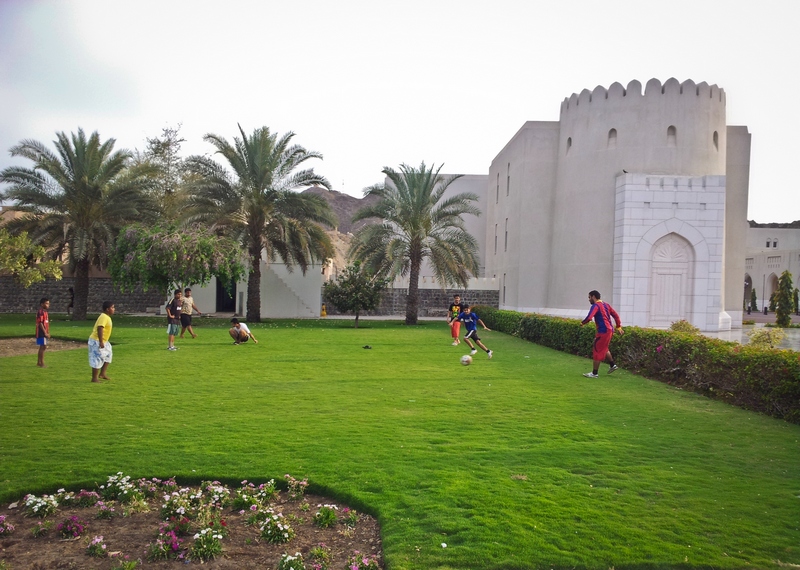 Another curious fact: Skype and other VoIP-calls are forbidden, since they "harm Oman's economy"! Nothing to do with Skype's secure encryption, of course.
OK, Oman lesson over, back to us in Muscat… We were chilling and sipping tea in our hotel rooms when there was a knock at the door and they brought in newspapers. On page three in the number-one national paper – no, nothing like The Sun (UK) – we found detailed year-end financial results of the Oman International Bank. Riveting.
Beside it – an advert for Oman Air seeking stewards and stewardesses. The former need to be Oman nationals; the latter can be of any nationality, but must be unmarried! Equal opportunities… cough, splutter, er… pardon?
On the next page: "1074 Illegals Arrested". Apparently the Sultan's police carried out simultaneous raids in several neighborhoods of Muscat and arrested more than a thousand (!) illegal immigrants and other folks not holding work permits. Crikey. They don't mess about, do they?
We moved onto the next newspaper… by the hammer of Thor! – look at that! Now there's a surprise – and on the front page. Nice!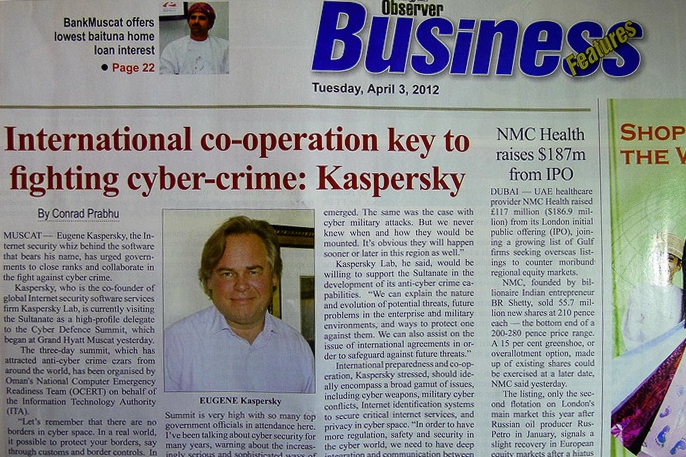 After reading the papers we left the hotel for a stroll in the bright Arabian sunshine, worked up quite a sweat, and then decided we'd be better seeing the sights of the city and the surrounding areas in an air-conditioned car, chuckling to ourselves recalling the Moscow snow drifts the day before.
The local scenery was really impressive. The first things you notice are the sun-scorched mountains all around. They only get watered with rain five or six times a year and so are covered by hardly any vegetation at all – producing rather a unique, barren, Mars-like impression. The second thing I noticed was the total lack of litter – everywhere. Not so much as a banana skin.
The rather swish car we were in glided along ever so smoothly and quietly on the super-even roads which crisscrossed the hills and valleys. And with gas at 50 cents a liter, well, why not just hit the road and keep on driving? Why not indeed. So we did.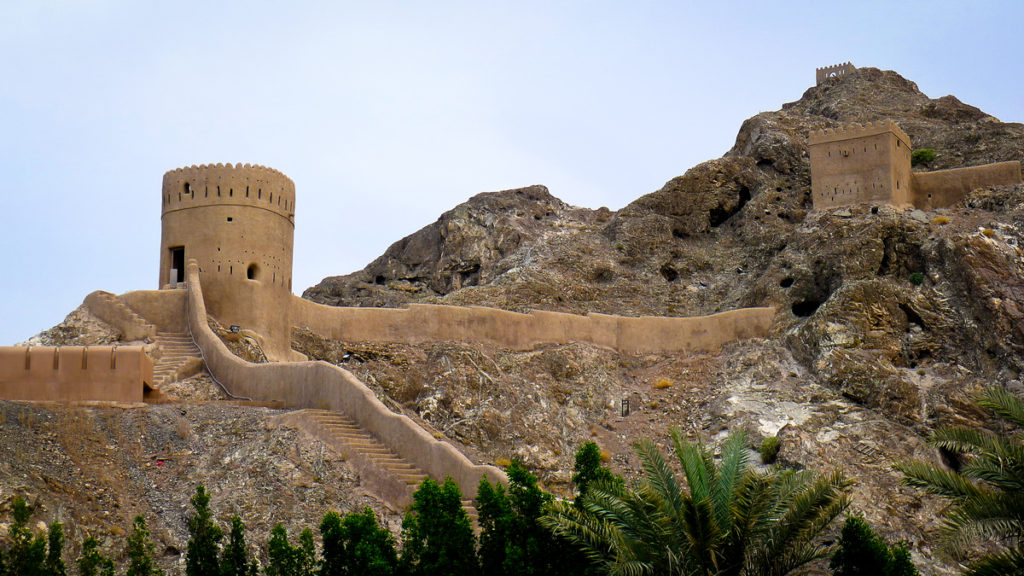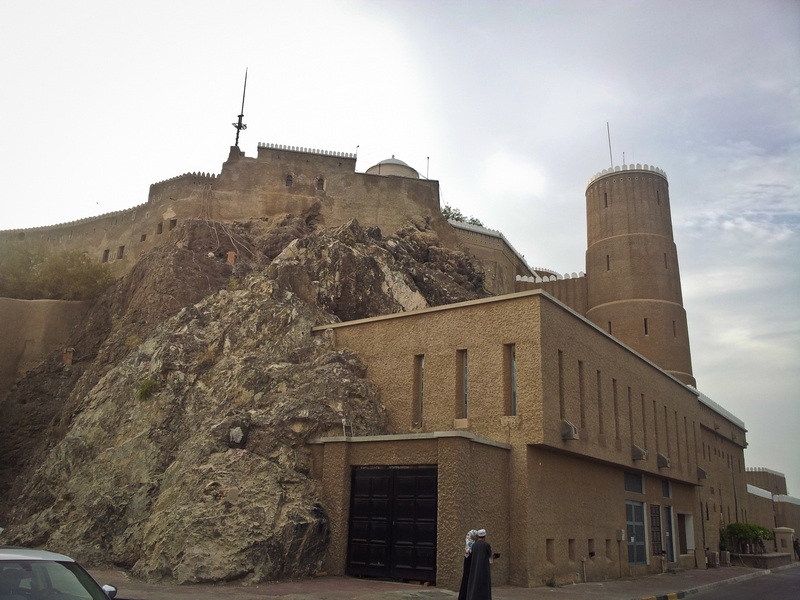 Not your average five-star hotel. More like something out of James Bond I'd say – literally built into the mountain. I'm expecting a dictator-dressed, cat-carrying, eye-patched owner of the building to appear at one of the windows, Odd-Job at another, top hat in hand…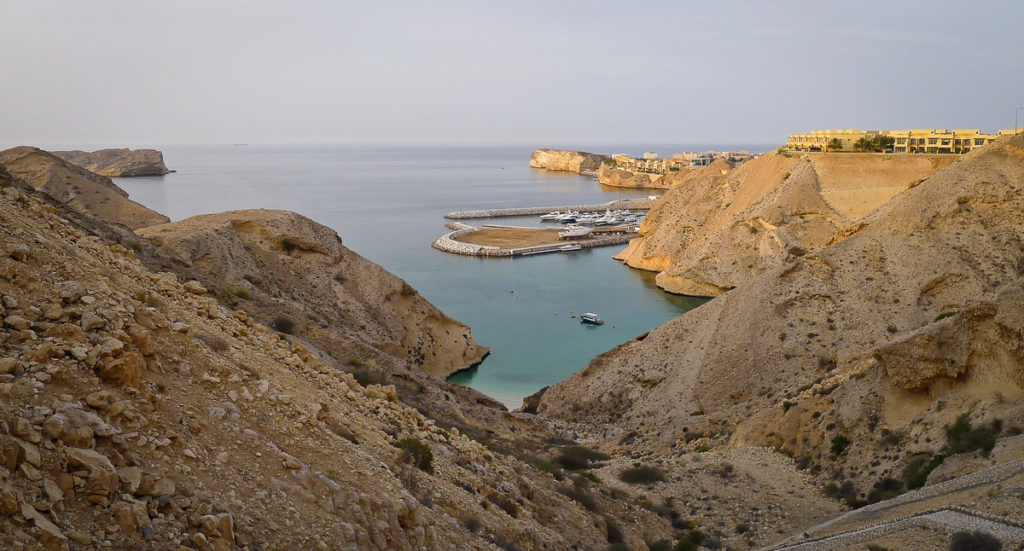 It seems the authorities here are real serious about building up the non-oil sector. Talking to the country's ministers and officials proved to be most interesting and instructive. They honestly state that the country has only 30 years of oil reserves left and that they must therefore fully diversify the country (if only the same attitude could be adopted in Russia!). So they invest in tourism and education, build IT-towns and universities, and generally put a lot of effort into attracting businesses to the country and establishing business partnerships. And the ministers say all this in the most eloquent of business language – not so usual for many a state bureaucrat.
The palace of Sultan Qaboos bin Said in Muscat that we saw (one of EIGHT in the country he owns!) is something straight out of Sinbad the Sailor or Ali Baba – like the setting for the 1001 Nights: fortresses, towers and turrets, large decorative Arabian script over entrances; everywhere spotlessly clean, everything really neatly done, all spacious and majestic, and not a cop in sight. Blissful! I really recommend a visit.
And such a visit wouldn't be complete, of course, without checking out the slightly different surroundings… in the local bazaar! You'd just better not take any cash with you – best leave it in the hotel :)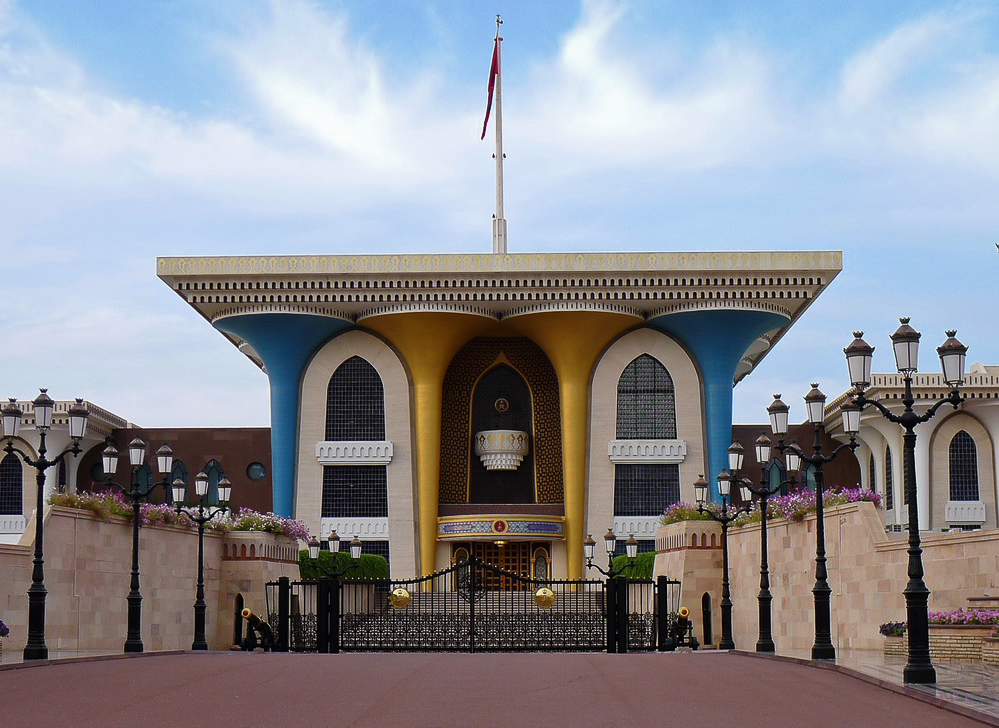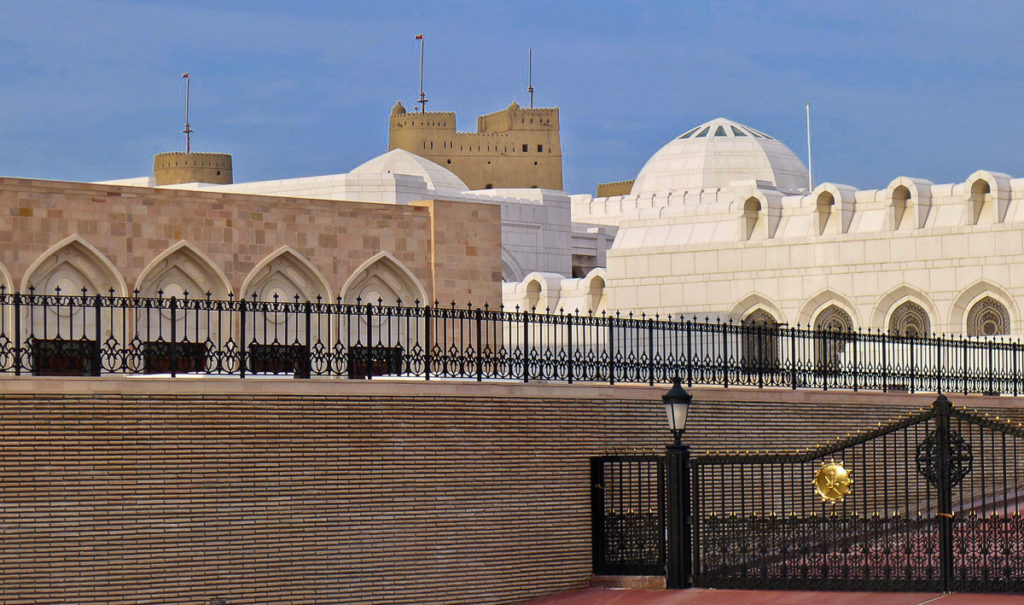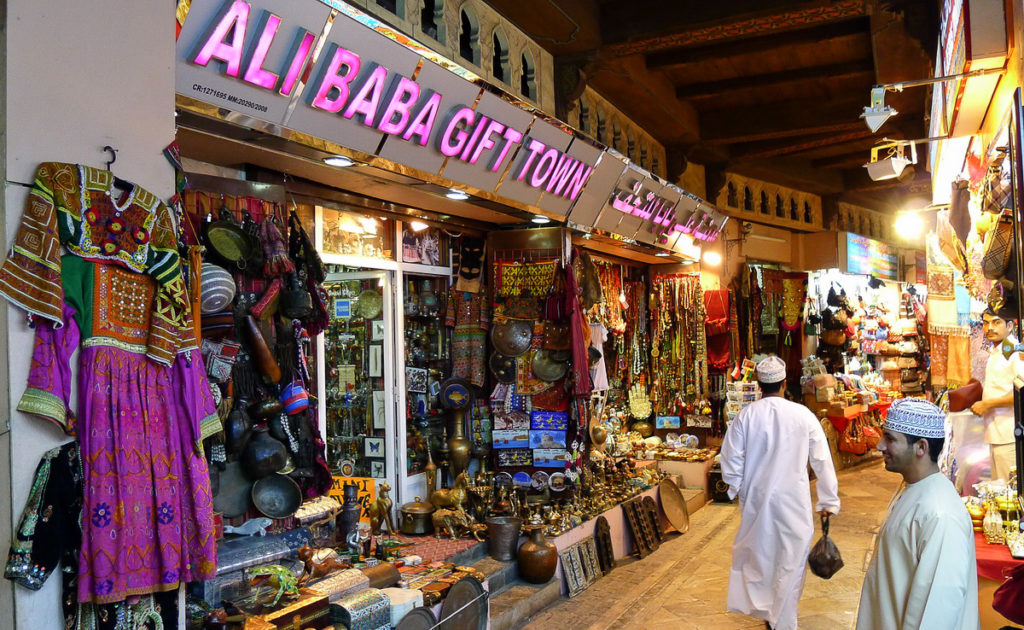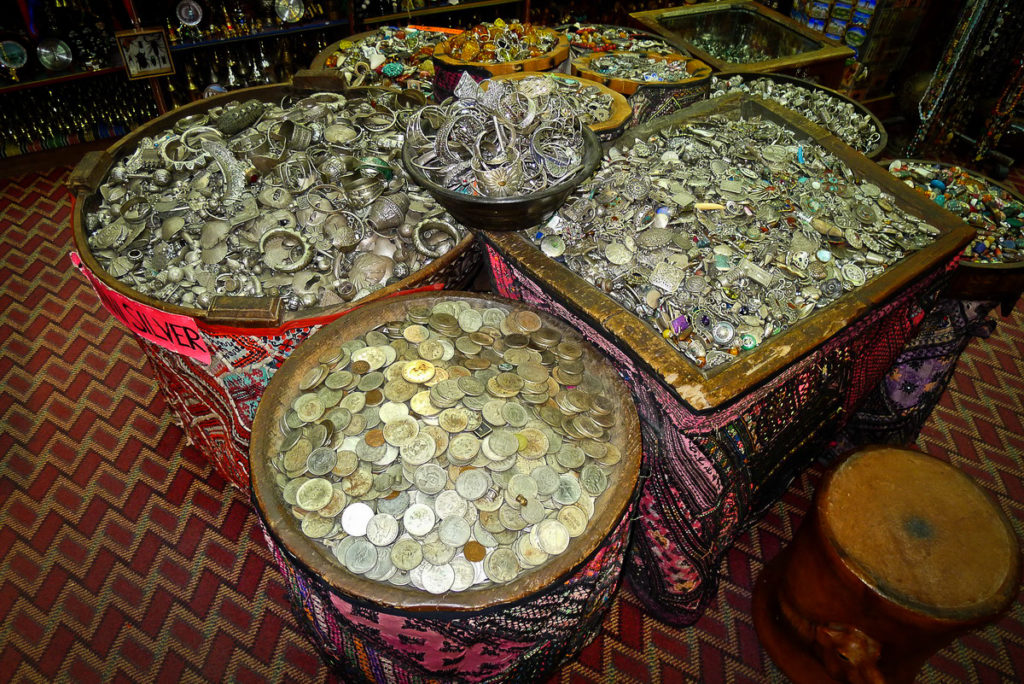 The rest of the photos are here.
And this is where I'll sign off for today. It's time we got back to those persistent Moscow snow drifts.
One last thing – check out the flag of Muscat. Love it! Minimalist, absurd!, nonchalant, curt!, certainly cool, maybe stoned?… Whatever – I wanna meet the designer and shake his hand.
I'll leave you with the new official KL flag, as designed by me:

Ma'a salama!